Looking for a healthy and delicious snack? Look no further than our Avocado Hummus!
This creamy green dip is packed with healthy fats from ripe avocados and has an ultra-smooth texture. Plus, it's vegan, gluten-free, and dairy-free, so everyone can enjoy it.
Perfect for dipping veggies or spreading on toast, our Avocado Hummus is sure to become a new favorite.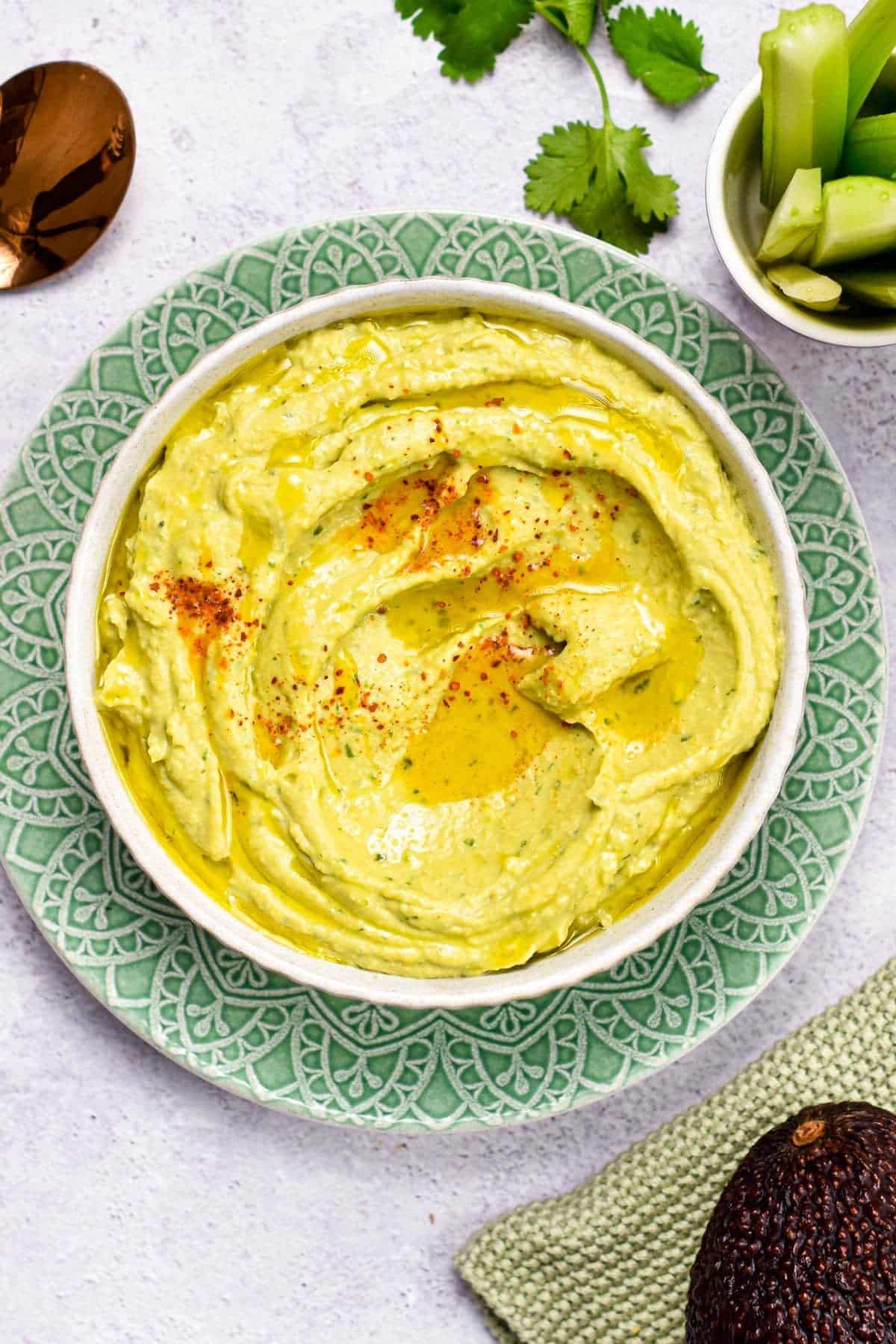 If you love hummus and guacamole but don't know which one to choose for your next party, then make this avocado hummus!
It's the best combination of your two favorite dips in a creamy green hummus packed with healthy fats from avocado.
What's Avocado Hummus?
Avocado hummus is a creamy hummus with added avocado and guacamole flavors like cumin and cilantro.
It's a combination of Mexican flavors and Mediterranean cuisine in one dip.
How To Make Avocado Hummus
It's very easy to make this green avocado hummus dip recipe.
Ingredients
All you need to make creamy hummus with avocado are:
Canned Chickpeas – Drain the chickpeas, but you don't need to peel them.
Ripe Avocado – Ripe but with no dark spot on their flesh. If your avocados show dark black areas, remove, and discard them. These parts add a bitter flavor and brown the dip too much.
Extra Virgin Olive Oil
Salt and Pepper
Lime Juice
Ground Cumin
Hulled Tahini or unhulled tahini, but keep in mind that unhulled sesame seeds in tahini make the dip slightly bitter.
Garlic
Iced Water – to thin out the dip.
Fresh Cilantro
Preparation
You need a food processor or high-speed blender like a Vitamix to make this hummus.
First, add tahini, olive oil, peeled whole garlic, and lime juice in the blender.
Blend on low speed (speed 3 of a Vitamix blender) for about 30 seconds. Blend until the garlic and liquid form a creamy paste.
Stop the blender, and add the remaining ingredients, except the water. Start by adding canned, drained chickpeas, avocado flesh, cumin, salt, pepper, and fresh cilantro.
Blend again on low-medium speed and, using your blender's tamper attachment, push down the ingredients to the blade.
Blend until all the ingredients are creamy. Now, blend on low speed and gradually add iced water, one tablespoon at a time, until your reach the desired consistency.
This makes the dip creamier and thinner. Add as much water as you like depending on how thin you like your avocado hummus.
The more water, the thinner the dip will be.
Garnishing Options
You can garnish this avocado hummus with the following delicious toppings and additions:
Pine Nuts
Chopped Walnuts
Smoked Paprika
Fresh Parsley, Dill, or Cilantro
Serving Avocado Hummus
This creamy avocado hummus is better served fresh and therefore, I recommend storing the dip in the fridge for a few hours before serving.
Then, serve with a drizzle of olive oil, a pinch of chili powder or chili flakes, and sea salt flakes.
You can serve it as a dip, spread, or sauce.
As A Dip To Dig In
This avocado hummus is a healthy game day appetizer and perfect for dipping so many different kinds of food, like:
Raw Carrot Sticks
Red Peppers Sticks
Cucumber Sticks
Raw Celery Sticks
Homemade Pita Chips
Roasted Cauliflower
Tortilla Chips
Healthy Crackers
As A Spread
You can also use this hummus as a healthy spread to replace mayonnaise in sandwiches or wraps.
You can use it with mashed chickpeas, grilled tofu, or sundried tomatoes to make delicious lunch sandwiches.
Use some of the bread recipes below to make your hummus avocado sandwiches:
As A Sauce
You can use hummus as a healthy sauce on grilled vegetables. It's a delicious, healthier swap for vegan mayonnaise or sauce made from vegetable oil.
Storage Instructions
Like any dip made from creamy avocado, this dip will slightly turn brown in the fridge.
It's better to eat the leftover avocado hummus within four days and store it in an airtight container with a drizzle of olive oil on top to prevent the avocado from oxidizing.
When storing leftovers in their serving bowl, wrap the top with plastic wrap to avoid air coming in contact with the dip.
If the dip browns on the top, give it a good stir before eating. The color won't change the taste of the dip.
Allergy Swaps
If you are allergic to some of the ingredients, you can try the following substitutions.
Chickpeas – You can make hummus with canned butter beans or pinto beans.
Lime Juice can be replaced with lemon juice.
Cilantro – Some people don't appreciate the flavor of cilantro and find it tastes like soap. If so, feel free to add other herbs instead of cilantro, like fresh parsley or Italian parsley.
Tahini Paste – You can make hummus without tahini. Add more olive oil, or swap for Greek yogurt or sunflower seed butter to add a similar creaminess to the hummus.
Frequently Asked Questions
Below are my answers to your most common questions about this hummus avocado dip recipe.
Can I Use Dry Chickpeas?
Yes, you can cook your own dry chickpeas and use 15 ounces (400g) of cooked, cold chickpeas.
Does Avocado Hummus Turn Brown?
Yes, avocado always turns slightly brown after a few days in the fridge.
To prevent this, drizzle some olive oil on top of the dip and store it in a sealed, airtight container.
Always seal the bowl with plastic wrap or a lid.
Stir before serving to remove any brown color.
Can I Freeze This Recipe?
You can freeze avocado hummus in airtight zip-lock bags and thaw them in the fridge the day before.
More Dip Recipes
If you like homemade dip recipes, you'll love these other recipes:
Have you tried this avocado hummus recipe? Share a comment or review below to connect with me.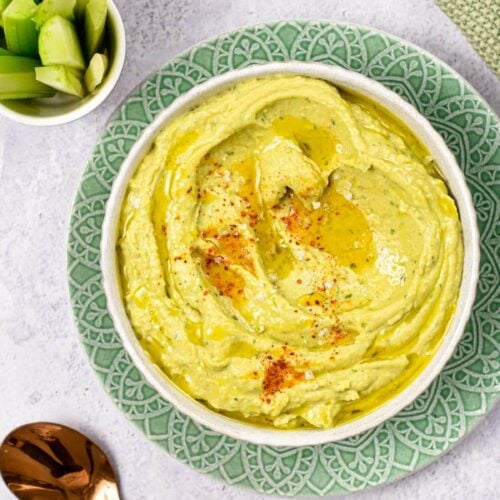 Avocado Hummus
This Avocado Hummus is a creamy green hummus packed with avocado for a boost of healthy fats and an ultra-creamy texture. Plus, this easy hummus recipe is vegan, gluten-free, and dairy-free, so everyone can dig in.
Pin
Print
Review
Shop My Tools
Instructions
In a small bowl, add water and ice cubes. This is the iced water you will use at the end.

In a food processor or high-speed blender, add the olive oil, tahini, lime juice, and garlic. Process on medium speed (speed 3 of a Vitamix blender) for 30 seconds until creamy.

Add ripe avocado flesh. Make sure there's no dark spot, or the hummus will be bitter. Add the drained, canned chickpeas, salt, pepper, cumin, and cilantro.

Process on medium-high speed until smooth. If too thick to your liking, keep processing while adding some of the iced water gradually. I always add 3-4 tablespoons, but you can add more or less depending on how thick you like your hummus. Stop when the texture fits your liking.
Storage
Store the avocado hummus in the fridge in a sealed container for up to 4 days. Drizzle olive oil on top to keep the dip from browning. If browning appears, simply stir the hummus before serving.
Share on Facebook
Pin Recipe
Nutrition
Serving:
1
Serving
|
Calories:
289.6
kcal
|
Carbohydrates:
18
g
|
Protein:
6
g
|
Fat:
23.3
g
|
Saturated Fat:
3.2
g
|
Polyunsaturated Fat:
4
g
|
Monounsaturated Fat:
14.7
g
|
Sodium:
411.2
mg
|
Potassium:
472.3
mg
|
Fiber:
8.1
g
|
Sugar:
0.6
g
|
Vitamin A:
126.6
IU
|
Vitamin C:
9.6
mg
|
Calcium:
45.9
mg
|
Iron:
1.7
mg
|
Magnesium:
45.9
mg
|
Phosphorus:
137.9
mg
|
Zinc:
1.2
mg