3-Ingredient Chocolate-Covered Chickpeas
These chocolate-covered chickpeas are easy, healthy vegan protein snacks easy to make with only 3 ingredients.
They are gluten-free, dairy-free, and sugar-free!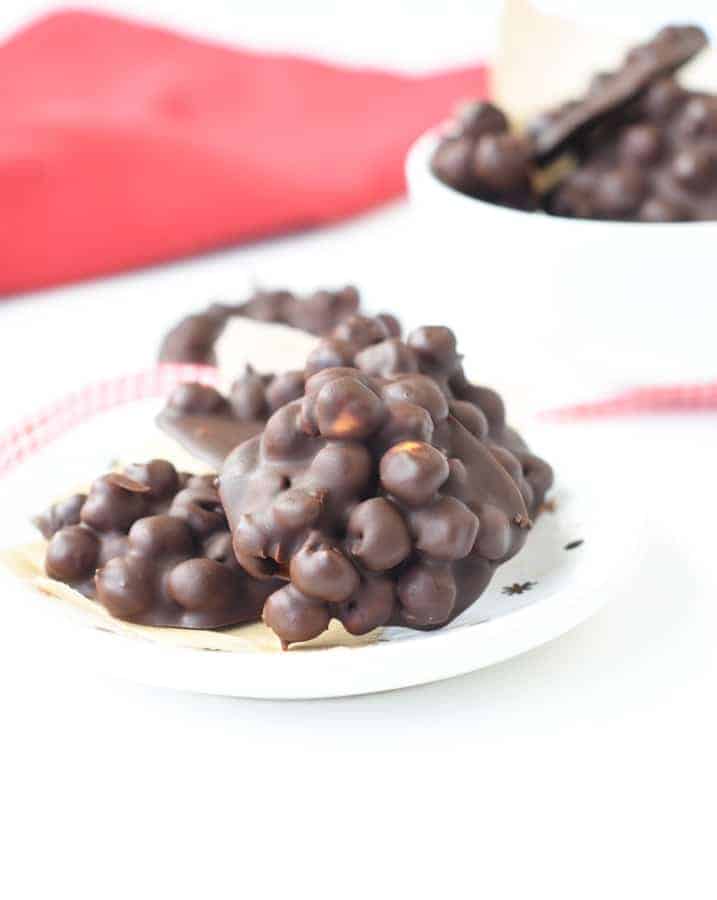 How To Make Roasted Chocolate-Covered Chickpeas
These are the best crunchy protein snack ever! We discovered roasted chickpeas covered with dark chocolate on holiday in Australia.
We bought some from a supermarket, and since then, I have been obsessed with making them at home!
The great news is, there is nothing easier than making them, and even the kids can be involved in the kitchen. Let's see what you need to make these.
Ingredients
All you need to make this chocolate covered chickpeas recipe are:
Canned chickpeas – you must use canned chickpeas for this recipe. Don't use raw chickpeas. They wouldn't be soft enough even if you soak them overnight.
Chocolate – I recommend using dark chocolate, superior to 70% cocoa. Most brands are dairy-free and vegan-friendly. You can also use vegan milk chocolate if you are not a big fan of dark chocolate. Another option is sugar-free stevia-sweetened chocolate chips to keep the sugar low.
Coconut oil – or any vegetable or nut oil you like. This is optional, but adding a touch of oil prevents the chocolate from drying out while melting, and it fixes any overheating mistakes.
Sea salt – optional, but so much tastier with a pinch of salt!
Step 1: Draining and drying chickpeas
First, open the can of chickpeas. Mine is a 15oz (400ml) can. Pour the canned chickpeas over a sieve to drain the chickpea liquid.
You can set aside chickpea liquid for another recipe or discard it.
Rinse the chickpeas under cold water, then place them on a baking tray lined with baking paper.
Finally, rub the chickpeas with absorbent paper or a towel to lightly pat dry the chickpeas.
Step 2: Roasting
I like to roast chickpeas in an oven using the convection mode at 350°F (180°C). The chickpeas dry out faster and roast very well in less than 50 minutes.
If you bake them in conventional mode, it can take up to 60 minutes to roast.
You will also have to stir the chickpeas every 20 minutes with a wooden spoon to make sure they roast evenly.
Step 3: Cooling down
Then, cool the roasted chickpeas on the tray for 5-10 minutes. Meanwhile, melt the chocolate.
Step 4: Melting the chocolate
Bring the chocolate in a saucepan with oil of your choice over low heat. Stir often until melted and shiny. Finally, sprinkle salt into the chocolate to flavor.
Step 5: Covering chickpeas with chocolate
Now, add the roasted chickpeas to the saucepan with the melted chocolate and stir with a spoon to cover them.
Step 6: Forming clusters
First, choose a plate or tray that fits your freezer, as you will have to pop the chickpea clusters in a cold place to set the chocolate.
Next, scoop out 1 tablespoon of chocolate-covered chickpeas and place them onto a parchment-lined plate.
Leave half a thumb of space between each cluster as they can slightly spread before setting in the freezer. Repeat until no more chickpeas are left.
Step 7: Freezing
Finally, freeze the plate with the chocolate chickpeas on it to set the chocolate shell. It takes about 10 minutes in the fridge to harden.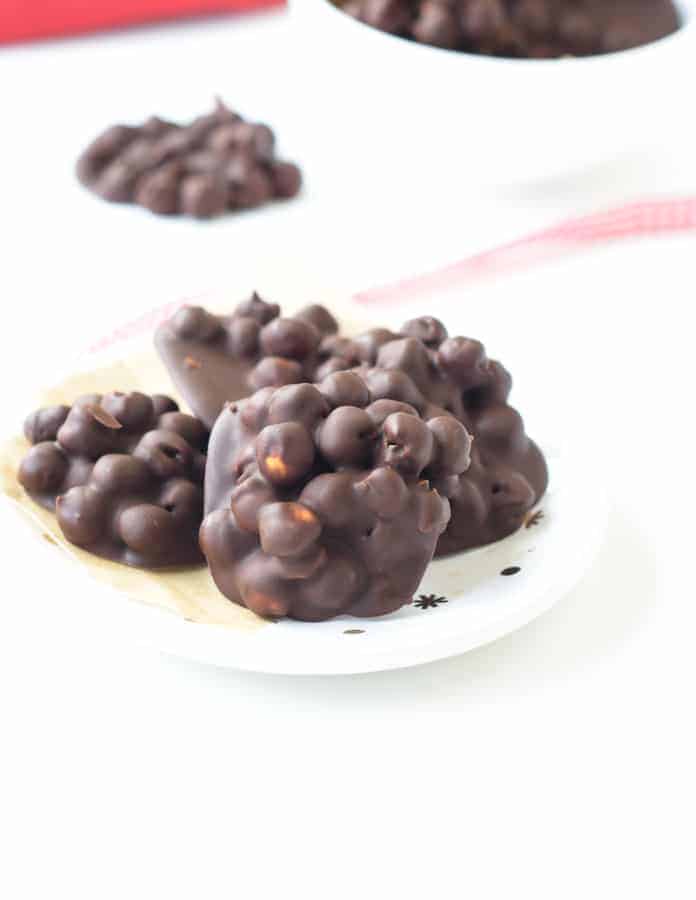 Frequently Asked Questions
How do I know if chickpeas are roasted?
A well-roasted chickpea is hard as a rock, smaller in size than fresh chickpeas, and brown in color.
If you crunch it, the texture is very crunchy and powdery in the center.
If your chickpeas are still slightly soft, it means they need to stay in the oven a bit longer.
How Should I Store Them?
You must store them in an airtight container in the fridge. They store very well for up to 1 week.
Do Chocolate Chipckeas Taste Like Chickpeas?
These protein snacks are crunchy, and they don't have any chickpea flavor!
The beans are bone roasted, and all you can taste is chocolate with a crunchy powdery texture that explodes in your mouth.
Some people say that these remind them of Maltesers chocolate balls!
Chocolate-Covered Chickpeas Nutrition
Each one of these chocolate chickpea clusters contains 97 kcal and 3 grams of protein.
Plus, the proteins found in chickpea beans have the best nutritional profile as they include eight of the essential dietary amino acids!
So if you are looking for a vegan protein snack with high nutritional values that tastes like a candy bar, this is for you!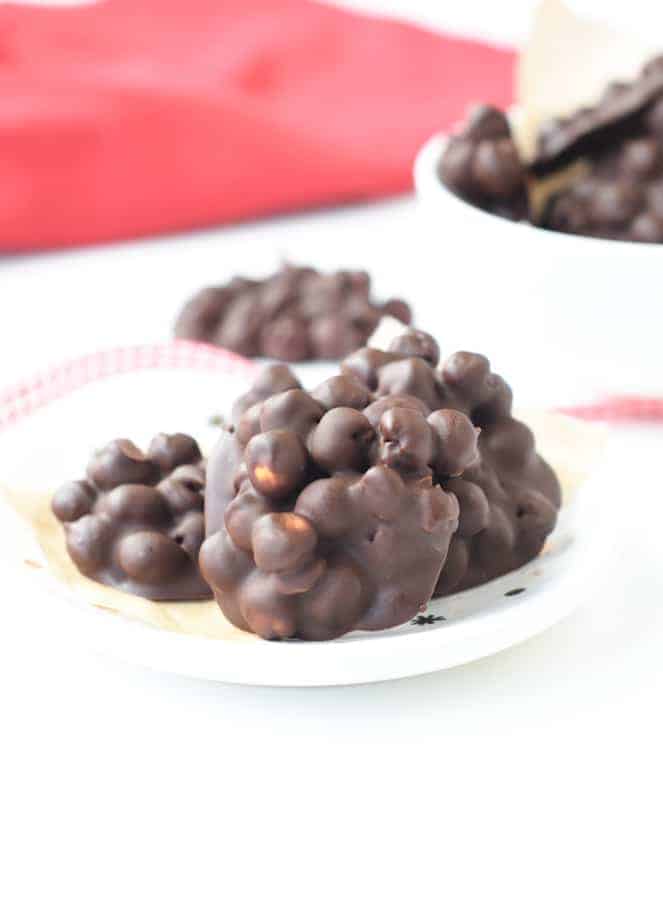 More Vegan Protein Snacks
I love to create vegan, vegetarian protein snacks or desserts using chickpeas.
It is an easy, cheap way to add proteins to your day, and below I listed some other chickpea recipes you may want to try!
They are all made in less than 30 minutes and are delicious plant-based additions to your weekly menu.
Have you made this chocolate-covered chickpea recipe? Share your review or comment below or join me on Instagram to share a picture of your creation!
Your friend, Carine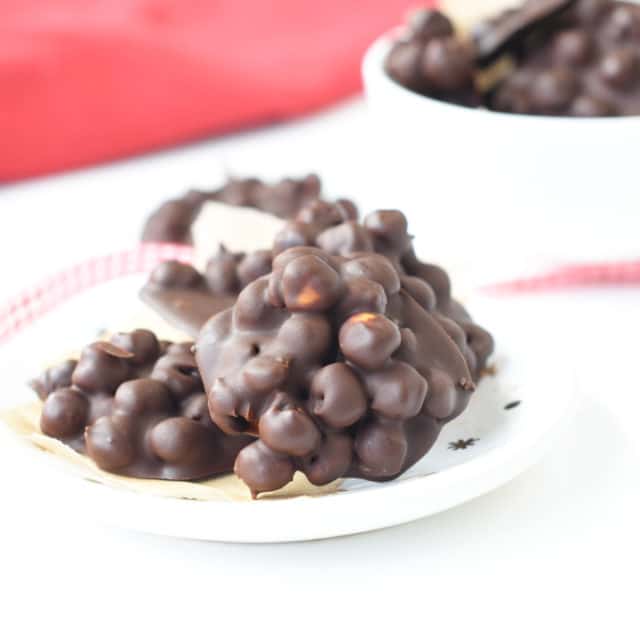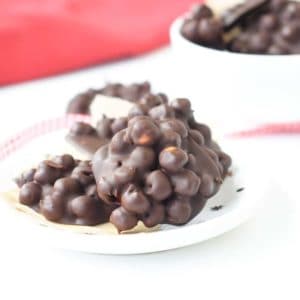 Chocolate-Covered Chickpeas
3-ingredient protein vegan snack with crunchy chickpeas covered with dark chocolate.
Pin
Print
Review
Instructions
Preheat the oven to 350°F (180°C). I recommend using the convection mode for faster roasting, but the recipe works on conventional mode as well.

Open the can of chickpea, drain under a sieve and rinse them under cold water. Shake the sieve to remove any water, then place the chickpeas onto a large baking sheet covered with parchment paper.

Gently rub the chickpeas with a clean towel or absorbent paper to remove a part of the moisture. If some skin peels off of the chickpeas, leave it and remove it later.

Bake for 50 minutes, making sure you stir them with a wooden spoon every 20 minutes to roast all sides. Keep baking until the chickpeas are hard, smaller in size, very dry and crispy. The best way to test if they are ready is to eat one! If not crunchy and too soft, keep baking.

Remove from the oven and cool on the baking sheet while you melt the chocolate.

In a large saucepan, melt the chocolate chips and coconut oil together on low heat. Stir constantly until fully melted.

Remove the saucepan from heat and stir in salt and the roasted chickpeas.

Scoop out 1 tablespoon of chocolate-covered chickpeas on a plate covered with a lightly- oiled piece of parchment paper. Repeat this step, leaving half thumb space between each chickpea chocolate cluster.

When the plate is full, pop in the freezer for 10 minutes to let the chocolate set.

Remove the plate from the freezer, release the chocolate chickpeas cluster from the parchment paper, and store in an airtight box in the fridge for up to 1 week.
Share on Facebook
Pin Recipe
Nutrition
Serving:
1
cluster
|
Calories:
97
kcal
|
Carbohydrates:
11
g
|
Protein:
3
g
|
Fat:
5
g
|
Saturated Fat:
4
g
|
Cholesterol:
1
mg
|
Sodium:
214
mg
|
Potassium:
126
mg
|
Fiber:
2
g
|
Sugar:
4
g
|
Vitamin A:
6
IU
|
Calcium:
47
mg
|
Iron:
1
mg