This easy Chocolate Mug Cake recipe is a quick and easy single-serve chocolate cake to fix your sweet craving in less than 5 minutes.
Bonus, this chocolate mug cake is also dairy-free egg-free with gluten-free options.
What's Chocolate Mug Cake?
A chocolate mug cake is a microwave cake cooked in a coffee mug in your microwave for a quick single-serve cake.
It's the perfect snack if you crave cake but don't have an oven or don't feel like baking a whole chocolate cake.
How To Make Chocolate Mug Cake
To make this moist chocolate mug cake you only need simple pantry ingredients.
You don't need eggs or milk or butter ever so it's a very cheap cake recipe as well.
Ingredients For Chocolate Cake In A Mug
The ingredients you need to make a chocolate cake in a mug are:
All-Purpose Flour or gluten-free all-purpose flour blend.
Unsweetened Cocoa Powder
Sugar or any granulated sweetener you love like coconut sugar or unrefined cane sugar.
Baking Powder
Salt
Melted Coconut Oil
Milk of Choice – soy milk, almond milk, oat milk, or coconut milk. Any plant-based milk works well.
Vanilla Extract – Vanilla adds a delicious taste to the mug cake.
Preparation
In a tall 12 oz coffee mug, make sure it's a microwave-safe mug, whisk in the dry ingredients with a fork or small hand whisk: flour, sugar, cocoa powder, baking powder, and salt.
Now, pour in milk, oil, and vanilla extract. Stir again until the mug cake batter is smooth.
Stir in half the chocolate chips and sprinkle the remaining chocolate chips on top of the chocolate mug cake for a gooey chocolate flavor.
Microwaving
Microwave the chocolate mug cake in the center of the microwave at high power (900W) for 60-90 seconds.
It's always safer to microwave for 1 minute, cool down the mug chocolate cake for 1 minute, check the texture, and return to the microwave for 10 seconds burst if the center is uncooked.
Usually, a max of 90 seconds is required, depending on the power of your microwave you may have to microwave the cake in the mug longer or less.
For a soft chocolate center, 70 seconds is the ideal baking time.
Oven Baking
To bake this chocolate mug cake in the oven, preheat the oven to 350°F (180°C).
Grease a small oven-proof ramekin with oil. Pour the batter into the ramekin and bake the chocolate cake in its mug for 15-18 minutes or until a pick inserted in the center of the cake comes out clean.
Serving Chocolate Mug Cake
This chocolate mug cake is delicious plain or with some toppings like:
Whipped Soy Cream
Pinch of Salt
Drizzle of Peanut Butter or your favorite chocolate hazelnut spread such as Nutella or Nutino.
Vanilla Ice Cream
A dollop of plant-based yogurt.
Dust of cocoa powder or icing sugar.
Berries
Healthy Swaps
You can make this microwave mug cake healthier by using some of the tips and substitute options below or try my healthy mug cake recipe:
Sugar-Free – Swap the chocolate chips for a sugar-free brand to decrease carbs and sugar and use a natural sugar-free granulated sweetener. These natural sweeteners contain no calories and no carbohydrates so they won't trigger more sugar cravings after eating this cake but still fix your sweet tooth.
Oil-Free – Try to swap the oil for unsweetened applesauce, pumpkin puree, or mashed bananas.
Gluten-Free – Use all-purpose gluten-free flour in the same amount. If your blend doesn't contain xanthan gum, add a pinch to the dry ingredients for the best texture.
Storage
The cake cooked in the microwave doesn't store well and must be eaten within 30 minutes or so.
You can bake this mug cake to save leftovers for up to 3 days.
More Mug Cake Recipes
If you like easy, healthy mug cake recipes, you'll love these:
Did you try this easy recipe for chocolate mug cake? Share a comment or review below.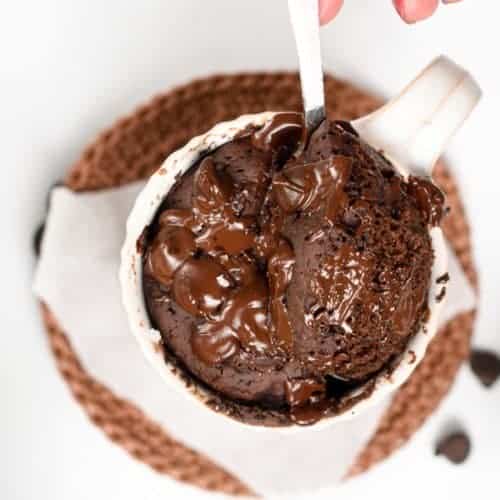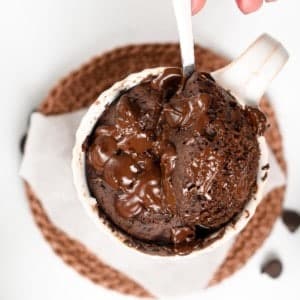 Chocolate Mug Cake
This easy Chocolate Mug Cake Recipe is the quickest and easy single-serve cake to fix your sweet tooth any time of the day.
Pin
Print
Review
Servings: 1 mug cake
Calories: 305.7 kcal
Instructions
In a microwave-safe coffee mug (minimum size 1 cup/250ml), whisk together the flour, unsweetened cocoa powder, sugar-free sweetener, and baking powder.

Whisk in almond milk, melted coconut oil, and vanilla extract until a batter forms. Fold in the dark chocolate chips – keep a few to add on top – or keep the batter plain.

Microwave on high power (900W) for about 60 seconds, or until you see the cake rising to its maximum height. Remove from the microwave carefully. It is hot, and check the texture. It should be moist and soft.

Sprinkle a few extra chocolate chips on top if desired, or add a dollop of yogurt for a boost of protein.
Baking option
Preheat the oven to 350°F (180°C).

Grease an oven-proof ramekin with oil, add the cake batter and bake for 12-18 minutes until cooked through.

Serve immediately with toppings of your choice.
Notes
Note 1: Any milk you like works well. Note 2: Any sugar works including coconut sugar, unrefined cane sugar, and any low-carb sugar-free sweeteners like erythritol, allulose, or xylitol. Note 3: Vegetable oils like canola or olive oil work as well.
Share on Facebook
Pin Recipe
Nutrition
Serving: 1mug cake | Calories: 305.7kcal | Carbohydrates: 53.4g | Protein: 5.4g | Fat: 10.4g | Saturated Fat: 7.5g | Polyunsaturated Fat: 0.7g | Monounsaturated Fat: 1.4g | Sodium: 187.1mg | Potassium: 187.7mg | Fiber: 4.7g | Sugar: 24.5g | Calcium: 148.6mg | Iron: 2.9mg | Magnesium: 57mg | Phosphorus: 127.8mg | Zinc: 0.9mg