This Cinnamon Oatmeal recipe is a creamy, smooth oatmeal perfect to celebrate the fall season. It's packed with cinnamon flavors, fiber, and protein to keep you full and warm on cold mornings.
There's nothing healthier and easier than bowls of oatmeal in the morning. If you just started on a plant-based or you are after a healthy breakfast that brings you all you need to fill full and energized, this is the one.
The health benefits of oats are lovely. They are high in fiber which slows down the absorption of carbohydrates and keeps your blood sugar stable.
Oats are also a wonderful grain to add to your diet and decrease cholesterol.
Let me share with you how to make this fall oatmeal recipe.
How To Make Cinnamon Oatmeal
To make this easy oatmeal recipe with cinnamon flavors, you need only 10 minutes.
Ingredients
All you need to make this easy healthy breakfast recipe are a few basics ingredients.
Old-Fashioned Oats, quick-cooking oats, or a combination of both. I enjoy half rolled oats and half quick oats because rolled oats provide texture, while quick oats make the recipe creamier. Feel free to use what you have at home.
Plant-Based Milk of choice. You can use soy milk to boost proteins and vitamins or almond milk, oat milk, or coconut milk.
Water – The combination of water and milk makes the oats creamier.
Ground Cinnamon
Coconut Sugar or brown sugar – I highly recommend brown sugar in cinnamon oatmeal. The flavor is fantastic, but coconut sugar is a healthier option if you are after a refined sugar-free sweetener.
Maple Syrup – The combination of two sweeteners adds delicious fall flavors.
Stove Preparation
There are two ways to cook oatmeal in the morning. You can use the microwave or stove method.
Cooking Milk: The best way to make a large batch of oatmeal is over the stove. In a non-stick medium saucepan, over medium heat, warm water and non-dairy milk. Bring to a light boil, then reduce to a low heat.
Adding Oats: Add the oats, cinnamon, coconut sugar, and maple syrup. Stir to combine.
Cook for 2-3 minutes, stirring occasionally until the mixture starts to thicken.
Cover the saucepan and set aside for 4-5 minutes, stirring once in a while, until creamy and no liquid left in the pan.
Now, stir in vanilla extract and serve in shallow bowls.
Microwave Method
On busy mornings, I recommend the microwave to cook your oatmeal. It's faster and works as well as the stove method.
Add all the cinnamon oatmeal ingredients in a large bowl- except the vanilla extract. Place in the center of the microwave and cook at 1000W for 1 minute.
Then, stir, return to the microwave, and cook in 30-second bursts until all the liquid is absorbed.
Remove from the microwave and stir in vanilla extract.
Flavor Variations
You can add some delicious ingredients in this recipe to boost flavors of health benefits.
1 tablespoon of chia seeds or ground flaxseeds – add the seeds at the same time you add oats.
1 tablespoon of chocolate chips – at the end, on top of your bowl.
2 tablespoons of shredded coconut – add the end before you cover the pan.
Serving Oatmeal
Oatmeal is always better with some toppings. Here's some delicious combination to add to your cinnamon oatmeal recipe.
Apple Cinnamon Oatmeal – Peel and core a small apple. Then, cut the apple into medium cubes. Set aside. In a nonstick saucepan, warm one teaspoon of coconut oil, then add the apple pieces, a pinch of ground cinnamon, and a drizzle of maple syrup. Stir and cook until fragrant – about 2 minutes. Serve the warm cooked apples on top of the cinnamon oatmeal with a drizzle of peanut butter or almond butter.
Banana Cinnamon Oatmeal – Serve the bowl with slices of a small banana, pecans, walnuts, drizzle maple syrup, and a pinch of cinnamon.
Protein Cinnamon Oatmeal – Cook the oatmeal with one scoop of vanilla protein powder. Serve with plant-based protein yogurt or a drizzle of nut butter for a boost of proteins. You may want to skip the vanilla extract to avoid an overpowering taste of vanilla.
Berries Cinnamon Oatmeal – Stir 1/2 cup of frozen blueberries or strawberries in the cooked oatmeal.
Pumpkin Cinnamon Oatmeal – Add the end, stir in 1/4 cup of pumpkin puree, and add 1/4 teaspoon of nutmeg or pumpkin pie spices.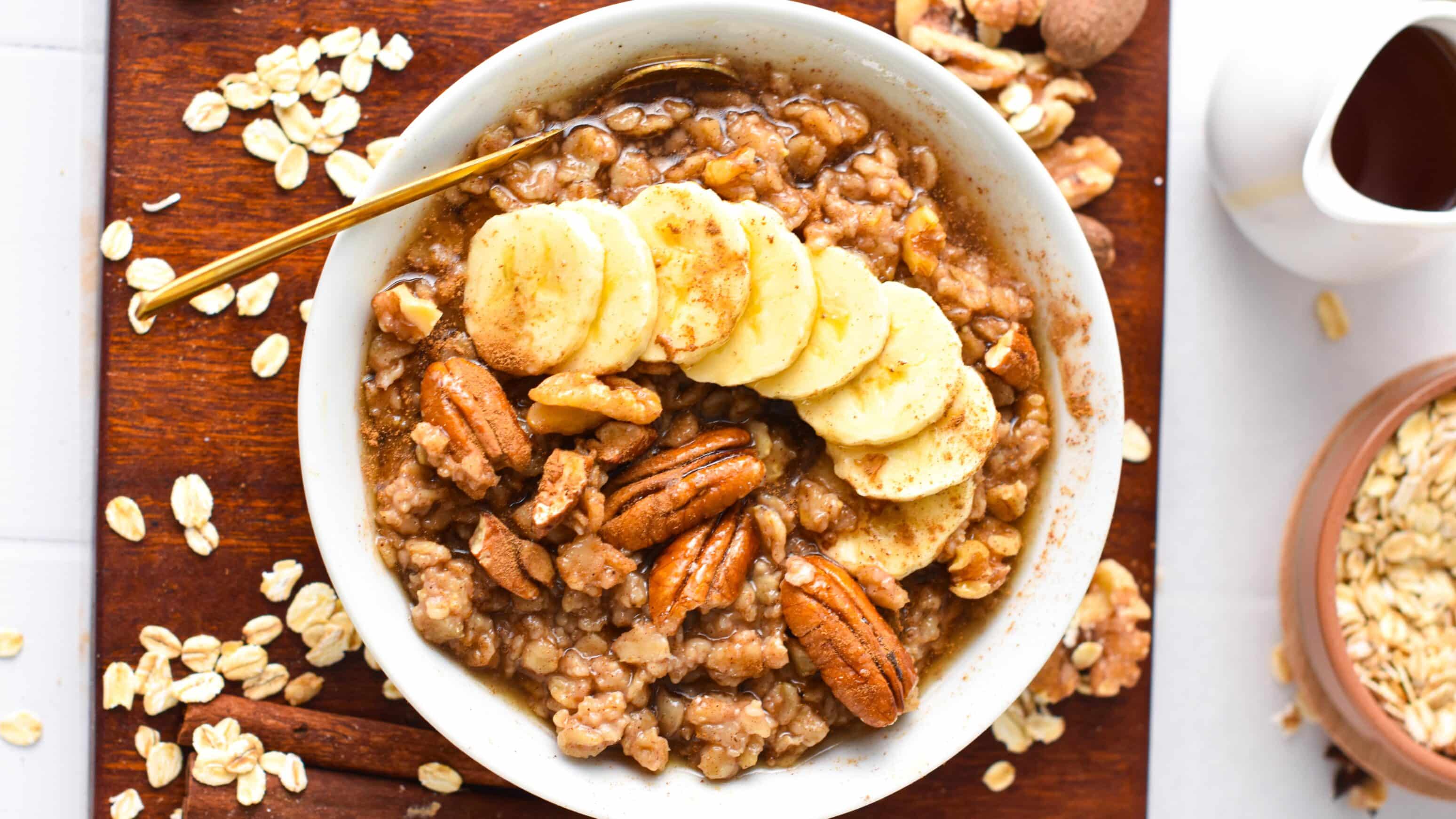 Storage Instructions
Fridge – Place leftovers in a bowl, cover them with a piece of foil or lid, and keep them for up to 3 days in the refrigerator.
Freezer – Freeze oatmeal in airtight containers for up to one month. Thaw in the fridge the day before.
Rewarming Oatmeal – Place the oatmeal in a nonstick saucepan, add a splash of extra dairy-free milk, and rewarm on low heat, stirring to combine. Or, rewarm in a microwave-safe bowl with a splash of almond milk until warm.
Allergy Swaps
If you need some ingredient substitutions, try the options below.
Gluten-Free – Use a gluten-free certified oat brand.
Nut-Free – Use oat milk or soy milk and serve with shredded coconut or a drizzle of sunflower seed butter.
Sugar-Free – You can remove the sweetener in any oatmeal recipe. Instead, you can sweeten oatmeal with mashed fruit puree like mashed banana or use sugar-free monk fruit or stevia.
Frequently Asked Questions
Here are some answers to your common questions about this easy breakfast recipe.
Is Oatmeal With Cinnamon Good For You?
Cinnamon and oats are the best combinations in the morning to minimize blood sugar spikes and decrease cholesterol.
Therefore, both ingredients keep your energy level stable and prevent sweet cravings. Cinnamon lowers insulin and reduces cholesterol, like the fiber in oats, thus decreasing blood sugar spikes.
Is Cinnamon Powder Good For Oatmeal?
Ground cinnamon is the easiest way to add cinnamon flavor to your bowl of oats.
Or you can add cinnamon sticks to your warm milk and water and let infuse before adding oats. But this technique takes longer.
More Oatmeal Recipes
If you like oatmeal, you'll love these other recipes: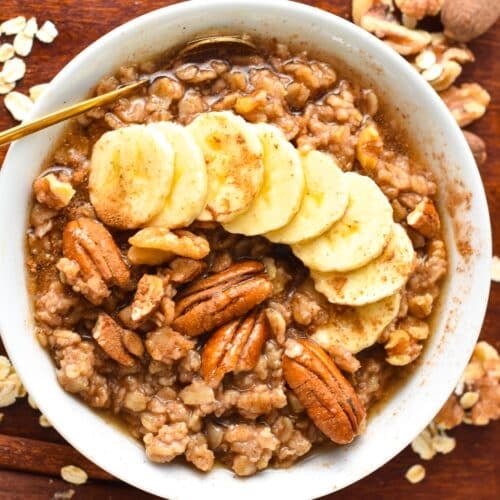 Cinnamon Oatmeal
This Cinnamon Oatmeal recipe is a creamy, smooth oatmeal perfect to celebrate the fall season. It's packed with cinnamon flavors, fiber, and protein to keep you full and warm on cold mornings.
Pin
Print
Review
Shop My Tools
Instructions
Microwave Method
In a microwave-safe bowl, add all the ingredients except the vanilla extract or ingredients for the topping. Stir to combine and microwave at 1000W for 1 minute.

Stir, and return in the microwave by 30 seconds burst until the oatmeal is creamy and thick and all the liquid has been absorbed. It takes from 2-3 minutes to cook.

Stir in vanilla extract and serve warm with suggested toppings.
Stove Method
In a non-stick saucepan, add almond milk and water. Bring to a boil over medium-high heat. Reduce to medium heat. Stir in oats, coconut sugar, maple syrup, and ground cinnamon.

Bring back to a low simmer, cook, and stir once in a while with a wooden spoon until the liquid is drastically reduced and the texture looks creamy. It takes about 3-4 minutes.

Remove from heat, cover with a lid, and set aside for 3-5 minutes to let the oats thicken a bit more. Uncover, stir in vanilla extract, and serve with toppings of your choice.
Share on Facebook
Pin Recipe
Nutrition
Serving:
1
serving
|
Calories:
201.9
kcal
|
Carbohydrates:
34.8
g
|
Protein:
6
g
|
Fat:
4.2
g
|
Saturated Fat:
0.5
g
|
Polyunsaturated Fat:
1.7
g
|
Monounsaturated Fat:
1.6
g
|
Sodium:
176.3
mg
|
Potassium:
161.9
mg
|
Fiber:
5
g
|
Sugar:
5.5
g
|
Vitamin A:
3
IU
|
Vitamin C:
0.04
mg
|
Calcium:
186.9
mg
|
Iron:
1.8
mg
|
Magnesium:
58.1
mg
|
Phosphorus:
167
mg
|
Zinc:
1.5
mg