This Eggless French Toast recipe is the easiest delicious weekend breakfast recipe for french toast lovers.
Plus, these French toasts are not only egg-free but also dairy-free and vegan-friendly.
Why Making French Toast Without Eggs
There's something funny about egg-free baking. At first, it sounds impossible, and it's overwhelming.
But after egg-free baking recipes like my Eggless Pancakes or my Eggless Banana Bread, you will find it easy and tastier, and I'm sure you'll wonder why eggs are used in baking.
So whether you are allergic to eggs or vegan, you will love to know that making French toast without eggs is possible.
These French toast taste better than any French toast with eggs. After all, French toast are custardy bread, and making vegan custard is pretty easy.
Eggs are not the key to good custard, and most French toast recipes taste bad because too many eggs are used, resulting in an omelette-like flavor.
So let's see how to make the ultimate Eggless French Toast in less than 20 minutes.
How To Make Eggless French Toast
It's super easy to make egg-free french toast in the morning, let me share with you what you need and all my tips and tricks
Ingredients
All you need are a few wholesome ingredients:
Stale Bread – Pick a bread loaf that has been sitting on your kitchen counter for a few days. Slightly tougher bread makes better French toast because the crumb will absorb just the right amount of moisture. As a result, it prevents soggy French toast.
Plant-Based Milk – You can use any milk you like. I find that high-protein milk like soy milk makes richer French toast. The custard is creamier than with oat milk, almond milk, or coconut milk.
Cornstarch or corn flour – I don't recommend using tapioca starch or arrowroot flour. It makes the batter gluey. The role of cornstarch is to act as an egg replacer and make the French toast crispy.
Flaxseed Meal – Golden or brown. Golden flaxseed has a less earthy flavor than brown flaxmeal. This ingredient adds a lovely custard texture.
Turmeric – For a yellow color and golden French toast. Of course, this is optional, and you can skip this spice if you don't have it at home.
Cinnamon
Vanilla Extract
Plant-Based Butter, coconut oil, or avocado oil to fry the bread.
Tips For Making The Best Egg-Free French Toast
There are a few tips and tricks to know to make the perfect eggless French toast every time.
1. Choose Dense, Stale Bread
The best bread for French toast must be a few days old with a dense crumb.
This includes sourdough bread, whole-meal bread or brioche. Try my vegan brioche recipe if you like.
2. Thick Slices
Next, cut the slices to a 3/4-inch to 1-inch thickness, not thinner.
In fact, too thin slices get mushy when dipped in the milk mixture and it results in soggy French toast that will never turn crispy.
3. Use High-Protein Milk
Milk high in protein, like soy milk or protein-fortified almond milk makes the bread crispier.
4. Don't Skimp On Fat
French toast is a fry bread slice, and the plant-based butter or coconut oil gives the bread the crispiness and color.
While you can bake or air-fry French toast to cut down the fat, it will never make the bread as custardy and crispy on the edges.
So don't skimp on the fat. You can also use avocado oil for a healthier fat option that resists well to high temperatures.
Preparation
First, cut the loaf into thick slices of about 1-inch thickness. Set it aside on a plate.
Whisk all batter ingredients in a shallow bowl: plant-based milk, vanilla extract, cinnamon, cornstarch, flaxseed meal, turmeric, and sugar.
Keep whisking until all the cornstarch has dissolved into the milk and no lumps of starch can be seen.
Dip each slice of bread, one at a time, into the milk mixture. Press the slice for about 10 to 15 seconds onto the bowl on both sides.
Keep the bread slice above the bowl for a few seconds to let the excess milk run down the plate.
Cooking French Toast
Melt the plant-based butter or avocado oil in a large non-stick frying pan or pancake griddle over medium heat.
Add one or two slices of dipped bread to the pan when warm.
Cook for 2 to 3 minutes on one side, then flip them to their other side and, if all the fat has been absorbed, add some more.
Keep frying, flipping again if needed, until both bread sides are golden brown.
Serving
These French toast without eggs are even more delicious topped with some of the below:
Fresh berries
Maple syrup
Peanut butter
Powdered sugar
Dairy-free whipped cream
Sliced bananas
Storage Instructions
French toast always tastes better warm, just after cooking.
However, if you have cooked too many slices, you can store them in the fridge on a plate covered with kitchen wrap.
It can be stored for up to 2 days in the fridge, but it softens, and you will have to air fry or rewarm the French toast in a warm griddle to get the crispiness back.
You can also freeze French toast in zip-lock bags, thaw them in the fridge the day before and rewarm them as mentioned above.
Allergy Swaps
These French toasts are already quite allergy-friendly, this recipe is naturally:
Egg-Free
Dairy-Free
Nut-Free
Vegan
However, if you have some food intolerances, try some of the options below.
Corn-Free – This recipe's best swap to cornstarch is besan flour or chickpea flour. This is a gluten-free flour with a light bitter flavor so you may have to add more vanilla extract or sugar to cover this flavor.
Gluten-Free – The best bread for French toast is dense bread, and therefore, any gluten-free loaf with a tough crumb will work.
Sugar-Free – You can replace the sugar with sugar-free natural sweeteners like allulose or erythritol or skip the sweetener.
Refined Sugar-Free – Try refined sugar-free sweeteners like coconut sugar, date sugar, or unrefined cane sugar.
Frequently Asked Questions
Find below my answers to your most common questions about this easy French toast recipe.
Are Eggless French Toast Healthy?
Well, it depends on the type of bread and fat you use in the recipe. Removing the eggs decreases the saturated fat in the recipe but white bread is not very nutritious.
To make healthier French toast, try using whole-meal bread, gluten-free bread made from quinoa flour, or buckwheat flour to add protein and fiber to the recipe.
Also, use a high-smoke point oil like avocado oil.
Can I Make French Toast Fat-Free?
The best way to cook French toast with minimal fat is to air fry French toast slices at 400°F (200°C) for 10 to 12 minutes, flipping the slices halfway.
I recommend placing the soaked bread slices onto parchment paper to prevent the egg-free custard from running down into the air fryer basket.
I also recommend using a light spray of olive oil on both slices before air-frying for the ultimate crispiness.
Did you try these vegan french toast? Share a comment or review below to connect with me.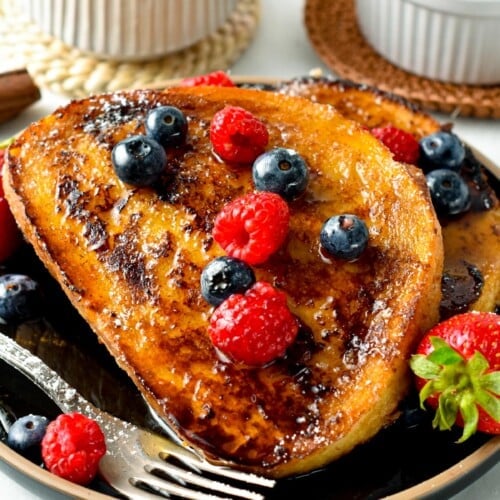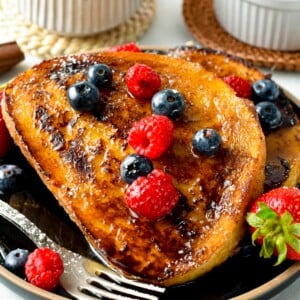 Eggless French Toast
This Eggless French Toast recipe is an easy, delicious weekend breakfast recipe for French toast lovers. Plus, these French toasts are not only egg-free but also dairy-free and vegan-friendly.
Pin
Print
Review
Servings: 6 French Toast
Calories: 235 kcal
Instructions
Cut the bread into thick 1-inch slices. The best is to use a stale sourdough bread loaf. Set aside.

In a shallow bowl, whisk non-dairy milk, sugar, cornstarch, flaxseed meal, vanilla extract, cinnamon, and turmeric until no lumps of flour can be seen.

Press each bread slice into the milk mixture for 10-15 seconds on each side until the crumb absorbs some liquid.

Keep the slice above the bowl for a few seconds to let the excess liquid drip down.

Warm a non-stick pan or pancake griddle over medium heat with plant-based butter or avocado oil.

When the butter has melted, add 1 or 2 slices of bread to the pan and cook for 2-3 minutes on one side until golden.

Flip the bread to its other side and if all the fat has already been absorbed by the bread, add more and keep frying the bread until crispy and golden brown on both sides.
Serving
Serve with maple syrup and fresh berries.
Share on Facebook
Pin Recipe
Nutrition
Serving: 1slice | Calories: 235kcal | Carbohydrates: 40.1g | Protein: 7.1g | Fat: 5.1g | Saturated Fat: 1.1g | Polyunsaturated Fat: 1.6g | Monounsaturated Fat: 1.6g | Trans Fat: 0.02g | Sodium: 452mg | Potassium: 81.8mg | Fiber: 1.7g | Sugar: 7.1g | Vitamin A: 178.7IU | Vitamin C: 0.02mg | Calcium: 69.4mg | Iron: 2.6mg | Magnesium: 22.1mg | Phosphorus: 70.1mg | Zinc: 0.7mg