This Eggplant Dip, called Baba Ganoush, is a creamy Mediterranean dip recipe made from roasted eggplants, tahini, and garlic.
It's a delicious appetizer or spread for lunch wraps and sandwiches.
Who doesn't love homemade dips? They are so much better than store-bought alternatives and very easy to make.
Plus, eggplants are one of these vegetables that are not always appreciated, and that's a shame.
In fact, eggplant is a high-antioxidant, high-fiber, and low-carb vegetable. Therefore, it's a great vegetable to add nutrients to your day and boost your immune system.
If you are not a big fan of the veggie, you need to try this recipe!
You can also try my Miso Glazed Eggplant or Vegan Eggplant Rollatini. They will convince you that eggplant is excellent!
It's creamy, smooth, and packed with flavors. But, believe me, it's hard to tell that it's made from eggplant.
How To Make Eggplant Dip
The secret of this recipe is to roast and broil the eggplants to deliver maximum flavor.
Ingredients
All you need to make this easy Greek eggplant dip are:
Large Eggplant – It must be firm to the touch with a lovely shiny skin.
Extra Virgin Olive Oil
Garlic
Salt Pepper
Parsley
Tahini – Unhulled or hulled tahini, both works. However, unhulled tahini is a bit more bitter.
Lemon Juice from fresh lemons.
Ground Cumin
Paprika – optional
Cutting And Roasting Eggplants
First, remove the top stem of each eggplant. Next, cut the eggplant halfway lengthwise.
Preheat the oven to 375°F (190°C). Line a large baking sheet with parchment paper and place the eggplant halves on the tray, skin up.
Using a pastry brush, brush the eggplant flesh with olive oil.
Bake the eggplants on the center rack of the oven for 25 to 30 minutes or until the flesh turns brown and the skin forms blisters.
Broiling
Broiling the eggplant is optional, but it increases the flavor of the dip.
Turn the oven to broil mode, and broil the eggplant for 5 to 8 minutes, flipping them a few times, so they broil nicely on both sides.
Cooling
Place the baking sheet aside at room temperature and let the eggplants cool down until they are easy to handle by hand.
Blending
When the eggplants are easy to grab, use a fork to rub and pull out the soft eggplant flesh from the skin.
Discard the eggplant skin and place the roasted flesh in the bowl of a food processor.
Add the remaining dip ingredients: garlic, oil, lemon juice, tahini paste, cumin, salt, and pepper.
Blend for 30 seconds on medium-high speed until the eggplant dip is creamy and smooth.
You can also work in pulses to keep pieces of eggplant in the dip and make a chunky roasted eggplant dip.
Refrigerating
Place the dip in a small shallow bowl, film the top with foil, and refrigerate for a few hours. The dip also tastes fantastic straight out of the food processor.
But, a cold dip has way more flavor, so keeping the dip in the fridge is recommended for the best taste.
Storage Instructions
Store the dip in an airtight glass container in the fridge for up to 4 days.
You can also freeze this dip and thaw it in the fridge the day before serving.
Serving
This dip is commonly served as an appetizer or side dish of roasted vegetables.
You can serve it plain or with a drizzle of olive oil on top, a pinch of paprika, and red pepper flakes.
Appetizers
You can dip delicious food into this dip, like:
Homemade Pita Chips
Carrot sticks
Celery sticks
Cucumber sticks
Side Dish
Serve this dip as a side dish amongst other delicious Middle-Eastern sides like:
Allergy Swaps
Here are some ideas to swap the ingredients if needed.
Tahini Paste – If you don't have tahini paste, or you can't eat tahini for some reasons, then try plant-based Greek yogurt or sunflower seed butter instead.
Oil – You can use avocado oil or any vegetable oil you have on hand, but olive oil really delivers the best flavors.
Lemon Juice – If you have a citrus allergy, try using vinegar instead, like red wine vinegar, often used in Greek eggplant dip recipes.
Frequently Asked Questions
I answered below the most common questions about this recipe.
Can I Make The Recipe Without A Food Processor?
You can add all the ingredients to a plate or shallow bowl and use a fork to mash them together.
The dip ends up chunkier, but it blends well together.
Can I Cook The Eggplant Without An Oven?
You can roast the eggplants on a grill or in an air fryer at 350°F (180°C).
More Dip Recipes
If you like this dip, you'll love these other dip recipes:
Have you tried this dip recipe? Share a comment or review below to tell me how you served yours.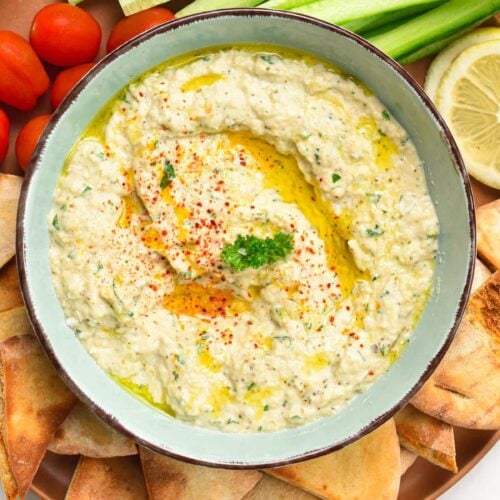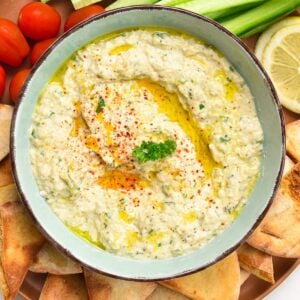 Eggplant Dip
This Eggplant Dip, also called Baba Ganoush recipe, is a creamy Mediterranean dip made from roasted eggplants, tahini, and garlic. It's a delicious appetizer or spread for lunch wraps and sandwiches.
Pin
Print
Review
Servings: 10 Servings
Calories: 99.1 kcal
Instructions
Preheat an oven to 375°F (190°C). Line a baking dish with parchment paper. Set aside.

Prick the eggplant skin with a fork in several places.

Trim the eggplant top green part and slice it in half, lengthwise.

Place the eggplant halves on the prepared baking sheet, and skin down the sheet. Drizzle one tablespoon of olive oil on each eggplant and rub to cover the flesh.

Roast the eggplant for 25-30 minutes or until the flesh is brown, the eggplant skin blisters, and the flesh softens.

Switch the oven to broil mode, and broil for 5-8 minutes, turning the eggplant frequently to broil both sides – this adds a lot of flavors.

When baked, remove it from the oven and let it cool down for 10 minutes or until cold enough to handle.

Use a fork to scrape off the soft roasted eggplant flesh and place it in a food processor. Discard eggplant skin.

In the food processor, add the remaining ingredients crushed garlic cloves, lemon juice, tahini paste, salt, cumin, and Parsley.

Process on medium speed until creamy and smooth.

Taste and add more lemon juice, salt, pepper, or garlic to adjust it to your taste.

Transfer the mixture into a serving bowl and serve with a drizzle of extra olive oil, paprika, and freshly chopped Parsley.

Store immediately, or refrigerate for 2-3 hours for the best flavors.
Storage
Store in an airtight container in the fridge for up to 3 days.
Share on Facebook
Pin Recipe
Nutrition
Calories: 99.1kcal | Carbohydrates: 7.5g | Protein: 2.1g | Fat: 7.6g | Saturated Fat: 1.1g | Polyunsaturated Fat: 1.9g | Monounsaturated Fat: 4.3g | Sodium: 63.2mg | Potassium: 257.7mg | Fiber: 3.2g | Sugar: 3.4g | Vitamin A: 225.7IU | Vitamin C: 5.9mg | Calcium: 21.3mg | Iron: 0.7mg | Magnesium: 20.2mg | Phosphorus: 72.7mg | Zinc: 0.5mg