These No-Bake Coconut Cookies are easy healthy vegan cookies similar to no-bake coconut macaroons with a tangy coconut lime flavor and a delicious chocolate shell.
They are the perfect snack or dessert for any occasion, and they are even keto-friendly!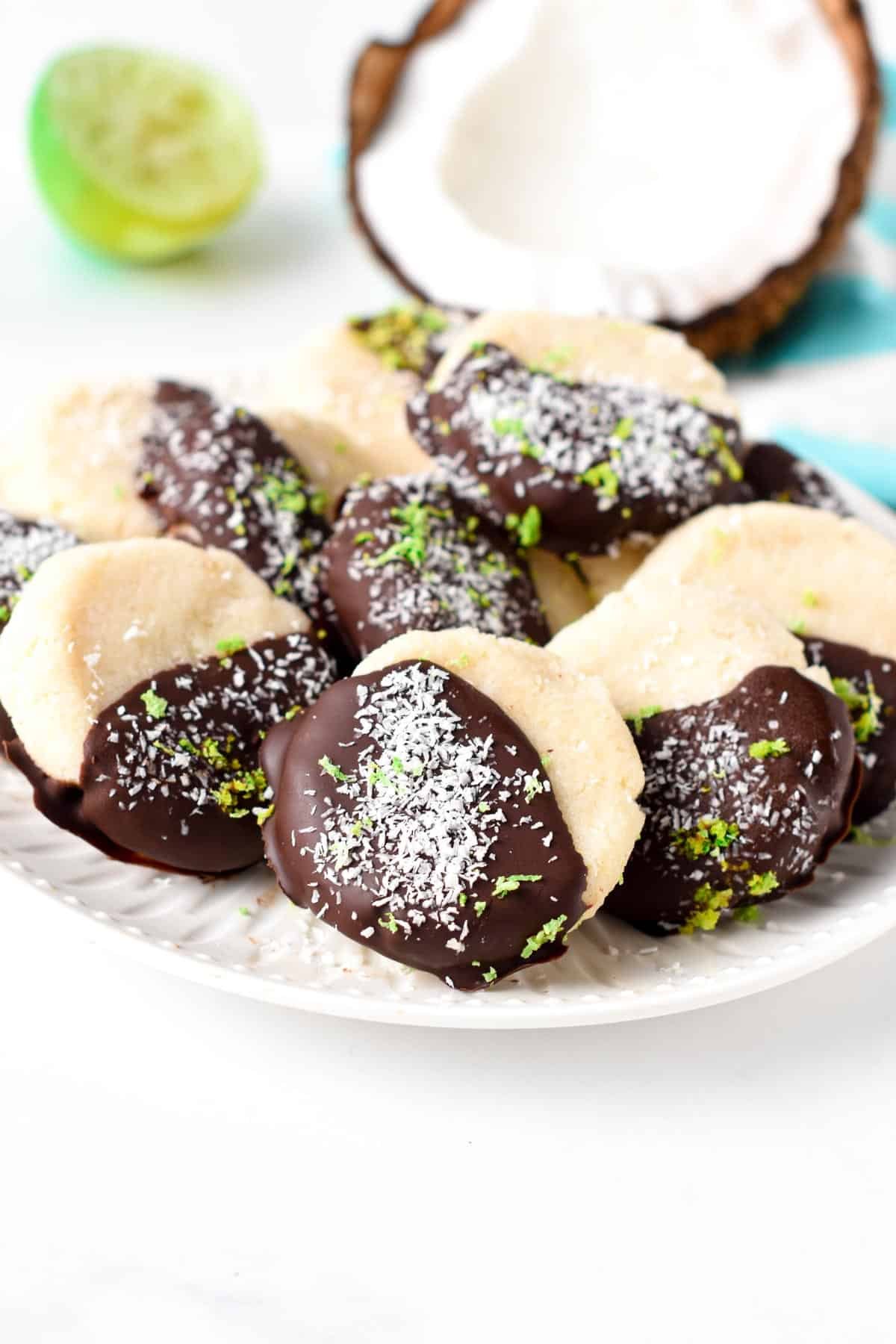 What Are No-Bake Coconut Cookies?
Coconut No-Bake Cookies, also called raw coconut cookies, are cookies made without any oven or heat.
They are made of a combination of raw ingredients no butter or sugar, only wholesome nourishing ingredients combined at room temperature and then solidify in the fridge or freezer.
How To Make No-Bake Coconut Cookies
These no-bake cookies with coconut are cookies made with coconut oil. Coconut oil is the magic ingredient that holds raw cookies together.
In fact, coconut oil solidifies below 74°F (23°C), which gives all the texture to these no-bake vegan cookies.
Let's have a look at the simple ingredients you need to make those macaroon cookies.
Ingredients
It's very easy to make a raw coconut cookie in less than 20 minutes. All you need are:
Unsweetened Desiccated Coconut
Almond Flour or rolled oats, oat, and coconut makes the cookies a bit dryer so I recommend almond flour
Coconut Oil – feel free to use refined coconut oil if you don't like the strong flavor of unrefined coconut oil.
Liquid Sweetener – I love to use either maple syrup or sugar-free monk fruit syrup to make the keto coconut cookies. It is up to you to choose the sweetener you prefer. Other options are coconut nectar, brown rice syrup, or agave syrup.
Lime Juice – or simply water or coconut water if you don't like the flavor of coconut lime together.
Dark Chocolate – chocolate and coconut go very well together! So dip half of your cookies in melted 70%-85 dark chocolate!
Processing Batter
To make these no-bake cookies, simply add all the ingredients into a food processor.
Then, process until it forms a paste and comes together.
No Food Processor?
If you don't have a food processor you can first melt coconut with maple syrup.
Then, stir in thin desiccated coconut, almond flour, lime juice, or almond milk.
However, this method makes the dough much more fragile and difficult to shape by hand.
You may have to place the amount of batter for each cookie into muffin cases, press to compact the batter then freeze.
Forming No-Bake Coconut Cookies
Finally, cover a baking sheet with parchment paper or wax paper.
Then, scoop out a tablespoon of dough and roll it into a ball.
Place each coconut ball onto the prepared baking sheet, leaving half thumb space between each ball.
Then, press down each cookie ball into a flat cookie.
Freezing
Place the baking sheet with the cookies into the freezer to set. It takes about 10 – 15 minutes to harden
Chocolate Coating
Meanwhile, prepare the melted chocolate to dip the cookies halfway.
In a saucepan, add the chocolate chips or dark chocolate.
Bring over medium heat and remove from heat when chocolate is melted.
You can also make your own chocolate by melting 2 tablespoons of cocoa powder with 3 tablespoons coconut oil and a teaspoon of maple syrup.
Dipping In Chocolate
Now, remove the baking sheet from the freezer and dip each coconut cookie halfway into the melted chocolate.
Place bake on the tray and repeat until all the cookies are dipped in chocolate.
Place the baking sheet back into the freezer to set the chocolate shell.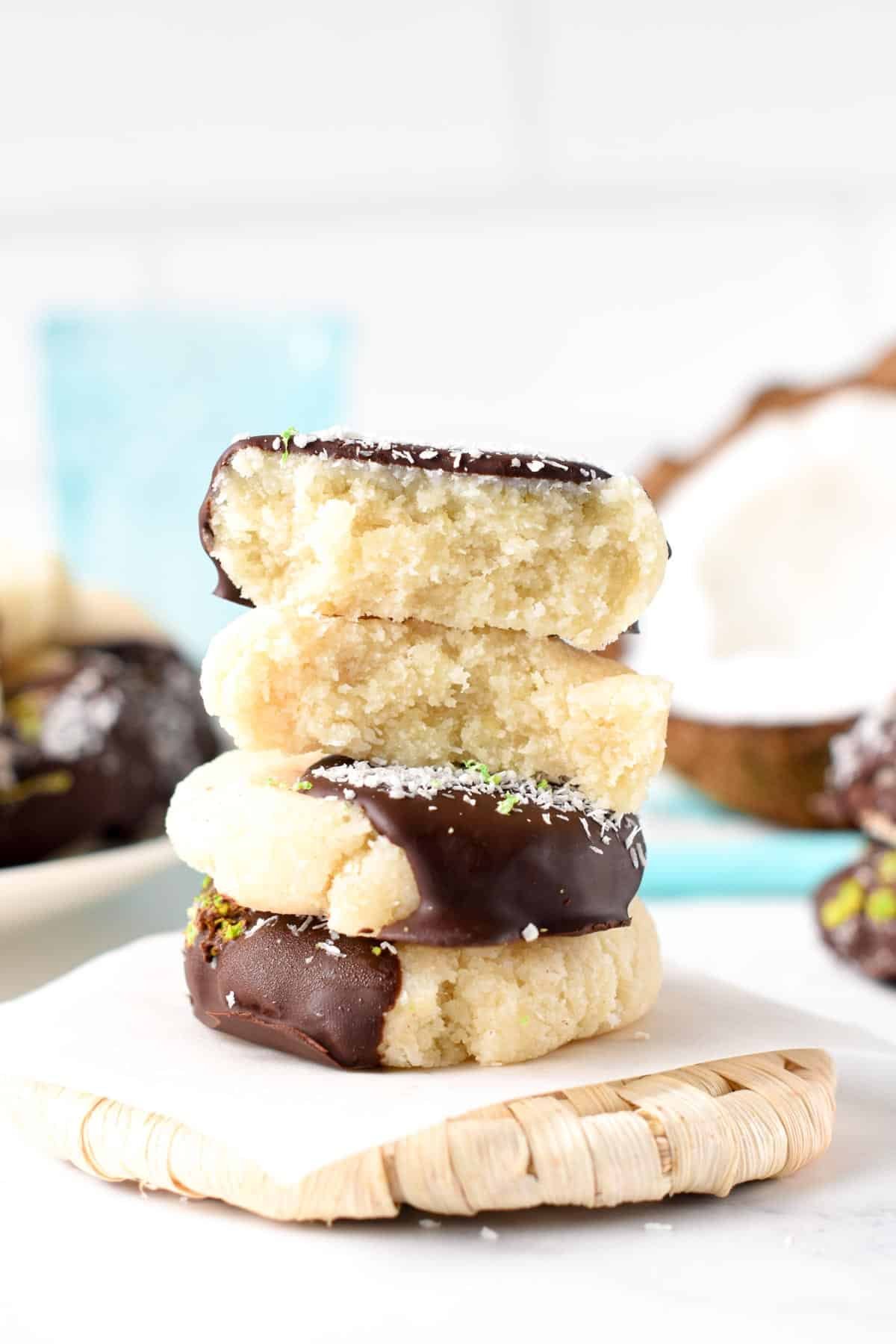 Optional Flavors
The recipe uses 3 tablespoons of liquid, and many liquids will work I recommend using lime juice as coconut lime is the magic flavor.
However, you can also try coconut water to enhance the coconut flavor or unsweetened vanilla almond milk for a vanilla coconut cookie.
You can also add a dollop of peanut butter to the batter to add a lovely peanut butter flavor, but this increase saturated fat as well.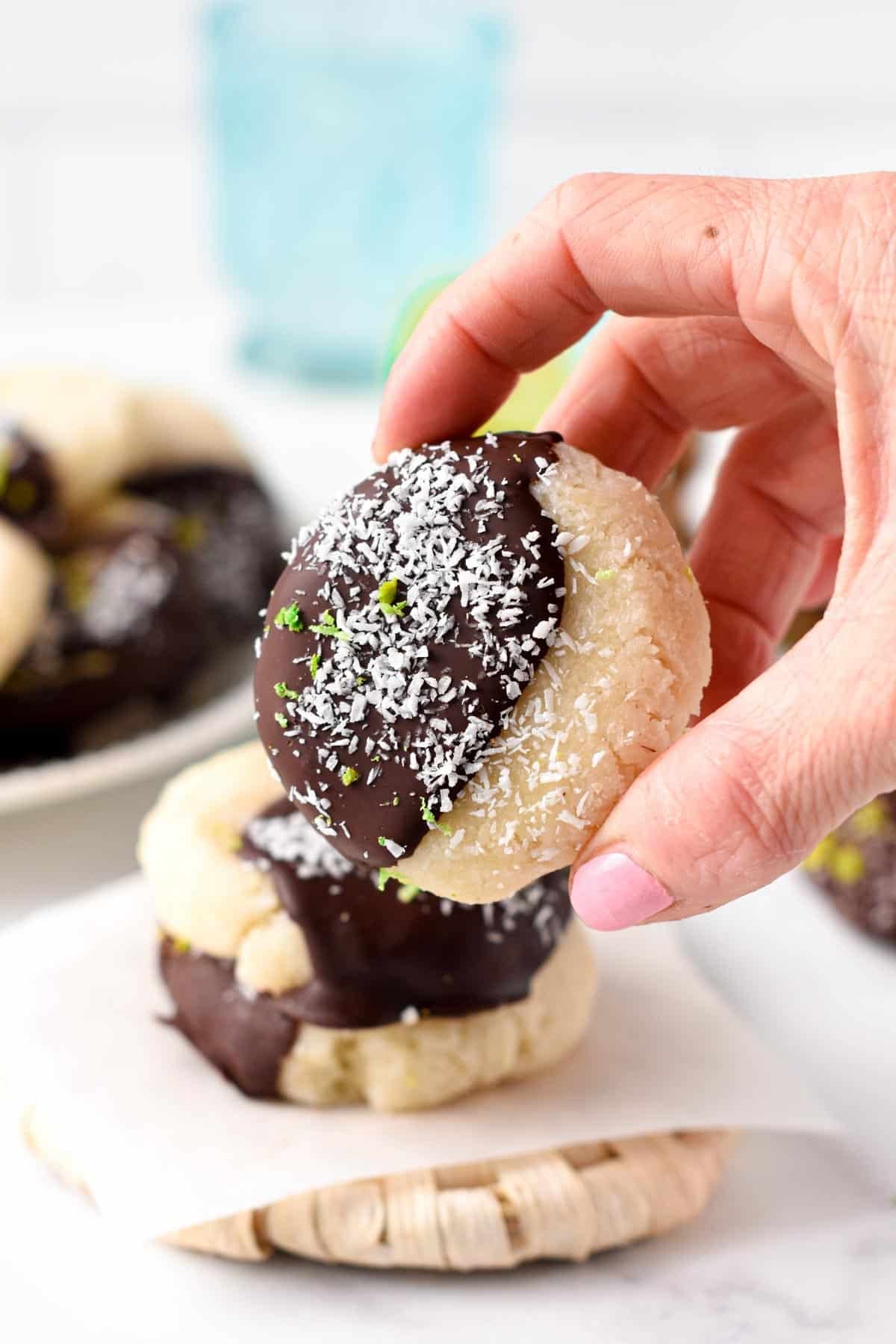 Storing No-Bake Coconut Cookies
These no-bake cookies with coconut can be stored for up to one month in a sealed container in the fridge.
You can also store your cookies in the freezer, in silicone bags, and thaw them 30 minutes before serving.
They are delicious to eat frozen as well.
More No-Bake Cookie Recipes
If you love easy no-bake cookie recipes I recommend trying these recipes:
Don't forget to share a picture of your no-bake cookies with me on Instagram! I love to re-share your creation in my stories with all the conscious plant kitchen followers!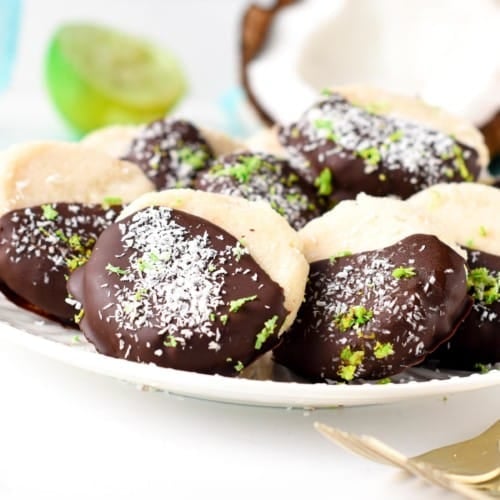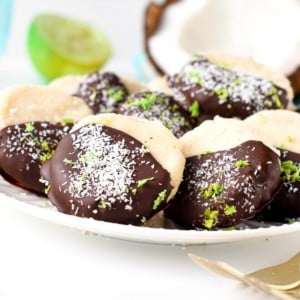 No-bake Coconut Cookies
No-bake coconut cookies are easy healthy vegan cookies similar to no-bake coconut macaroons with a tangy coconut lime flavor and delicious chocolate shell. The perfect snack or dessert for any occasion.
Pin
Print
Review
Servings: 25 cookies
Calories: 120 kcal
Instructions
In a food processor, using the S blade attachment, add all the ingredients. Choose the liquid you like depending on the flavor you want to add to your coconut cookie. For a pure coconut taste, use coconut water or use lime juice for a coconut lime flavor.

Process for 1 minute, stop the food processor, scrape down the sides of the bowl and repeat for 1-2 minutes until all the ingredients are soft and come together into a dough. It should take about 3 minutes at medium/high speed. If too dry, add 1 extra tablespoon of liquid of your choice.

Roll 25 small cookie balls within your hands and place each ball onto a plate covered with parchment paper.

Flatten each ball into a cookie shape and place the plate into the freezer for 5 minutes while preparing the chocolate coating.
Chocolate shell
Melt the vegan dark chocolate with coconut oil in a saucepan under low heat, constantly stirring to prevent the chocolate from burning. Otherwise, microwave in a microwave-safe bowl with 30-second bursts.

Remove the cookies from the freeze and half dip each coconut cookie into the melted chocolate.

Bring back the dipped cookie onto the plate and repeat until all cookies are decorated.

Sprinkle extra desiccated coconut on the melted chocolate to decorate.

Place the plate in the freezer for 5 minutes to set the chocolate shell.
Storage
Store the cookies in an airtight container in the fridge for up to 3 weeks.

The cookies can be frozen in a sealed bag or box. Defrost 30 minutes before and eat them half-frozen or at room temperature.
Notes
Nutrition panel for one keto coconut cookies using sugar-free monk fruit syrup and sugar-free chocolate (stevia-sweetened)
net carbs per cookie: 2g
calories: 107 kcal
fat: 8.9g
fiber: 1.9g
carbs: 3.9g
protein: 1.2g
Share on Facebook
Pin Recipe
Nutrition
Serving: 1cookie | Calories: 120kcal | Carbohydrates: 6.7g | Protein: 1.3g | Fat: 8.9g | Fiber: 1.2g | Sugar: 3.9g