No bake healthy granola bars
Those no bake healthy granola bars are easy one-bowl granola bars loaded with nourishing seeds, nuts and almond butter. Perfect school lunch bars for the kids, 100 % refined sugar free, gluten-free, dairy free and egg free.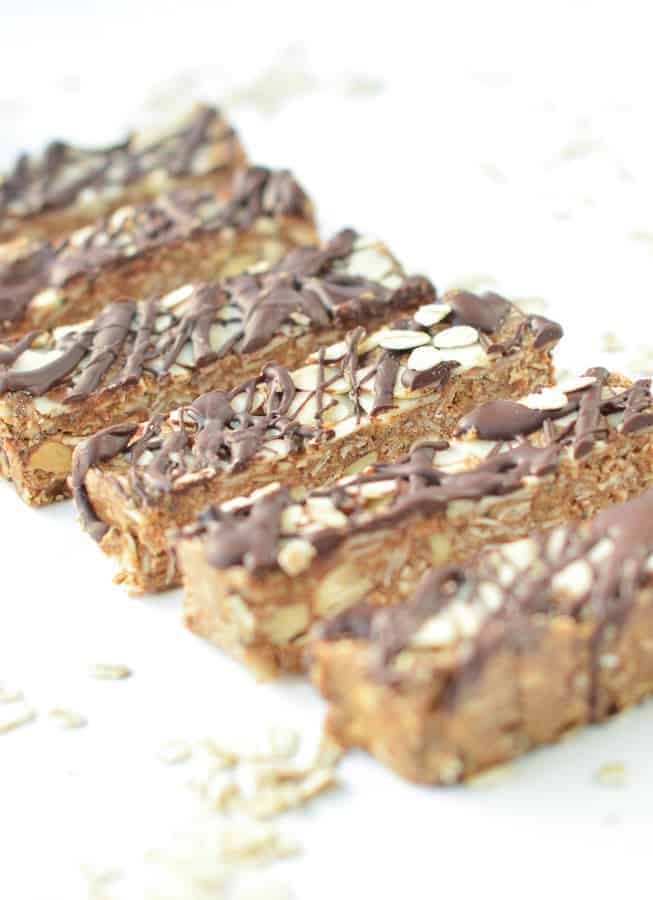 Those no bake healthy granola bars are inspired by my low carb granola bar recipe that I shared on my low carb blog. Since my husband run almost 100 km weekly, he loves good complex carbs including oats. This no bake healthy granola bars is perfect for nourishing breakfast on the go or post work out refuel. They are low in unrefined sugar but loaded with good carbs to refuel after a long work out.
No bake healthy granola bars – easy 1-bowl recipe
Those are healthy homemade granola bars with a delicious crunchy texture naturally coming from oats, nuts, seeds. Plus, those no bake granola bars recipe are very easy to make in only 30 minutes. Let's see what ingredients you need and you options .
Wholesome nourishing ingredients
All you need to make those no bake granola bars are simple wholesome ingredients. Note that I am using two types of oats in this recipe. Feel free to use only steel cut oats if preferred but first let's me explain why both size of oats makes the bars delicious!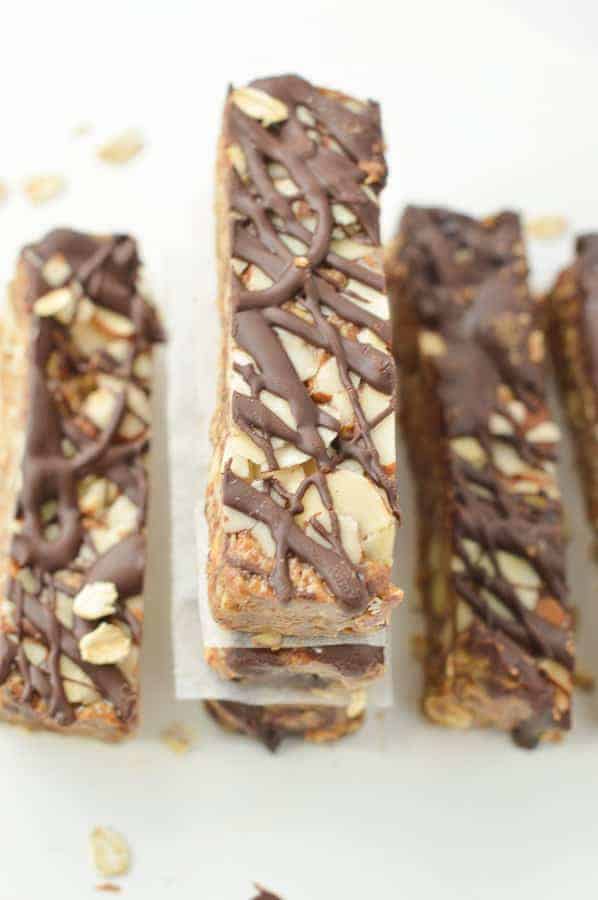 Steel cut oats is the one you use for porridge, it refers to tiny pieces of wholegrains oats. This oats size gives the bulk of the no bake granola bars
Wholegrain oats also called old-fashioned, rolled oats or jumbo oats, looks like flat large disc of oats. They absorb more liquid than steel cut oats. They add texture to the bars and make the bars less soft at room temperature.
Creamy almond butter – I used light roasted almond putter from pics peanut butter. Their almond butter is not grainy with a light color similar to peanut butter. You can use any nut butter in this recipe like peanut butter, macadamia butter r cashew butter. Sunflower seed butter will work too.
Flaxmeal – it adds texture to the bar by absorbing liquid you can replace by ground chia seed if preferred
Almonds – finely chopped or any nuts or seeds you like
Unsweetened shredded coconut
Coconut sugar – it has a low GI compared to sugar and add a delicious caramel flavor to the bars. If you watch sugar, replace by the same amount of sugar-free monk fruit crystal . Also note that any unrefined crystal sugar will work in this recipe. I don't recommend liquid sweetener, they make the bar too soft
Unrefined coconut oil – don't replace by another oil or the bars won't hold. If you don't like coconut oil flavor use refined coconut oil, it has no flavor.
How to make nut-free granola bars?
To make nut free chewy granola bars replace the nut butter by the same amount of sunflower seed butter. Also, replace the chopped almond by coconut flakes or pumpkin seeds or sunflower seeds.
A homemade chewy granola bars
Those no bake granola bars are very crunchy just out of the fridge but they become homemade chewy granola bar after only 10 minutes at room temperature. I highly recommend to store those bars in the fridge as they will melt and soften quickly. However, for a chewy texture wait 10 minutes before digging in.
More healthy vegan breakfast recipe
If you love easy nutritious vegan breakfast recipes you may also want to try my recipe below.
Watch the no bake homemade chewy granola bar recipe video
I made a lovely recipe video of those no bake granola bars to help you success the recipe every time. Come and watch me on YouTube and don't forget to follow me to never miss a recipe.
Enjoy the recipe and save it for later on Pinterest!
Your friend, Carine
Healthy no bake granola bars
Healthy no bake granola bars vegan easy almond granola bars with no refined sugar.
Servings:
10
granola bars
Ingredients
1/2

cup

Wholegrain rolled oats

1/2

cup

Steel-cut oats

1/3

cup

Flaxseed meal

2

tablespoons

Chia seeds

1/3

cup

Almonds

-

Chopped

2

tablespoons

Coconut

-

unsweetened shredded

3/4

cup

Peanut butter -

or almond butter

3

tablespoon

Coconut oil

1

teaspoon

Vanilla

1/4

cup

Coconut sugar -

or sugar-free erythritol stevia blend
Chocolate peanut butter sauce
Instructions
Line a rectangle loaf pan (9 inches x 5 inches) with a piece of parchment paper. Set aside.

In a large mixing bowl, add the wholegrain rolled oats, steel cut oats, flaxseed meal, chia seeds, chopped almonds and shredded coconut. Give a good stir to combine, Set aside.

In a small saucepan, add creamy peanut butter (or almond butter), coconut oil, vanilla and coconut sugar.

Bring the saucepan under medium heat and whisk constantly to melt the coconut sugar (or sugar-free sweetener) into the nut butter. It shouldn't take more than 2 minutes. When small bubbles are forming on the sides of the pan it is ready to remove from heat.

Pour the liquid onto the dry ingredients and combine with a spoon at first. Then, use your hands to squeeze the mixture to make sure that all the liquid cover the dry ingredients. It should be sticky.

Pour the granola batter into a loaf pan (9 inches x 5 inches) covered with a piece of parchment paper.

Press the granola mixture firmly with a spatula, you should have no air left between the mixture. Sprinkle sliced almonds on top of the bars and press them firmly to stick to the top.

Place the loaf pan

20 minutes

into the freezer to set the bar.

In a small saucepan, under low heat, melt the chocolate along with coconut oil and peanut butter.
Chocolate peanut butter drizzle
Drizzle the melted chocolate peanut butter sauce onto the bar.

Return the bar for

5 minutes

into the freezer to set the chocolate.

Lift the granola bar block from the loaf pan pulling the pieces of parchment paper.

Cut the block into 10 granola bars using a sharp knife. You can warm the knife blade under a gas cook top flame to make it easier to slice.
Storage
Store the bar in the fridge, in a zip bag or airtight container for up to 2 weeks. You can freeze the bars and defrost 3 hours before eating.Those bars soften quickly at room temperature on hot days, it must be store in a cool place preferably in a fridge to keep them firm
Share on Facebook
Pin Recipe
Nutrition
Serving:
1
bar
|
Calories:
315
kcal
|
Carbohydrates:
22
g
|
Protein:
8.8
g
|
Fat:
20.9
g
|
Fiber:
5.4
g
|
Sugar:
8.6
g