This Oat Milk Coffee is the most delicious dairy-free latte for coffee lovers. Plus, this oat latte is better for the planet and also nut-free.
I am a huge latte lover and always make vegan latte using oat milk or soy milk. Both are the best milk for coffee lattes because they form foam and add a creamy texture to latte recipes.
Why Use Oat Milk In Coffee?
Oat milk is one of the most popular non-dairy milk options for coffee, smoothie recipes, or baking.
Nutrition – Compared to other plant-based milk like nut milk, oat milk contains more carbohydrates and higher calories per serving, which can be an issue for people on a low-carb diet. But, it also has more proteins than its counterpart dairy-free milk, and therefore, it froths better in milk frothier.
Taste – Tastewise, oat milk is a much better choice for coffee latte lovers. In fact, oat milk provides a creamier texture and has more consistency than other nut milk like almond or cashew milk.
Nut-Allergy – Oat milk is nut-free and one of the reasons why many people choose oat milk in coffee. However, if you are celiac, beware. You may not tolerate oat milk and prefer soy milk or almond milk.
Environment – The carbon footprint of oat milk is slightly higher than almond milk's. But, growing oats require less water or energy than almonds.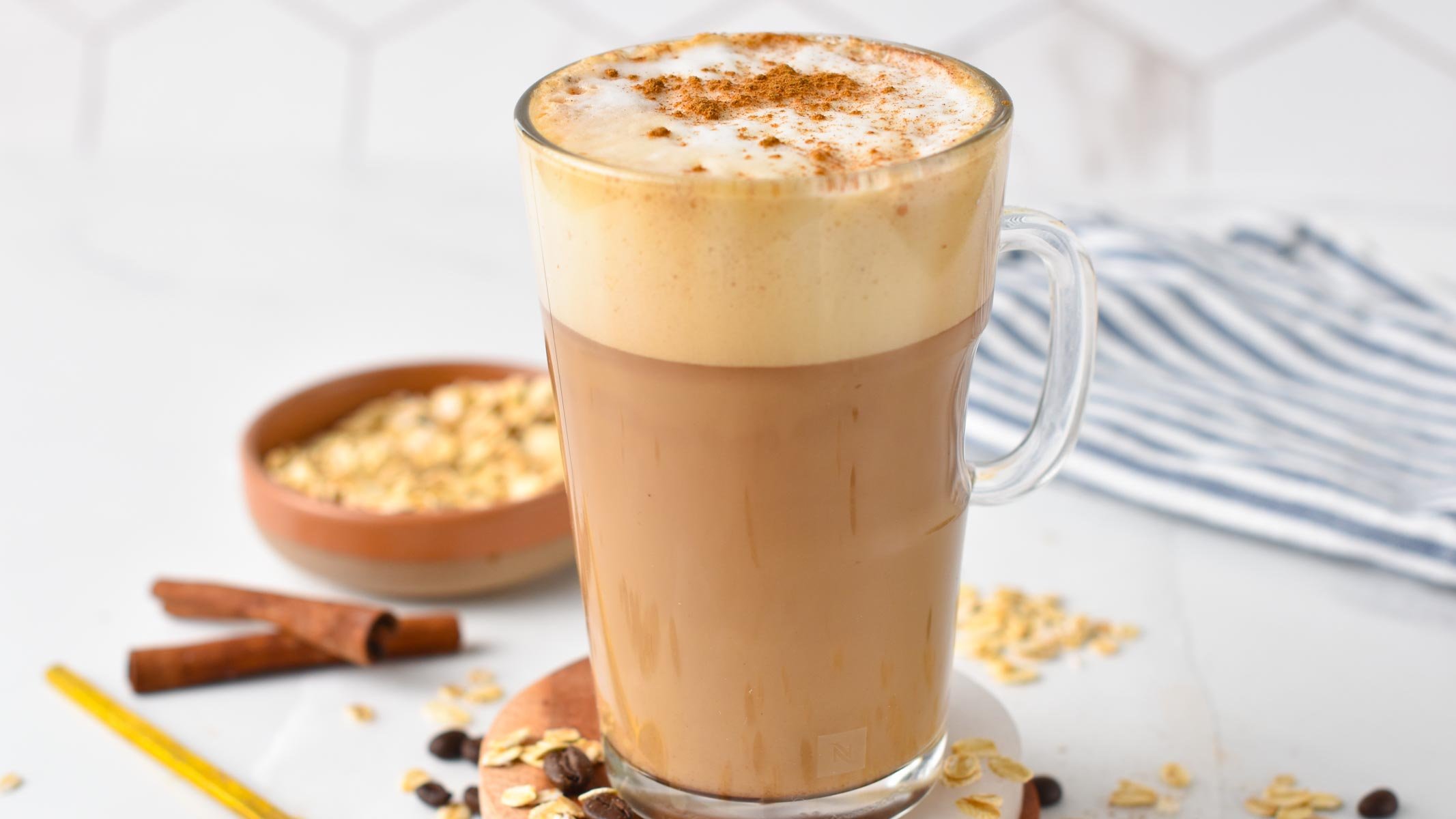 How To Make Oat Milk Coffee
Call this oat milk coffee or oat milk latte. Both terms refer to the same creamy frothy coffee.
Ingredients
Like any latte recipe, the ingredients are pretty basic and simple.
Strongly Brewed Coffee or espresso shot – you can also use decaf if preferred.
Oat Milk – There are two types of oat milk available at the store. You can buy long-shelf oat milk or oat milk from the cold aisle. When it comes to coffee, both options are the same. The only difference comes from barista oat milk. Barista oat milk contains more fat. Usually, there's an addition of oil that makes the milk creamier. Also, remember that barista oat milk contains added sugar most of the time, so it's not the best option if you don't like your coffee too sweet.
Sweetener of Choice – This is up to you. I like a touch of maple syrup in my oat latte, but you can also use coconut sugar, sugar, or no sweetener.
Cinnamon or pumpkin pie spices – adding a pinch of spices is always delicious during fall.
Vanilla Extract – Optional, but it add a delicious flavor to make a vanilla latte.
Frothing The Milk
You have three ways to froth oat milk.
Milk Frother – If you have a milk frother, it's very simple. Fill the milk frother up to it's max line and start the frothing.
In a Jar – Place the oat milk in a glass jar and microwave until warm – not boiling. Close the jar with a lid and shake it until foamy. It will form more of a foam than a froth.
Hand Milk Frother – Warm milk in a mug. The best temperature to froth hot milk is between 140°F to 155°F. Next, place the hand milk frother in the mug and start frothing until foamy on the top.
Brewing The Coffee
Brew your coffee beverage using your favorite method. I like to use an espresso machine so I brew two espresso for one latte.
If you like to flavor your latte, stir in maple syrup, vanilla extract, and cinnamon in the brewed coffee before adding the frothed oat milk.
Also, if you brew coffee using a coffee press or a coffee filter machine, use a strong coffee bean to ensure a strong coffee flavor in your latte.
If you are making an iced coffee, place the brewed espresso in a mug with a few ice cubes to chill.
Preparing The Cup
Place the warm brewed coffee in a tall mug, stir in sweetener and vanilla if used. Next, pour the warm froth oat milk on top.
Assembling The Latte
Serve the oat coffee with a pinch of pumpkin spices or cinnamon if you like.
Oat Coffee Flavor Combinations
The best oat milk latte recipe flavors are:
Vanilla Oat Latte – Stir 1/2 teaspoon of vanilla extra or 1/4 teaspoon of vanilla bean paste in your brewed coffee.
Mocha Oat Latte – Stir one teaspoon of unsweetened cocoa powder or the same cocoa powder you use for hot chocolate for a sweet mocha latte. Add this powder along with the shots of espressos. Serve with a pinch of cocoa powder.
Pumpkin Oat Latte – Stir one tablespoon of pumpkin puree with the warm coffee and stir in 1/4 teaspoon of pumpkin spice or simply a pinch of cinnamon, ginger, and nutmeg.
Iced Oat Milk Latte – Froth the cold oat milk straight out of the fridge using a hand milk frother or milk frother machine. Place the brewed coffee over ice cubes to chill, then top up with cold froth oat milk.
Frequently Asked Questions
Below are my answers to your common questions about this latte recipe.
How Can I Make Oat Milk?
To make your own oat milk, add 1 cup of oats and water in a blender. Blend on high speed until lit, forming a cloudy white-ish liquid.
Drain the mixture over a cheesecloth. The liquid is your oat milk that you can sweeten or flavor. You can keep the oat strain for baking cakes and cookies.
Is Oat Milk Good With Coffee?
Yes, oat milk is delicious to make oat coffee because it has a creamier texture than other dairy-free ilk.
Is It OK To Heat Oat Milk?
Yes, oat milk can be heated. Oat milk can be warmed in a saucepan, microwave safe bowl or used in baking.
More Hot Drink Recipes
If you like hot drinks, you'll love these:
Oat Milk Coffee
This Oat Milk Coffee is the most delicious dairy-free latte for coffee lovers. Plus, this oat latte is better for the planet and also nut-free.
Pin
Print
Review
Shop My Tools
Ingredients
2

Espresso Shots

-

or 1/3 cup strong brewed coffee

1

tablespoon

Maple Syrup -

or sugar

1

cup

Oat Milk -

or barista oat milk
Instructions
In a small saucepan, over medium heat or in a milk frother, warm unsweetened oat milk until just warmed up – don't boil. Stir in sweetener, cinnamon, and vanilla if used. Set aside.

Meanwhile, brew two espresso shots or 1/3 cup strong coffee in your coffee mug. Stir in maple syrup, vanilla extract, or cinnamon if used.

Top the brewed coffee with warm, frothed oat milk.

Serve coffee with a sprinkle of cinnamon if desired.
Share on Facebook
Pin Recipe
Nutrition
Serving:
1
latte
|
Calories:
70
kcal
|
Carbohydrates:
2
g
|
Protein:
2.5
g
|
Fat:
6
g
|
Polyunsaturated Fat:
3
g
|
Monounsaturated Fat:
3
g
|
Sodium:
650
mg
|
Fiber:
1.5
g
|
Sugar:
0.5
g
|
Calcium:
600
mg