Raspberry White Chocolate Muffins
These Raspberry White Chocolate Muffins are moist vanilla muffins filled with delicious white chocolate bits and juicy raspberries.
They are delicious breakfast muffins or a sweet treat in the afternoon.
I discovered the delicious combo of raspberry and white chocolate muffins during a school internship in Australia.
Since then, I recreated this delicious muffin combination using my favorite plant-based ingredients.
If you have never tried mixing raspberries and white chocolate, trust me, it's the most delicious combo.
Raspberries tend to be tangy and bitter, and the sweetness of white chocolate goes so well with them.
Plus, these raspberry muffins are naturally:
Egg-free
Dairy-free
Nut-free
How To Make Raspberry And White Chocolate Muffins
This is the most easy raspberry white chocolate muffin recipe you will ever try. Let me share how you can whip a batch of these delicious muffins in no time.
Ingredients
All you need to bake these white chocolate muffins with raspberries are:
All-Purpose Flour or self-raising flour – Skip the baking powder if you use the latter.
Sugar like white sugar or caster sugar. You can always use healthier sugar options like unrefined cane sugar or coconut sugar, but it changes the muffins crumb to a darker color.
Canola Oil, avocado oil, or any vegetable oil you prefer.
Non-Dairy Milk of Choice – You can use almond milk, soy milk, oat milk, or even coconut milk.
Apple Cider Vinegar
Baking Powder
Salt
Fresh Raspberries or frozen raspberries if they are not in season.
White Chocolate Chips – You might not find dairy-free white chocolate chips where you live. Instead, you can use plant-based white chocolate bars cut into tiny pieces.
Vanilla Extract
Preparation
First, line a 12-hole muffin tin with muffin cups or paper liners. Use oil cooking spray to grease them.
Next, in a large bowl, stir the wet ingredients: dairy-free milk of choice with apple cider vinegar, oil, and vanilla extract.
Set aside until the milk curdles – like buttermilk. It takes barely 5 minutes.
Making The Batter
In a separate bowl, stir all the dry ingredients: plain flour, baking powder, salt, and sugar.
Add the dry ingredients to the liquid ingredients in the bowl and whisk to combine. Don't over-whisk. Just whisk until no more lumps of four can be seen.
If you over-stir the muffin batter, they get packed and dense. In the end, fold in white chocolate chunks and raspberries.
Stir to bring all the ingredients together, then use an ice cream scoop to fill each muffin cup.
If you have fresh raspberries available, you can add a few on top of each muffin before baking them.
If all you have are frozen raspberries, thaw them before adding them on top, or they release too much juice leaving the top unbaked.
Baking The Muffins
Bake the muffins in the center rack of the oven for 25 to 30 minutes at 350°F (180°C). Or bake them until a skewer inserted in the center comes out clean, and the top is golden brown.
Remove the tin from the oven and cool on a wire rack for an hour before serving.
Serving
You can serve the muffins plain or add a drizzle of my vegan royal icing on top.
Another option is to add a drizzle of melted white chocolate and some lemon zest.
Variations
You can use this raspberry and white chocolate muffin recipe to create a variety of muffin flavors.
You can stir in 1/2 cup of the below ingredients for a boost of taste and texture:
Crushed almonds
Shredded coconut
Another ideas is to add 1 tablespoons of grated lemon zest which goes so well with raspberries.
Storage Instructions
These delicious bakery-style muffins store well in an airtight cake box in the fridge for up to 4 days.
For tender muffins, keep them at room temperature, but no longer than 2 days, or the raspberries mold.
Allergy Swaps
Below are some options for you to try if you have some food allergies.
Nut-Free – You can use any milk for this recipe including soy milk, coconut milk, or oat milk.
Gluten-Free – The recipe should work with a gluten-free flour blend containing added gum. However, the texture might end up gummier and denser.
Oil – You can use plant-based melted butter instead of oil.
Frequently Asked Questions
below I am answering all your common questions about this muffin recipe
How Many Days Do Homemade Muffins Last?
It depends on the ingredients in your muffins.
Muffins containing fruits, like berries, must be stored in the fridge to last longer.
In general, you can keep homemade muffins fresh for four days if stored in an airtight container in the fridge.
How Long Do Homemade Muffins Last On The Counter?
Homemade muffins last 2 days on the kitchen counter, covered with foil or a net to prevent dust and flies.
More Muffin Recipes
If you like this recipe, you'll love my other delicious muffins: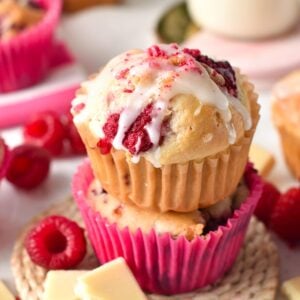 Raspberry White Chocolate Muffins
These Raspberry White Chocolate Muffins are moist vanilla muffins filled with delicious white chocolate bits and juicy raspberries. They are delicious breakfast muffins or a sweet treat in the afternoon.
Pin
Print
Review
Servings: 12 muffins
Calories: 199.8 kcal
Instructions
Preheat the oven to 350°F (180°C). Line a 12-hole muffin tray with a paper liner. Set aside.

Chop the white chocolate on a chopping board, using a sharp knife. Don't chop them too large, so you have a lot of bits and pieces all over the muffin. Set aside.

In a large mixing bowl, whisk milk, apple cider vinegar, oil, and vanilla extract. Set aside.

In another large mixing bowl, combine flour, sugar, salt, and baking powder.

Fold the dry ingredients into the wet ingredients and whisk to combine until a smooth, slightly thick muffin batter. Don't over-mix the batter, or the muffin will be dense and gummy.

Fold in the chopped white chocolate chunks and fresh or frozen raspberries. Stir until just combined.

Divide the batter evenly into the 12 muffin paper cups.

Bake on the center rack of your oven for 25-35 minutes or until they are golden brown and a skewer inserted in the center of the muffins comes out clean.

Cool down on a rack completely before adding any glazing.
Glazing
To glaze, stir icing sugar and almond milk. If too thin, add more icing sugar one tablespoon at a time, and if too thick, add more lemon juice.

Drizzle on top of the cooled muffins, and decorate with freeze-dried raspberries if you like.
Storage
Store in an airtight container in the fridge for up to 4 days.

Freeze up to 1 month, thaw at room temperature
Share on Facebook
Pin Recipe
Nutrition
Serving: 1muffin (no glaze) | Calories: 199.8kcal | Carbohydrates: 30.2g | Protein: 2.8g | Fat: 7.7g | Saturated Fat: 1.8g | Polyunsaturated Fat: 1.7g | Monounsaturated Fat: 3.8g | Trans Fat: 0.02g | Cholesterol: 1.6mg | Sodium: 208.8mg | Potassium: 60mg | Fiber: 1.3g | Sugar: 13.3g | Vitamin A: 5.5IU | Vitamin B12: 0.04µg | Vitamin C: 2.7mg | Calcium: 91.2mg | Iron: 1.1mg | Magnesium: 7.9mg | Phosphorus: 53.3mg | Zinc: 0.2mg