Vegan Chocolate Fudge Recipe (4 Ingredients)
This vegan chocolate fudge recipe is an easy chocolate fudge recipe using only 4 wholesome ingredients.
It is a healthy fudge recipe made without all the refined ingredients usually found in chocolate fudge.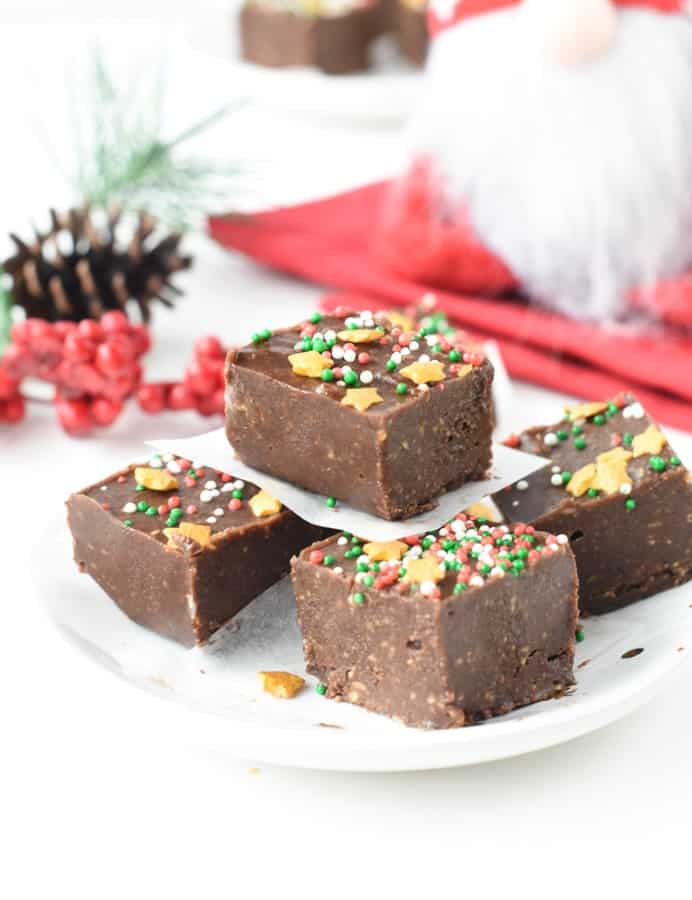 Is Chocolate Fudge Vegan?
No, classic fudge recipes are not vegan friendly because they contain butter. Of course, you can adapt a classic fudge recipe using vegan butter.
If you are looking for a healthier vegan fudge recipe, this won't help because a classic fudge contains sweetened condensed milk and a lot of icing sugar.
To make a healthier vegan chocolate fudge recipe, I recommend my recipe below, low in sugar and made with unrefined sugar only!
How To Make Vegan Chocolate Fudge
This almond butter fudge recipe is the easiest, allergy-friendly fudge recipe ever.
No need for fancy tools like a food processor or unhealthy ingredients like sweetened condensed milk!
Ingredients
All you need to make this easy chocolate fudge recipe without condensed milk are 4 natural ingredients.
Almond butter – you can also use other nut butter like peanut butter or seed butter like tahini or sunflower seed butter. These options change the flavor of the fudge and the content of saturated fat as well. Choose the option that works the best for you.
Maple syrup – or any unrefined liquid sweetener like agave syrup, rice syrup, date syrup. Choose honey if you want to make paleo almond butter chocolate fudge and are not vegan. To make the recipe keto-friendly, you can use a sugar-free maple syrup such as ChocZero's. With this option, the recipe makes delicious fat bombs to snack on your keto journey, a delicious keto fudge without sugar or carbs for a snack or a holiday treat!
Cocoa butter – or melted coconut oil. This is a dairy-free fudge, so we don't use butter or ghee in this recipe. My favorite option for this raw chocolate fudge recipe is cocoa butter. In fact, cocoa butter enhances the chocolate flavor of the recipe. However, if you choose coconut oil but are not a fan of the coconut flavor, choose refined coconut oil. While I prefer unrefined coconut oil from a healthy perspective, it also adds a coconut flavor that not everyone likes. Cocoa Butter is a vegan-friendly ingredient.
Unsweetened cocoa powder – or cacao powder both works as soon as it is unsweetened to avoid added sugar.
1. Combine liquid ingredients
First, melt the cocoa butter in a small saucepan under medium heat. Then measure carefully and combine with almond butter and maple syrup.
2. Add dry ingredient
When the mixture is smooth, stir in unsweetened cocoa powder and eventually some salt and vanilla if you fancy a flavor boost.
These are not necessary to make the recipe, but they add some flavor.
Freeze to set
Finally, transfer to a 9-inch x 5-inch loaf pan covered with parchment paper. Freeze for 15-20 minutes until hard and set.
Cut the fudge into 16 small squares and enjoy.
For more tips and a different perspective on this recipe, watch my Story: how to make healthier chocolate fudge.
Flavor Add-Ons
You only need 4 basic ingredients to make this gluten-free fudge recipe.
But, there are always some fancy flavors you can add to the recipe to create varieties of vegan fudge that taste completely different.
Natural peppermint flavor – stir 1/4 teaspoon to add a chocolate mint flavor to your fudge, perfect for the Christmas season.
Vanilla extract – stir in 1/2 teaspoon to the fudge mixture.
Sprinkles – just because everything looks better with them! Of course, if you make the keto version, don't use them. Sprinkle on top of the fudge after you filled the loaf pan and freeze to set.
Unsweetened coconut – sprinkle 1-2 tablespoons on top before you freeze to add a lovely coconut flavor. This is vegan and keto-friendly.
Silvered almonds – add with the dry ingredients.
Salt – stir in 1/4 teaspoon of salt in the batter, only if the almond butter is unsalted.
Chocolate chips – sprinkle on top before freezing.
Making Vegan Keto Fudge
You can use this recipe to make keto chocolate almond butter fudge.
Almond butter, cocoa butter (or coconut oil), and unsweetened cocoa powder are naturally low-carb but not maple syrup.
Make sure you use a sugar-free maple-flavored syrup in the recipe to avoid sugar and carbs.
Storage
I love to use cocoa butter for this recipe because cocoa butter melts at a higher temperature (98°F or 37°C) than coconut oil, which melts at 73°F (23°C).
It means that the cocoa butter fudge recipe stores much better in the fridge.
They don't soften in the fridge and can be left out of the fridge for a while without melting.
On the other hand, the coconut oil fudge recipe must be stored in the freezer.
Coconut oil fudge completely melts like ice cream under 73°F (23°C), so at room temperature. They also get very soft and are difficult to handle if stored in the fridge.
Choose the option wisely, based on how you want to store them or serve this no-bake fudge recipe.
More No-Bake Vegan Desserts
I love to create raw vegan desserts because they are a little bit healthier than regular desserts.
They always contain much more nourishing plant-based ingredients, and they are fulfilling too, high in fiber and vegan proteins.
Below I listed some other of my favorite raw desserts for you to try during this holiday period. They are all gluten-free, dairy-free, and sometimes have a keto option available.
Have you made this raw fudge recipe? Share a review or comment below. I would love to hear your feedback on this vegan chocolate fudge recipe.
You can also join me on Instagram to share a picture of your own creation. Happy holiday,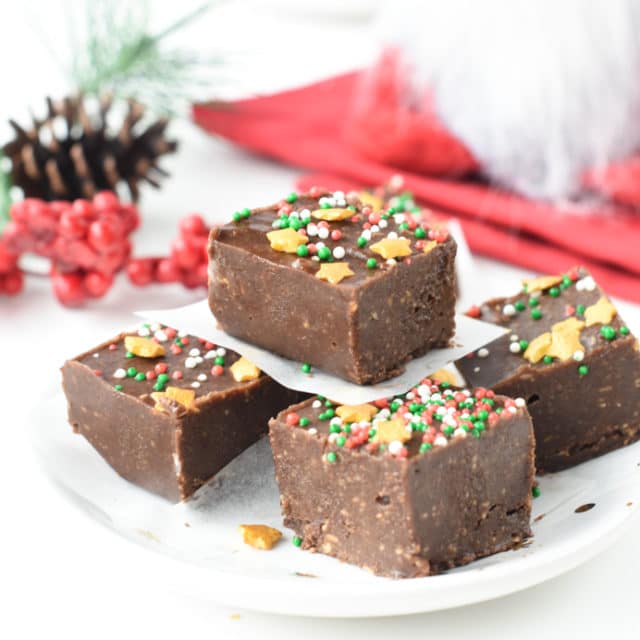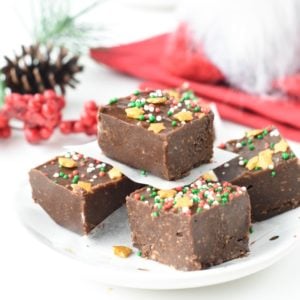 Chocolate Fudge with Almond Butter
A healthier twist on your classic chocolate fudge recipe, this 4-ingredient chocolate fudge is paleo, refined-sugar-free, and vegan!
Pin
Print
Review
Instructions
In a medium mixing bowl, stir almond butter with melted cocoa butter and maple syrup.

When the texture is smooth, stir in unsweetened cocoa powder and optional ingredients if desired.

Transfer the mixture into a loaf pan covered with parchment paper. Decorate with sprinkles on top if you like.

Freeze for 15 minutes until the fudge is set and hard.

Cut into 16 small squares and store in an airtight container in the fridge (if you use cocoa butter) or in the freezer (if you use coconut oil). The fudge softens faster with coconut oil. That's why it is better to store it in the freezer and pop it out of the freezer a few minutes before eating.
Notes
Almond butter swap: you can replace almond butter with the same amount of peanut butter, sunflower seed butter, or tahini. Note that tahini and sunflower seed butter add a bitter aftertaste to recipes. Sweetener: any liquid sweetener works like agave syrup, rice syrup, date syrup, or honey (if not vegan). Keto option: replace maple syrup with sugar-free maple-flavored syrup.
Share on Facebook
Pin Recipe
Nutrition
Serving:
1
square
|
Calories:
159.9
kcal
|
Carbohydrates:
6.3
g
|
Protein:
3.5
g
|
Fat:
14.7
g
|
Saturated Fat:
5.8
g
|
Polyunsaturated Fat:
2.2
g
|
Monounsaturated Fat:
5.5
g
|
Sodium:
38.1
mg
|
Potassium:
146
mg
|
Fiber:
2.1
g
|
Sugar:
3
g
|
Vitamin A:
0.2
IU
|
Calcium:
60.1
mg
|
Iron:
0.7
mg
|
Magnesium:
51.1
mg
|
Phosphorus:
89.2
mg
|
Zinc:
0.6
mg