Vegan Lemon Poppyseed Muffins
These Vegan Lemon Poppyseed Muffins are light fluffy breakfast muffins with bursting lemon flavors with a sweet tangy lemon glaze.
Spring is just around the corner and nothing can beat these vegan lemon poppyseed muffins for breakfast.
They are moist and sweet with a tangy citrus flavor and deliciously nutty, fruity poppy seed.
What Are Vegan Lemon Poppyseed Muffins?
Vegan lemon poppyseed muffins are easy egg-free, dairy-free breakfast muffins with a refreshing lemon flavor and filled with poppyseeds for a nutty flavor.
They are fluffy, moist, and topped with a lovely sweet lemon glaze.
How To Make Vegan Poppyseed Muffins
This recipe is inspired by my vegan blueberry muffins, and it's one of the easiest vegan muffin recipes around.
Ingredients
All you need to make these easy lemon vegan muffins are:
All-Purpose Flour – While the recipe might work with gluten-free flour and spelt flour, I haven't tried these options.
Almond Milk or any non-dairy milk you love such as coconut milk, cashew milk, or oat milk.
Freshly Squeezed Lemon Juice
Lemon Zest
Sugar – I prefer using unrefined cane sugar. It has a light color that is preferable to keep the lemon muffins pale. You can also use coconut sugar, but the muffins will be darker.
Poppy Seeds – You can soak the seeds in water for 30 minutes to soften their texture and avoid a crunchy texture. Soaking poppyseeds also makes them easier to digest.
Avocado Oil or any vegetable oil you have at home that doesn't have a too strong flavor for baking. Refined melted coconut oil works great for example, or melted vegan butter.
Vanilla Extract
Baking Powder
Salt
Poppy Seeds
Poppy seeds are tiny little black seeds with a hard outer shell.
Some people find them hard to bite on or difficult to digest.
So if you like, you can soak the seeds for 30 minutes in a small bowl with cold tap water. Set aside 30 minutes, drain over a small sieve, and use in the recipe.
Making The Batter
First, you are going to make vegan buttermilk by stirring non-dairy milk and lemon juice together. Set aside for 10 minutes until the mixture curdles.
Next, in a large mixing bowl, whisk all the dry ingredients: flour, sugar, baking powder, and salt. Set aside.
In a large bowl, add the vegan buttermilk made in step 1, avocado oil, vanilla extract, and lemon zest.
Stir the dry ingredients into the wet ingredients until light and fluffy lemon muffin batter firms.
In the end, fold in the poppy seeds, soaked and drained, or raw.
Stir to evenly incorporate in the vegan muffin batter.
Baking The Muffins
Preheat the oven to 350°F (180°C). Line a 12-hole muffin pan with paper muffin liners and lightly spray with cooking oil spray.
Fill the muffin tins evenly with the muffin batter. I like using an ice cream scoop to make muffins of the same size.
Bake the muffins on the center rack of the oven for 20 to 25 minutes. Bake until lightly golden brown on the top, and a toothpick inserted in the center of the muffins comes out clean.
Let them cool down completely at room temperature on a cooling rack before glazing.
Lemon Glazign
It's optional to glaze these muffins. But the lemon glaze enhances the lemon flavor of the recipe.
To glaze your vegan lemon muffins you will need:
Powdered Sugar
Lemon Juice – freshly squeezed
Lemon Zest – optional
Milk
Stir the ingredients in a small mixing bowl until the glazing is thick and runny. If too thin, add a bit more powdered sugar to thicken it up.
If too thick, thin it out with more milk adding a few drops at a time.
Drizzle the lemon glaze on top of the vegan muffins and add a pinch of lemon zest on top if you like extra citrus, tangy flavor.
Storage Instructions
Store the lemon muffins in an airtight box in the fridge for up to 4 to 5 days.
You can place the lemon muffins in freezer bags and freeze them for up to 1 month.
Thaw at room temperature the day before.
Serving
These vegan lemon poppy seed muffins don't need any toppings to be enjoyed.
They are the best breakfast muffins for your cup of vegan matcha latte or skinny vanilla latte.
You can slightly spread vegan butter or cashew butter in the crumb for a touch of flavor.
Allergy Swaps
If you have food allergies, pick some of the options below.
Nut-Free – Pick nut-free milk like oat milk, soy milk, or coconut milk.
Gluten-Free – I didn't try all-purpose gluten-free flour for this lemon poppyseed muffin recipe and I can't guarantee it will work.
Oil-Free – I haven't tried replacing the oil in this recipe. Some readers suggested using unsweetened applesauce, mashed banana, or vegan yogurt. You can try this option but expect a different texture, probably less fluffy.
Frequently Asked Questions
Below are my answers to your most common questions about this recipe.
Can I Use Oat Flour Or Whole Wheat Flour?
No, this recipe works only with all-purpose flour, white whole wheat flour, or white spelt flour. They will be crumbly with oat flour and too dry with wholewheat flour.
What Can I Use Instead Of Baking Powder In Muffins?
You can swap the baking powder for half the baking soda. Two teaspoons of baking powder equal one teaspoon of baking soda.
This technique works only if the batter has an acidic element, like lemon juice or apple cider vinegar. If not, add a teaspoon of apple cider vinegar to the wet ingredients.
Are Any Muffin Mixes Vegan?
Yes, there is a lot of muffin mixes that are vegan-friendly.
You can also often buy a regular baking mix – often naturally vegan – and add an egg replacer and dairy-free milk instead of the recommended eggs and milk.
Have you enjoyed this vegan lemon poppy seed muffin recipe? Share a comment or review below to connect with me.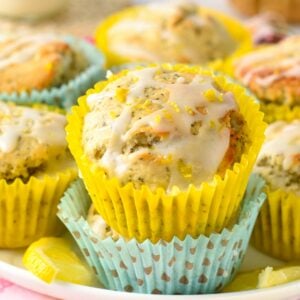 Vegan Lemon Poppyseed Muffins
These Vegan Lemon Poppyseed Muffins are light, fluffy breakfast muffins with bursting lemon flavors and a sweet, tangy lemon glaze.
Pin
Print
Review
Save
Saved Recipes
Instructions
Preheat the oven to 350°F (180°C). Line a 12-hole muffin tray with a paper liner. Lightly oil the paper with cooking oil spray. Set aside.

In a large mixing bowl, stir lemon juice with almond milk. Set aside for 10 minutes until it curdles.

In another large mixing bowl, whisk the dry ingredients : all-purpose flour, sugar, salt, and baking powder.

Bring back the bowl with the milk mixture and add in the remaining liquid ingredients: oil and vanilla extract.

Stir until just combined and no flour can be seen.

Fold in poppyseed and lemon zest and give an extra stir to incorporate evenly.

Divide the muffin batter evenly into the prepared pan.

Bake the muffins in the center rack of your oven until a pick inserted in the center comes out clean. It takes 25 to 30 minutes.

Cool down on a rack completely before adding any glazing.
Lemon Glazing
To glaze, stir powdered sugar, plant-based milk, and lemon juice – add the dairy-free milk gradually. If too thin, add more icing sugar, one tablespoon at a time, and if too thick, add more lemon juice.

Drizzle on top of the lemon muffins with a pinch of freshly grated lemon zest.
Storage
Store in an airtight container in the fridge for up to 4- 5 days.

You can freeze in freezer bags for up to 1 month. Thaw at room temperature the day before.
Share on Facebook
Pin Recipe
Nutrition
Serving:
1
muffin (no glazing)
|
Calories:
159.2
kcal
|
Carbohydrates:
27.3
g
|
Protein:
2.4
g
|
Fat:
5.1
g
|
Saturated Fat:
0.7
g
|
Polyunsaturated Fat:
0.7
g
|
Monounsaturated Fat:
3.5
g
|
Sodium:
202.2
mg
|
Potassium:
41.1
mg
|
Fiber:
1.1
g
|
Sugar:
10.3
g
|
Vitamin A:
10.2
IU
|
Vitamin C:
2.4
mg
|
Calcium:
75.5
mg
|
Iron:
1.1
mg
|
Magnesium:
6
mg
|
Phosphorus:
39.4
mg
|
Zinc:
0.2
mg