Vegan waffles recipe – easy, fluffy
An easy vegan waffle recipe for a comforting weekend breakfast. You will love these fluffy vegan waffles and all the possible healthy options to make this recipe, keep reading to learn more!

How to make ?
Vegan waffles are egg-free and dairy-free waffles. They are fluffy vegan waffles like regular Belgian style waffles but without the butter, eggs, or milk. Of course, this is an easy vegan waffle recipe, no flax egg or chia egg needed, made with less than 10 simple ingredients:
– great news the works with either unbleached white , or gluten-free all-purpose blend. The texture changes slightly depending on the you are using. White wheat waffles are chewier and fluffier while the whole-wheat is heavier, darker in color, and crispier. You can also use with this but make sure you use thin for the best result. Coarse makes the waffles fragile.
– for a little raise or half the amount of . Note that is a great gluten-free option If you use
or unrefined cane . Other options are -free crystal sweeteners like Erythritol or Monk fruit. Regular will work too but it's less nutritious.
Unsweetened applesauce – this acts as an egg replacement in the . You can also replace applesauce by puree to make .
– or any light you love. Options that are light in flavors are almond oil, avocado oil, or . Note that refined doesn't have taste or you can use too.
Unsweetened – any plant-based would work in the . and canned contain more fat and will make the waffles fluffier. You can also use unsweetened or oat but the waffles will be crispier. Note that you can boost the fluffiness of your waffle by adding 1/2 tablespoon of or to the to create .
steps
This is the easiest vegan waffle recipe you will find online. All you have to do is combine the dry ingredients with the wet ingredients together, that's it!
In a large mixing bowl, whisk coconut oil or vegetable oil along with soy milk, applesauce, and vanilla extract. For fluffy waffles add 1/2 tablespoon of apple cider vinegar. In fact, this addition turns soy milk into vegan buttermilk and create fluffy crispy waffle.
In another mixing bowl, combine flour of your choice with sugar and baking powder (or baking soda), salt, and any healthy addition you want. You may like 1 tablespoon of chia seed of flaxseed to boost the recipe with omega 3.
Healthy options
Of course, we all want healthy vegan breakfasts to start the day. So let me share with you some healthy swap you can make in this recipe to make it more nourishing:
Swap white or thin . The for will work with the same ratio of or . The result will be crispier, denser, and darker in color. or waffles are much more nutritious and recommended to add fiber to your breakfast!
Make it sugar-free – use erythritol or xylitol instead of and serve with low-carb fruits like berries and sunflower seed butter.
Make it oil-free – swap the oil for more applesauce! Oil is the key for a so if you remove oil this will be heavier and fluffier but still delicious too!
Low fat – choose low-fat like unsweetened , the waffles will be crispier with this option.
How to make that are fluffy?
The trick to make your waffles fluffy is to use coconut milk! Indeed, coconut milk contains more fats than unsweetened almond milk and therefore coconut milk waffles are fluffier. Another option is to use soy milk. Obviously, unsweetened almond milk and oat milk would work too but the waffles will be crispier with them.

Waffle topping ideas
There are so many possibilities when it comes to waffle toppings. The best vegan waffle toppings are:
– sunflower seed butter, almond butter, or seed butter or

Refined sugar-free

 liquid sweetener – brown rice (low GI), Monk fruit ( -free), or

agave

Jam & spread – any fruit jam, apple sauce or chocolate vegan spread
– banana slices, raspberries, blueberries, or strawberries. You can basically add any on top of this
Cream and yogurt – add a dollop of homemade , yogurt, or soy yogurt. Make your own using the

cream

on top of a can of

cream

.
Nuts and seeds – sliced almonds, desiccated , vegan chocolate chips, or a pinch of !

Can I make a gluten-free ?
The best flour options to make vegan gluten-free waffles are:
all-purpose

gluten-free

blend
gluten-free certified
Another option is a combination of 1/3 . However, note that gluten-free waffles are much more chewy, dense, and fragile. ,1/3 and 1/3

More vegan breakfast recipes
If you love comforting vegan breakfast recipes I recommend you try our:
Vegan crepes
Vegan crepes are easy 5-ingredient french-style thin pancakes for breakfast or dessert
Check out this recipe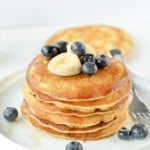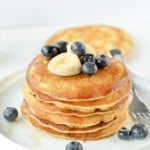 Chickpea flour pancakes
Chickpea flour pancakes an easy vegan, grain-free, and oil-free pancake recipe with only 4 ingredients.
Check out this recipe
Made these vegan coconut milk waffles yet? Share a picture with us on Instagram!
Your friend, Carine
Vegan waffles recipe
Easy dairy-free waffles recipe and-egg free waffle recipe for all the waffle lovers!
Instructions
In a large mixing bowl, whisk the dry ingredients together: flour, baking powder, coconut sugar.

Preheat the waffle iron. Make sure you grease your waffle iron just before adding the waffle batter and repeat this before baking each batch of waffles. You can either brush some coconut oil or spray some oil.

Make a well in the center, pour unsweetened almond milk, coconut oil, vanilla and apple sauce.

Whisk all the ingredients together until it forms a consistent waffle batter with no lumps.

Ladle the waffle batter into the preheated and greased waffle iron.

Cook the waffles for

3-4 minutes

(time very much depends on your waffle iron) or until golden and crispy. The longer they bake the crispier they get.

Serve immediately with topping of your choice like icing sugar, peanut butter or jam.
Make ahead
Store the waffle batter up to 24 hour in the fridge in an airtight container and use the next day for breakfast.
Storage
Store the cooked waffles in the fridge for up to 2 days in an airtight container. You can also freeze the waffles and defrost the day before serving.

Stored waffles gets softer, I recommend you rewarm them few minutes in a toaster or in a preheated waffle iron to bring back their crispiness.
Notes
Flour options:
The recipe works with gluten-free all-purpose flour, wholemeal flour or whole-wheat flour. The color of the waffles will be darker with whole-wheat flour as this flour contains a higher amount of fiber.
Oil free:
The recipe can be made oil free, swap the oil for same amount of applesauce. Note that the oil-free vegan waffle recipe will be softer and won't crisp as much. 
Nutrition
Serving:
1
waffle
|
Calories:
222
kcal
|
Carbohydrates:
25.7
g
|
Protein:
2.9
g
|
Fat:
11.8
g
|
Fiber:
0.8
g
|
Sugar:
5.6
g