Looking for a delicious and healthy snack? Look no further than our White Bean Hummus recipe, also known as white bean dip!
Made with creamy white beans instead of chickpeas, tangy lemon juice, a rich garlic flavor, and flavorful spices, this hummus is the perfect dip for veggies or pita chips.
Plus, it's easy to make and packed with protein and fiber. Try our White Bean Hummus recipe today and taste the difference!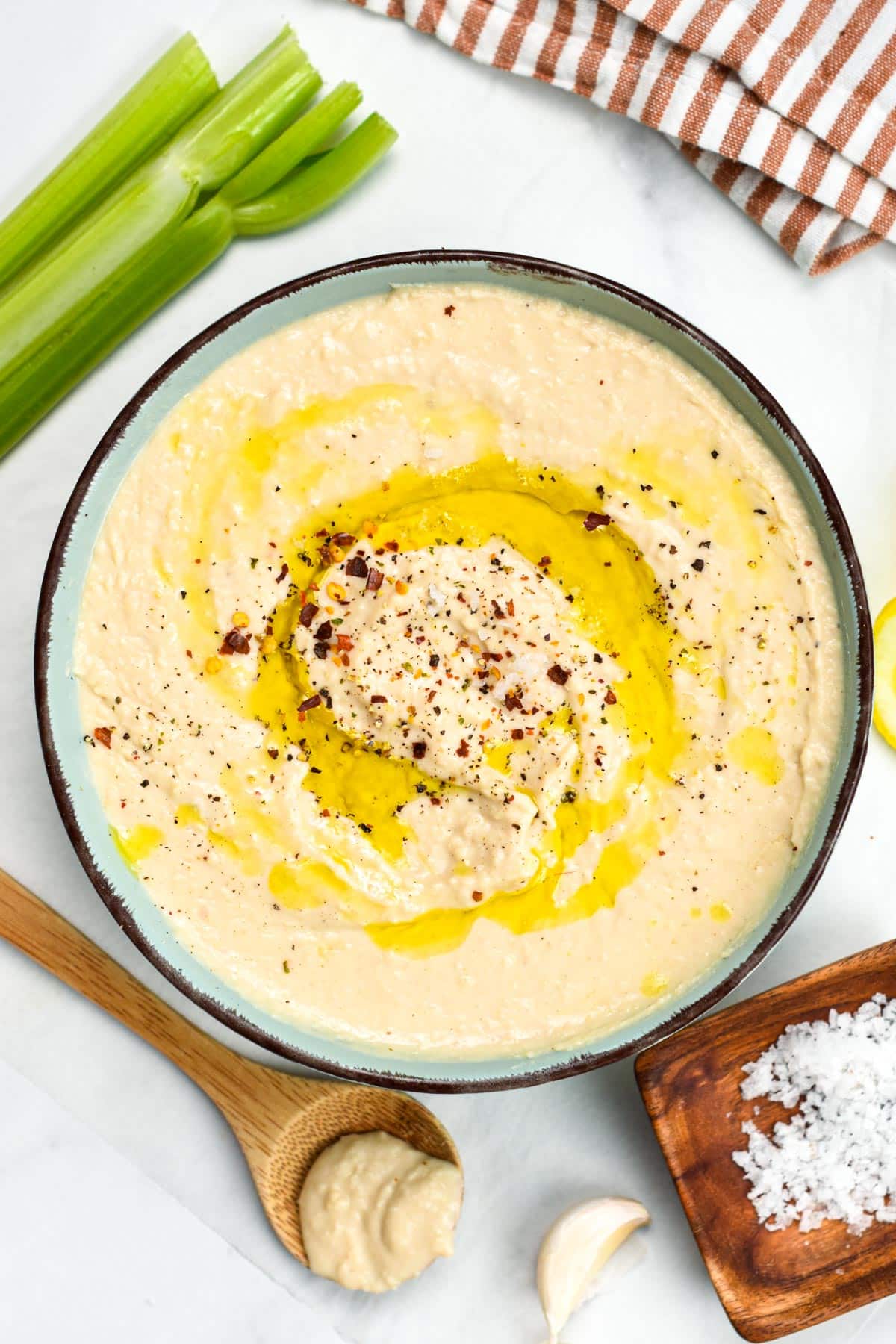 If you love hummus, this recipe is for you. Hummus is healthy, easy to make, and a filling spread to add to wraps, sandwiches, or as a side to roasted vegetables.
There are endless ways to serve this hummus, and white beans are a game changer.
While regular hummus made from chickpeas is amazing, white beans turn the dip much creamier and thicker with a smooth consistency, and it's easier to put together.
Canned chickpeas can leave a gritty texture in hummus recipes unless you take the extra time to peel off each bean from their outer shell.
But white beans don't have this little piece of skin. They blend and turn creamy instantly.
So now, let's see how to make this tasty dip appetizer.
How To Make White Bean Hummus
This white bean dip recipe takes under 10 minutes to make:
Ingredients
All you need to make this recipe are:
Canned White Beans – There are many types of white beans, including canned navy beans, butter beans, or cannellini beans. You can use any of these varieties for this recipe. Drain the can, rinse it, and use it for the recipe.
Extra Virgin Olive Oil or avocado oil.
Tahini – Unhulled tahini is a bit bitter so I used hulled tahini.
Lemon Juice – From fresh lemon or from a bottle.
Garlic Cloves
Sea Salt
Pepper
Iced Water – I barely add water in white bean dip because it turns out perfectly creamy without any addition.
Choosing The White Beans
There are many types of canned white beans available in your store. They all have different in texture and flavors.
While they all work for this recipe and they blend well, the result in flavors and texture will be different, so choose wisely.
Here are my tips for picking up white beans for dip recipes.
Butter Beans – Low in flavor, ultra-soft, and give the best creamy texture to hummus.
Cannellini Beans – Nutty flavors, firmer, but still add a lovely creamy texture.
Navy Beans – They are smaller than cannellini beans and add an acidic flavor to raw recipes. I won't recommend using this variety for hummus. They are better for soup or cooked dishes.
Preparation
In a high-speed blender or food processor, add the whole garlic cloves, tahini paste, lemon juice, and olive oil.
Blend on medium speed for a few seconds to pulse the ingredients together.
Stop the blender, add the drained white beans, sea salt, and pepper, and blend again using the tamper attachment to push the beans down to the blade and turn the beans into a thick and creamy hummus.
If too thick or grainy, add the iced water gradually to thin it out. Stop adding water when you love the texture of the dip.
Transfer the white bean hummus to a medium shallow bowl. Drizzle extra virgin olive oil on top and some spices.
Spice Variations
The best spices to add on top of hummus recipes are:
Red chili pepper flakes
Ground black pepper
Paprika
Cumin
Cloves
You can also transform this hummus by adding the following to the dip:
Pine nuts
Black Sesame Seeds
Fresh Parsley, basil, or dill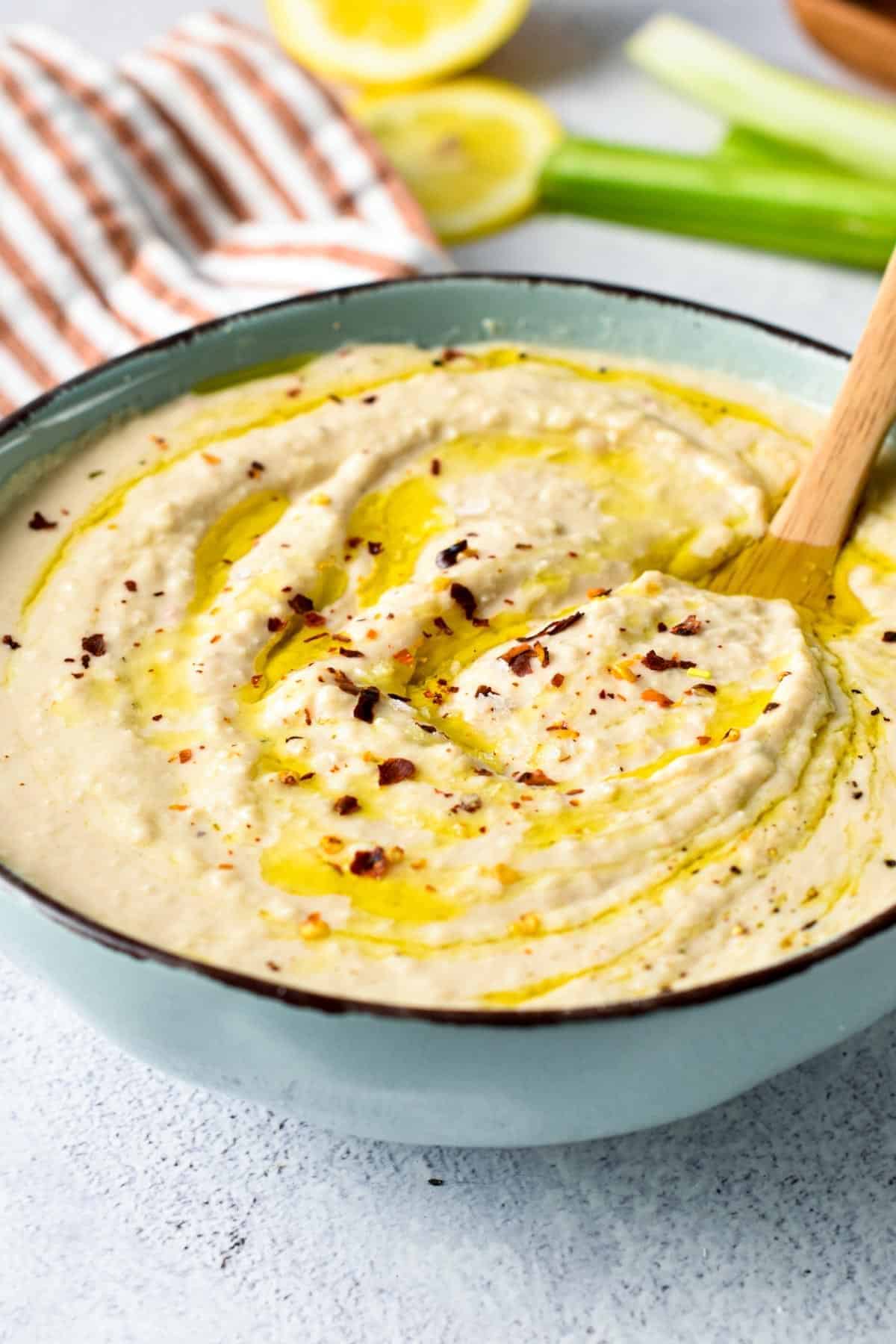 Serving
Serve this white bean hummus recipe as you would serve any regular hummus recipe.
The best way to eat the dip is any of the following:
Raw Vegetables – carrot sticks, cucumber sticks or celery sticks.
Pita Bread cut into triangle and baked like pita chips.
Crackers – Like Sunflower Seed Crackers
Baguette
You can also serve hummus as a side to Middle-Eastern recipes and roasted vegetables like these:
Allergy Swaps
Find some ingredient substitution ideas below if you need them.
Tahini-Free – You can remove the tahini from the hummus recipe without adding any substitute. However, I recommend swapping for 2-3 tablespoons of plant-based Greek yogurt to add creaminess.
Oil – Any oil can be used in hummus recipes, but avocado oil and extra virgin olive oil are the ones that give it the best flavor. Avoid high-flavor oils like sesame or peanut oil.
Frequently Asked Questions
Are White Beans The Same As Cannellini Beans?
Cannellini beans are one kind of white beans.
Under the name white beans, you will find many bean varieties, like butter beans, navy beans, or cannellini beans.
While they can all be used to make this hummus recipe, they all have different flavors. For example, cannellini beans have nutty flavors, and it's my favorite for hummus.
On the other hand, butter beans are low in flavor and softer. They make this dip creamier.
Can I Use Chickpea With This Recipe?
You can use this recipe for regular hummus. However, you will need more iced water to make the hummus as creamy as seen in the pictures.
Can I Use Dried White Beans?
Yes, you can soak and cook the dried white beans following your packaging instructions.
When soft and completely cooled to room temperature, use 1 1/2 cups of cooked, drained white beans in the recipe.
Why Using White Beans Instead Of Chickpeas In Hummus?
The main reason is the texture. Cannellini beans or butter beans make the hummus creamier.
But nutrition-wise, white beans are higher in many nutrients than chickpeas.
For example, for the same volume, white beans contain twice the iron, five times the calcium, and twice the magnesium.
More Dip And Hummus Recipes
If you like this hummus, you'll love these other dip recipes.
Have you made a batch of this cannellini bean dip recipe? Share a comment or review below.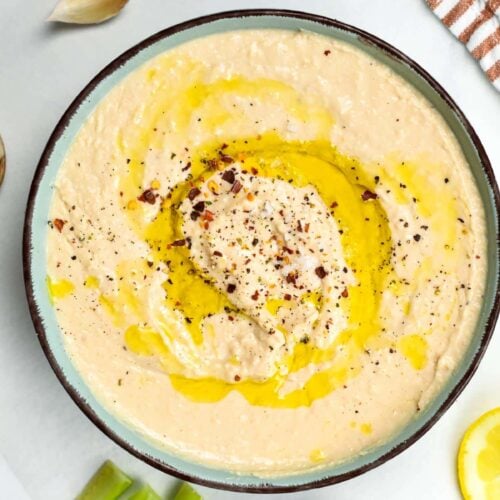 White Bean Hummus
This White Bean Hummus, or cannellini bean dip, is creamy with rich garlic lemon flavors. It's made from white beans instead of chickpeas, which add an ultra-creamy texture to the dip.
Pin
Print
Review
Shop My Tools
Ingredients
Optional
1-2

teaspoons

Iced Water

-

to thin out if needed
Instructions
Pour the water and ice cubes into a small bowl. You will use this iced water at the end of the recipe.

Pour the olive oil, tahini, lemon juice, and garlic into the bowl of a food processor or high-speed blender. Process or blend the mixture on medium speed (speed 3 of a Vitamix blender) for 30 seconds until creamy.

Add the white beans, salt, pepper, cumin, and cilantro.

Process the dip on medium-high speed until it's smooth. Stop the blender or food processor a few times and scrape down the sides of the bowl. If using a blender, use the tamper attachment to push the dip down to the blade.

If too thick to your liking, keep processing while adding some of the iced water gradually.

I add 3 or 4 tablespoons of water, but you can add more or less depending on how thick you like your hummus. Stop when the texture is to your liking.
Storage
Store the hummus in the fridge in a sealed container for up to 4 days.
Serving
Serve with a drizzle of olive oil, fresh herbs, and vegetable sticks to dip in.
Notes
Note 1: You can use canned, drained butter beans or navy beans.
Share on Facebook
Pin Recipe
Nutrition
Calories:
118.5
kcal
|
Carbohydrates:
6.4
g
|
Protein:
3
g
|
Fat:
9.9
g
|
Saturated Fat:
1.4
g
|
Polyunsaturated Fat:
2.4
g
|
Monounsaturated Fat:
5.7
g
|
Sodium:
177.1
mg
|
Potassium:
45.8
mg
|
Fiber:
1.7
g
|
Sugar:
0.2
g
|
Vitamin A:
5.9
IU
|
Vitamin C:
2.9
mg
|
Calcium:
29.1
mg
|
Iron:
1
mg
|
Magnesium:
8.2
mg
|
Phosphorus:
64.6
mg
|
Zinc:
0.4
mg