These Homemade Pita Chips are easy, crispy chips made from pita pocket bread and ready in less than 20 minutes.
They are the perfect homemade chips for dipping in and serving on your appetizer food platter with raw vegetables.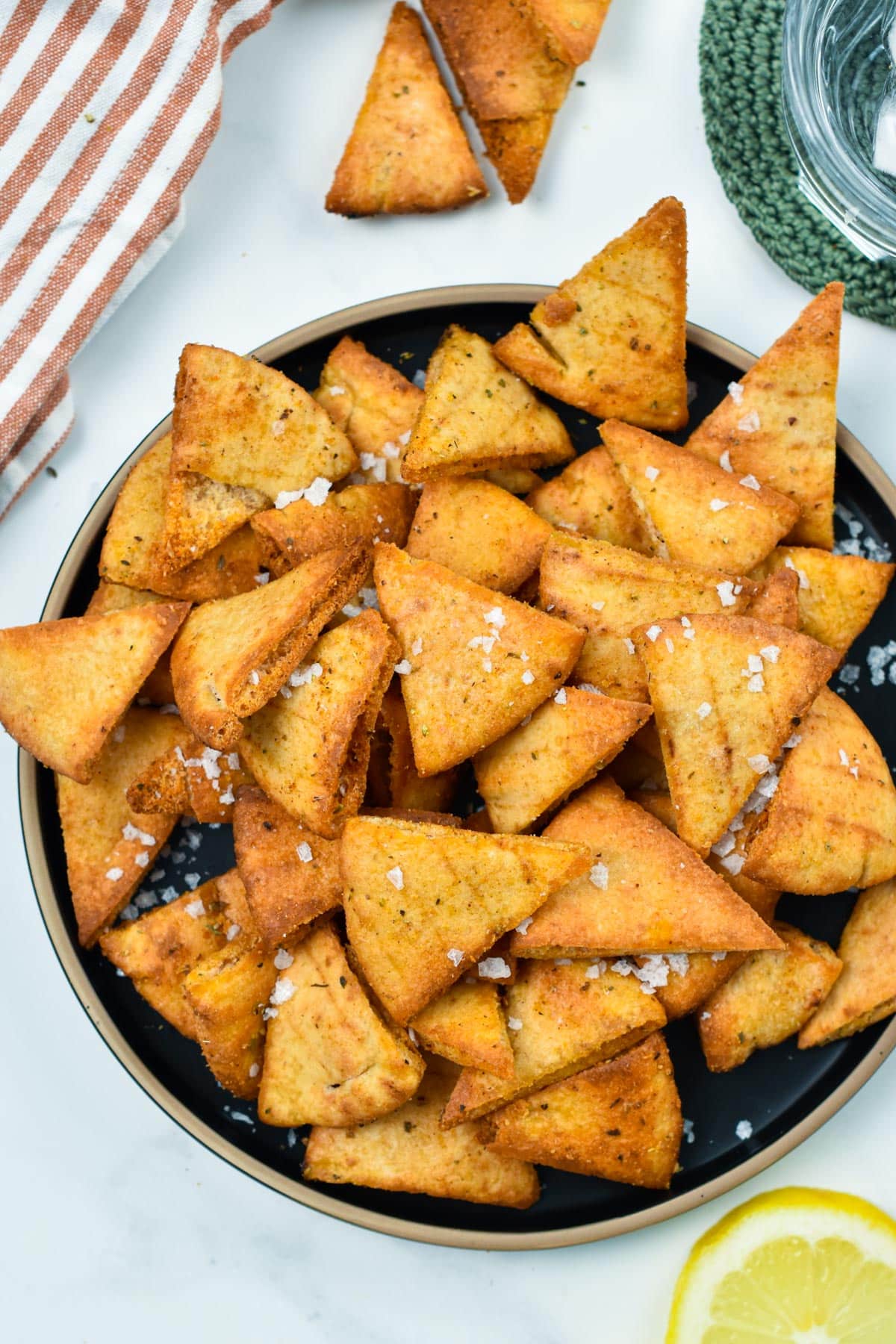 I love homemade dips, and I have shared countless hummus recipes with you: my favorites are the edamame hummus and White Bean Hummus, but they wouldn't be the same without crunchy, warm pita chips packed with olive oil and spices.
Why You'll Love These Pita Chips
Homemade pita chips are some of the best, easy chips you can make at home to dip into my Eggplant Dip or White Bean Hummus.
It takes under 20 minutes to make, and they are also naturally:
Vegan
Gluten-Free – use your favorite store-bought gluten-free pita bread pockets.
Egg-Free
Dairy-Free
If you love thin, crispy food to dip in hummus and sauce, let me show you how to make baked pita chips at home and impress all your guests.
Ingredients For Baked Pita Chips
You only need a few ingredients and the right technique to cut the pita chips into small pita triangles.
Whole Wheat Pita Bread Pockets – we used pitas that are 5 inches in diameter (12cm). You can use bigger pitas, but you will need only 4 large 6.5-inch pockets.
Extra Virgin Olive Oil or avocado oil – I recommend a high smoke point oil
Salt– for salty chips
Oregano – or feel free to use any dried herbs you like dried rosemary, Italian seasoning, dried basil
Paprika or for a cheese flavor try nutritional yeast, or other spices to create a range of pita chips flavors : turmeric, cumin, curry powder.
Garlic Powder – for flavor, or try onion powder instead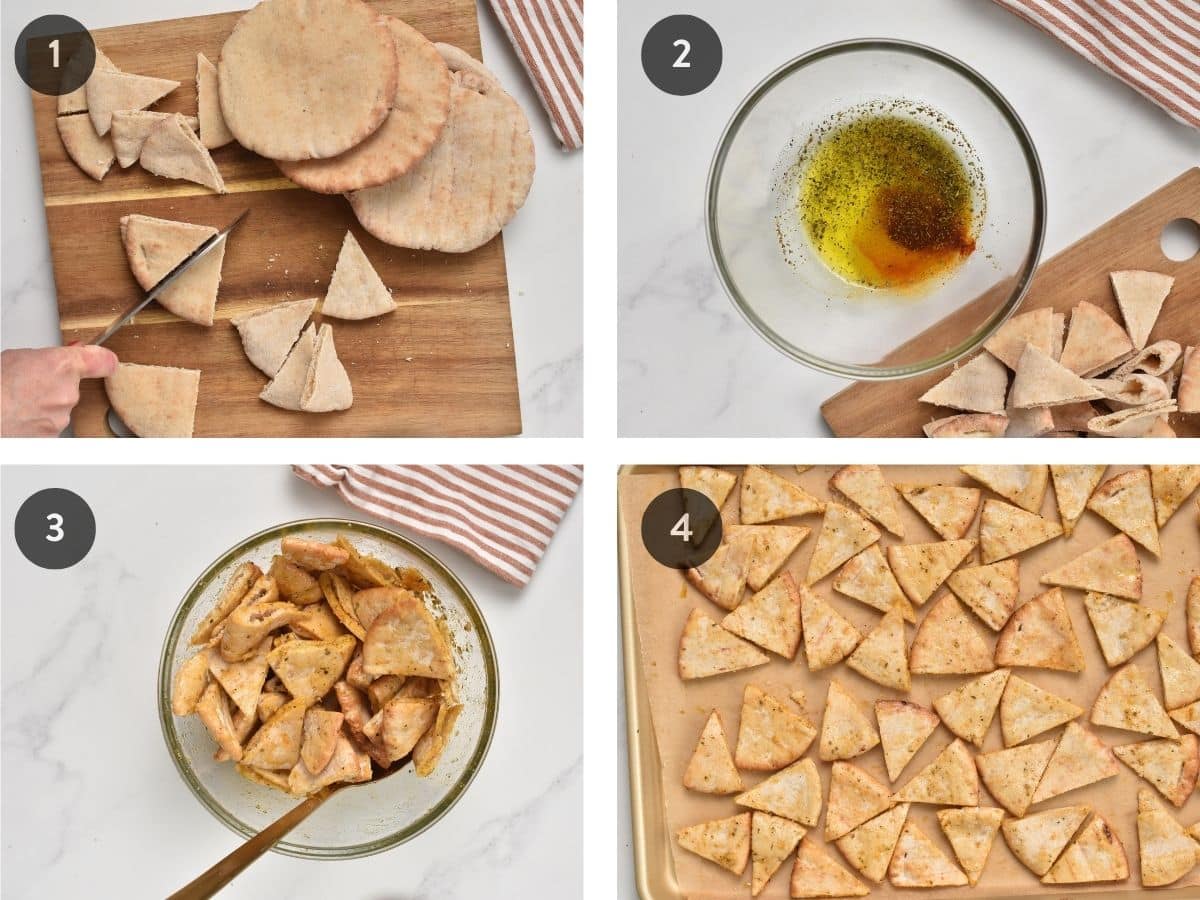 1. Cutting Pita Chips Easily
Preheat the oven to 400°F (200°C) – I always use the rapid heat mode to make sure I don't have to wait. Line a large baking sheet with parchment paper. Set aside. The tricky part is to cut pita chips of the same size. So here's my way of cutting perfect triangles of the same size every time.
First, cut the round pita into two half moons. Next, cut each moon in halves. You now get four large pita bread triangles per pita bread pocket. Finally, cut each triangle in half again to get eight pita chips per pocket.
2. Making The Oil Marinade
Place all the pita chips in the bowl and use your hands or a wooden spoon to stir and coat the chips with the oil. Work gently, so the chips don't split or break. You can also use a pastry brush to brush oil on the pita chips.
3. Seasoning Homemade Pita Chips
In a large bowl that must fit all the pita chips, add oil, oregano, paprika, and salt. Stir to combine. Set aside.
4. Baking Pita Chips
Spread the pita chips onto the prepared baking sheet in a single layer so they don't overlap and bake evenly. Bake the pita chips at 400°F (200°C) on the center rack of the oven for about 8 minutes, then use tongs to flip each pita chip on the other side.
Bake again at the same temperature for 6 to 7 minutes until the pita chips are golden brown and crispy. The baking time depends on how you love your chips. You can always bake them for longer for ultra crunchy or hard chips, perfect for dipping into a soup like a pita crouton.
Adding Flavors To Homemade Chips
Let the pita chips cool down at room temperature for a few minutes on the baking sheet, then serve them with your favorite dip.
I like to sprinkle and toss some extra on top of the warm chips like:
Sea salt flakes
Dried thyme
Fresh chopped parsley
Dried basil
Chili flakes for a spicy flavor
Serving Pita Chips
These homemade pita chips are the most delicious homemade crisp to add to your charcuterie board and for dipping into creamy dips like:
I also like to add these chips to a kid's lunchbox as a quick snack or as a side to soup.
More Mediterranean Recipes
If you love healthy, tasty recipes, find below more Mediterranean recipes.
Baked Pita Chips
These homemade Baked Pita Chips are easy, crispy chips made from pita pocket bread and ready in less than 20 minutes. They are vegan with a gluten-free option.
Pin
Print
Review
Servings: 6 Servings
Calories: 209.9 kcal
Instructions
Preheat the oven to 400°F (200°C). Line one large baking sheet with parchment paper. Set it aside.

In a large bowl, stir olive oil, salt, oregano, and paprika. Set it aside.

Cut each pita bread in half. You get two half moons. Cut each half in half again to form 4 triangles. Cut each triangle in half to get eight pita chips per pita bread.

Repeat this step for each pita bread.

Bring all the pita chips to the large bowl and carefully stir using your hands or a wooden spoon until all chips are covered.

Lay the chips in a single layer on the baking sheet.

Bake the chips for 8 minutes, flip them to their other side, and bake them again for 6-7 minutes. The pita chips are ready when golden brown and crispy. You can bake them longer to make them ultra-crispy. Adjust the time to your taste.
Notes
Note 1: I used wholemeal pita bread. Feel free to use gluten-free pita bread or low-carb pita bread if needed. For larger pita pockets, use only four 6-inch pockets for the amount of oil used in this recipe.
Note 2: Olive oil also works.
Storage Instructions: You can store leftovers in a sealed box or airtight container at room temperature for up to 4 days or freeze them for later for up to 1 month.
Thaw the chips at room temperature the day before.
Low-Carb Keto – Pick low-carb pita bread at the shop.
Gluten-Free – There are many gluten-free pita bread pockets in stores that work well with this recipe.
Healthier – Try wholemeal pita bread for added fiber.
Spices – You can swap the oregano and paprika for any other spices you love, like ground cumin, Za'atar spices, or turmeric.
Share on Facebook
Pin Recipe
Nutrition
Serving: 8chips | Calories: 209.9kcal | Carbohydrates: 31.6g | Protein: 5.5g | Fat: 8g | Saturated Fat: 0.9g | Polyunsaturated Fat: 1.5g | Monounsaturated Fat: 5.1g | Sodium: 332.9mg | Potassium: 100.7mg | Fiber: 3.5g | Sugar: 1.6g | Vitamin A: 9.3IU | Vitamin C: 0.3mg | Calcium: 11.3mg | Iron: 1.8mg | Magnesium: 39.3mg | Phosphorus: 102.1mg | Zinc: 0.9mg
Frequently Asked Questions
Below are my answers to your most common questions about this recipe.
Can I Skip The Garlic And Spices?
You can make plain pita chips using olive oil or avocado oil. But then, feel free to add salt and pepper or just keep them plain.
Are Baked Pita Chips Healthy?
You can make these chips healthy using whole wheat pita bread, which is higher in fiber, or low-carb pita bread for fewer carbs.
Then, avocado oil is the healthiest option to bake and roast food as it's high in healthy fat and has a high smoke point.
So overall, homemade pita chips are more nutritious than store-bought potato chips or any chips made with vegetable oil – not good for your heart – and additives.
Can I Air Fry Pita Chips?
Yes, you can air fry the pita chips in a single layer in the air fryer basket. Set the air fryer to the lower temperature of 375°F (190°C).
Air fry for 12 minutes, shaking the basket halfway.
Should I Split My Pita To Make More Chips?
I prefer not to split pita chips as it makes the chips thicker and a lot crunchier.