Can You Eat Raw Flours? The Best Raw Flours For Raw Baking
Raw flours are the most controversial topic when it comes to raw baking. Here we answer all your questions about raw flours and which ones are safe to use in raw vegan baking recipes.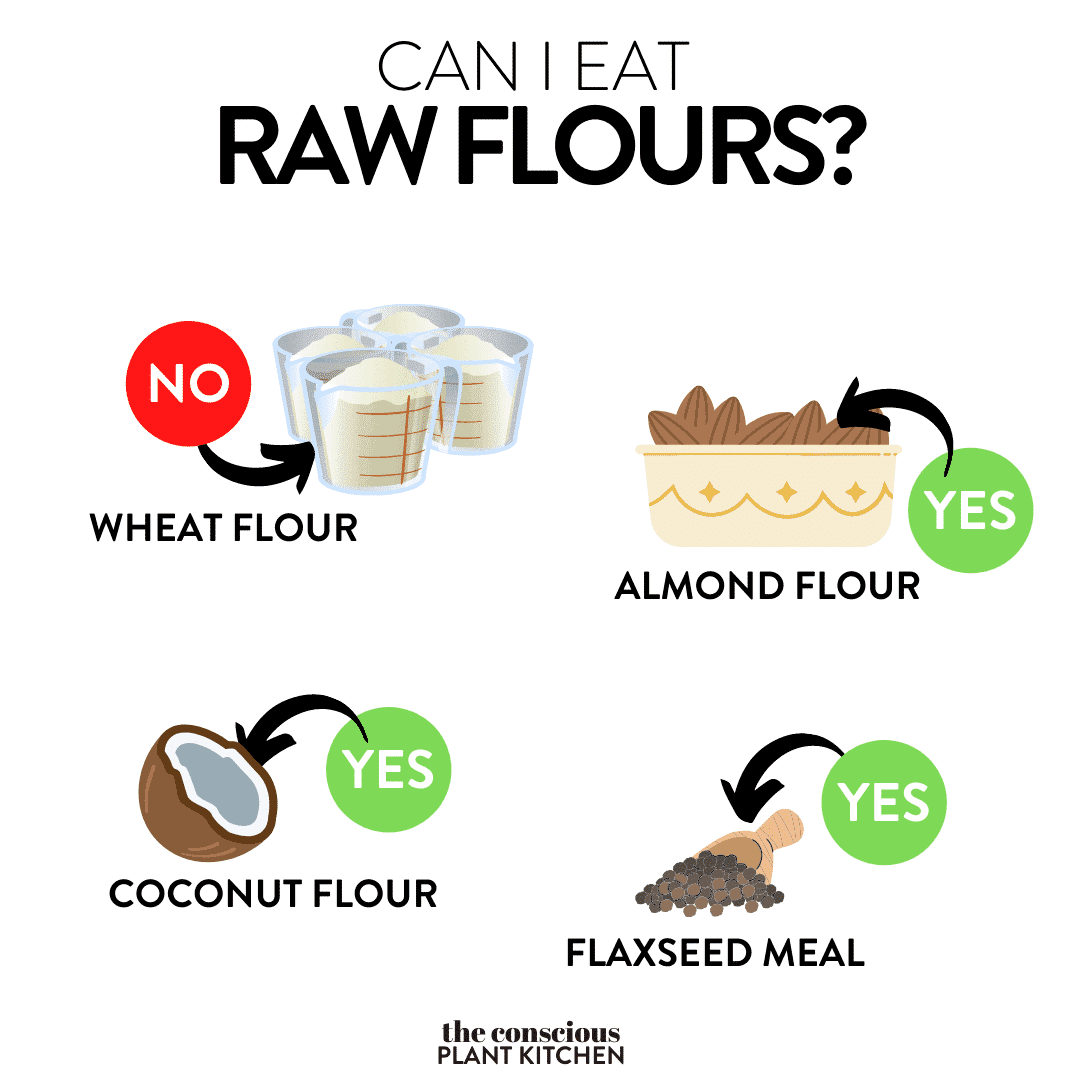 Can You Eat Raw Flour?
It's not safe to eat raw wheat flour.
Wheat flour, also known as all-purpose flour, is made of raw grains of wheat grind into a fine powder. The grains don't get a high-temperature treatment before being turned into flour.
It means that wheat flour can contain bacteria like salmonella or E. coli. So yes, raw flour can make you sick, and that's why we never use raw wheat flour in raw vegan desserts.
Salmonella and E. coli contaminations are the most common food intoxications linked to eating raw wheat flour.
Which raw flours are safe for raw vegan desserts?
Luckily, there are some raw flours that you can eat without worrying about bacteria infection.
The most common raw flours that are safe for raw baking are nut flours or some seed flours. Below is a list of the most common questions about raw flours for raw baking.
Almond flour
Almond flour, also known as almond meal or ground almonds, is a gluten-free flour made of raw almonds ground into a powder.
While Almond meal is made with whole almonds, almond meal is made with blanched almonds. Blanched almonds are peeled, meaning that their skin is removed. This makes almond flour lighter in color than almond meal.
Almond meal and almond flour are most of the time interchangeable in recipes. For cookies, scones, brownies, bread, you can use either. However, when the texture is essential, you need to follow what the recipe requires. Cakes, for instance, will most probably always call for almond flour.
Can you eat almond flour raw?
Yes, you can. Unlike wheat flour, the raw almonds used to form the almond flour are not raw. In fact, most Californian almonds used in almond flour are heat-pasteurized at 165F/73C.
This process ensures that almonds don't carry bacteria. As a result, almond flour made of ground, heat-pasteurized almonds and sold in sealed bags is safe for raw baking.
Coconut flour
Coconut flour is a low-carb keto flour often used in raw vegan dessert recipes to add texture. It's made of dried coconut meat ground in ultra-fine powder.
Can you eat coconut flour raw?
Yes, you can. As for almond flour, the coconut meat used to make coconut flour is dried, heated above 170F/ 77C, killing all possible bacteria in the product.
Flaxseed Flour
Flaxseed flour or meal is obtained by finely grounding flax seed. In this ground form, flaxseeds are a hugely beneficial ingredient. It's full of Omega-3 fatty acids that help fight inflammation and help prevent cardiovascular diseases.
One single tablespoon of flaxseed (12 grams) contains as much Omega-3 as 6 ounces of cooked Salmon!
The Omega-3 present in flaxseeds are not the same as those found in fish (ALA vs. DHA), but they are the only essential ones. Your body can indeed synthesize DHA Omega-3 from ALA Omega-3.
Can you eat raw flaxseed meal?
Yes, you can. Flaxseeds are, most of the time, pre-toasted to destroy any toxin or bacteria. If you have any doubt whether your flaxseed meal has been pre-cooked, heat it up in the oven for a while.
Other nut flours
Beyond almond flour, there are some other flours that are very healthy to eat in their raw form.
Hazelnut flour is delicious, albeit a bit pricy, and is fine to use for raw baking.
Cashew flour can also be found in some specialty shops and can be used for raw baking.
Other seed or cereal flours
Some other flours are safe to use in raw baking.
Buckwheat is a grain-like seed that can be eaten raw. Buckwheat flour is, therefore, good for raw baking but comes with a strong taste.
Chickpea flour or Garbanzo flour is ok for raw baking though it has a bitter taste.
Corn flour is safe raw but doesn't have a particularly pleasant taste and texture.
Quinoa flour made from raw, sprouted, and soaked grains is safe to eat but not commonly used.
Oat flour is another safe-to-eat-raw flour.
Nut-free raw flour
There are some nut-free raw flour options as well, including:
Pumpkin seed flour
Sunflower seed flour
Sesame seed flour
Flaxseed meal
How to safely store raw flour
To keep your raw flour safe and bacteria-free, it is recommended to store them in a vacuum-sealed container. Removing air in the storage container reduces the possibility of bacteria growth considerably.
So, as soon as you open a bag of fresh almond flour or fresh coconut flour, transfer it immediately into a sealed vacuum bag or box. Then store the box in the pantry for up to 2 months for raw vegan recipes and up to 12 months if you oven-bake the flour.
Can cold kill bacteria in flour?
You can freeze flour, but it won't kill raw bacteria that may already have grown in your flour. Freezing food stops the growth of bacteria but doesn't kill them. As soon as you thaw the food, they replicate again.
In fact, cold can have the opposite effect as it can naturally select more resistant bacteria that then replicate even faster when re-heated.
How to make raw flour safe to eat?
It is safe to use fresh almond flour or fresh coconut flour in raw baking. However, if your flour has been incorrectly stored or stored for too long in your pantry, it's recommended to bake the flour before using it in raw baking.
I would recommend baking the flour above the temperature of bacteria survival. It means baking the flour on a baking sheet covered with parchment paper, above 165F/75C, for 15 minutes. Cool down the flour, then use it in the recipe.
Is it safe to eat raw dough?
It depends on the flour used in the dough!
It's not safe to eat raw dough made of wheat flour because raw wheat flour can contain salmonella or E. coli.
However, raw cookie dough made of grain-free flour, like nut flour, including almond flour or organic coconut flour, is safe to eat raw.
These flours are made of raw nuts treated with heat to kill bacteria before being ground into flour.
Try my no-bake edible cookie dough balls for a safe no-bake cookie dough recipe.