Vegan Salted Caramel Bliss Balls
These Vegan Salted Caramel Bliss Balls are the easiest healthy vegan, a gluten-free snack to fix your sweet cravings with nourishing ingredients.
Bonus, all you need to make these bliss balls are only 4 ingredients, so keep reading to learn how to do them.
What Are Salted Caramel Bliss Balls
Salted Caramel Bliss Balls are easy, healthy bliss balls made with just a handful of wholesome vegan ingredients.
There is nothing easier than this coconut date almond balls recipe.
How To Make Salted Caramel Bliss Balls
All you need to make this healthy sweet snack are 4 simple wholesome ingredients.
Ingredients
Medjool dates – this is the natural sweetener used in this recipe. Medjool dates are soft dried dates with a delicious sweet caramel flavor. You won't need any added sweetener in this recipe. Of course, you can use other date varieties like Deglet, but you may need to add more to reach the same texture.
Almond flour – or ground almond or almond meal. The texture of these bliss balls is softer with ultra-fine almond flour.
Desiccated coconut – I am using unsweetened coconut. Another option is to use rolled oats if you don't like coconut flavor or you want to add healthy carbs to this energy bites recipe.
Salt – this is a raw salted caramel bliss balls recipe, so the pinch of salt is a must! However, the recipe will work without salt too.
Choosing Dates
Medjool dates are large, soft, fleshy, chewy dried fruits with a delicious caramel-like flavor and natural sweetness.
They are the perfect date variety to make bliss balls or energy balls.
If you want to use Deglet Noor dates, you will achieve a less chewy texture and mild caramel flavor.
Soaking Dates
First, pit and soak the Medjool dates for 5 minutes to soften.
Then, roughly pat dry the dates to remove the excess water.
Combining Batter
You must use a food processor for this date almond and coconut balls recipe.
Add the soft Medjool dates into a food processor along with almond flour, unsweetened desiccated coconut, and salt.
Process at high speed until the ingredients come together and the batter is sticky.
Forming The Bliss Balls
Scoop out 1 tablespoon of dough and roll balls between your hands.
You can slightly wet your hands to avoid having the dough sticking to your fingers.
This also makes it easier to stick extra shredded coconut onto the balls.
Refrigerating
Place each ball onto a baking sheet or plate covered with parchment paper.
Store the caramel bliss balls in the fridge for 30 minutes to set.
Creating Different Flavors
This recipe makes a great bliss ball base you can use to create a variety of bliss ball flavors.
You can add some delicious ingredients into the batter like:
Peanut butter or almond butter – add 1 tablespoon to the food processor to add a creamy texture to the energy balls.
Chocolate chips – first blend the ingredients together, then add 1/3 cup vegan dark chocolate and stir in with a spatula. Always make sure that the bliss ball dough is not too hot or the chocolate chips will melt in the mix. You can also pop the dough in the fridge for 5 minutes before stirring the chocolate chips.
Storing Bliss Balls
Bliss balls or energy balls made with dates can be stored in a sealed container in the fridge for up to 3 weeks.
They can also be stored at room temperature in a sealed cookie jar for up to 1 week.
This almond date ball recipe has the best texture at room temperature, soft and chewy.
More Vegan Energy Ball Recipes
I love to make energy bliss balls as a snack or healthy vegan dessert. I have a few extra recipes below for you to try:
Have you made these salted caramel energy balls yet? Share your review or comment below or join me on Instagram to share a picture of your creation in your story!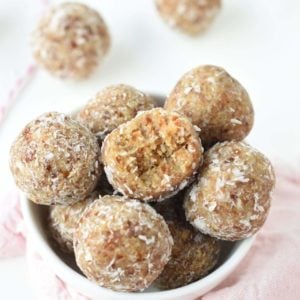 Salted Caramel Bliss Balls
Shop My Tools
Instructions
Place the Medjool dates in a bowl and cover with water. Set aside 5 minutes.

Drain the pitted Medjool dates, pat dry with absorbent paper, cut in halves, and place them into the bowl of a food processor with the S blade attachment.

Add the almond meal, 1/4 cup desiccated coconut, and sea salt.

Blend at high speed until it comes together into a sticky dough – it usually takes about 1 minute.

Stop the food processor, scoop out 1 tablespoon of dough and roll the dough in your hand to form a ball. If your batter is a bit dry, add 1 tablespoon water into the bowl of the food processor, blend again to combine, and then form balls.

Roll each bliss ball into the remaining 1/4 cup desiccated coconut and store each ball onto a plate covered with parchment paper. Tips: if the coconut doesn't stick well, wet your hand, roll the bliss ball into your hand to add some moisture around them then roll in the coconut to cover.

Repeat these steps until you form about 16 bliss balls.

Store in the fridge 30 minutes to set. Store in a sealed container in the fridge for up to 1 month.
Share on Facebook
Pin Recipe
Nutrition
Serving:
1
bliss ball
|
Calories:
74
kcal
|
Carbohydrates:
9
g
|
Protein:
2
g
|
Fat:
4
g
|
Saturated Fat:
1
g
|
Sodium:
37
mg
|
Potassium:
71
mg
|
Fiber:
2
g
|
Sugar:
6
g
|
Vitamin A:
14
IU
|
Calcium:
21
mg
|
Iron:
1
mg