The Best Vegan Calcium Sources
The body needs calcium for growth, bone maintenance, and nerve signaling. Dairy products, along with other animal-based foods, are the richest in calcium. But plant-based foods, including some beans and greens, are good sources of calcium, too.
How Much Calcium Do We Need?
The Recommended Daily Intake of calcium varies from 200mg for a newborn to 1300mg for teenagers before going down for most of one's adult life and growing again later.
While the RDI is the same between men and women, from 51 years of age, women need more calcium (Source).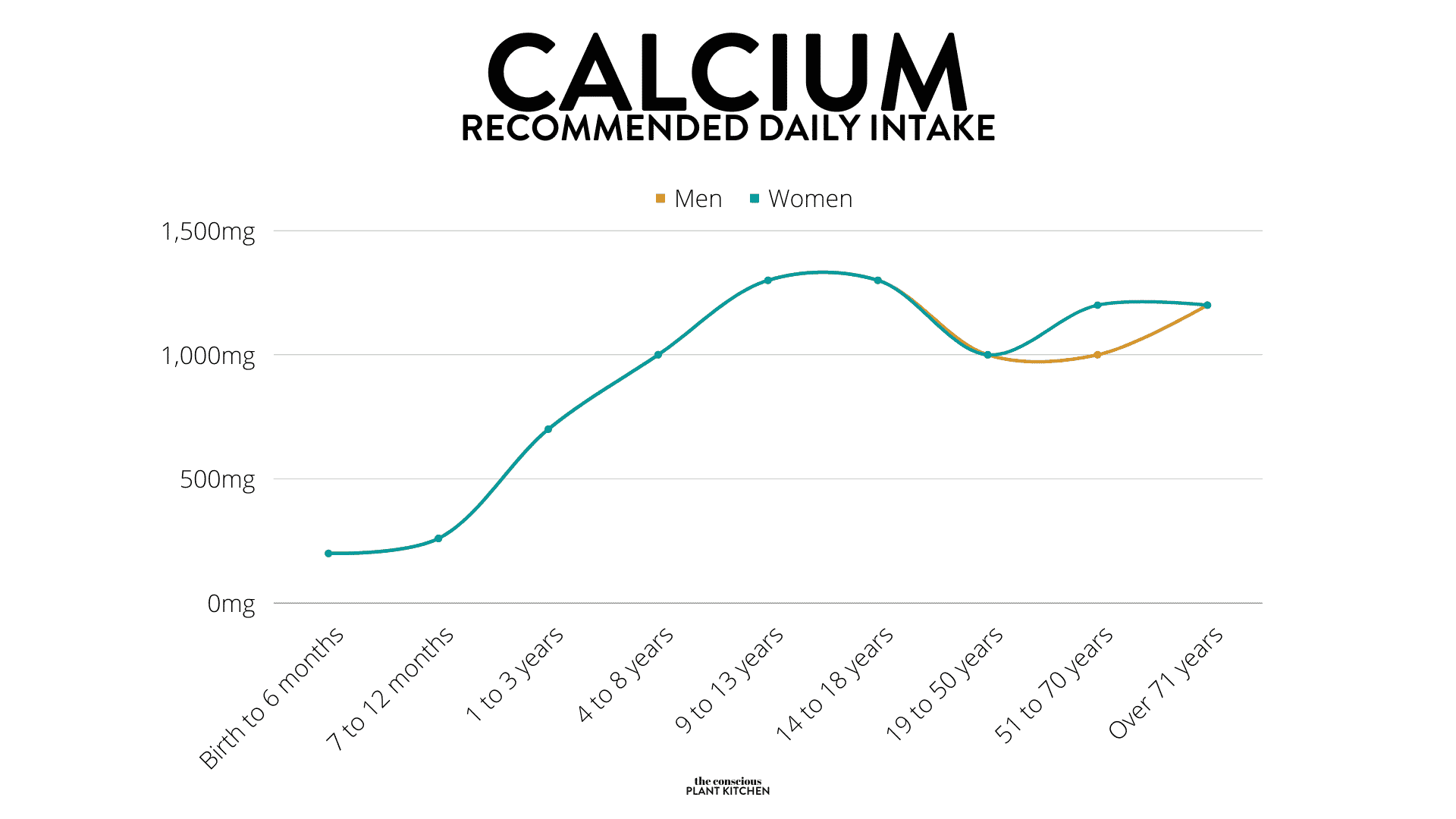 Why Do We Need Calcium?
Calcium is a chemical element with the symbol Ca and is a metal widely abundant in the Earth's crust.
In our body, calcium is a nutrient, more specifically a mineral, present as an ion Ca2+ that acts as an electrolyte and is vital for several functions, including:
Building Bones – about 30% of the mass of a bone is from calcium. In fact, calcium amounts to 2% of our weight. So for an average American, as much as 3.5 pounds is pure calcium.
Muscular System – Calcium ions regulate muscle contraction, so without calcium, your muscles wouldn't be able to function at all.
Synthesis of Blood Cells – Calcium contributes to building healthy blood cells that are in turn indispensable for our circulatory system.
Lactation and Pregnancy – During pregnancy, calcium is used to build the skeleton of the baby. And once the baby is born, 300 to 400mg of calcium is needed daily to produce breast milk.
Intracellular Signaling – Calcium contributes to the release of hormones and neurotransmitters necessary for cells and organs to communicate.
What Happens When The Body Lacks Calcium?
Severe calcium deficiency can have short-term and long-term consequences.
The most common symptoms linked to hypocalcemia are:
Memory Loss
Muscle Spasms, Cramps, and Numbness
Depression
Hallucinations
Brittle Nails
Fragile Bones (and higher risk of fracture)
Calcium Absorption
While calcium RDI is a simple number that seems relatively straightforward to reach, it's unfortunately not that simple.
Calcium, like many other micronutrients, is not never absorbed at 100%, and how much is absorbed depends on several factors.
In fact, only about 30% of calcium is absorbed on average.
Presence of Antinutrients: Antinutrients are natural substances that reduce or prevent the absorption of micronutrients such as Calcium. Most calcium antinutrients chemically bind with calcium, which limits how much our body can siphon it from our food. The most common antinutrients for calcium are Phytic Acid (present in nuts, grains, and seeds), Lectins (present in beans, peanuts, soybeans, and whole grains), and Oxalates (present in green leafy vegetables, tea, beans, nuts, beets).
Calcium Intake: The calcium intake rate depends on the calcium intake! To put it simply, you can't take a year's worth of calcium in a single day. While calcium absorption maxes out at 45% for the first 200mg of a day, it drops to 15% above 2000mg.
Vitamin D: Vitamin D is another micronutrient and it's essential for proper calcium absorption. Vitamin D is synthesized by the body when in direct sunlight (or UV light) for 30 minutes a week. A deficiency in Vitamin D leads in the majority of cases to a deficiency of calcium.
Source: Calcium can be present in foods in different forms, ions, molecules, etc. As a result, the body might have to work to transform it into available calcium.
Interestingly, bones can act as calcium storage. If the body lacks calcium for vital functions, it can dig in the bones to extract calcium ions.
Vegan Sources Of Calcium
The classic standard for calcium is cow milk, which is of course not vegan. One cup of milk (240m) contains 300mg of calcium and has an average absorption of 32% which gives 96mg of absorbed calcium per serving.
We're going to compare the best vegan calcium sources to this value.
The data in this list comes from Lumen, MDPI, and FoodData Central.
| Food | Serving | Calcium | Absorption | Calcium Absorbed |
| --- | --- | --- | --- | --- |
| Soymilk (Calcium Fortified) | 1 Cup | 300mg | 52% | 156mg |
| Orange Juice (Calcium Fortified) | 1 Cup | 300mg | 36% | 109mg |
| Breakfast Cereal (fortified) | 130g | 540mg | 17% | 92mg |
| Tofu (Firm) | 1/2 cup/120g | 258mg | 31% | 80mg |
| Turnip Greens | 1/2 cup | 99mg | 51% | 51mg |
| Corn Tortillas | 140g | 140mg | 35% | 48mg |
| Bok Choy (Chinese Cabbage) | 1 cup/85g | 79mg | 54% | 42mg |
| Kale (cooked) | 1 cup/85g | 61mg | 49% | 30mg |
| Soybeans (Edamame) | 1/2 cup | 99mg | 31% | 30mg |
| Broccoli (raw) | 1/2 cup | 35mg | 61% | 22mg |
| Rutabaga | 85g | 36mg | 61% | 22mg |
| Watercress | 17g | 20mg | 67% | 13mg |
| Pinto Beans | 1/2cup/86g | 44mg | 26% | 12mg |
| Brussels Sprouts | 1/2cup | 19mg | 64% | 12mg |
| Red Beans | 172g | 40mg | 24% | 10mg |
| Sweet Potatoes | 160g | 44mg | 22% | 10mg |
| Radish | 50g | 14mg | 74% | 10mg |
| Rhubarb | 120g | 174mg | 8% | 10mg |
| Sesame Seeds | 28g | 37mg | 20% | 7.7mg |
| Spinach (boiled) | 1/2 cup/85g | 120mg | 5% | 6mg |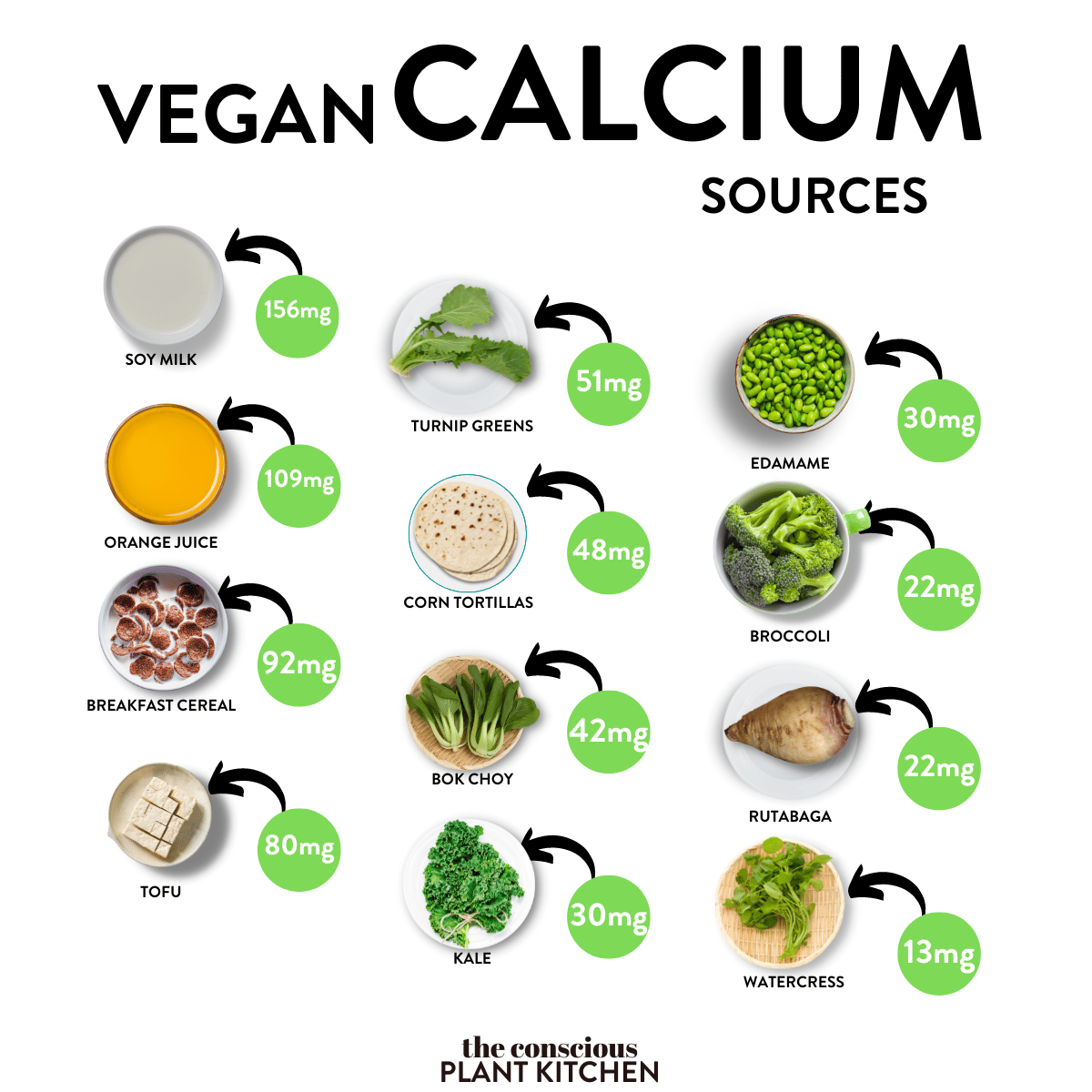 Frequently Asked Questions
Should I Take Calcium Supplements?
Calcium is a mineral that is one of the most supplemented minerals. It's common for people not on a vegan diet to lack calcium, in particular with people not taking any of the calcium-fortified foods like soy milk, tofu, or cereals.
Evidence shows that there are very rare issues linked with overconsumption of calcium supplements, the body is very good at regulating excessive intake.
So if your nutrition lacks calcium, it's a good idea to supplement it.
Is There Calcium In Chia Seeds?
Yes, chia seeds do contain a lot of calcium and protein. Unfortunately, they are also rich in antinutrients and can therefore have a detrimental effect on the actual calcium intake.
Is There A Link Between Calcium And Bone Health?
Yes, good bones need calcium. In fact, about 3 pounds of our body is pure calcium, most of it present in our bones.
What Amount Of Calcium Should I Eat In A Day?
The recommended calcium intake varies during life, from 200mg for newborns to 1,300mg a day for teenagers.
The mg of calcium you need also increases during pregnancy and lactation.
Do Leafy Green Vegetables All Contain Calcium?
Most leafy green vegetables (Kale, Swiss Chard, Collard Greens, etc.) are calcium-rich. However, some also contain anti-nutrients, so it's important to know which ones.
Are All Soy Products Calcium Fortified?
Many soy-based products are calcium-fortified (soy milk, soy yogurt, tofu, tempeh) so they are excellent plant-based sources of calcium.
But even raw soybeans do naturally contain calcium.
Conclusion
Calcium deficiency can be a real problem for vegans and knowing which are the best vegan sources of calcium is essential.
With this list of easy vegan calcium sources, you can get your daily calcium intake!