Vegan Colonoscopy Preparation: What can I eat?
This article provides tips on what you can eat for an ultimate vegan colonoscopy prep. If you follow a vegan diet, and for some health reason, you have to perform a colonoscopy, you will be surprised by the colonoscopy prep food list provided.
In fact, most of the low-residue diet foods on a colonoscopy prep list are animal foods. So you probably wonder what a vegan can eat before a colonoscopy.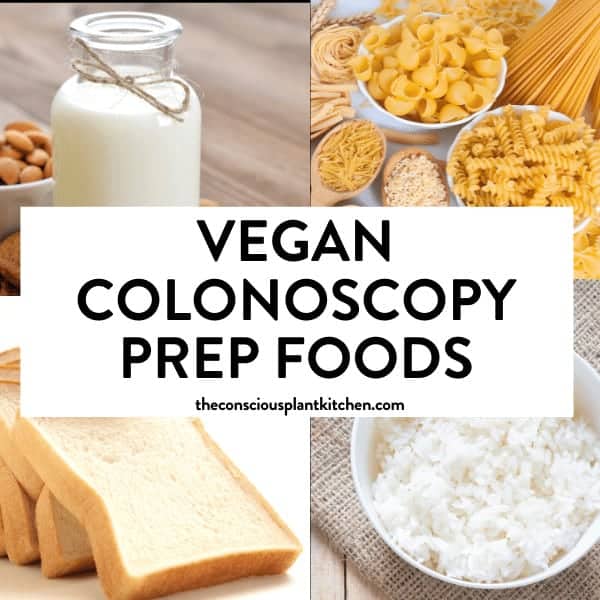 Disclaimer: This article shouldn't take over the medical instruction given by your gastroenterologist. This food list is provided as a vegan food suggestion to decrease fiber in your bowel before a colonoscopy. However, you must validate with your gastroenterologist that the food listed below is in accordance with its requirement for a successful colonoscopy prep.
Below we listed some of the best vegan colonoscopy prep foods you can eat to decrease fibers on your vegan diet.
Why a colonoscopy?
Studies show that vegan and vegetarian diets are associated with a lower risk of colorectal cancer. However, as a vegan, your doctor may recommend a colonoscopy for any reason like:
Abdominal pain
Rectal bleeding
Chronic gut issues like diarrhea, constipation
Screen for colon cancer
What's a colonoscopy?
A colonoscopy is a visual examination of the digestive system using a narrow flexible tube called a colonoscope. It's an important exam to diagnose and treat bowel conditions.
To obtain a good image of the bowel lining, the bowels must be empty. That's why doctors ask to prepare by following a strict low residue diet before the exam.
Vegan colonoscopy prep
The vegan colonoscopy prep is two steps:
Low-residue diet – 2 to 6 days before the exam. The timeframe depends on the gastroenterology center you booked your exam. Follow the timeframe provided by your gastroenterologist. The low residue diet, also known as a low fiber diet, is a diet designed to reduce the amount of stool in your large intestine. It's a temporary diet that helps 'rest' your bowels and prepares for colon exams.
Liquid diet – on the day of the examination. The liquid diet consists of cleansing the bowel drinking a preparation called Glycoprep. During a liquid diet, you will only drink clear fluid, no solid food.
Low-residue diet – 2 days to 1 week before
Depending on the gastroenterology center where you perform the exam, y0u will be asked to follow a low-residue vegan diet for 2 to 6 days before the colonoscopy.

Food you can eat
A-low residue diet focus on low-fiber food.
The best low-fiber vegan diet for colonoscopy are:
Rice bubbles or cornflakes
White flour products like bread, pasta, plain tinned spaghetti.
White rice
Plain vegan biscuits like arrowroot or wine biscuits.
Plain crackers – no wholemeal or multi-grain.
Plain scones – no sultanas, no dates.
Potatoes
Oil, margarine
Dairy-free products like almond milk, coconut milk, hemp milk, dairy-free plain soy yogurt.
Clear liquid – like water, coconut water, tea, coffee, lemon-flavored energy drinks light in color – no red, green, or purple drinks.
Lemon ice blocks and sorbet
Vegan jellies, barley sugars, and boiled candies.
Strained fruit juice
Foods to avoid
The vegan foods you shouldn't eat on a low-fiber diet are listed below. These foods contain a high quantity of fiber per serving and build up in the digestive tract making your bowel surgery difficult.
Avoid the below ingredients before a colonoscopy:
Fruits – including dried fruits.
Vegetables – no vegetables except skinless potatoes.
Nuts and seeds
Beans or legumes like black beans, chickpeas, hummus, corn kernel, lentils.
Multi-grain cereals or bread-like oats, muesli.
Liquid diet – the day of the exam
On the day of the exam, you will follow a vegan colonoscopy liquid diet. It means that only clear fluid can be consumed along with the liquid bowel cleansing preparation your gastroenterologist prescribes.
On a liquid diet before a colonoscopy, you can drink:
Coffee and tea without plant-based milk.
Lemon-flavored energy drinks without colors.
Carbonated drinks without colors.
Lemon ice blocks
Light-colored jellies
Barley sugars
Boiled sweets
No highly colored drinks like red, purple, or green.
You will be given a specific time at which you must stop drinking any fluids before the exam, usually a few hours before the colonoscopy starts. Follow the directions provided by your specialist for success.
Other vegan foods you should avoid before colonoscopy
On a vegan diet, we often supplement our bodies with medication and foods.
You should not take before a colonoscopy the following :
iron tablets
multi-vitamins
protein powders
pre-workout drinks
All these foods should be discontinued before the test. Ask the specialist about the timeframe. Sometimes you may be asked to stop iron tablets a week before the procedure.
After the colonoscopy
After the exams, you will be able to return to a normal diet. It's recommended to start with small amounts and low-fat food.
Some great plant-based foods to eat after the colonoscopy are:
Vegetable broth with noodle
White bread and margarine
Berries and plant-based yogurt
Apple juice or strained juice
Banana
Depending on your exam results, you may be asked to follow a vegan low FODMAP diet to release some gut discomfort.
All multi-vitamins and food supplements after the completion of the exams.