This Air Fryer Cauliflower recipe is the easiest way to enjoy cauliflower and is a healthy recipe.
Plus, this cauliflower recipe is also dairy-free, gluten-free, and low-carb, so you can share it with all the family members.
I have a passion for air fryer recipes and air frying vegetables makes delicious side dishes.
It's so much easier to air fry cauliflower when making my roasted cauliflower salad.
If you're used to roasting cauliflower in the oven, you'll be amazed by this recipe. It's faster, uses less oil, and leaves fewer dishes to clean.
So lately, I air fry cauliflower, most of the time with the most simple coating or to make air fryer buffalo cauliflower.
How To Make Air Fryer Cauliflower
It's so easy to air fry cauliflower to make tender and crispy florets every time. The two common mistakes people make when air frying cauliflower are:
Air frying florets of vastly different sizes – This results in some burnt florets and some undercooked ones.
Air frying cauliflower at low temperatures – Resulting in mushy cauliflower pieces.
So first, cut the cauliflower into florets of the same size.
Ingredients
Next, gather the ingredients below.
Head of Cauliflower – I always air fry fresh cauliflower florets and don't have much experience with frozen cauliflower.
Avocado Oil
Salt
Ground Pepper
Garlic Powder
Optional
Then, of course, you can season the cauliflower by adding some extra like:
Chili Flakes or chili powder
Smoked Paprika
Cumin
Dried Oregano
Onion Powder
Lemon Zest
Or simply serve the air-fried cauliflower florets with fresh chopped herbs like parsley or dill.
Cutting Cauliflower
First, cut the cauliflower into small florets. Start by removing the green parts of the cauliflower head and discard or compost them.
Then, run a small sharp knife around the base to release the cauliflower florets. Finally, cut each floret in a similar size to ensure even cooking.
Place the florets in a large bowl. Drizzle some olive oil, garlic powder, salt, pepper, and any other dry spices you like.
Then, toss the florets to coat evenly.
Air Frying Cauliflower
Now, you have two options. You can place the cauliflower florets directly in the air fryer basket or cover the basket with foil or parchment paper to make the basket easier to clean.
You don't need to preheat the air fryer before adding cauliflower.
Place the cauliflower in a single layer in the basket, so they roast evenly. If the cauliflower head you sued is large, you may have to air fry the florets in batches.
To keep the air-fried cauliflower warm, place it in a large baking dish and cover it with foil.
Eventually, pop it in the oven at 210°F (100°C) to keep it warm while you air fry the remaining cauliflower.
Air fryer the cauliflower florets at 400F (200C) for 12- 15 minutes, shaking the basket half way so they roast evenly.
You know the cauliflower florets are ready when they are golden brown, crispy outside but firm in the center.
Insert a knife blade in one of the florets to check if it goes through, but still firm, stop the air fryer.
Serving
These crispy air fryer cauliflower bites are delicious on their own as a side dish or snack to dip in sauce like:
You can also use this recipe to make my roasted cauliflower salad or serve it as a side dish with a drizzle of lemon juice, vegan Parmesan cheese, or fresh chopped herbs on top.
I like to add all of the below ingredients on the cooked cauliflower:
Chili Flakes
Chopped Italian Parsley
Sea Salt Flakes
Ground Pepper
Allergy Swaps
Below are some ideas to make this recipe with other ingredients if you are allergic to some of them.
Avocado Oil – Replace with olive oil or any oil you like to roast vegetables. I recommend avocado oil because it has a high smoke point and won't smoke in the air fryer.
Garlic – You can skip the garlic powder if you follow a low-fodmap diet.
Storage Instructions
Air-fried cauliflower tends to have a strong sulfur smell as it cools down.
So make sure you store leftovers in an airtight box or bag to avoid sharing the smell with all the other food in your fridge.
Frequently Asked Questions
Here are some answers to your most frequent questions about this recipe.
Can I Use This Recipe To Roast Cauliflower Florets?
Yes, the ingredients and method are the same, except that you must increase temperature to 430°F (220°C) to roast cauliflower florets.
Place the florets on a large baking sheet covered with parchment paper, shake halfway, and roast for about 12 to 15 minutes.
Can I Skip Oil?
You can air fry cauliflower oil-free, but honestly it doesn't make the recipe very tasty.
The florets dry out and don't have much flavor as there's nothing to stick the spices to the florets.
More Air Fryer Recipes
Below are some more air fryer recipes for you to try:
Have you tried this air fryer cauliflower recipe? Share a comment or review below to connect with me.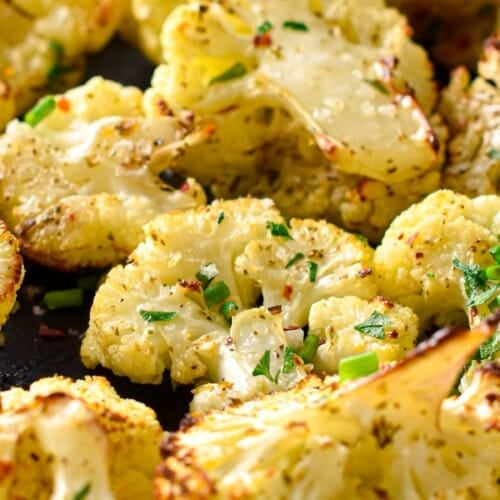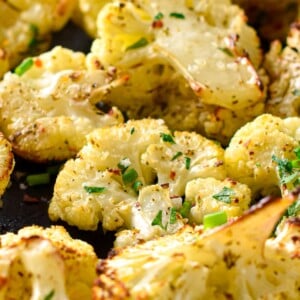 Air Fryer Cauliflower
This Air Fryer Cauliflower recipe is an easy way to enjoy cauliflower and is such a healthy recipe. Plus, this cauliflower recipe is also dairy-free, gluten-free, and low-carb, so you can share it with all the family members.
Pin
Print
Review
Servings:
4
servings (1/2 cup)
Instructions
Cut cauliflower head into small 2-inch florets. Set aside.

Spray the air fryer basket with olive oil. Set aside.

In a large bowl, add the cauliflower florets, oil, salt, pepper, and garlic powder. Toss the florets to coat evenly.

Spread the cauliflower florets in a single layer in the basket and work in batches if you have too many florets.

Air fry for 12-15 minutes at 400°F (200°C), shaking the basket halfway. They are ready to remove from the air fryer when golden brown, crispy on the edges but not burnt, and still tender in the middle.
Serving
Serve with cucumber dip, ranch dressing, or any sauce you love.
Share on Facebook
Pin Recipe
Nutrition
Serving:
1
serving
|
Calories:
99.5
kcal
|
Carbohydrates:
4.5
g
|
Protein:
1.5
g
|
Fat:
9
g
|
Saturated Fat:
1.1
g
|
Polyunsaturated Fat:
1.2
g
|
Monounsaturated Fat:
6.2
g
|
Sodium:
602.2
mg
|
Potassium:
219.4
mg
|
Fiber:
1.5
g
|
Sugar:
1.3
g
|
Vitamin A:
1.4
IU
|
Vitamin C:
31.9
mg
|
Calcium:
17.2
mg
|
Iron:
0.4
mg
|
Magnesium:
11.5
mg
|
Phosphorus:
35.8
mg
|
Zinc:
0.2
mg