Air Fryer Sweet Potato Wedges
These Air Fryer Sweet Potato Wedges are easy, healthy, and crispy wedges of orange sweet potatoes, perfect as a quick healthy side dish.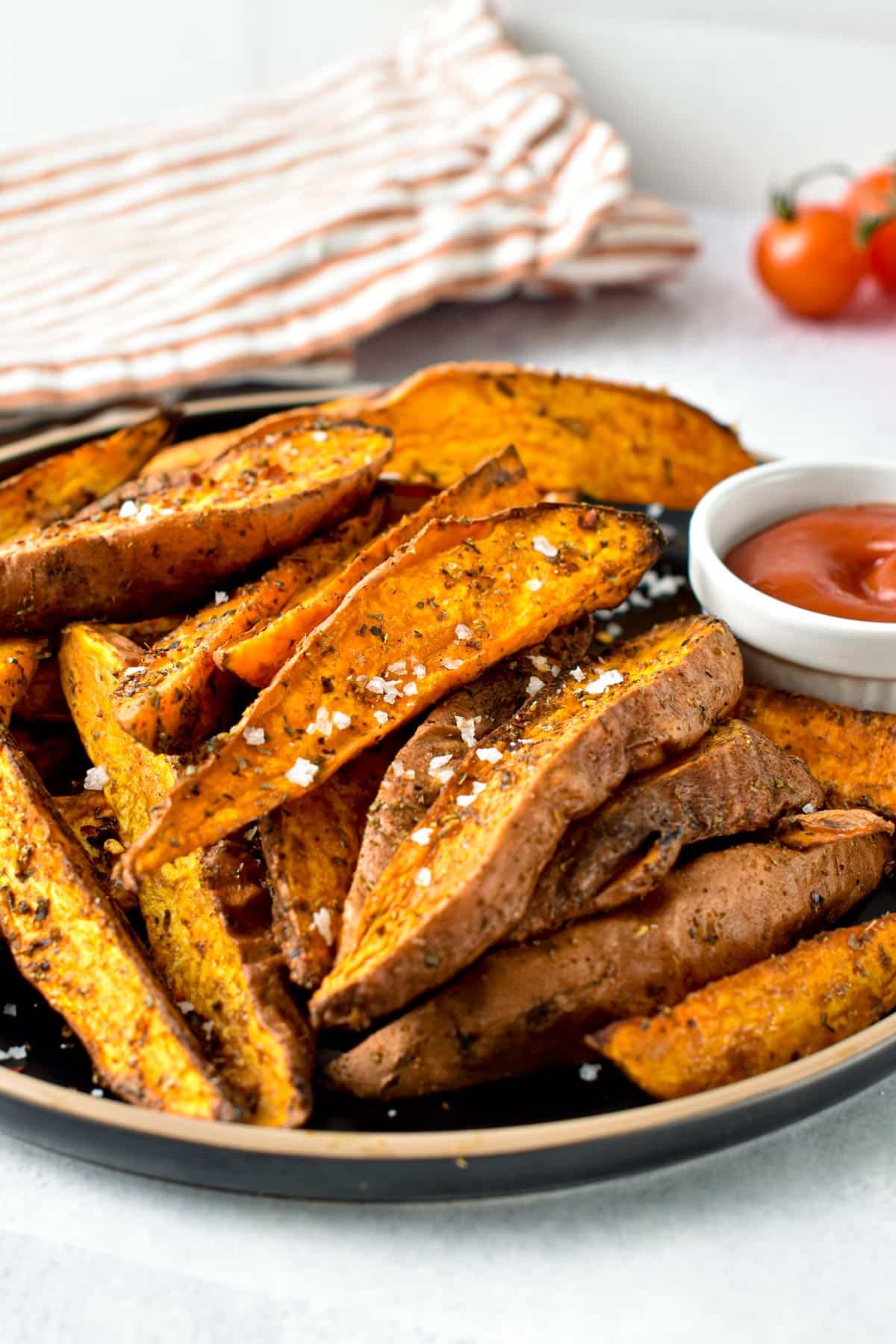 I love air fry recipes, especially for vegetables and when we don't air fry potato wedges, we love orange sweet potatoes.
Are Sweet Potatoes Better Than Potatoes?
Sweet potatoes are a great alternative to potatoes.
While most people think sweet potatoes are healthier than potatoes, it's not entirely true.
Both are excellent vegetables with very similar properties and nutrients. Potatoes have a bit less fiber and vitamin C, but overall, both vegetables are good for you.
But in short, Sweet Potatoes are:
Slightly lower in net carbohydrates – It means they won't impact your blood sugar levels as fast as potatoes. This is because they contain more fiber that slows down carbs absorption.
Higher in fiber – This keeps you full for longer, with 3.3 grams of fiber per 100 grams, compared to 2.1 grams of fiber per 100 grams of potatoes.
Higher in vitamin C
Higher in calcium
So overall sweet potatoes are a great alternative to potatoes in many recipes. Taste-wise, they are less crispy and a bit sweeter.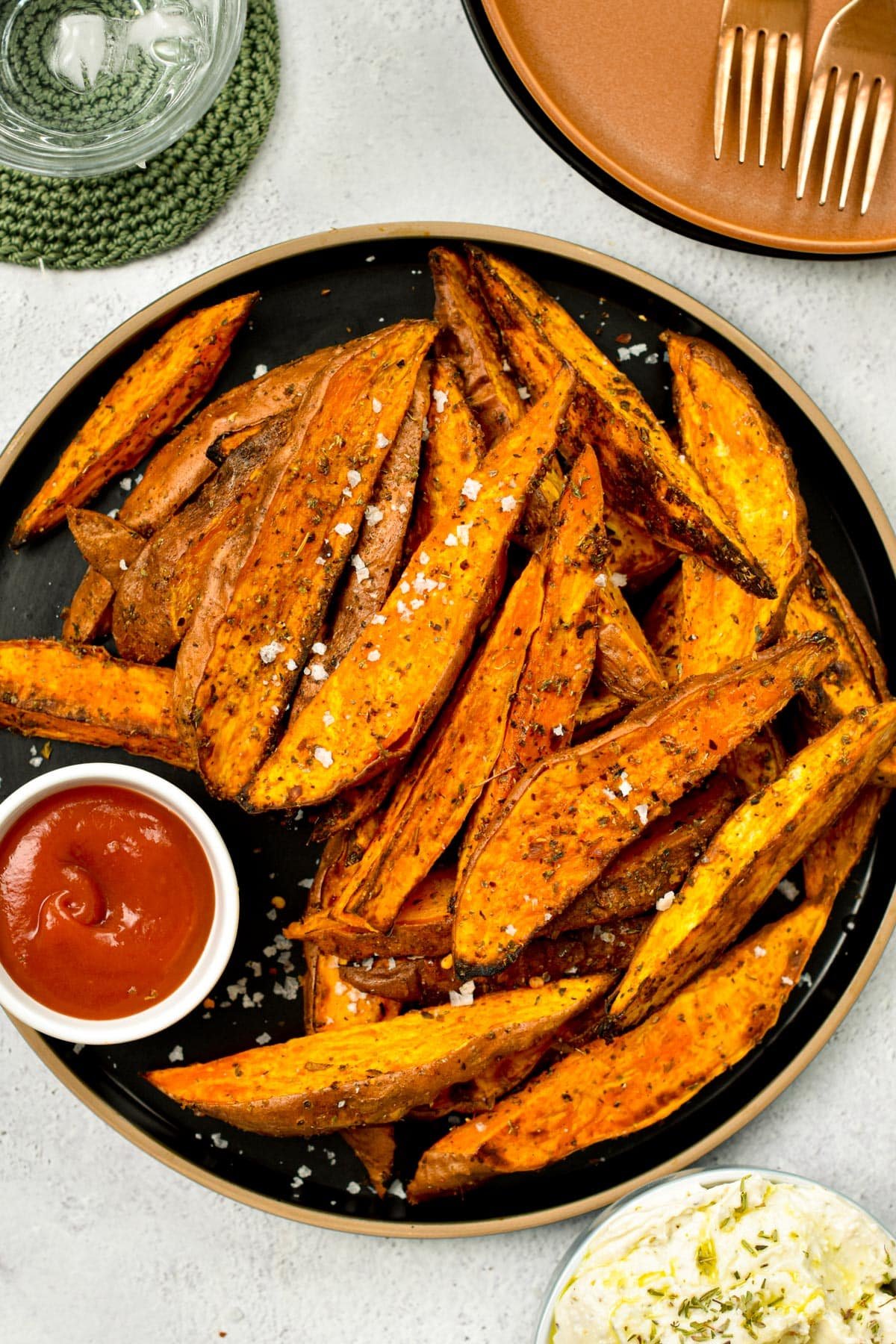 How To Make Air Fryer Sweet Potato Wedges
It's easy to make crispy Air Fryer Sweet Potato Wedges at home with just a few basic ingredients.
Ingredients
All you need to make these crispy wedges are:
Sweet Potatoes – You don't have to use orange-skin sweet potatoes. Golden sweet potatoes get crispier, less sweet, but are higher in starch.
Avocado Oil or olive oil
Paprika
Onion Powder
Garlic Powder
Sea Salt
Pepper
Dried Oregano
Dried Marjoram
Cutting Sweet Potatoes Into Wedges
You don't have to peel your sweet potatoes for wedges, but feel free to do so if you prefer.
Wash and rub the skin to remove any dirt. I use a little brush to smoothen the skin.
Next, place the whole sweet potato on a cutting board.
Cut the sweet potatoes in half lengthwise. You end up with two halves.
Then, cut each half lengthwise again. You now have four halves.
Finally, cut the four halves in half again to make eight sweet potato wedges per sweet potato.
Depending on the size of your sweet potatoes, your wedges will be longer or thicker. Feel free to chop them smaller if preferred.
Air Frying Sweet Potato Wedges
Place the wedges in a large mixing bowl and drizzle avocado oil and seasoning.
Next, stir and massage the wedges with the oil mixture until they are all coated.
Line the sweet potato wedges in a single layer in the air fryer basket so they don't touch each other.
Next, air fry the wedges at 400°F (200°C) for 12 to 15 minutes, shaking the basket halfway.
The cooking time varies depending on the thickness of the wedges. The sweet potato wedges are ready when they are golden and crispy on the outside, and a fork is easily inserted in the center.
Serve immediately with any dipping sauce you love and adjust them with salt and pepper to taste.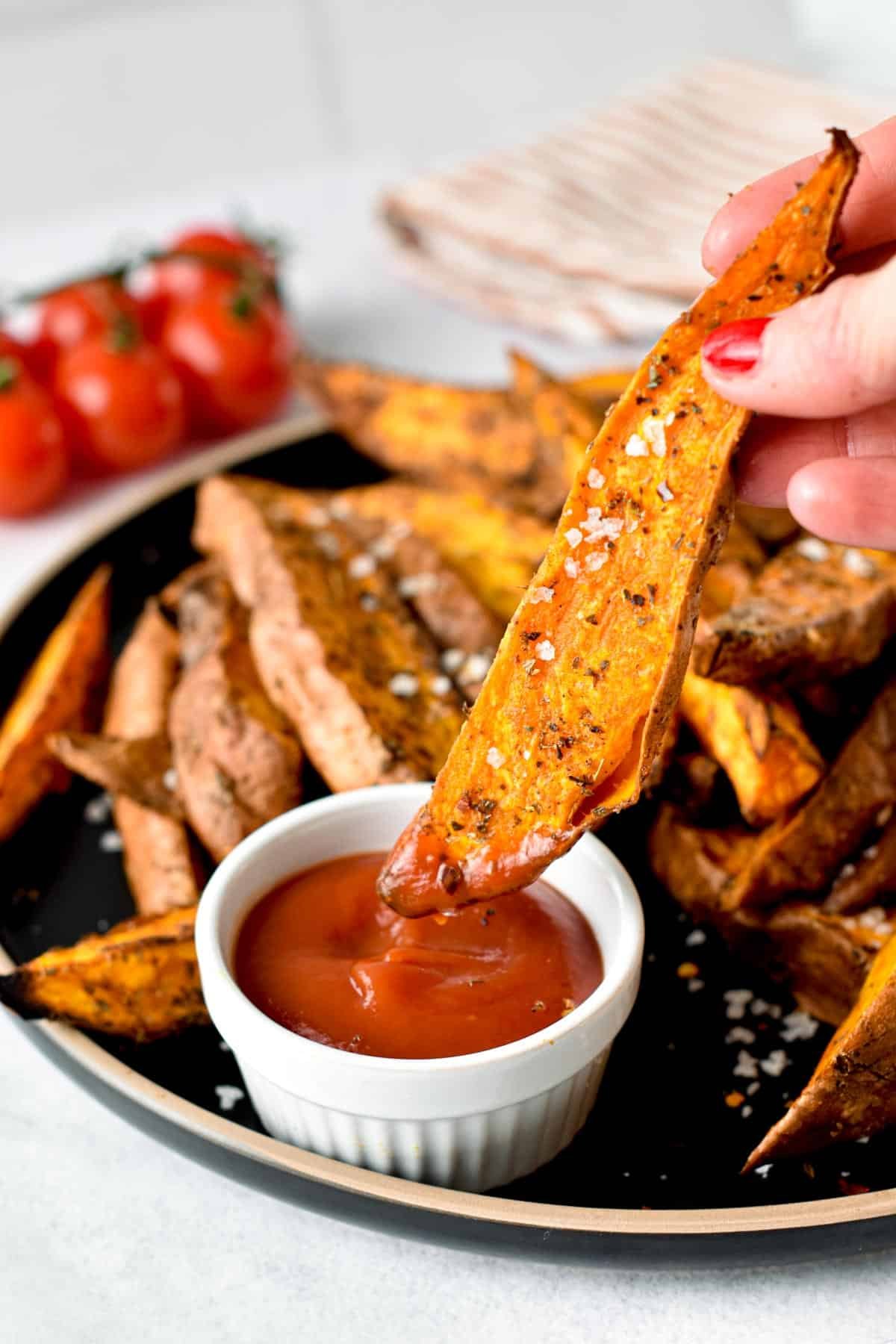 Serving
These sweet potato wedges are better served immediately as they soften quickly as they cool down.
Serve as a side dish to marinated tempeh or as an appetizer to dip into a sauce like:
Tomato Sauce
Mustard
Guacamole
Storage Instructions
These wedges can be stored for two days in a sealed container in the fridge.
They must be rewarmed in the air fryer to get their crisp back.
Air fry them at 350°F (180°C) for 5 minutes or until crispy and warm in the center.
Allergy Swaps
Below are some ingredient substitution ideas if you need to adapt this recipe to your food intolerances or allergies.
Low-FODMAP – Skip the garlic and onion powder.
Low-Sodium – Skip the salt.
Oil – the best healthy oils to air fry food are high smoke-point oils like avocado oil but any vegetable oil works.
Paprika can be replaced with cumin or any dry spices you love.
Frequently Asked Questions
Below are my answers to your most frequent questions about how to air-fry sweet potatoes.
Can I Use Other Sweet Potato Varieties?
This recipe works well with golden sweet potatoes or purple sweet potatoes.
However, these two varieties are high in starch, and therefore, I recommend soaking the wedges in cold water for 10 minutes before coating them with oil.
Also, pat dry the soaked, drained wedges in a clean kitchen towel or paper towel to remove excess water.
Finally, coat the wedges with oil and seasoning before air frying.
Can I Air Fry The Whole Batch At Once?
Don't overload the air fryer basket or stack the wedges because this traps moisture and makes the wedges soft and mushy.
To crisp, they need airflow through the basket holes and around each wedge. So instead, work in batches and air fry one layer at a time.
Have you tried this air fryer sweet potato wedge recipe? Share a comment or review below.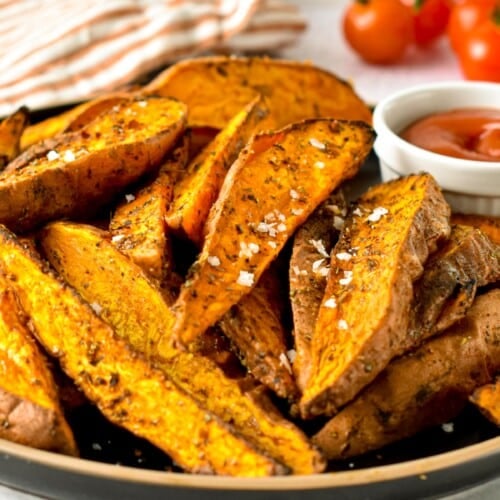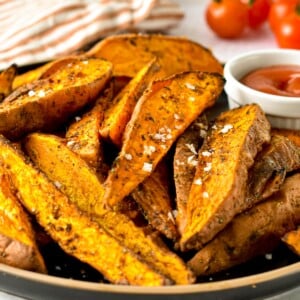 Air Fryer Sweet Potato Wedges
These Air Fryer Sweet Potato Wedges are easy, healthy, and crispy wedges of orange sweet potatoes, perfect as a quick healthy side dish.
Pin
Print
Review
Servings: 8 servings (about 4 large wedges)
Calories: 180.6 kcal
Instructions
Wash the sweet potatoes under cold water, and scrub the skin well to remove any dirt. Don't peel off the skin.

Cut each sweet potato in half lengthwise and then cut each half in half so you get four pieces. Next, cut in half the four pieces so you get eight large wedges. Watch my step-by-step pictures above for visual tips.

Place the wedges into a large flat dish and toss with olive oil and all seasonings. I used my hands to evenly massage and rub each wedge with the seasonings.

Place the sweet potato wedges in the air fryer basket in a single layer. The whole batch won't fit in your basket. Only 5-6 wedges can go in an XXL basket. You can preheat the oven to 210°F (100°C) to keep the air-fried wedges warm while air-frying the rest. Work in batches until all the wedges are air fried.

Air fry at 400°F (200°C) for 9-12 minutes, shaking the basket halfway. They are ready when the skin is crispy and golden, and a fork goes through the wedge easily.
Share on Facebook
Pin Recipe
Nutrition
Serving: 1servings (4 Wedges) | Calories: 180.6kcal | Carbohydrates: 35g | Protein: 2.8g | Fat: 3.6g | Saturated Fat: 0.5g | Polyunsaturated Fat: 0.4g | Monounsaturated Fat: 2.6g | Sodium: 384.7mg | Potassium: 588.5mg | Fiber: 5.5g | Sugar: 7.2g | Vitamin A: 24149.3IU | Vitamin C: 4.9mg | Calcium: 62.4mg | Iron: 1.3mg | Magnesium: 44.8mg | Phosphorus: 82.8mg | Zinc: 0.5mg