This Tempeh Marinade is an easy recipe to add flavors to tempeh and create the best high-protein vegan dinner.
Plus, this marinade takes less than 5 minutes to make, and it's also gluten-free.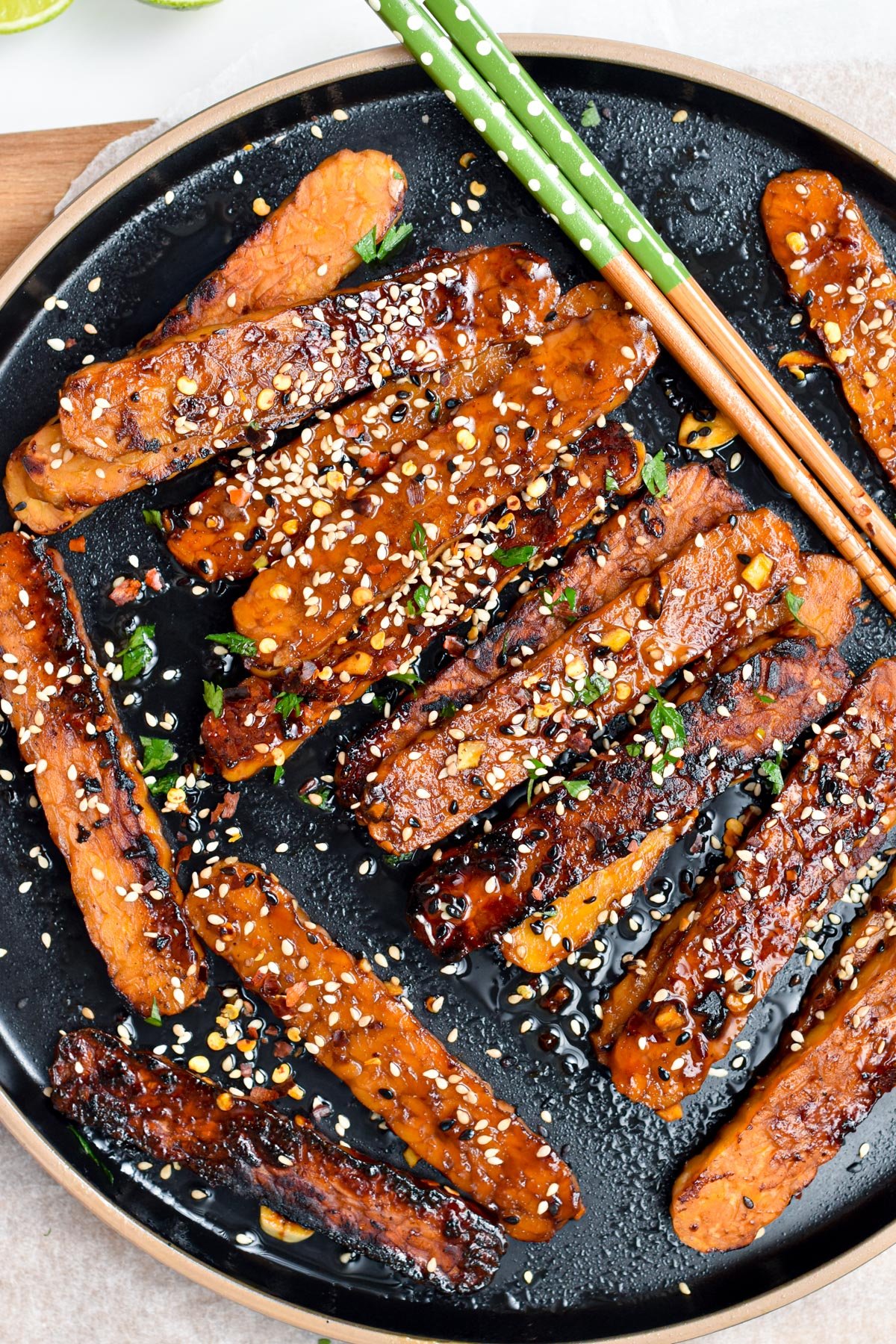 We love tempeh recipes, and when we don't make tempeh tacos or tempeh meatballs, I like to marinade slices and eat this as a simple meal.
It goes so well into creamy dipping sauce like avocado dip, or my peanut dipping sauce.
What's Tempeh?
Tempeh is made with fermented soybeans.
As a result, it's higher in protein than tofu and contains vitamin B12.
The texture of tempeh is tough and mimics meat very well, with a slightly nutty flavor that goes well with Asian-inspired recipes.
How To Make Tempeh Marinade
Marinating tempeh is a simple process that adds a bunch of flavor to this high-protein vegan dish.
Ingredients
All you need to marinade tempeh are:
Sesame Oil or peanut oil. These options both bring great flavors to the recipe.
Soy Sauce – You can also use coconut aminos or tamari sauce if gluten-free.
Maple Syrup, brown sugar, or any sweetener you like, including low-carb, sugar-free sweeteners if needed.
Rice Vinegar or sushi vinegar. It must be vinegar with a sweet note for the best flavors, like balsamic vinegar or sushi rice vinegar.
Garlic
Ground Ginger
Red Pepper Flakes
Tempeh Preparation
Frist, prepare the tempeh block, slice it into thin 0.4-inch slices (1cm). Feel free to slice the tempeh thicker, but the flavor can be bitter if the slices are thick.
Some people find tempeh bitter. To avoid this, you can boil some water, add it to a pan, and add the slices.
Cook the tempeh for 5 minutes in the boiling water, discard and cool down on a rack before marinating.
I don't normally boil tempeh as I don't think it's bitter at all but we all have different taste buds.
Preparing Marinade
Place all the marinade ingredients into a small bowl, stir to combine.
The best way to entirely cover the tempeh slices is to use:
A Bag – There are many eco-friendly bags where you can add the marinade and tempeh slices, zip, and refrigerate.
A Dish – Make sure your dish is not too wide, or the tempeh won't soak very well in the marinade. As a result, it won't get all the flavor from the marinade.
Place the slices in the baking dish, cover with the marinade, film the dish with foil or wrap, and refrigerate it for 30 minutes to 2 hours or overnight.
I like to flip the slices in the bag after 1 hour to make sure both sides gets all the flavors.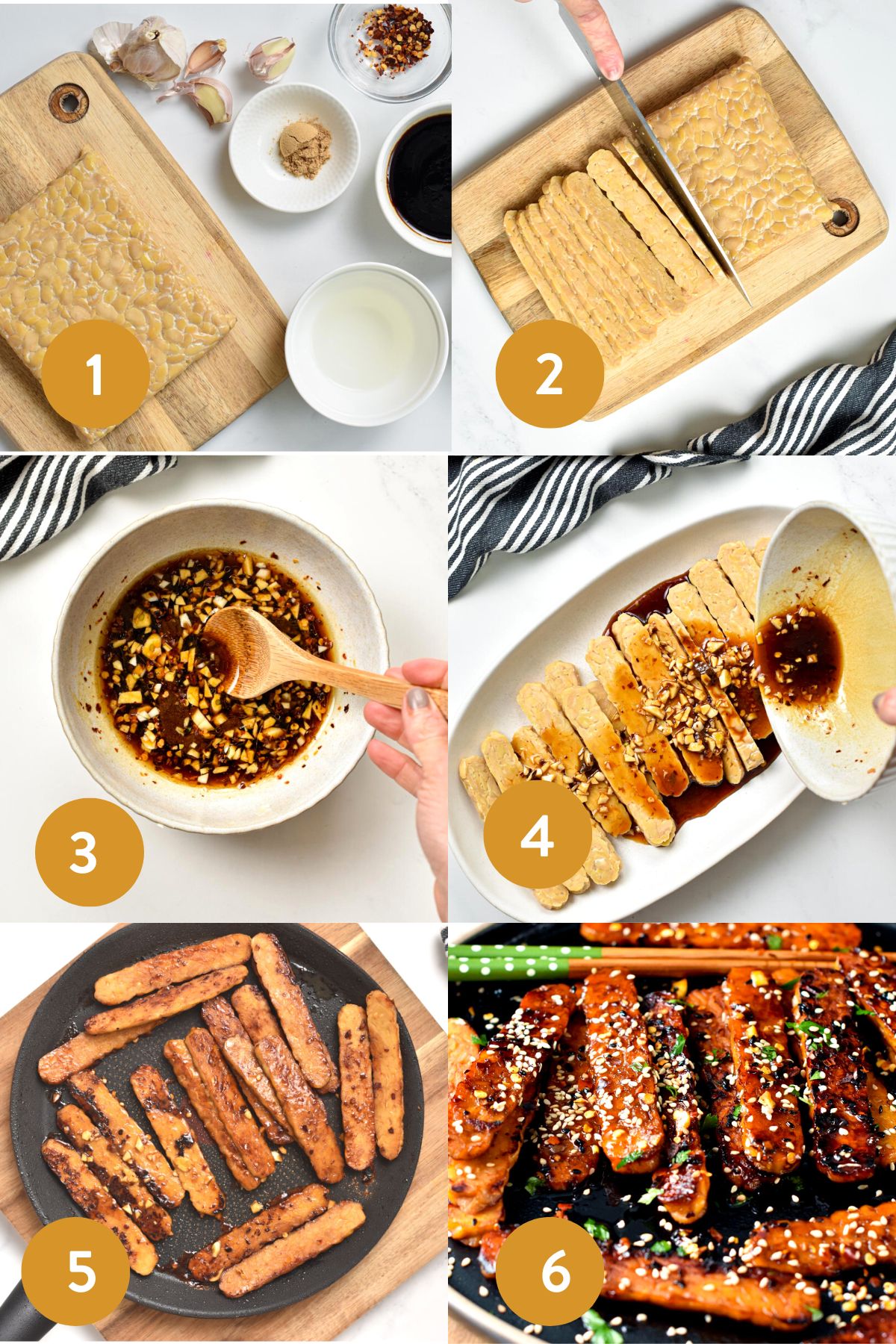 Cooking Tempeh
There are many ways you can cook tempeh. You can use three main methods
Oven-Baked Tempeh
Preheat the oven to 350°F (180°C). Line a baking sheet with lightly oiled parchment paper and lay the slices of tempeh.
Bake the tempeh for 10 minutes, then remove it from the oven.
Now, flip the slices, brush some of the rest of the marinade, and bake again for 15 minutes or until golden brown.
Note that baked tempeh dries out quickly, so the extra brushing halfway through baking is highly recommended to add flavor and texture.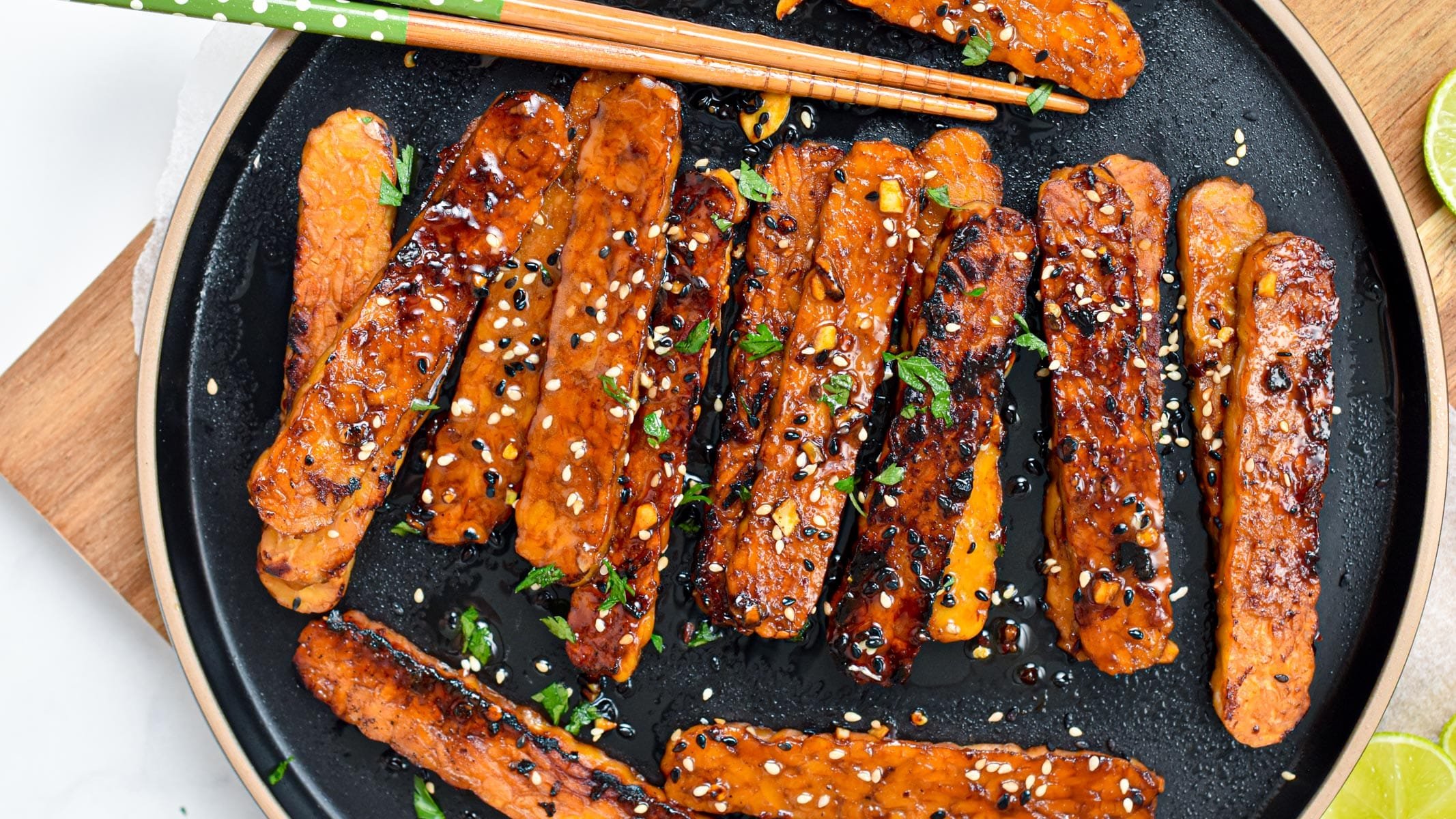 Fried Tempeh
That's my favorite method for making tempeh. Warm some olive oil or sesame oil in a large pan, add the slices and cook for 3 to 4 minutes.
Flip the slices, cook for another 3 to 4 minutes, and at the end, add a splash marinade.
Air-Fryer Tempeh
Spray some oil in the air fryer basket to prevent the temp from sticking to the air fryer basket.
Line the tempeh slices in a single layer in the basket and air fry for 10 to 12 minutes at 400°F (200°C).
Flip the slices halfway, and like for the oven method, brush some of the leftover marinade on the slices for extra flavor and to prevent them from drying too much.
Storage Instructions
Cooked tempeh can be stored in the fridge in a sealed container for up to 3 days.
You can also freeze it cooked or in the marinade and thaw it in the refrigerator the day before.
Serving Tempeh
Tempeh is a wonderful high-protein vegan source. As a result, it's a great addition to a homemade sandwich like in my 2-ingredient flatbread or to boost the protein in our vegan broccoli salad.
You can also serve tempeh as a main dish with some of the side dishes below: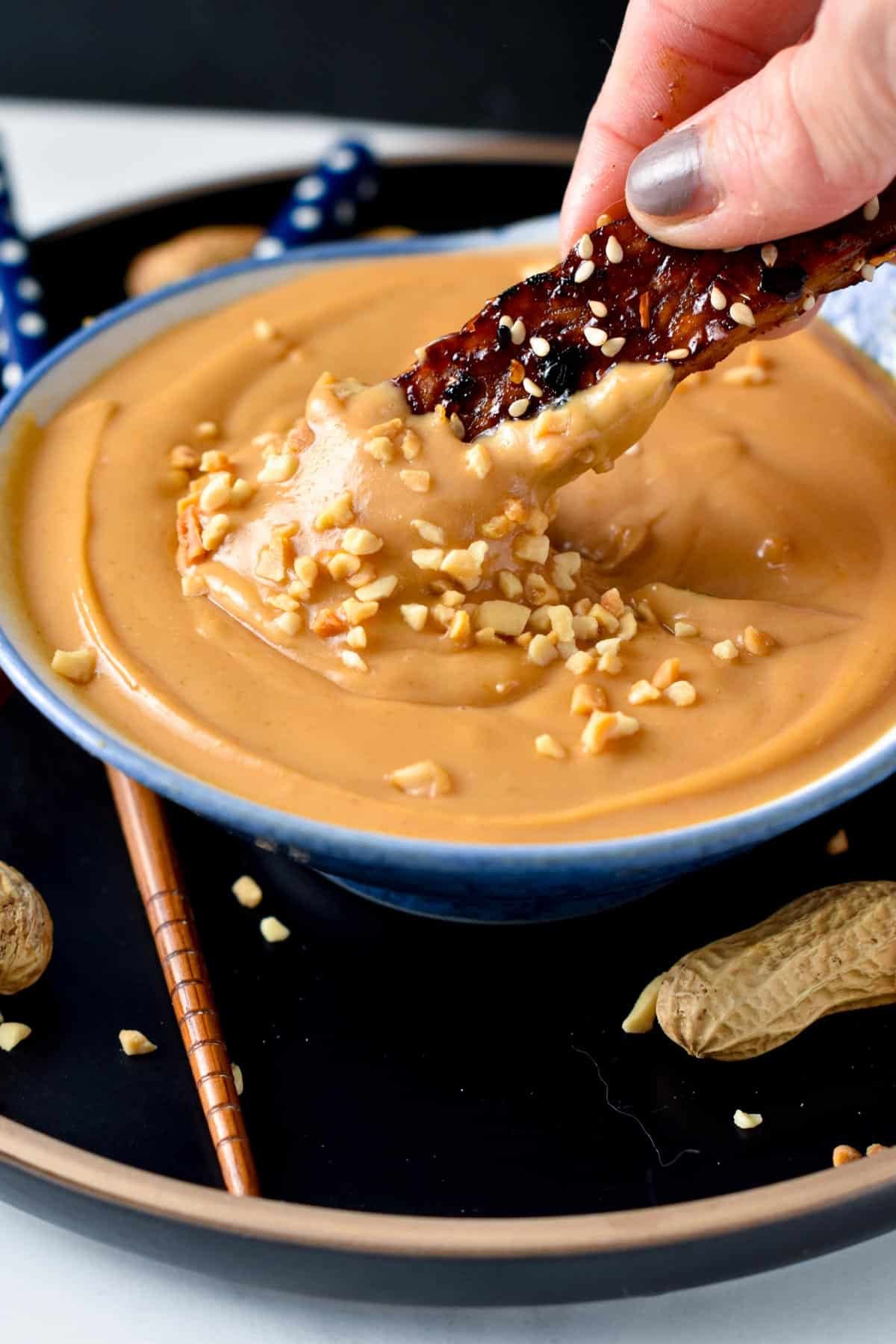 Frequently Asked Questions
Below are the answers to your most frequent questions about this tempeh marinade recipe.
Can I Keep Marinade Leftovers?
You can cook the leftover marinade to make a sauce.
However, it's not recommended to eat the raw marinade or to reuse it to marinate more tempeh.
Tempeh, if unpasteurized, can contain some of the mold used during the fermentation process that can be harmful.
Can I Use This Marinade For Tofu?
Yes, this also makes a wonderful tofu marinade.
However, you need to prepare tofu differently from tempeh as tofu contains more water.
You need to wrap the tofu block in a clean kitchen towel and press it between two cutting boards with heavy weight on top.
Cut it into slices and marinate it after the tofu has been drained.
Can I Freeze Tempeh ?
Yes, you can freeze tempeh whole, in its marinade, or after cooking.
It lasts for up to one month in an airtight container in the freezer.
More Tempeh And Tofu Recipes
Below are some more tempeh and tofu recipes for you to try:
Have you tried this tempeh marinade? Let me know how much you liked it.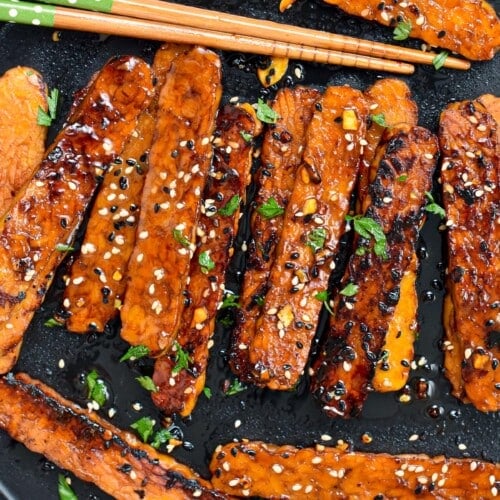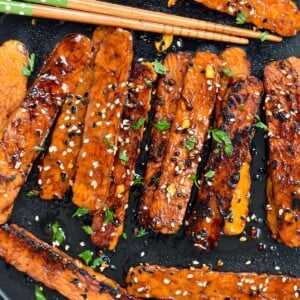 Tempeh Marinade
This Tempeh Marinade is an easy recipe to add flavors to tempeh and create the best high-protein vegan dinner. Plus, this marinade takes less than 5 minutes to make, and it's also gluten-free.
Pin
Print
Review
Save
Saved Recipes
Instructions
Cut the tempeh into thin slices and place them into a dish that is not too large so the slices can soak well in the marinade in the next step or use an environmentally-friendly zip-lock bag.

In a mixing bowl, whisk all the marinade ingredients together. Taste the marinade and adjust with more maple syrup for a sweeter marinade or more chili for a spicy sauce.

Pour the marinade over the tempeh slices, cover the dish with plastic wrap, and set aside for 2 hours in the fridge or overnight for the best flavors. I recommend flipping the slices after 1 hour so both sides are well marinaded, especially if the dish is slightly too wide. If in a bag, you don't have to do anything.
Cooking Tempeh
Warm 2 teaspoons of sesame oil in a non-stick pan over high-medium heat.

Add the slices, next to each other, don't overlap them. Cook for 3-4 minutes until it gets dark brown and it dries out on the side of the slices.

Flip the slices and keep cooking on the other side. Add a bit more oil if it sticks too much. Cook for 2-3 minutes.

At the end, splash some of the marinade on the hot pan. It will sizzle and add flavor and a sort of caramel-like sauce to the tempeh.
Share on Facebook
Pin Recipe
Nutrition
Serving:
1
serving
|
Calories:
187
kcal
|
Carbohydrates:
14
g
|
Protein:
12.3
g
|
Fat:
10.2
g
|
Saturated Fat:
1.8
g
|
Polyunsaturated Fat:
3.9
g
|
Monounsaturated Fat:
3.3
g
|
Sodium:
761.9
mg
|
Potassium:
303.1
mg
|
Fiber:
0.3
g
|
Sugar:
6.3
g
|
Vitamin A:
18.9
IU
|
Vitamin B12:
0.04
µg
|
Vitamin C:
0.7
mg
|
Calcium:
91.3
mg
|
Iron:
2.1
mg
|
Magnesium:
58.2
mg
|
Phosphorus:
179
mg
|
Zinc:
0.9
mg