This Creamy Coconut Jasmine Rice is a delicious creamy sticky rice with coconut flavors and perfect as a side dish to any curry.
It's ready in 30 minutes, 100% vegan cooked in dairy-free coconut milk and lime juice.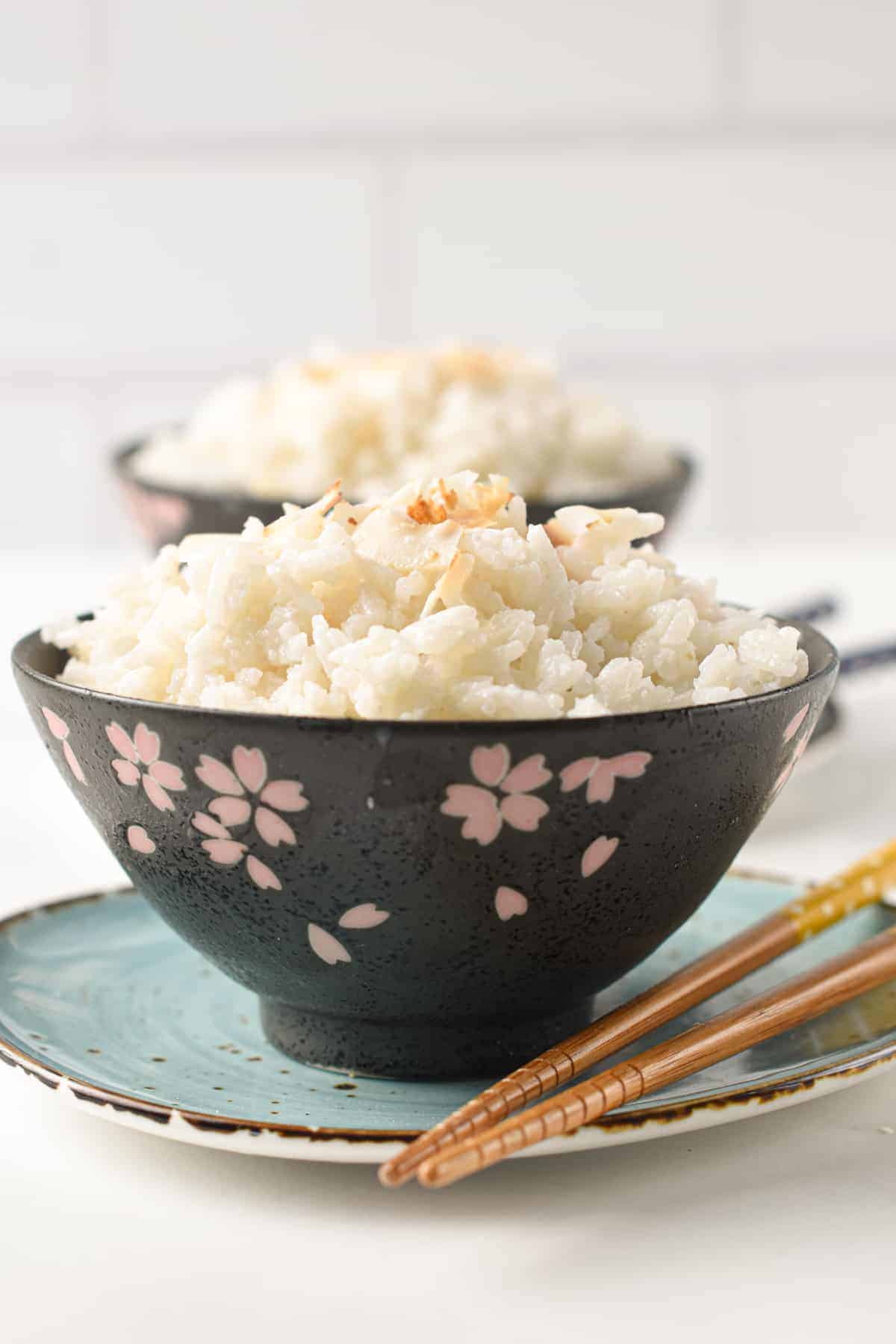 We love curry, and there's nothing better than sticky coconut rice as a side to Indian or Chinese style dishes! So here's our recipe for a creamy, slightly sticky restaurant-style coconut rice made from Jasmine rice.
How To Make Coconut Jasmine Rice
It's very simple to make coconut rice at home. You need only 6 ingredients and a few simple steps to achieve the best rice side dish ever!
Ingredients
Long-Grain Jasmine Rice – we used white rice and didn't try the recipe with brown rice. Time and amount of liquid will increase if you use brown rice because the amount of fiber is higher in brown rice varieties. Plus, brown rice doesn't add the same creamy texture to coconut rice, so it's not a recommended option.
Canned Coconut Milk – shake the can very well before opening.
Water
Vegetable Stock
Lime Juice
Sugar or Coconut Sugar
Rinse The Rice
First, to make a delicious coconut jasmine rice, it's important to rinse the rice to remove all its starch.
To do so, place rice in a saucepan, the one you are going to use to cook your rice.
Add about 2 cups of cold tap water. Stir the rice gently with your hands or a wooden spoon until the water becomes white and cloud due to the rice releasing its starch.
Next, filter the rice over a sieve to remove the cloudy water and repeat the steps 4 to 6 times until the water becomes clear.
Adding The Remaining Ingredients
When the water is not cloudy anymore, add rice, coconut milk, water, vegetable stock, lime juice, and sugar into the saucepan.
Cover, place over the stove over medium heat, and bring to boil.
When the liquid starts boiling, reduce the heat, stir, cover, and simmer for 12 minutes.
Stop the heat, remove the lid and keep the rice in the saucepan for 8 more minutes.
Transfer the rice to a large dish and, using a fork, fluff the rice to loosen it. Let the rice steam out in the dish for 15 minutes next to an opened window to accelerate the process.
Serve as a side to any curry you love.
Serving Ideas
You can serve this coconut rice plain or with some toasted coconut flakes or toasted shredded coconut on top.
Some lime zest peel tastes delicious as well.
Dish To Pair With Coconut Rice
Below I listed some delicious recipes you can make to pair with this coconut jasmine rice recipe. These vegan curry recipes taste amazing with this creamy, slightly sweet coconut rice.
Storage Instructions
Cooked rice must be stored in the fridge in an airtight container for up to 3 days.
You can freeze this coconut rice recipe for up to 3 months in a sealed box and thaw the rice in the fridge the day before.
To rewarm the cooked rice, you can use a microwave or rewarm in a saucepan over medium heat.
You may want to add extra coconut milk to make the rice creamy again, as freezing tends to dry out the recipe a little bit.
Flavoring Options
You can tweak this rice recipe, adding some spices to create different flavors of coconut rice that match your dish to perfection.
For example, options I tested and found very tasty are listed below.
Coconut Ginger Jasmine Rice – a great flavor to go with Chinese dishes. Add 1 teaspoon of freshly grated ginger to the water when cooking rice.
Coconut Curry Jasmine Rice – this is perfect for Indian curry. Add 1 teaspoon of curry powder to the cooking water.
Frequently Asked Questions
Can I Use A Rice Cooker?
Yes, you can absolutely cook this recipe in a rice cooker for 20 minutes. After that time, remove the lid, steam out, and fluff with a fork to loosen the grains.
Have you made this coconut rice recipe? Share a comment or review below to connect with me!
Coconut Jasmine Rice
Instructions
Rinse Rice
Place the rice in a saucepan, add 2 cups of cold water to the saucepan. Give a quick stir with your hand or wooden spoon until the water is cloudy and the rice has released starch.

Drain cloudy water over a sieve, return the rice to the saucepan, and repeat the steps above 4-5 times until the water is clear and the rice has released most of its starch. Always discard the cloudy water. You won't use it in the recipe.
Cook rice
In the same saucepan, add the rinsed rice along with the remaining recipe ingredients: coconut milk, water, vegetable stock, sugar, and lime juice.

Cover, bring to a boil and reduce heat to low, simmer for 12 minutes.

Stop the heat, remove the lid and cool for 8 minutes in the saucepan.

Transfer to a large pan and use a fork to fluff the rice – see picture above for tips.

Steam out for 10 minutes before serving.

Serve plain or with toasted coconut flakes on top.
Storage
Store the rice in an airtight kept in the fridge for up to 3 days or freeze and thaw in the fridge the day before using.
Share on Facebook
Pin Recipe
Nutrition
Serving:
1
serving (1/2 cup)
|
Calories:
171.9
kcal
|
Carbohydrates:
37.8
g
|
Protein:
3.3
g
|
Fat:
0.3
g
|
Saturated Fat:
0.1
g
|
Polyunsaturated Fat:
0.1
g
|
Monounsaturated Fat:
0.1
g
|
Sodium:
62.1
mg
|
Potassium:
55.7
mg
|
Fiber:
0.6
g
|
Sugar:
0.5
g
|
Vitamin A:
32.2
IU
|
Vitamin C:
0.6
mg
|
Calcium:
13.2
mg
|
Iron:
0.4
mg
|
Magnesium:
11.8
mg
|
Phosphorus:
53.6
mg
|
Zinc:
0.5
mg