This easy Orange Cauliflower recipe is made of crispy, baked cauliflower pieces coated in a richly sweet, sticky orange sauce.
Plus, this vegan dinner is so much better than your favorite Chinese fast-food takeaway!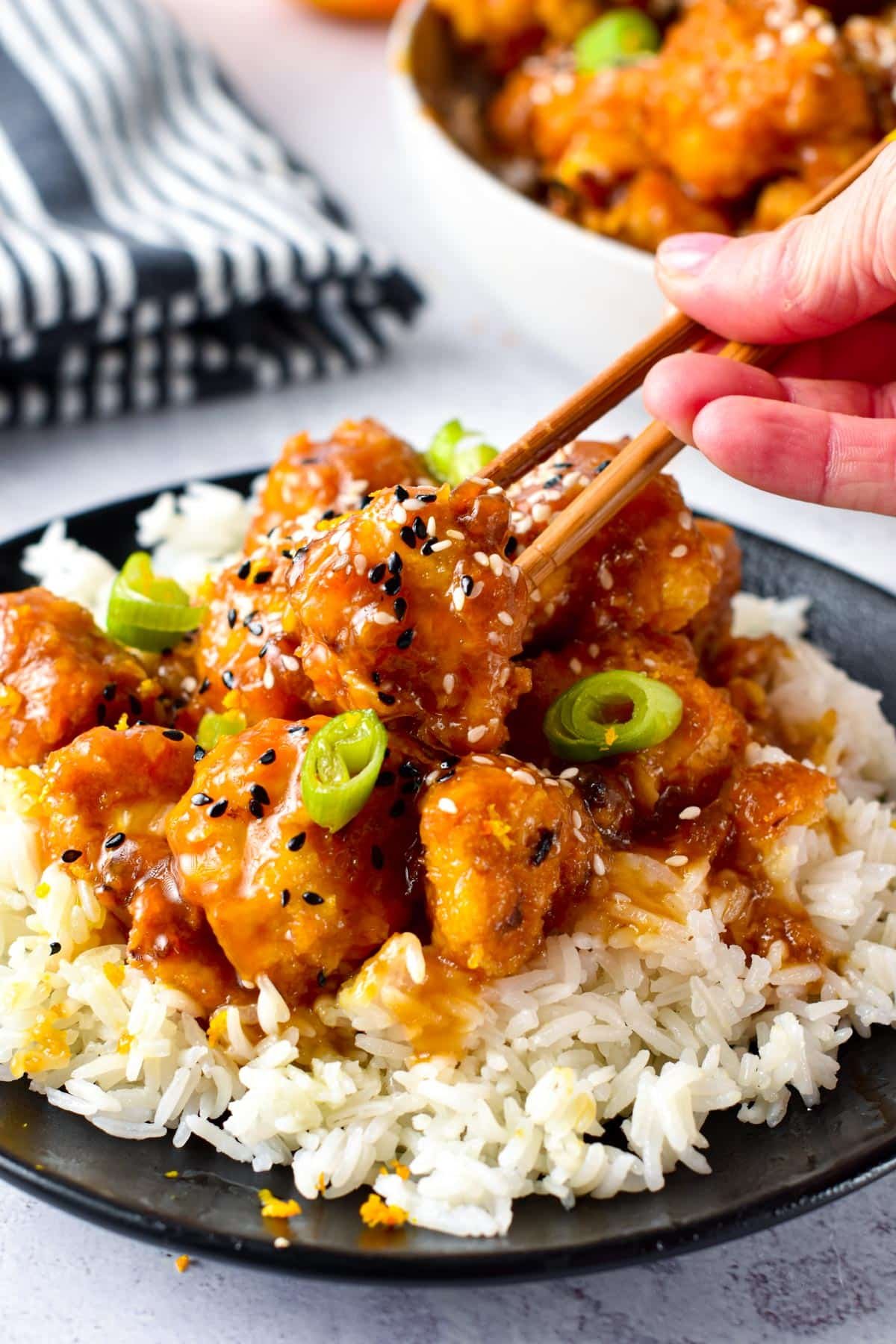 Chinese food lovers, you will love this tasty vegan dinner packed with vegetables. You might have already tried my Orange Tofu Recipe so here's the veggie version.
This orange cauliflower recipe is packed with crispy, sticky pieces of cauliflower coated with a sweet orange sauce.
It's a delicious Chinese-inspired dinner loaded with vegetables.
What Is Orange Cauliflower?
Orange cauliflower is a vegan copycat version of the popular Chinese orange chicken.
This Chinese-inspired vegan curry is made from cauliflower florets, baked with a flour crumb coating to mimic chicken pieces.
Then, it's coated with a homemade sweet and sour orange sauce and usually served with rice.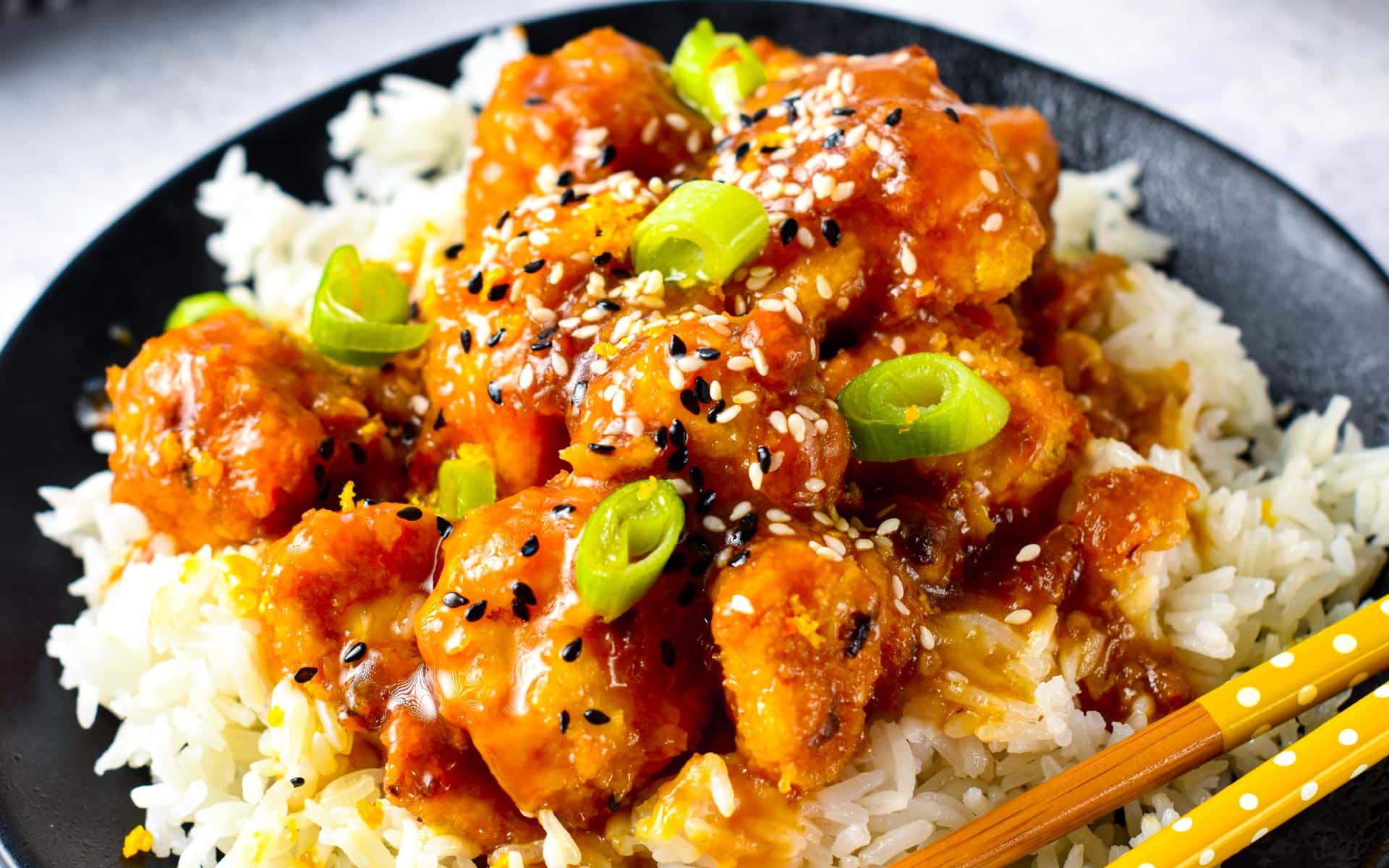 How To Make Orange Cauliflower
It's very easy to make this recipe but it takes a bit of preparation because there are many ingredients involved.
But overall, no need to be an expert cook to master this delicious dinner.
Ingredients
To coat the cauliflower florets you need:
Cauliflower Head – cut into tiny 1.5-inch florets (3cm).
All-Purpose Flour or white spelt flour.
Panko Crumbs – This is optional but adds a crispy texture to the baked florets.
Almond Milk or any plant-based milk you love.
Salt
Orange Zest from a fresh, untreated orange.
Garlic Powder
Ginger
For the orange sauce you will need the ingredients below:
Sesame Oil or coconut oil
Garlic Cloves – crushed
Ginger
Orange Juice from a fresh orange
Soft Brown Sugar
Soy Sauce
Rice Vinegar
Cornstarch
Water
Baking The Cauliflower
First, clean the cauliflower head and remove its feet and green leaves. Discard and compost these parts.
Next, using a small sharp knife, cut the cauliflower into 1.5-inch florets (3cm). Set them aside in a bowl.
Preheat the oven to 410°F (220°C). Line a large baking sheet with parchment paper and lightly oil the paper with cooking oil spray. Set aside.
In another bowl, prepare the coating: sit flour, almond milk, salt, ginger, orange zest, and garlic powder.
Next, place the panko crumb in a separate bowl.
Dip each cauliflower floret using two forks, one at a time, into the milk flour mixture. Wait for a few seconds above the bowl to let the extra run down the bowl.
Then roll them into the panko crumb and place the florets on the prepared baking sheet. Repeat until all the florets have been coated.
Spray cooking oil spray onto the florets and bake them for 30 minutes or until golden brown.
You can shake the tray halfway and spray some extra oil to ensure the breadcrumb crisp well on all sides.
Orange Sauce
Ten minutes before the cauliflower is fully baked, start the sauce. In a medium saucepan, over medium-high heat warm oil and cook garlic then add all the remaining ingredients.
Whisk and cook on low medium heat until the sauce is bubbly and thick.
Remove the cauliflower florets from the oven and set aside for 5 minutes to cool down lightly.
Then, place in a large mixing bowl.
Pour the orange sauce on top and toss to coat evenly.
Serving
Serve the orange cauliflower with:
Jasmine Rice or try my Coconut Jasmine Rice for an extra boost of flavor
Rice Noodles
Sesame Seeds
Green Onions
Red Chili Pepper Flakes
Storage Instructions
You can store this orange cauliflower recipe in the fridge for up to 3 or 4 days in a sealed container.
Another option is to freeze leftovers in an airtight box where they last for one month.
Thaw in the fridge and rewarm in a microwave-safe bowl or over the stove over medium heat.
Allergy Swaps
If you have food allergies, try some of the options below to adapt the recipe.
Gluten-Free – Use all-purpose gluten-free flour to coat the florets. Next, pick wheat-free soy sauce like coconut aminos or tamari sauce. Finally, use gluten-free panko crumbs or skip the crumbs.
Oil-Free – You can cook all the orange sauce ingredients together, minus the oil, with great success.
Nut-Free – Replace the almond milk with any plant-based milk you love, like coconut milk, oat milk, or soy milk.
Corn-Free – Replace the cornstarch with tapioca starch or arrowroot flour. Both are also gluten-free.
Frequently Asked Questions
Here are my answers to your most common questions about this recipe.
Can I Air Fry Cauliflower?
You can place the coated cauliflower florets in a single layer in the air fryer basket and air fry at 395°F (200°C) for 15 to 18 minutes.
Shake the basket halfway and set aside the air-fried cauliflower on a plate covered with foil to keep it warm.
Then, repeat these steps to air-fry the remaining florets.
How Can I Add Protein To The Recipe?
You can boost the protein content of the dish by serving the recipe with edamame beans or cooked quinoa. Read how to cook quinoa in a rice cooker.
Or, you can coat half the cauliflower with some firm tofu cubes. Read my orange tofu recipe if needed.
Can I Use Another Vegetable For This Recipe?
This recipe should work with broccoli florets as well or any firm vegetables that won't release much water.
Have you tried this orange cauliflower recipe? Share a comment or review below to connect with me.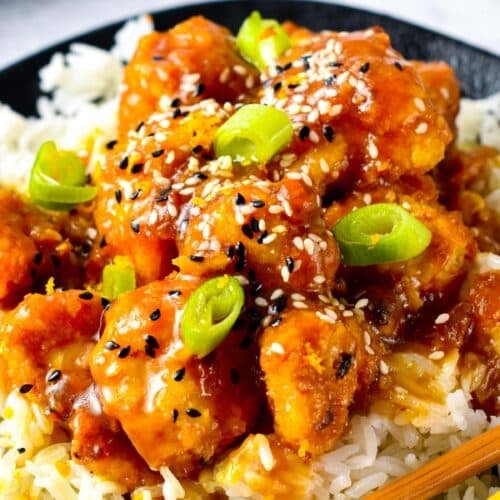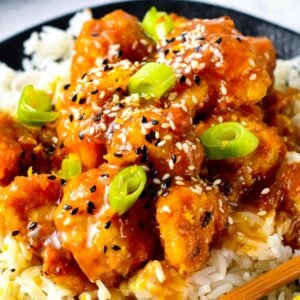 Orange Cauliflower
This easy Orange Cauliflower recipe is made of crispy, baked cauliflower pieces coated in a rich, sweet, sticky orange sauce.
Pin
Print
Review
Instructions
Preheat oven to 410°F (220°C). Line a baking tray with parchment paper. Slightly oil paper. Set aside.
Prepare the Cauliflower
Cut the cauliflower into 1.5-inch florets (3 cm).

In a large mixing bowl, combine all the coating ingredients: almond milk, flour, garlic powder, ginger, orange zest, and salt.

Add the cauliflower florets one by one into the flour mixture to coat entirely and wait for a few seconds above the bowl to let excess return to the bowl.

For crispy edges, you can optionally roll each floret into panko crumbs.

Lay the florets onto the prepared baking sheet into a single layer, making sure they don't touch each other or overlap.

Spray cooking all on the florets.

Bake on the center rack for 35-40 minutes, flipping them halfway and sprinkling more Panko crumbs on the other side if desired. Meanwhile, prepare the curry sauce.
Orange Sauce
Heat a large skillet or medium saucepan over medium-high heat.

Over medium heat, melt coconut oil, then stir in garlic and ginger and cook over low heat to prevent the garlic from burning. Cook until fragrant for about 1 minute.

Add orange juice, brown sugar, rice vinegar, and soy sauce. Bring to a light simmer, occasionally stirring, until the sugar dissolves – about 2-3 minutes.

Meanwhile, whisk water and cornstarch in a small mixing bowl. Whisk in the cornstarch slurry into the hot orange sauce and keep simmering, occasionally stirring, until the sauce thickens – about 2-3 minutes. Remove from heat.

Toss the crispy cauliflower in the sauce until coated.

Serve over cooked coconut jasmine rice and garnish with scallions pieces or chili flakes to add a spicy touch.
Storage
Store in the fridge in a sealed container for 3-4 days or freeze up to 3 months.
Share on Facebook
Pin Recipe
Nutrition
Serving:
1
serving
|
Calories:
320.2
kcal
|
Carbohydrates:
64.2
g
|
Protein:
8.2
g
|
Fat:
3.4
g
|
Saturated Fat:
1.7
g
|
Polyunsaturated Fat:
0.7
g
|
Monounsaturated Fat:
0.6
g
|
Sodium:
686.4
mg
|
Potassium:
385.6
mg
|
Fiber:
3.2
g
|
Sugar:
13.5
g
|
Vitamin A:
83.9
IU
|
Vitamin B12:
0.01
µg
|
Vitamin C:
51.8
mg
|
Calcium:
126.5
mg
|
Iron:
2.5
mg
|
Magnesium:
33.4
mg
|
Phosphorus:
117.1
mg
|
Zinc:
0.8
mg