These Peanut Noodles are creamy, Thai-inspired rice noodles cooked in a creamy sweet peanut sauce.
If you are a fan of quick and easy noodle recipes, this one is a must-try.
Many Asian-inspired recipes are perfect for dinner because they are so fast to put together.
On a busy night, it's always great to have a quick dinner recipe that is comforting, packed with flavors, and cheap to make.
This Thai peanut noodle recipe ticks all the boxes. It takes less than 15 minutes to make, and it's low cost, but it still tastes like a restaurant-style noodle meal.
Plus, peanut butter is packed with plant-based proteins, so it's a filling dinner.
What Are Peanut Noodles?
Peanut noodles, also called peanut butter noodles, are a Thai-inspired meal made from noodles cooked in a sweet peanut butter sauce.
It's a very simple side dish or meal in which you can stir in any stir fry vegetables or proteins.
How To Make Peanut Noodles
It takes under 15 minutes to make this easy Thai noodle recipe.
Ingredients
All you need are a few ingredients:
Peanut Butter – Use natural peanut butter with no added oil or salt.
Noodles – Peanut butter noodles taste amazing with any kind of noodles. I love thick rice noodles, but you can also make ramen peanut noodles.
Rice Vinegar or lime juice
Garlic Cloves
Brown Sugar
Sesame Oil
Water
Tamari Sauce, low-sodium soy sauce, or coconut aminos.
Cooking The Noodles
First, cook the noodles following the package instructions. If you are using instant ramen, discard the flavoring packets provided.
I prefer thick pad-Thai-style rice noodles but any noodles work here.
Drain the cooked noodles over a sieve. If you are using rice noodles, rinse them under cold water to remove the starch and prevent the cooled noodles from sticking together.
Making The Peanut Sauce
Next, prepare the peanut sauce.
Whisk the water, tamari sauce, sesame oil, garlic, rice vinegar, and brown sugar in a small bowl. Whisk until the sugar is well dissolved.
Place the noodles into a large wok or non-stick pan and pour the prepared sauce on top.
Bring the pan over medium-high heat and stir-cook the noodles until they are warm and the sauce is glossy and coats all the noodles.
If too thick, add a splash of extra water to thin out the peanut sauce.
Serving Noodles
If you love spicy peanut noodles, add 1 or 2 teaspoons of sriracha sauce or a pinch of red chili pepper to the pan.
When the noodles are warm, feel free to serve them with some of the below:
Sesame Seeds
Fresh Thai basil
Chopped green onions
Chili slices
Crushed toasted peanuts
Adjusting The Flavor
If you love your noodles spicier or saltier, feel free to serve with extra soy sauce or tamari sauce if gluten-free.
To make the dish spicy use cayenne pepper, chili pepper, or fresh jalapeno slices.
Adding Vegetables
You can make these noodles much more filling by adding some stir-fry vegetables to the mix.
In a non-stick wok, warm a teaspoon of sesame oil and stir-fry two cups of the below vegetables before adding the cooked noodles:
Carrot Sticks
Zucchini Slices
Baby Bok Choy
Snap Peas
Red Bell Pepper Strips
Adding Proteins
To boost the proteins in this noodle recipe, stir in the noodles some baked marinated tofu or baked marinated tempeh.
Or, stir-fry some of the below high-protein ingredients, before adding the noodles:
Edamame – up to 1 cup
Mushroom Slices
Storage Instructions
You can store the peanut noodles in an airtight container or a sealed large bowl in the fridge for up to 4 or 5 days.
Leftovers can also be frozen in a sealed container for up to one month.
Thaw the frozen meal in the fridge the day before.
Rewarming Noodles
These peanut noodles tend to stick together after they cool and spent time in the fridge.
To loosen the noodles and rewarm the dish properly, place them in a large non-stick pan or wok.
Add 1/4 cup cold water and cook them until warm while stirring.
Allergy Swaps
Below are some ingredients to swap if you need them.
Gluten-Free – I always use tamari sauce instead of soy sauce, it's naturally gluten-free. Make sure your noodles are wheat free. Try rice noodles, quinoa noodles, or buckwheat noodles.
Low-Carb – Use a low-carb sweetener, and pick low-carb noodles, like edamame noodles or konjac noodles.
Nut-Free – You can make this recipe with sunflower seed butter instead of peanut butter.
Oil-Free – You can swap sesame oil for tahini or leave it out and add more water to thin out the sauce.
Frequently Asked Questions
Find below my answers to your most common questions about this peanut butter noodle recipe.
Can I Use Almond Butter?
If you have an allergy to peanuts, or simply want to decrease the saturated fat of the recipe, you can replace the peanut butter with almond butter or cashew butter.
Which Noodles Are Gluten-Free?
The best Asian gluten-free noodles for this recipe are rice noodles, made from rice.
Bean noodles are high-protein and gluten-free, including black bean noodles, and edamame noodles.
Be careful with Japanese soba noodles, they are made from gluten-free buckwheat flour but most of the time contain wheat as well!
Have you tried this easy dinner recipe? Share a comment or review below to connect with me.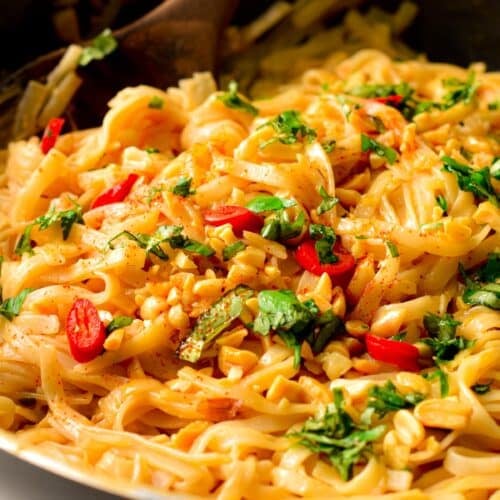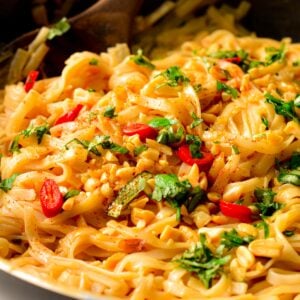 Peanut Noodles
These Peanut Noodles are creamy, Thai-inspired rice noodles cooked in a creamy sweet peanut sauce. If you are a fan of quick and easy noodle recipes, this one is a must-try.
Pin
Print
Review
Servings: 6 servings
Calories: 228.5 kcal
Ingredients
Peanut Butter Noodle Sauce
Instructions
Cook the noodles following the packaging instructions. Drain over a sieve. If using rice noodles as I do, rinse under cold water to remove the starch. Set aside in the sieve while making the peanut sauce.

In a bowl, whisk all the peanut butter noodle sauce ingredients until smooth.

Over medium heat, warm the noodles in a non-stick wok or pan, add the sauce on top, and stir to coat.

Cook until sauce and noodles are warm, glossy, and evenly coated. If too thick, add a splash of water to thin out the sauce.

Taste, add more tamari sauce for saltier noodles, or some sriracha sauce, or chili pepper for spicy peanut noodles.

Serve with crushed peanuts, chili flakes pepper, and Thai basil or green onions.

Store in a sealed container in the fridge for 4-5 days or freeze for up to 1 month. Rewarm in a non-stick pan with a little water to thin out the sauce.
Share on Facebook
Pin Recipe
Nutrition
Serving: 1serving | Calories: 228.5kcal | Carbohydrates: 9.2g | Protein: 7.7g | Fat: 19.3g | Saturated Fat: 3.4g | Polyunsaturated Fat: 5.3g | Monounsaturated Fat: 9.3g | Sodium: 601.6mg | Potassium: 194.6mg | Fiber: 1.8g | Sugar: 4.7g | Vitamin A: 5.3IU | Vitamin C: 0.4mg | Calcium: 20.9mg | Iron: 0.7mg | Magnesium: 53.7mg | Phosphorus: 113.3mg | Zinc: 0.8mg