These delicious Miso Glazed Eggplants melt in your mouth with the most delicious sweet and savory miso glaze.
Bonus, this delicious Asian-style recipe is also vegan and gluten-free.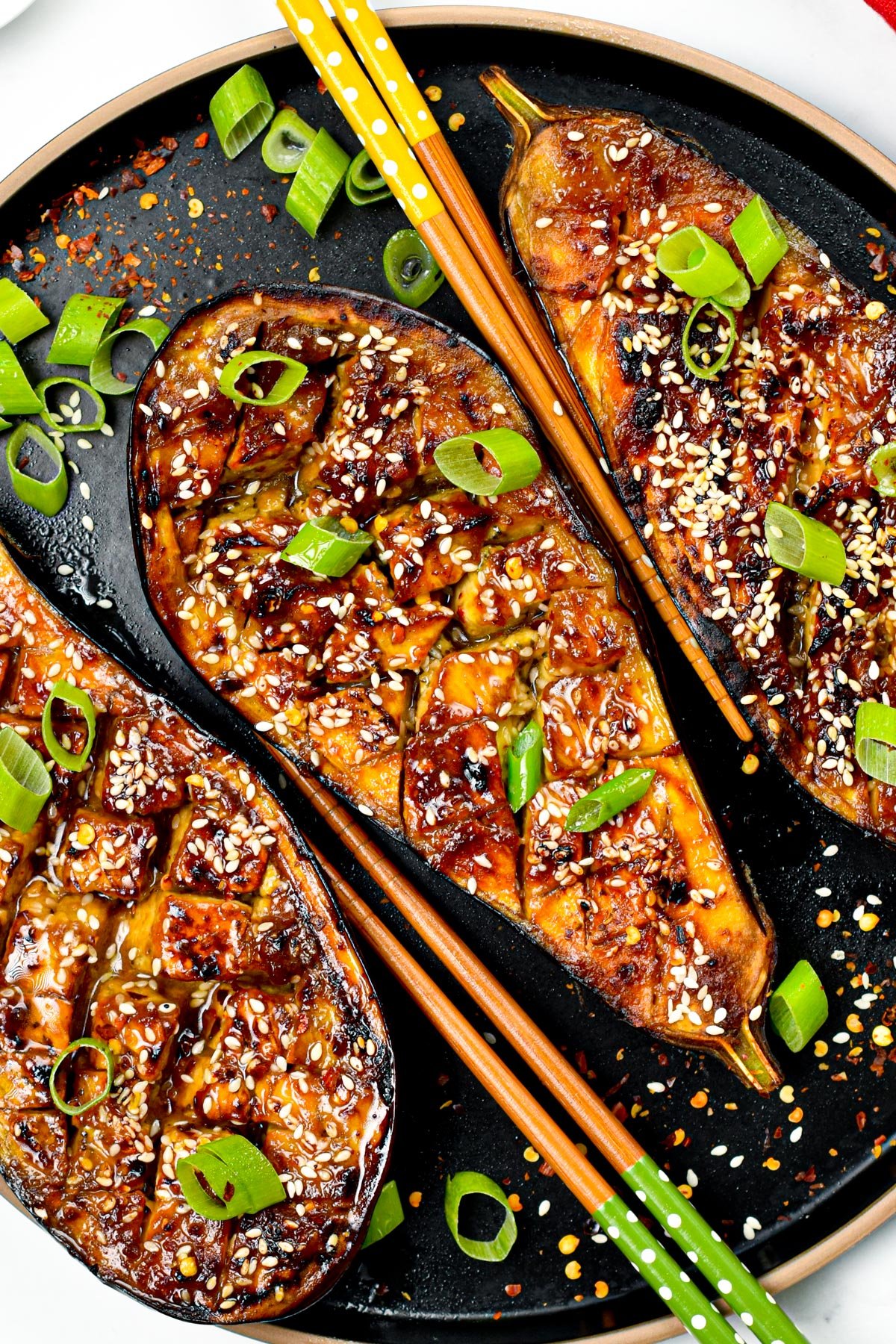 Asian-inspired recipes, especially everything cooked with miso paste, are among the tastiest and most delicious recipes.
Why Should I Cook With Miso?
Miso paste is an excellent condiment in vegan recipes to add salty and umami flavors. Umami is one of the five primary flavors our palates recognize, and it is often associated with a meaty taste.
Therefore, adding miso paste to a plant-based recipe is a tasty way to add a meat-like flavor to vegetables, pasta, and more.
When miso paste meets eggplants, it turns the eggplant flesh into meat-like pieces that are moist, soft, and broiled.
It turns this bland vegetable into a comfort dish that is fulfilling and packed with nutrients.
So let me share with you my way of preparing miso-glazed eggplant.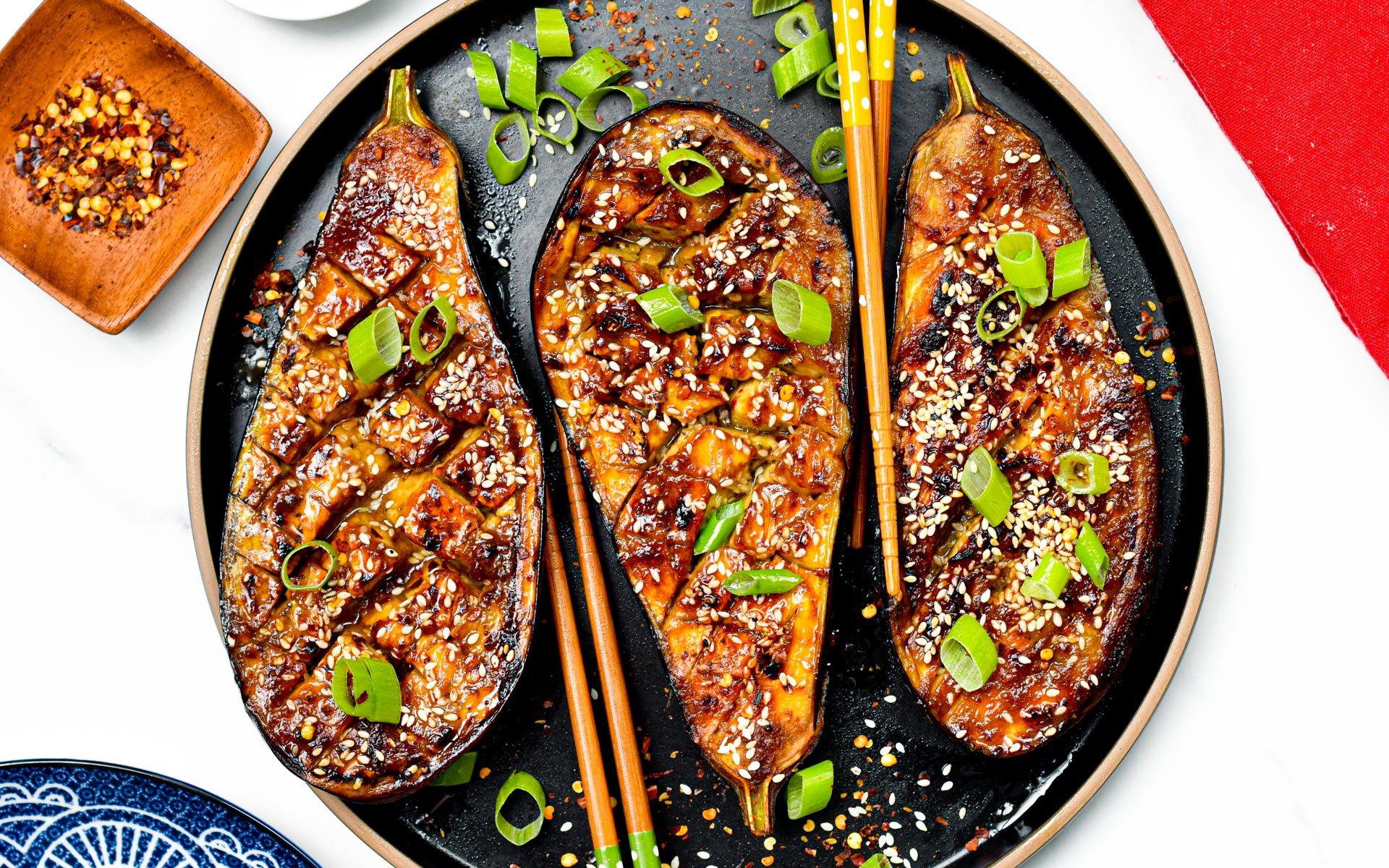 How To Make Miso Eggplants
I have seen and tested many glazed eggplant recipes. However, after trying different combinations of ingredients in the glaze, I found the tastiest eggplant glazing recipe.
Ingredients
Here are the ingredients you need to make miso glazed eggplant in less than 15 minutes for an easy healthy dinner.
Large Eggplants – Keep their skin on, cut them halfway lengthwise, keeping the extremity of the veggies.
Brown Miso Paste – You can also use white miso paste, which has a less salty and mild umami flavor. If so, you will need more soy sauce to boost the salty taste of your glazing.
Sesame Oil
Maple Syrup
Light Soy Sauce
Rice Wine Vinegar or sake wine.
Mirin – a type of rice wine used for cooking.
To serve, you also need some sesame seeds and scallions.
Preparing The Eggplants
First, clean the eggplants under cold tap water, and keep their stem on.
Next, place the eggplants on a chopping board on the side, and cut them lengthwise with a long sharp knife.
You end up with four eggplant halves.
Place the flesh facing you, and using a small sharp knife, score a diagonal line. Don't cut too deep to avoid piercing the eggplant skin.
Repeat in the opposite direction to form cubes or diamond shapes, as seen in the pictures below.
The scored eggplants are now ready for cooking.
Eggplant Glaze
Now, add all the glazing ingredients to a small bowl: miso paste, sesame oil, maple syrup, mirin, light soy sauce, and rice vinegar, and whisk to combine.
It should form a slightly thick glaze. Taste and adjust by adding more soy sauce if not salty enough to your liking.
This happens if you use red miso paste or white miso paste. These are less salty than white miso paste.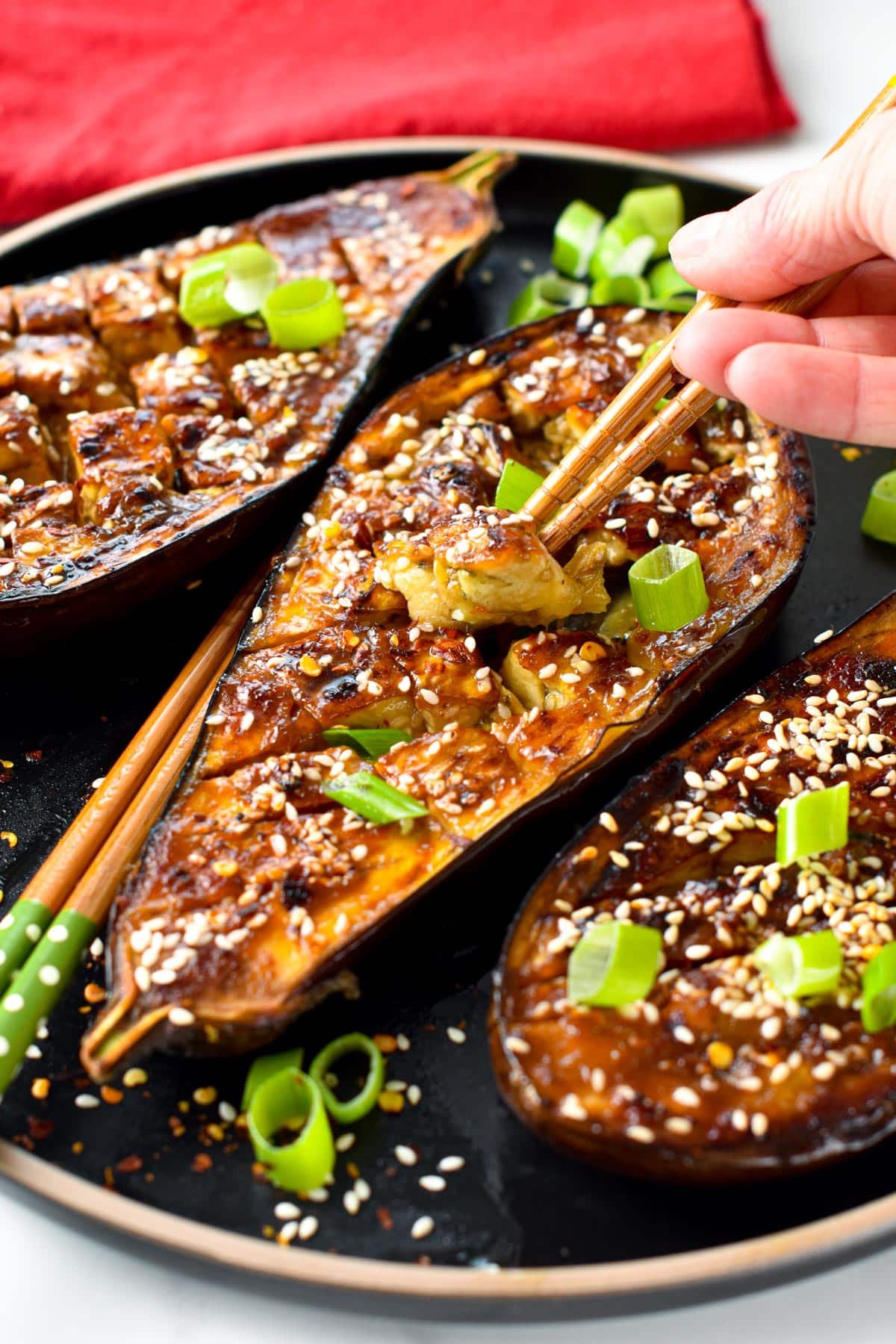 Cooking Eggplant
A miso glazed eggplant recipe has nothing complicated. The cooking steps of the eggplant truly matter and add all the texture to the vegetable.
The cooking is in three steps.
1 – Pan-Frying The Eggplants
First, line a large baking sheet with parchment paper. Set aside.
First, in a large non-stick frying pan, add sesame oil and warm over medium-high heat.
Next, add the eggplants, scored side down, and cook for 2 to 3 minutes or until grilled and brown.
2 – Steaming
Reduce to low-medium heat, cover the frying pan with a lid, and cook the eggplant for 5 minutes or so.
The flesh should slowly steam out and get tender on all parts.
To check if the flesh is cooked and ready to glaze, insert the tip of a small knife into the flesh.
If it goes through easily, the eggplants are ready to be glazed.
Remove the eggplant from the frying pan using a kitchen tong. I like to tilt the eggplant halves a few seconds above the frying pan to let any water run down.
3 – Glazing And Broil
Now, set the oven to broiling mode, and place the cooking rack on the top of the oven.
Next, arrange the cooked eggplant halves on the prepared baking sheet with their cut side down on the baking sheet and scored side up.
Then, use a pastry brush to spread the glaze over the eggplant flesh.
Finally, when no more glazing is left, sprinkle sesame seeds all over the eggplant.
Place the baking sheet on the top rack of the oven and broil for about 5 minutes. Bake the eggplant until the flesh is bubbly, the glaze is grilled, and you can see golden toasted sesame seeds.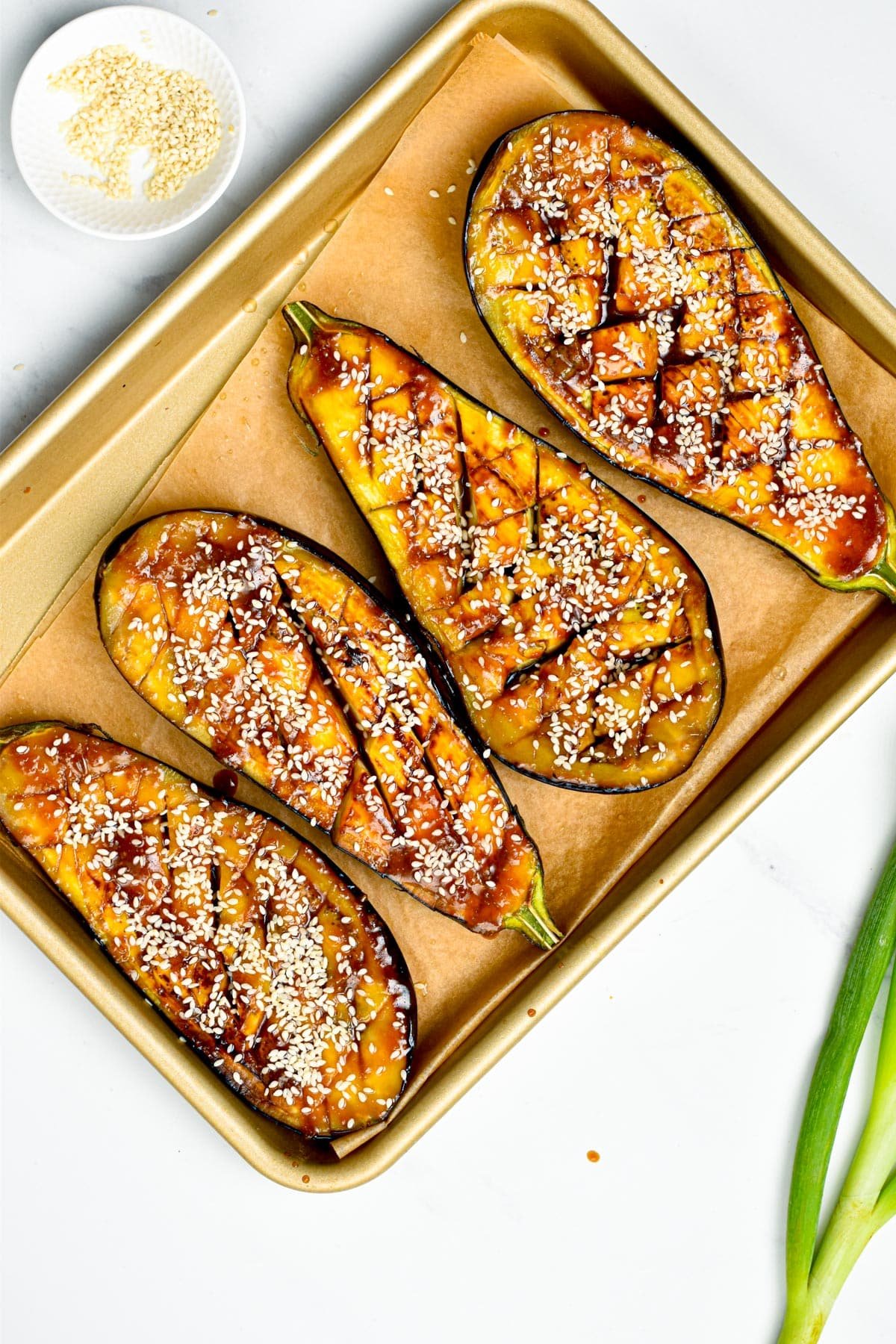 Serving
Remove the eggplants from the oven and serve immediately with some of your favorite Asian side dishes like:
You can add some of the below herbs and spices on top of the warm glazed eggplant for a boost of flavors:
Spring onion slices
Chili flakes
Sriracha sauce
Storage Instructions
You can store the leftover cooked eggplants in the fridge for up to 3 days in a sealed container.
You can also freeze leftovers for up to one month and thaw them in the refrigerator the day before.
Allergy Swaps
This recipe is allergy-friendly as it's naturally:
Nut-free
Vegan
Dairy-free
However, if you have some more food allergies, follow the suggested ingredient substitutions below.
Seed-Free – You can replace the sesame oil with avocado oil or peanut oil. Also, replace sesame seeds with crushed peanuts.
Sugar-Free – Use a sugar-free maple-flavored syrup made from natural sugar-free sweeteners like monk fruit.
Brown Miso Paste – Replace with white miso paste or red miso paste and add more soy sauce to achieve the same level of saltiness.
Gluten-Free – Replace the soy sauce with tamari sauce.
Frequently Asked Questions
Here are my answers to your most frequent questions about this recipe.
Can I Use Japanese Eggplants?
Yes, you can use Japanese eggplants for this recipe.
However, Japanese eggplants are smaller, and you will have glazing for more than 2 of them, probably 4 or 6.
Also, since they are smaller, they cook faster, so check often to avoid a mushy eggplant.
What's Miso Paste?
Miso paste is a Japanese condiment made from fermented soybeans, salt, and Koji.
Koji is made from fermented grains – often fermented rice or brown rice. Sometimes, it can use non-gluten-free grains like barley, so check the ingredients if you have gluten intolerance.
More Vegetable Recipes
Here are some more easy vegetable recipes to add plants to your day.
Have you tried this miso eggplant recipe? Share a comment or review below to connect with me.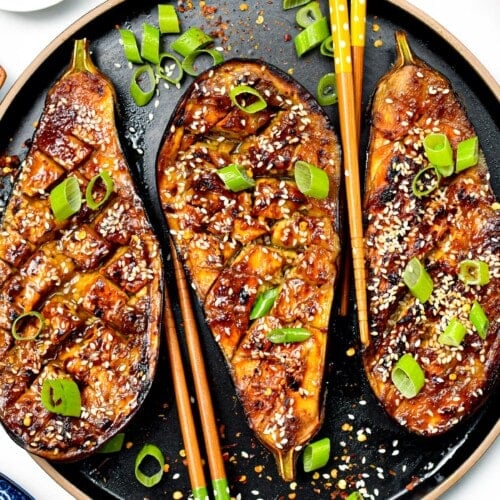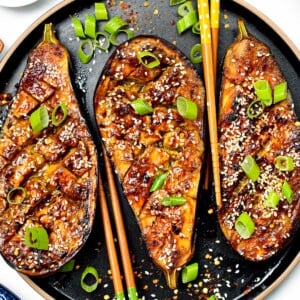 Miso Eggplant
These Easy Miso Eggplant melt in your mouth with the most delicious sweet miso glaze. Bonus, this delicious Asian-style recipe is also vegan and gluten-free.
Pin
Print
Review
Servings:
4
Eggplant Halves
Instructions
Line a large baking tray, or two small baking sheets, with parchment paper. Set aside.

Slice the eggplants in half lengthwise – you will get 4 halves.

Using a small sharp knife, score the inside of the eggplants into small diamonds/cubes – see pictures above.

In a large non-stick saucepan, warm sesame oil over medium-high heat.

Place the eggplant, scored face down the pan and cook for 1-2 minutes or until the flesh turns brown.

Flip the eggplants over, cover the pan with a lid, reduce to low-medium heat, and keep cooking for 3-4 minutes until the eggplant softened in the center.

Meanwhile, set the oven to broil mode and let it warm up.
Miso Glaze
In a small bowl, whisk all the sauce ingredients: miso, sesame oil, soy sauce, maple syrup, and rice vinegar.

Remove the eggplants from the pan and place them on the prepared baking sheet, scored side up.

Brush the miso glaze on top of each eggplant and sprinkle sesame seeds on top.
Broil
Place the eggplant on the top rack of the oven, on broil mode, for about 4-5 minutes or until the top is grilled and bubbly.

Remove from the oven and serve immediately with chili flakes and sliced green onions.
Notes
Note 1: If using white miso, the glaze will be less salty. Increase the soy sauce to 5-6 teaspoons to add more salty flavor. Note 2: Replace with tamari sauce if gluten-free. Increase to 5-6 teaspoons for white miso.
Share on Facebook
Pin Recipe
Nutrition
Serving:
1
eggplant half
|
Calories:
147.1
kcal
|
Carbohydrates:
19.1
g
|
Protein:
3.9
g
|
Fat:
7.4
g
|
Saturated Fat:
1.1
g
|
Polyunsaturated Fat:
3.1
g
|
Monounsaturated Fat:
2.7
g
|
Sodium:
457.5
mg
|
Potassium:
565
mg
|
Fiber:
7.6
g
|
Sugar:
11.1
g
|
Vitamin A:
62.7
IU
|
Vitamin B12:
0.01
µg
|
Vitamin C:
5.1
mg
|
Calcium:
49.5
mg
|
Iron:
1.1
mg
|
Magnesium:
44.9
mg
|
Phosphorus:
84.1
mg
|
Zinc:
0.8
mg