This Szechuan Tofu will fix all your spicy Chinese food craving!
It's a delicious crispy tofu stir-fry coated with a spicy Sichuan sauce packed with garlic, chili pepper, and Szechuan pepper.
We are a big fan of tofu recipes for a quick family dinner.
While we love our sweet and sour orange tofu recipe, sometimes you need a spicier dish, and Szechuan cuisine is the best for that.
What Is Szechuan Cuisine?
Szechuan cuisine, also called Sichuan cuisine is a very spicy type of Chinese cuisine from the Sichuan province.
The signature of this region is spicy food coming from Sichuan Peppercorn a type of spicy pepper ranging from 50,000-75,000 SHU on the Scoville scale. Jalapenos are at 5,000 SHU for reference.
What Is Szechuan Tofu?
Szechuan Tofu a spicy tofu dish cooked with a lot of chili, garlic, and a few other Chinese classic condiments that create a sticky spicy sauce.
It's a bit similar to Mapo tofu, another Sichuan dish, but it's less spicy and vegan. Mapo tofu which is cooked with ground pork.
How To Make Szechuan Tofu
All you need to make this Chinese tofu dish are a few ingredients and under 20 minutes.
Ingredients
Extra Firm Tofu – Pressed to remove water. Some firm tofu you can buy in popular grocery stores aren't very firm and need to be pressed for a long time to extract their water. This is essential for the texture of the dish.
Cornstarch
Szechuan Peppercorn – Despite its name, this spice is completely unrelated to pepper or even chili.
Ginger
Garlic Powder
Sesame Oil – Sesame oil brings the best flavors, but you can also use peanut oil or any oil you love using to fry food. Canola oil is often used in Chinese restaurants.
Soy Sauce or tamari sauce.
Sriracha Sauce
Maple Syrup – You can use other sweeteners as well such as brown sugar, coconut nectar, or coconut sugar.
Chinese Five Spices Powder
Chinese Cooking Wine or mirin
Chili Flakes
Preparing The Tofu
First, you need to press the tofu to remove its moisture.
Wrap it into paper towels, or place it in a tofu press.
Place a heavy weight on top of the tofu to help the moisture come out. Then, set it aside for 10 minutes or until the towel is wet and the tofu is dry.
Place the tofu blocks on a chopping board and cut them into cubes.
In a large bowl, add cornstarch, garlic powder, Szechuan pepper, and ginger.
Toss the tofu in the cornstarch mixture until all the sides of the cubes are well coated. Set aside.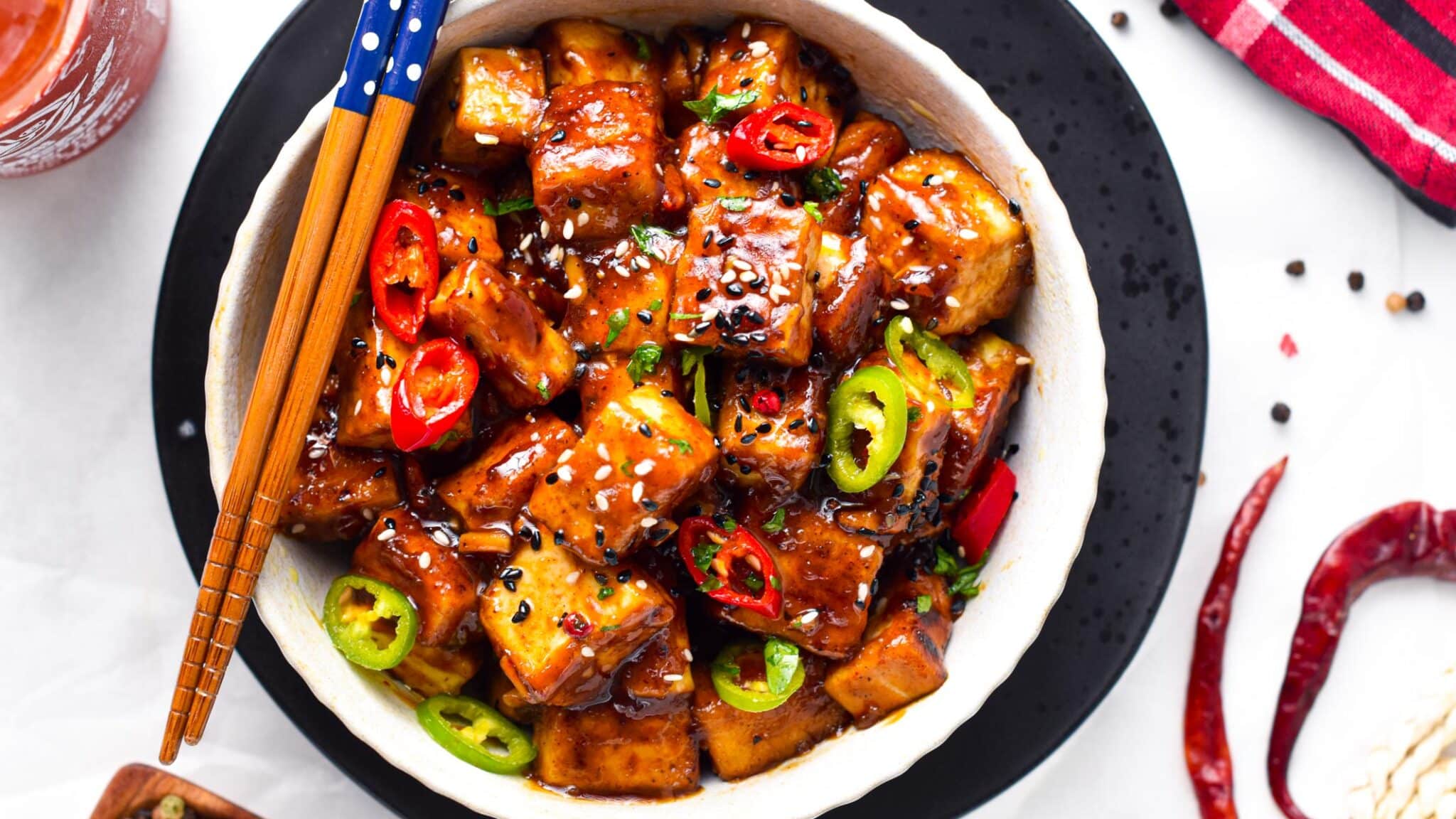 Making The Sichuan Tofu Sauce
Whisk all the Szechuan sauce ingredients in another bowluntil no more lumps of cornstarch can be seen.
Warm a large cast iron skillet or large non-stick pan over medium-high heat.
Add the tofu pieces and stir fry for 5 to 6 minutes, shaking the pan often until all the cubes are crispy. Add more oil if needed to ensure crispy tofu bites.
Cooking The Hot And Spicy Tofu
Now, add the sauce to the wok. It will sizzle, so reduce to low-medium heat, stir, and cook for 1 or 2 minutes until the sauce is sticky and glossy.
Taste the sauce and adjust adding a pinch of salt, or more chili flakes if not spicy enough.
Adding Vegetables
You can use this recipe to make a tofu veggie stir-fry.
After you fried the tofu, stir up to 2 cups of the below vegetables into the wok, before adding the sauce.
Stir fry the tofu and vegetables for a few minutes until fragrant and half cooked, still crunchy.
Onion – brown or white, sliced
Carrot Stick
Broccoli Florets
Mushroom Slices
Chinese Cabbage shredded
Asparagus
Green Beans
Cauliflower Florets
Spicy Food Pairing
This spicy tofu recipe is tongue-numbing, so you need some sides to help your tongue recover from the spicy food.
A simple side to this recipe is:
Rice – try my coconut jasmine rice for smooth rice that helps decrease the spiciness of food in your mouth.
Noodles – Ramen, soba, or rice noodles if gluten-free.
Cabbage Salad
Cucumber Salad
Chinese Dish Toppings
Feel free to serve this tofu with any of your favorite Chinese cuisine toppings.
Some of our favorites are:
A pinch of sesame seeds – we blend black sesame seeds and white sesame seeds.
Fresh chili slices or jalapeno slices
Spring onion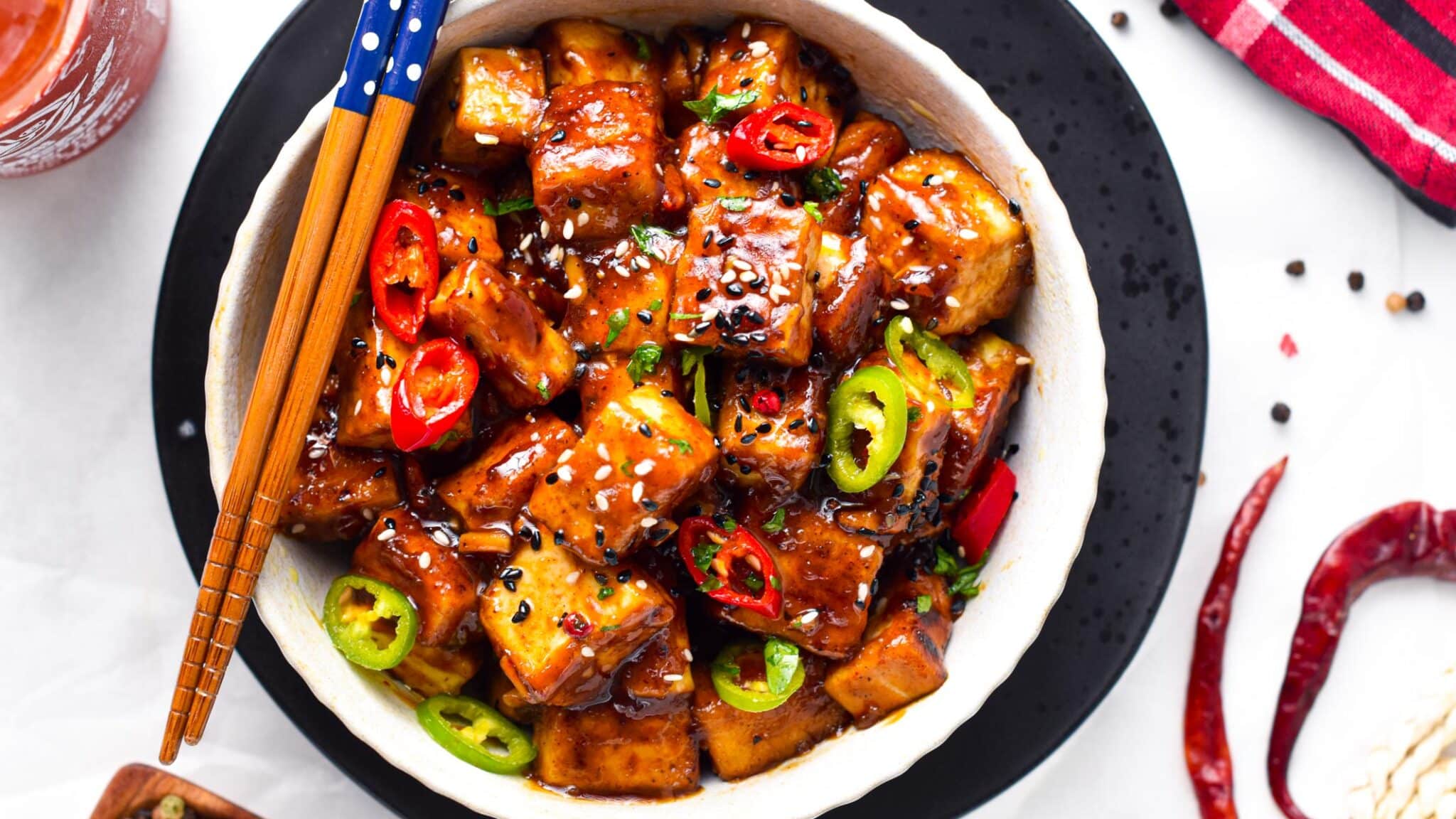 Allergy Swaps
If you need to replace some ingredients, use the options below.
Gluten-Free – Replace the soy sauce with tamari sauce.
Corn-Free – Try arrowroot flour or tapioca starch instead of cornstarch.
Frequently Asked Questions
Below are my answers to your most frequent questions about this recipe.
Is Szechuan The Same As Sichuan?
Yes, both are ways of naming Szechuan peppercorns.
The peppercorn comes from the Sichuan province of China. This province was called initially Szechuan in English, that's why the peppercorn or this type of Chinese cuisine is often found under both names.
What Can I Swap For Szechuan Peppercorn?
You can replace Szechuan peppercorn with the same amount of ground black pepper.
Is Szechuan Vegan?
Not all the Szechuan recipes are vegan.
For example, one of the classic Sichuan dishes, called Mapo tofu, is cooked with ground pork.
Also, most spicy Sichuan sauce recipes use Sambal Oelek, which contains shrimp paste.
What Does Szechuan Pepper Taste Like?
Szechuan cuisine is a very spicy Chinese cuisine that gathers 7 flavors: sweet, sour, bitter, acid, nutty, salty, and a tongue-numbing spicy effect with bold notes of chili, garlic, and Sichuan peppercorn.
Does Szechuan Sauce Taste Sweet And Sour?
It has a similar sticky texture, but Szechuan sauce is way spicier than sweet and sour sauce. It's a tongue-numbing spicy sauce that is barely sweet.
Can I Bake Tofu?
You can bake the coated tofu cubes instead of frying them in oil.
To do so, preheat the oven to 350°F (180°C).
Linr a large baking sheet with parchment paper and place the tofu cubes on the sheet, making sure they don't touch each other.
Spray oil on the cubes and bake them for 30 minutes, flipping halfway.
Bake until crispy and golden brown before transferring in a skillet and pouring the tofu sauce.
Why Is Szechuan So Spicy?
A good Szechuan sauce combines many spicy ingredients from Szechuan pepper, a highly spicy pepper, with garlic, red chili pepper, and sriracha sauce.
Have you tried this easy Chinese-style recipe? Share a comment or review below to tell me how much you love this hot and spicy meal.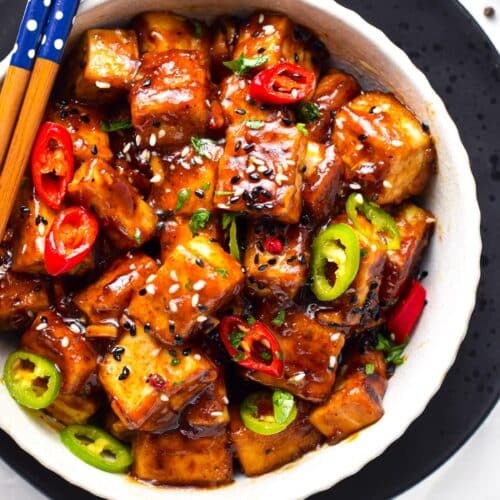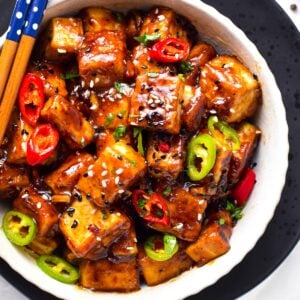 Szechuan Tofu
This Szechuan Tofu will fix your spicy Chinese food cravings! Delicious crispy tofu pieces coated with a spicy Sichuan sauce packed with garlic, chili pepper, and Szechuan pepper.
Pin
Print
Review
Servings: 6 servings
Calories: 88.2 kcal
Instructions
Press the tofu in a clean kitchen towel and press, placing the block on the benchtop with a heavy weight on top – like a cookbook. Set aside for 10 minutes until the tofu block is dry and towel wet.

Meanwhile, whisk all the Szechuan sauce ingredients in a bowl with a fork or small whisk until no more cornstarch lumps remain. Set aside.

Cut the drained tofu block into 1-inch cubes. Set aside.

In a large bowl, stir cornstarch, Szechuan pepper, garlic powder, and ginger.

Toss the tofu cubes in cornstarch mixture, making sure all sides are coated.

In a large non-stick skillet, add sesame oil and tofu cubes, and fry on all sides until crispy or about 5-6 minutes. Add more oil if needed for ultra-crispy tofu.

Pour the Szechuan sauce into the pan, reduce heat, stir to coat, and cook for 1-2 minutes until the sauce thickens and turns into a vibrant, glossy color.

Serve immediately with noodles or rice and chopped scallions and sesame seeds.
Storage
Store in the fridge in an airtight container for up to 3 days. Rewarm in a warm non-stick saucepan or microwave-safe bowl. Freeze it for up to 1 month. Thaw in the fridge the day before serving.
Share on Facebook
Pin Recipe
Nutrition
Serving: 1serving | Calories: 88.2kcal | Carbohydrates: 10.5g | Protein: 1.1g | Fat: 4.7g | Saturated Fat: 0.7g | Polyunsaturated Fat: 2g | Monounsaturated Fat: 1.9g | Sodium: 621.7mg | Potassium: 49.6mg | Fiber: 0.2g | Sugar: 4.2g | Vitamin A: 56.5IU | Vitamin C: 3.6mg | Calcium: 12.6mg | Iron: 0.3mg | Magnesium: 6.1mg | Phosphorus: 15.4mg | Zinc: 0.1mg