This Tofu Red Curry Recipe is an easy, healthy vegan Thai curry recipe made with tofu and crunchy vegetables cooked in a creamy red curry coconut sauce.
Plus, this recipe is also low-carb and perfect for vegan, low-carb eaters.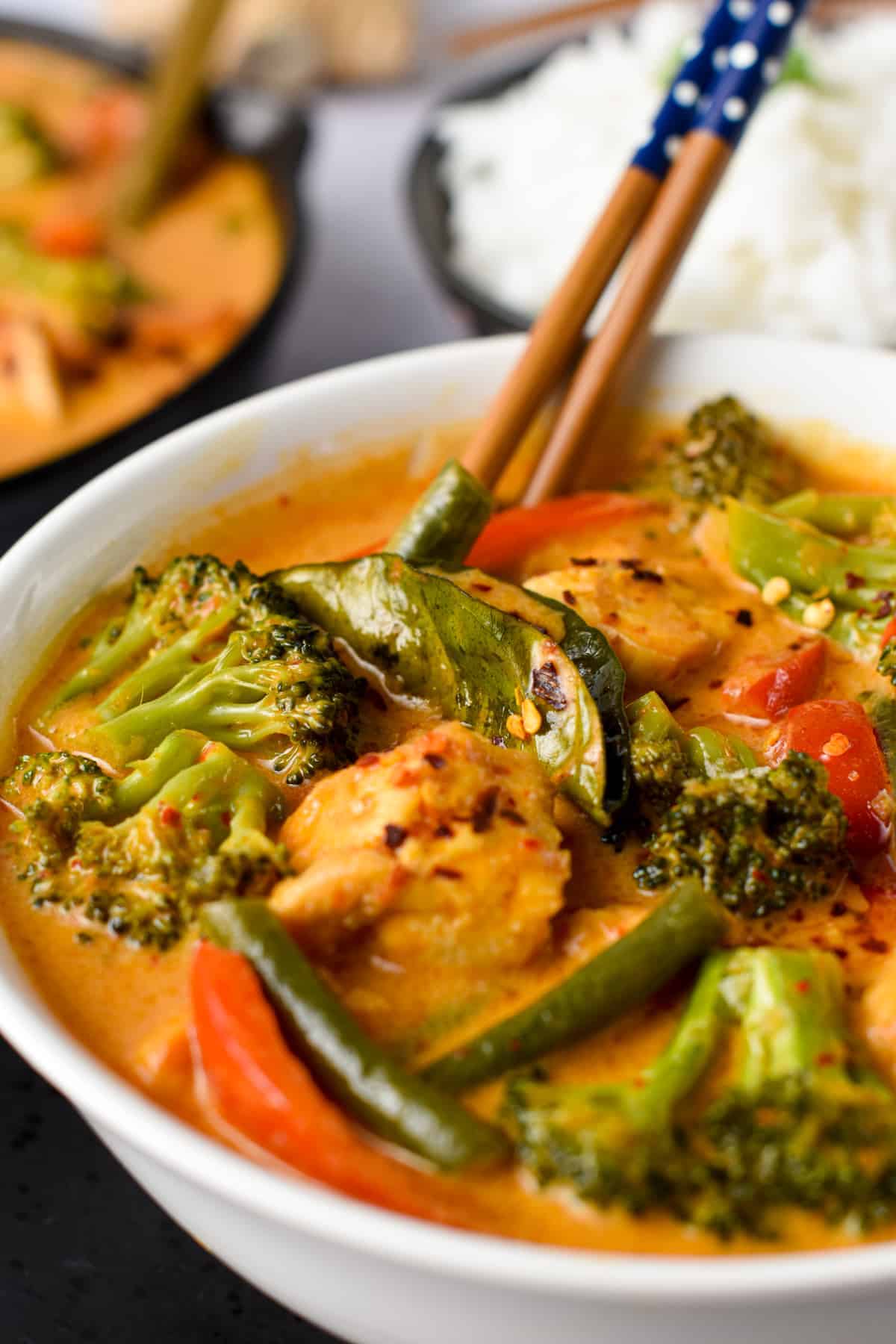 I love vegan curry recipes as a quick and comforting dinner that all the family loves.
Even the kids love tofu curry recipes, so here's my version of vegan Thai curry made with crispy air-fried tofu pieces and lots of crunchy vegetables.
Is Red Curry Vegan?
No, a regular red curry sauce is made with fish sauce, and, as a result, it's not vegan. Also, most red curries contain chicken pieces or other meat or fish.
How To Make Red Tofu Curry
A red tofu curry is a very easy dinner that you can prepare in just 30 minutes.
All you need to make a creamy coconut Thai curry with red curry flavors are:
Ingredients For Crispy Tofu
First, prepare the ingredients to marinate the tofu.
Extra-Firm Tofu – or firm tofu cut into cubes or roughly broken into pieces – my favorite option to mimic chicken.
Cornstarch
Olive Oil or peanut oil or sesame oil
Garlic Powder
Salt
Cooking The Tofu
Stir the marinade ingredients into a mixing bowl and toss the tofu pieces into it.
Next, massage the tofu with your hands to evenly cover each piece.
Air fry at 400°F (200°C) for 12 minutes, shaking the air fryer basket halfway.
You can also bake the tofu on a baking sheet covered with parchment paper.
Bake in the center rack of the oven for 30 minutes at 400°F (200°C), flipping the tofu pieces halfway.
Set aside on a plate.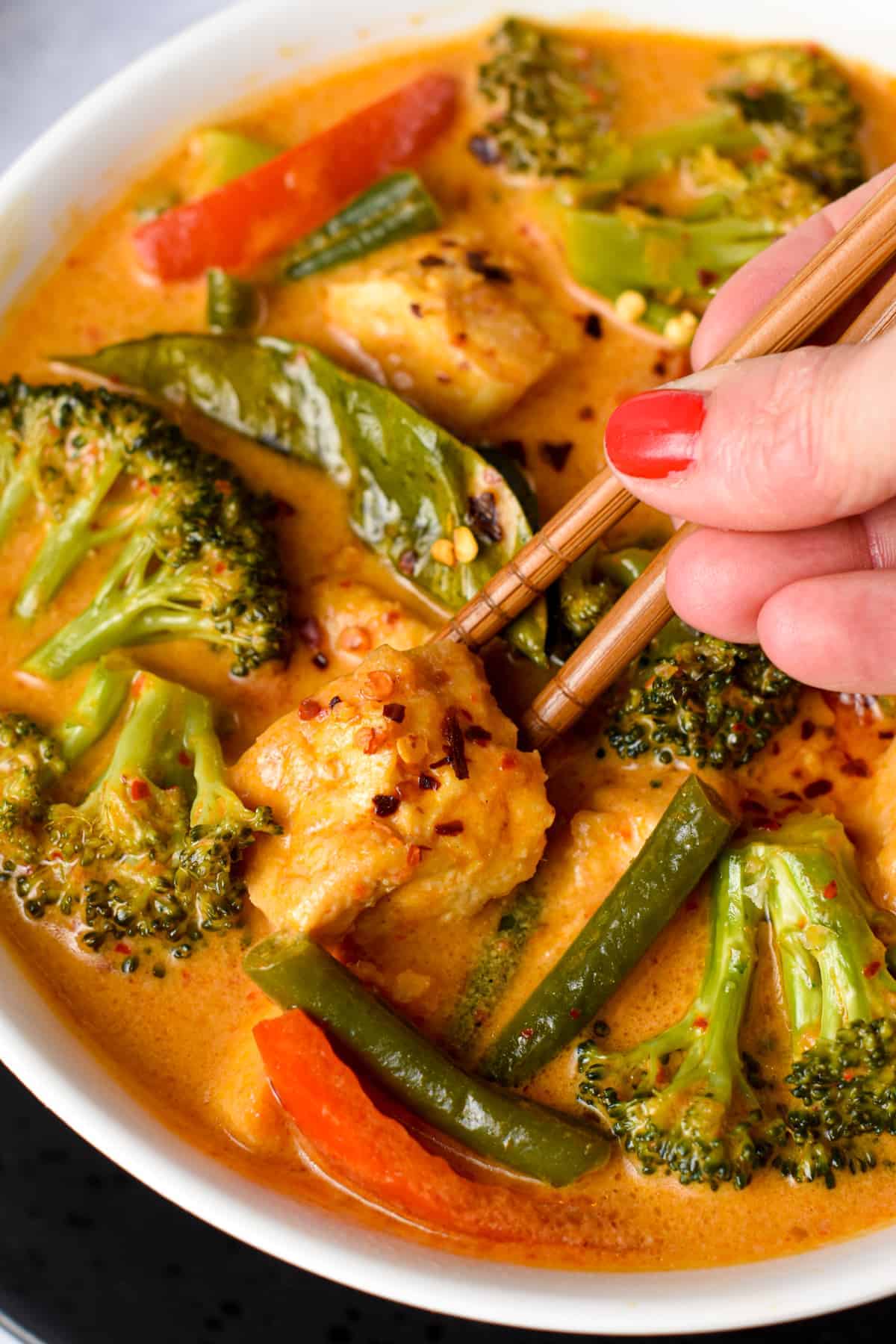 Ingredient For The Curry Sauce
Red Curry Paste – any brand works.
Garlic
Coconut Oil
Fresh Grated Ginger
Vegetable Stock
Full-Fat Canned Coconut Milk
Red Bell Pepper
Broccoli
Green Beans or snow peas
Soy Sauce
Brown Sugar
Lime Juice
Kaffir Lime Leaves – this boosts the curry flavor.
Thai Basil Leaves
Preparing The Vegetables
Before you start, wash and cut the vegetable into small pieces. I recommend breaking the broccoli head into tiny 1-inch florets.
Also, trim and cut the green beans in half.
Finally, deseed the red bell pepper and cut it into thin strips.
Set aside in a place at room temperature
Making The Creamy Curry Sauce
First, warm coconut oil in a large non-stick skillet.
Stir in the curry paste, garlic, and fresh ginger and cook until the paste dries out and oil sets on the sides of the skillet.
Stir in vegetable stock and keep cooking until the liquid reduces by half.
Next, stir in lime leaves, brown sugar, soy sauce, and coconut milk. Simmer and cook over medium-high heat for about 6 minutes.
Cooking The Vegetables
Stir in the raw vegetables: I used red bell pepper, green beans, and broccoli.
Cook until the vegetables are half-cooked – it takes about 3-5 minutes.
Stirring In Crispy Tofu Chunks
Now, add the tofu cubes and cook for three extra minutes until the sauce has thickened.
Making It Super Creamy
If you love your curry sauce rich and creamy and don't mind some extra saturated fat, add coconut cream at this stage.
The addition of canned coconut cream at the end increases the creaminess.
Make sure you use the thick part on top of the can of coconut cream, not the liquid at the bottom of the can.
Serving Red Curry
Remove from the heat and stir in the lime juice and Thai basil leaves.
Serve the tofu Thai curry with jasmine rice or my sticky coconut rice recipe on the side. It's also delicious with my Pupusas, the blend of flavors is perfect.
Also, you can add some chili flakes and a pinch of salt on top of your curry for extra flavors.
Variations
You can use this recipe with different vegetables. For example, you can use :
Cauliflower
Snow Peas
Mushrooms
Pumpkin Cubes
Sweet Potato Cubes
Zucchini Slices
Storage Instructions
This Tofu Thai Curry stores very well in the fridge for up to 3 days in a sealed container.
You can freeze the leftover of this vegetarian red curry in boxes and thaw in the fridge the day before.
Rewarm curry in the microwave or hot non-stick saucepan.
Allergy Swaps
This vegan Thai curry is naturally meat-free and dairy-free. However, if you have allergies, I listed some options for you below:
Coconut-Free: You can use soy cream in this recipe and replace coconut oil with peanut oil or sesame oil.
Gluten-Free: You can use tamari sauce or coconut aminos for certified gluten-free soy sauce.
Corn-Free: You can replace corn starch with tapioca flour or arrowroot flour.
Frequently Asked Questions
What Can I Substitute Thai Basil Leaves With?
You can replace the Thai basil leaves with regular basil. Since basil leaves are large, use half the amount called in the recipe.
Can I Use Homemade Red Curry Paste?
Absolutely, but if you do, remove the fresh ginger and garlic from the recipe, or it will be overpowering.
These ingredients are added to enhance store-bought canned curry paste.
Can I Use Green Curry Paste Instead Of Red Curry Paste?
Sure, you can make a tofu green curry with this recipe using the same amount of green curry paste as a swap.
Can I Replace The Tofu With Something Else?
If you don't like tofu, you can use canned chickpeas.
First, rinse and drain the cooked chickpea.
Then, air fry at 400°F for 3-4 minutes.
Stir in olive oil, garlic powder, and salt, and toss the chickpea with the marinade – no need to use cornstarch for beans.
Finally, air fry again with the same timing until crispy. Use them in this recipe as a swap for crispy tofu pieces.
More Tofu Recipes
Below are some more tofu recipes ideas for you to try.
Have you made this tofu thai curry recipe? Share a comment or review below to connect with me!
Your friend, Carine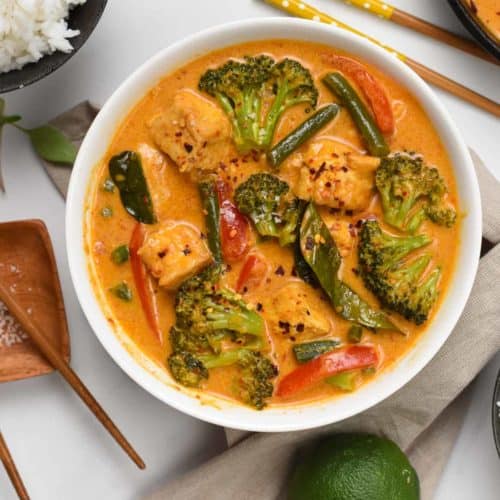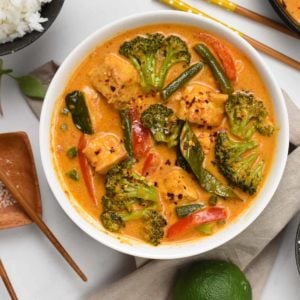 Tofu Red Curry
An easy vegan Thai curry made with Tofu and vegetables cooked in a creamy red curry coconut sauce.
Pin
Print
Review
Instructions
Prepare the tofu
Wrap the tofu block with absorbent paper and place it between two chopping boards, adding a few books on top of the top board to add pressure. Set it aside for 30 minutes to release all the tofu moisture.

Cut the tofu block into cubes of (about 4 inches/1cm) or roughly pull apart the tofu to create irregular pieces of tofu to mimic the texture of chicken. Set aside.

In a mixing bowl, combine oil, cornstarch, garlic powder, and salt.

Preheat oven to 400°F (200°C).

Stir in the tofu pieces to evenly coat with the mixture.

Line the tofu pieces on a baking tray covered with parchment paper – make sure the tofu pieces are well spread and don't touch each other.

Bake for 30 minutes, flipping halfway until crispy. You can also cook the tofu in an air fryer at 400°F (200°C) for 12 minutes.
Curry Sauce
Heat a large skillet or medium saucepan over medium-high heat.

Over medium heat, melt coconut oil, then stir red curry paste, garlic, fresh ginger, and cook over low heat until it looks dry and fragrant – about 1-2 minutes.

Stir in the vegetable stock, stir to combine the paste evenly into the stock. Let it simmer for 3 minutes until the sauce has reduced by half.

Add in coconut milk, kaffir lime leaves, brown sugar, and soy sauce. Stir to combine well and bring to a simmer. Cook and stir often, for 6-8 minutes or until the sauce thickens to your liking.

Add bell pepper strips, broccoli florets, and green beans and cook for 3-5 minutes or until the vegetables are cooked.

Toss the crispy tofu in the sauce until coated and add coconut cream if desired. Keep cooking for a few minutes until the tofu is flavored by the sauce – about 2 minutes.

Remove from heat and stir in basil Thai leaves and lime juice.

Season with extra salt or chili flakes if needed.
Storage
Store in the fridge in a sealed container for 3-4 days or freeze for up to 3 months.
Share on Facebook
Pin Recipe
Nutrition
Serving:
1
serving
|
Calories:
317
kcal
|
Carbohydrates:
43
g
|
Protein:
6
g
|
Fat:
14
g
|
Saturated Fat:
10
g
|
Sodium:
448
mg
|
Potassium:
140
mg
|
Fiber:
3
g
|
Sugar:
35
g
|
Vitamin A:
241
IU
|
Vitamin C:
4
mg
|
Calcium:
73
mg
|
Iron:
1
mg