An easy 3-ingredient Vegan Pupusas recipe filled with vegan cheese and refried beans.
Enjoy a thick, crispy corn flatbread filled with gooey cheese and spicy refried beans as a side to any salad.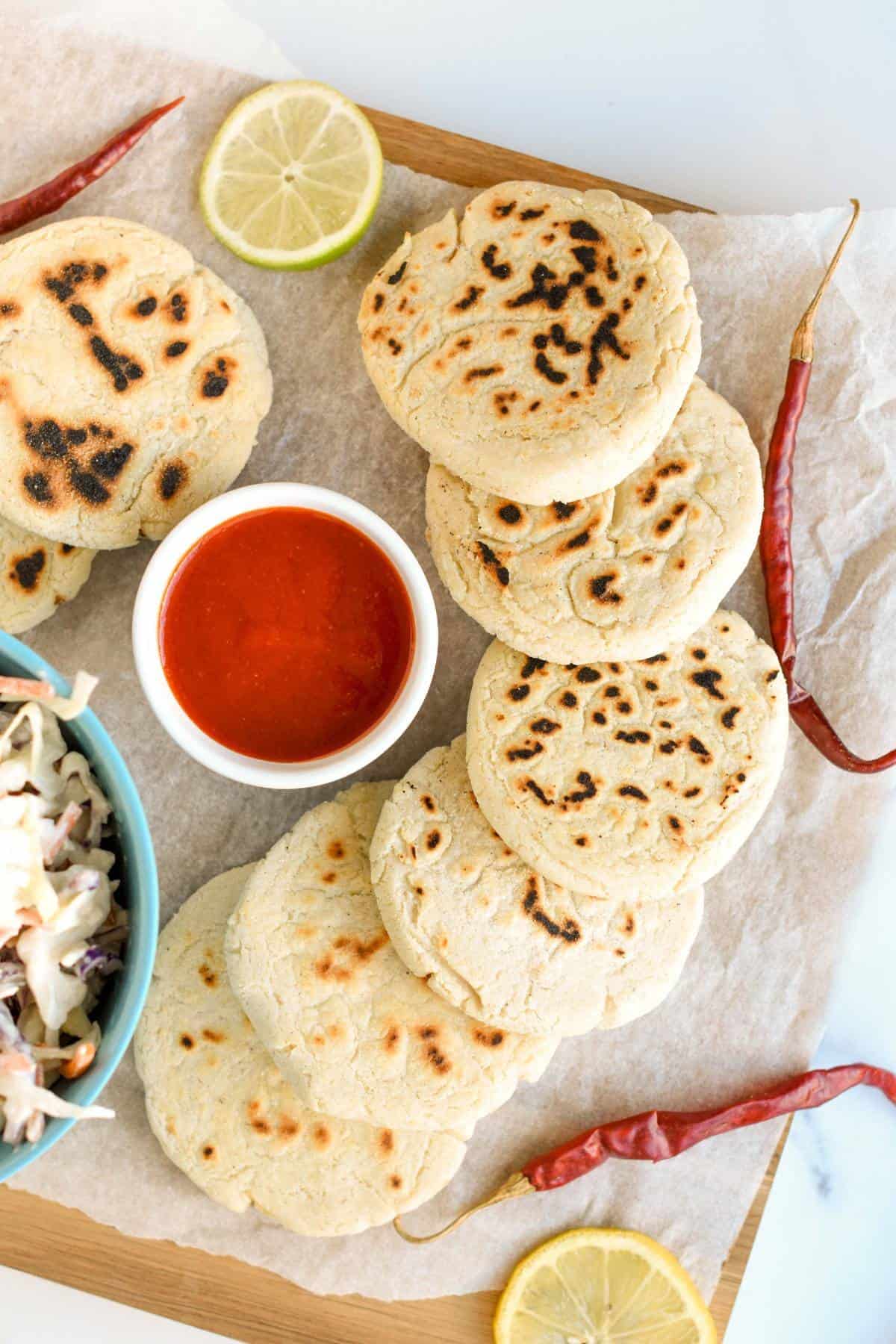 What Is A Pupusa?
A pupusa is a thick corn tortilla filled with a mixture of gooey cheese and often with ground-cooked pork or finely chopped flower like the Loroco Pupusa, filled with Loroco flower buds.
Pupusas are naturally gluten-free and dairy-free.
Are Pupusas Began?
The Pupusa dough itself is plant-based and vegan-friendly. But the Pupusa filling is not vegan.
Pupusas are always filled with cheese, and often, the classic Pupusas Salvadoreñas are filled with Chicharon, which is a boneless cooked pork shoulder.
Where Are Pupusas From?
Pupusas are from El Salvador. It's actually El Salvador's national dish, but it's also a popular flatbread in Honduras and other Central American countries.
A pupusa is a thick cornmeal flatbread close to the Venezuelan and Colombian arepa.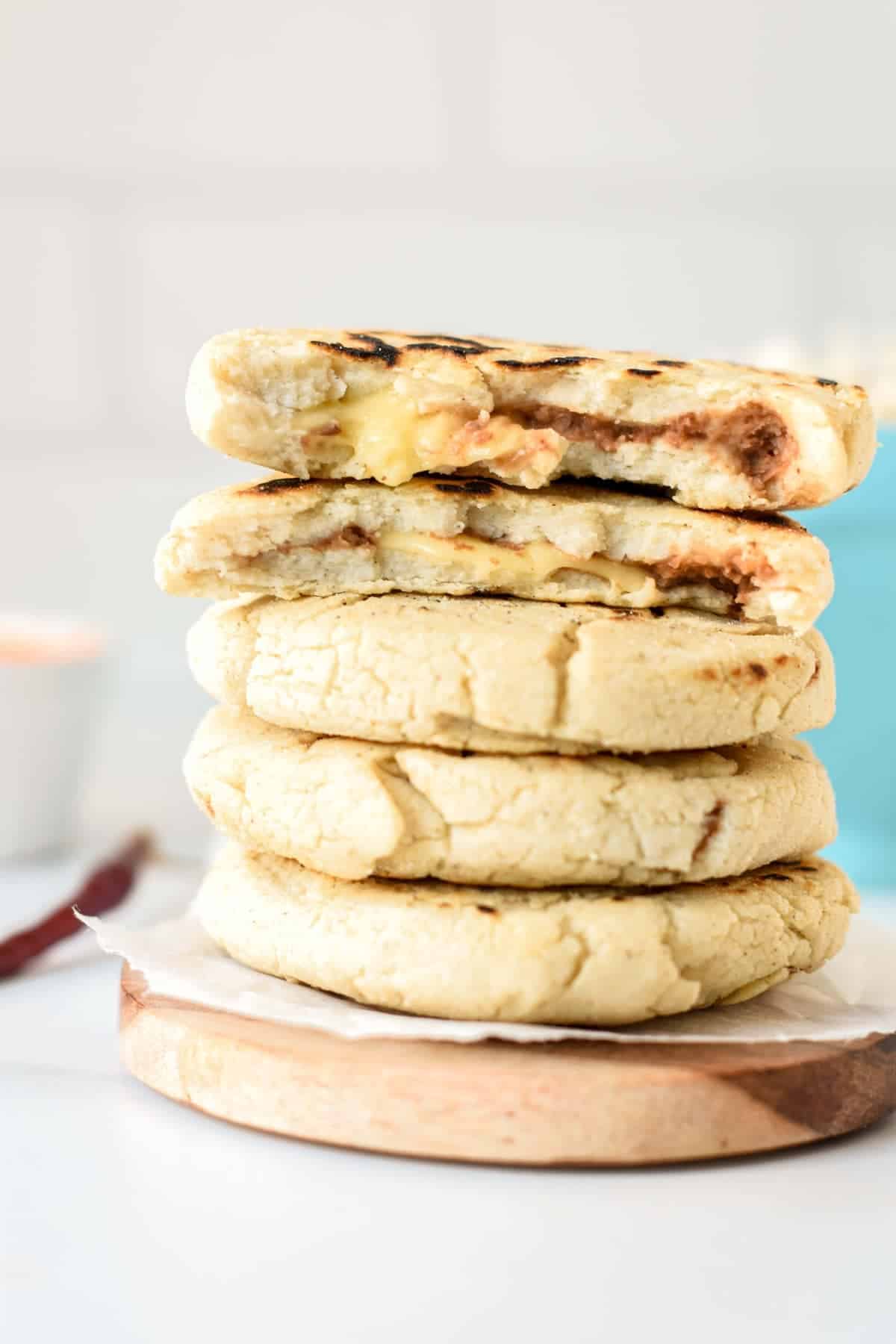 How To Make Vegan Pupusa Dough
It's super easy to make Pupusa dough as it requires only 3 ingredients. A Pupusa recipe uses the same basic ingredients as homemade corn tortillas.
The only difference between pupusa and corn tortilla is the thickness of the flatbread.
Ingredients
Masa Harina – this is not the same as cornflour or cornmeal. Masa Harina is made from dried corn soaked in an alkaline solution and then ground into a fine flour, while cornflour is made of ground corn that hasn't been soaked. It has a white, slightly grainier texture compared to corn flour.
Cold water
Salt
Making The Pupusa Dough
First, add the Masa Harina flour to a large mixing bowl with salt. Whisk to combine.
Next, pour the cold water and keep stirring until the dough forms a wet sticky batter.
Finally, knead the dough for 1 or 2 minutes to incorporate the water into the flour.
Set aside for 10 minutes.
Shaping The Pupusas
Now, scoop out about 3 tablespoons of dough and roll it into a ball.
Place each ball of dough onto a baking tray covered with parchment paper. Keep rolling the dough into small balls of even sizes until no more dough is left.
Pressing The Dough
Now, sprinkle some masa harina on the benchtop and use the palm of your hand to flatten each dough ball into a circle. Keep it slightly thick, and don't roll with a rolling pin.
The sides of the dough tend to crackle, and that's normal. Sprinkle extra masa harina on the pupusa and tap the side to reshape and smoothen.
In fact, pupusas are thick and filled with protein and cheese. On the other hand, corn tortillas are thin and used to wrap food.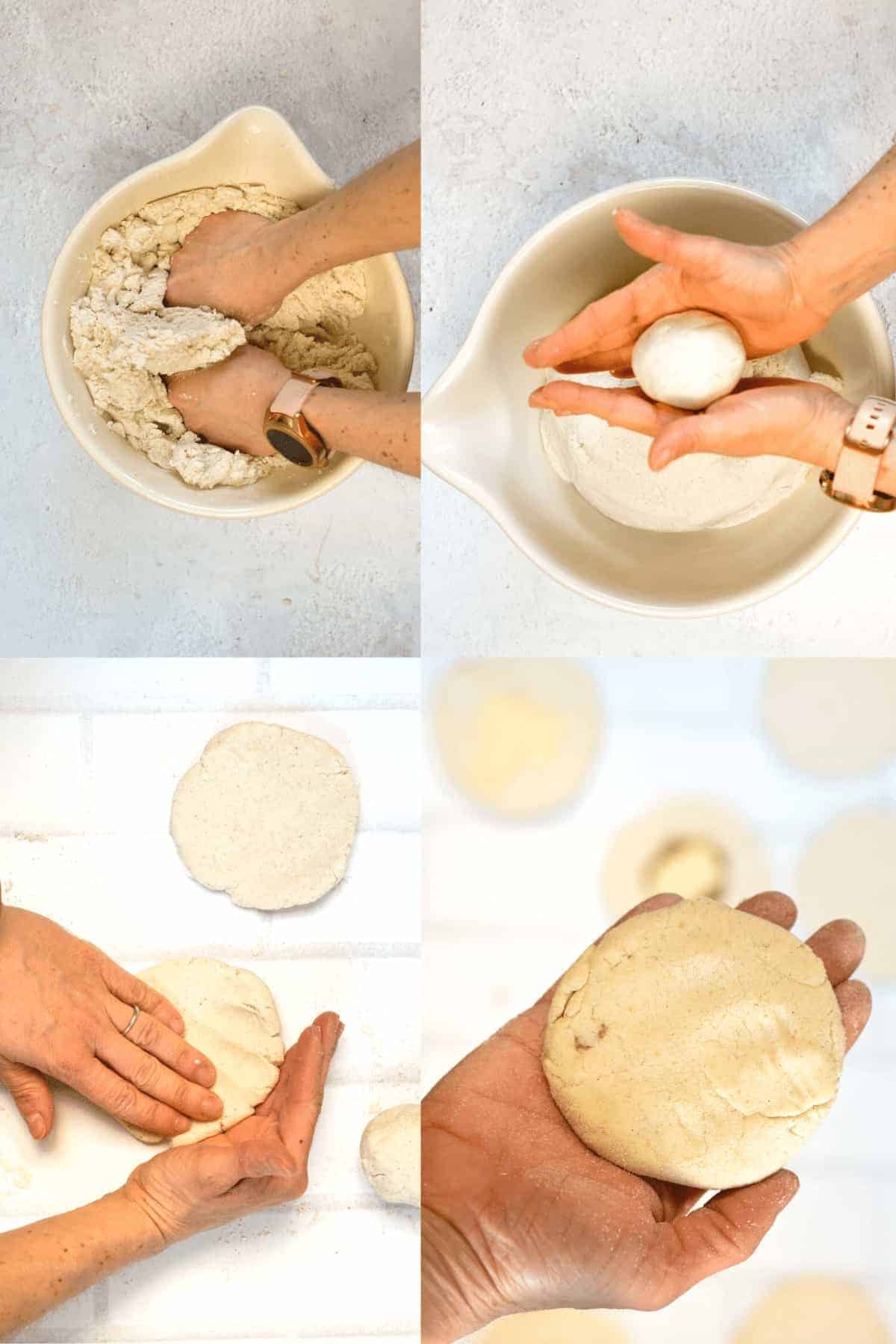 Vegan Pupusa Filling
As mentioned above, the pupusa dough itself is vegan-friendly but not the authentic Pupusa filling. In the Salvadorian recipe, a Pupusa is often filled with cheese and meat.
Here we share a vegan recipe for Pupusa, a bean Pupusas recipe filled with refried beans and vegan cheese.
To make vegan Pupusa add one or two of the vegan filling below in the center of the dough.
Don't add more than a few teaspoons, or the Pupusa will be difficult to fold:
Refried beans
Black beans
Jalapeno slices
Shredded vegan cheese and beans
Vegan cream cheese
Vegan hard cheese – can be shredded cheese or cheese slices cut into small pieces.
Filling And Folding Pupusas
It's tricky to fill and fold a Pupusa because the dough is not as elastic as wheat flour dough.
In fact, Pupusa dough tends to crack when filled, so watch my pictures below to successfully filled a Pupusa every time.
Place the flat circle of Pupusa dough in the center of your hand.
Add 2 teaspoons of refried bean max in the center of the dough and the same for cheese.
Close your hand to fold the edges and form a pocket shape.
Pinch opposite parts to stick together.
Roll a ball again.
Flatten the filled dough ball on a floured surface with your hand palm.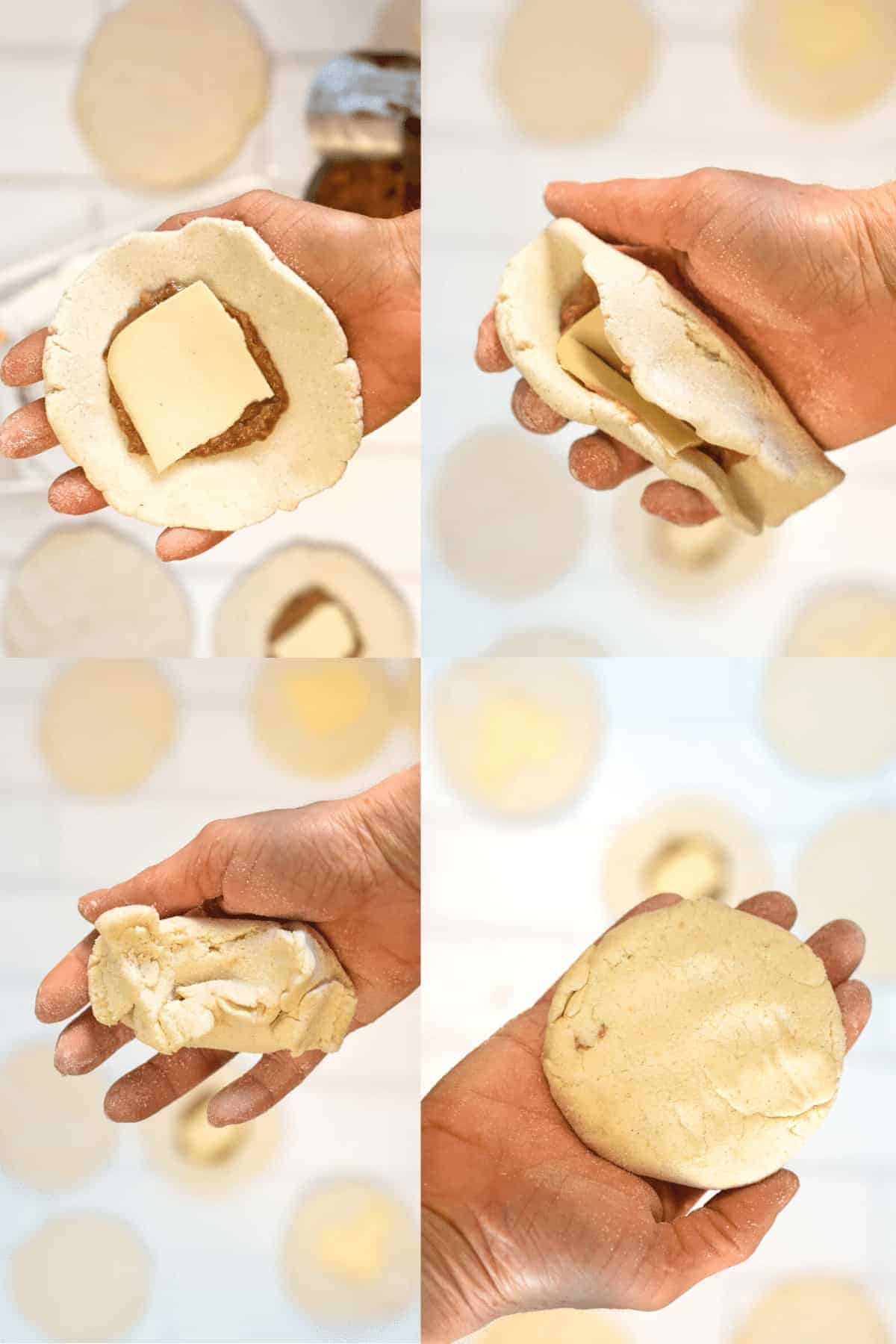 Cooking Pupusa
Warm a cast-iron non-stick skillet over medium heat.
Slightly oil the surface of the skillet with high smoke point oil, like avocado oil.
Place Pupusa on the skillet, leaving 2 cm space between each flatbread.
Cook on medium-high heat for 2-3 minutes on one side, then slide a spatula under the flatbread and flip to cook the other side.
Cook until golden and black patches appear on their surface.
Set aside and keep cooking
Set aside the cooked Pupusas on a cooling rack, and cover them with a clean kitchen towel or piece of foil to keep them warm. Meanwhile, cook the remaining batter.
Serving Vegan Pupusas
The best sides to vegan Pupusas are:
Homemade coleslaw
Salsa sauce
Sriracha or hot sauce
Guacamole
Frequently Asked Questions
Can I Replace Masa Harina With Cornflour?
No, you can't swap Masa harina with cornflour or cornmeal.
They are not the same flour at all, and they can't be substituted in a recipe calling for Masa harina.
How To Store Pupusas?
Cooked pupusa store up to 4 days in the fridge, in a sealed container. The next day, rewarm the pupusa on a hot griddle or in preheated oven or bread toaster.
Pupusa freeze very well, cooked or raw. If uncooked, thaw the pupusa dough the day before use and always freeze it in an airtight container.
More Vegan Bread Recipes
If you've enjoyed this recipe, you'll love these:
Have you made this vegan Pupusas recipe? Share your review or comment below to connect with me.
Your friend, Carine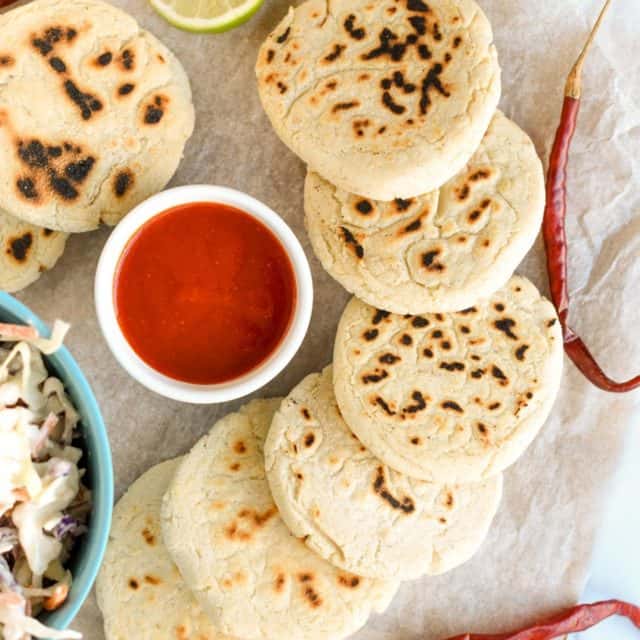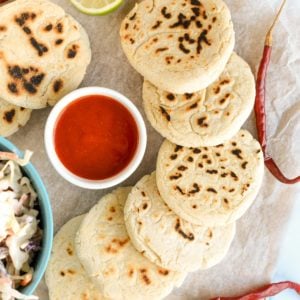 Vegan Pupusas
An easy 3-ingredient Vegan Pupusa recipe filled with vegan cheese and refried beans. Enjoy a thick, crispy corn flatbread filled with gooey cheese and spicy refried beans as a side to any salad.
Pin
Print
Review
Servings: 18 Pupusas
Calories: 95 kcal
Ingredients
Pupusa Dough
4 cups Masa Harina - it's NOT corn flour or cornmeal
2 teaspoons Salt
3 cups Cold Water
Vegan Pupusa Filling
⅓ cup Refried Beans
½ cup Vegan Cheese
Instructions
In a large mixing bowl, add the Masa harina and salt. Whisk to combine. Feel free to spice up the dough by adding a pinch of garlic powder, cumin, paprika – not authentic but flavorsome.

Pour cold water over the flour and start stirring with a spatula. When it starts to be difficult to stir, knead by hand or with a stand mixer paddle attachment for 1 or 2 minutes until the dough resembles a clay-like texture. The dough is still slightly wet at this point – set aside 15 minutes to rest.

Slightly oil your hands to prevent the dough from sticking to your fingers. Then, scoop out 3 tablespoons of dough and roll into a ball. If you are a visual learner, watch my pictures above in the post to see how to fill and fold the Pupusa easily in the next steps.

Flatten the ball into a thick, even circle. Hold in the center of one hand and fill the center with no more than 2 teaspoons of filling – can be 1 teaspoon of refried bean and 1 teaspoon of cheese or just cheese as you like!

Close your hand to fold the dough into a pocket and pinch the sides to seal. Roll into a ball again and pat out between your hands to flatten and form a thick circle of flatbread.

If cracks show, pat some extra dough to fix the holes or smoothen with wet oily fingers.

Set aside on a plate covered with parchment paper and repeat for the leftover dough.

Warm a non-stick cast-iron skillet over medium-high heat.
Cook
Cook the Pupusas for 2-3 minutes on one side, then flip and cook for 1-2 extra minutes. The Pupusas are ready when they are golden with dark black dots and crispy.

Serve hot with guacamole, a dipping sauce of your choice like hot sauce and coleslaw.
Storage
Store the cooked Pupusa in the fridge for up to 4 days and rewarm them in a hot skillet or bread toaster. They can be frozen and thawed in the fridge the day before eating.
Share on Facebook
Pin Recipe
Nutrition
Serving: 1Pupusa | Calories: 95kcal | Carbohydrates: 20g | Protein: 3g | Fat: 1g | Saturated Fat: 1g | Polyunsaturated Fat: 1g | Monounsaturated Fat: 1g | Sodium: 285mg | Potassium: 67mg | Fiber: 2g | Sugar: 1g | Vitamin A: 58IU | Calcium: 36mg | Iron: 2mg | Magnesium: 24mg | Phosphorus: 54mg | Zinc: 1mg