Naan bread no yeast, no oil!
An easy vegan naan bread recipe with no yeast, no yogurt, and only 4 ingredients! The best quick pan bread recipe to serve as a side dish to Indian curry or soup!
How to make an easy naan bread with no yeast?
Most naan bread recipes call for yeast. While yeast is a great ingredient to make fluffy naan bread, there is others option to make this Indian pan bread recipe without any yeast or Greek yogurt. The ingredients you need to make this naan breads are:
All-purpose flour – classic wheat flour or white spelt flour works the best in this recipe. The recipe won't work with almond flour or coconut flour.
Non-dairy yoghurt, or non dairy milk at room temperature combined with non-dairy high fat milk like canned coconut milk or soy milk
Baking powder – or half the amount of baking soda, this helps raise the naan bread without yeast.
Salt – optional.

Make the dough
You don't need fancy tools to make this recipe. If you have a stand mixer, you can use it with the hook attachment.
However, the most simple way to make this naan bread dough is to first combine all dry ingredients in a large mixing bowl.
Then, add the non-dairy yoghurt – or a combination of lukewarm milk and vinegar – and combine the dough until it comes together. Finally, knead the dough on a floured working surface until soft and elastic.
Rest the dough
It is important to rest the dough for 30 minutes in a warm place. Simply return the dough ball in the mixing bowl covered with a towel.
Roll the dough
Divide the dough into 6 even pieces. Roll each piece into a small ball, one ball makes one naan bread. First, dust some flour on your work surface then place the dough ball onto the surface, sprinkle more flour on top of the ball. Then roll into an oval using a rolling pin or simply spread with your hands.
Cook the naan
This naan bread recipe turned out perfectly cooked in a non-stick pan or cast iron pan, without oil! This is very important that you don't add oil or it will fry the bread.
Warm a non-stick pan over medium-high heat then cook the naan for 2-3 minutes on one side.
Finally, flip naan and keep cooking on the other side for 1-2 minutes or until crispy and dark black spot appears on the surface.
Note that if your pan is very hot, your naan will puff as in the picture below providing the best bread texture.
Serving suggestion
Cooked naan bread is always better served warm brushed with some garlic butter. To make a quick and easy vegan garlic butter melt vegan butter in a small bowl then combine fresh crushed garlic and salt.
You can also brush coconut oil or olive oil on top of the bread for a healthier option.
Is naan bread healthy?
Naan bread is made of super-easy ingredients, all are natural real ingredients and therefore naan bread is not bad for you. Often what is not healthy is the Indian curry that is served with the naan.
In fact, Indian curry can contain lots of unhealthy fat and that is why it is better to make your own. For a healthy side to this naan bread, I recommend you try my vegan butter tofu curry recipe.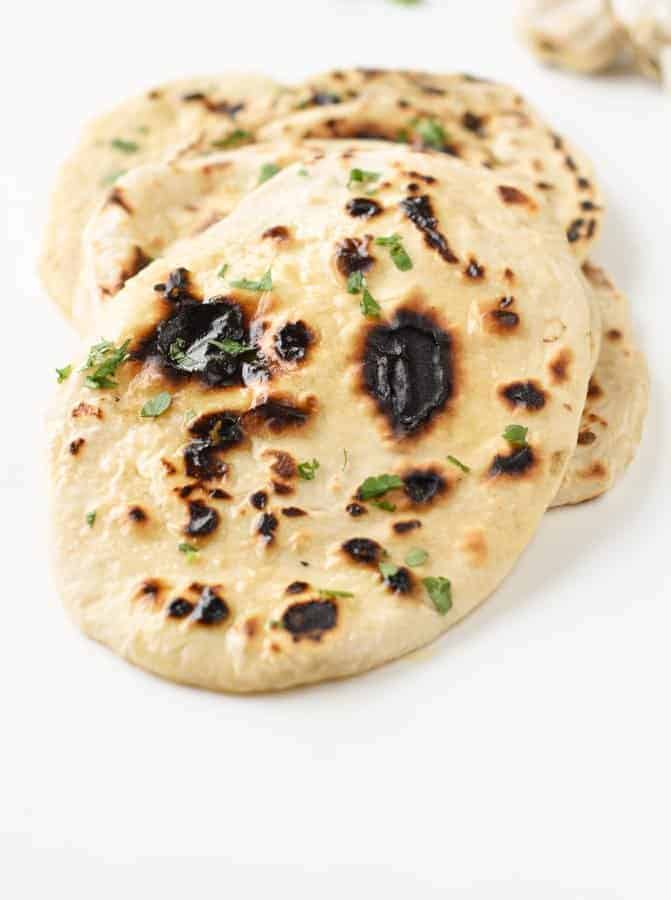 How to flavor naan bread?
This easy naan bread recipe has no yeast flavor and therefore, you can found this Indian flatbread recipe bland in flavor. To boost your naan bread flavor you can add one or 2 of the ingredients below to flavor the dough:
Garlic – you can add 2 fresh crushed garlic cloves or 1/4 teaspoon garlic powder into the dough. This is the best way to create a tasty vegan garlic naan bread.
Fenugreek seeds – this is the most flavorsome Indian spice to add to your dough. Add 1 teaspoon of fenugreek seeds or 1/4 teaspoon of fenugreek powder.
Nutritional yeast – add 1 tablespoon into the dough for a cheesy flavor.
Vegan cheese – yes you can use this recipe to make vegan cheese naan. First, roll the dough into a circle then add grated vegan cheese in the center and gather the sides of the dough to stick them together and encase the cheese. Press to release any air stuck in the dough then roll gently to flatten.
More vegan bread recipes
If you love super easy vegan bread recipe I have plenty of others to try:
Made this naan bread recipe? Leave me a comment or review below, I love to read your feedback on my recipes! You can also join me on Instagram and share a picture of your recipe in your story tagging @theconsciousplantkitchen
Your friend, Carine
Naan bread recipe
An easy 3-ingredient naan bread recipe with no yeast, no yogurt 100% vegan.
Ingredients
1 ¾

cup

All-purpose Flour

-

scooped, packed, level up (+ 1/3 cup to adjust stickiness and roll )

1

cup

non-dairy yogurt

-

like soy yogurt **see note for yogurt free recipe

3

teaspoon

Baking Powder
Instructions
Before you starts, keep in mind that this is a yeast free, oil free naan. It means that the texture won't be as soft and fluffy as the classic recipe. It is a much more dense, and chewy bread by a delicious vegan naan option for curry

In a large mixing bowl stir flour, baking powder, and salt make a well in the center of the flour and stir in the non-dairy yogurt.

Mix with a spatula then get your hands in the dough to knead for a few seconds until the dough is combined and slightly sticky dough form. Add 1-4 extra tablespoons of flour if needed until the dough is soft, not sticky and you can form a ball.

Return dough ball to the mixing bowl, cover the bowl with a towel and set aside at room temperature for about 15-30 minutes

Sprinkle work surface with flour then place the dough ball on the surface, sprinkle more flour on top of the ball, and knead for 30 seconds until smooth.

Dust the benchtop with more flour, cut the dough ball into 4 portions, roll each portions into balls, then roll out with a rolling pin into a 1/4" / 0.6 cm thick round/oval shape.

Preheat a non-stick saucepan under medium-high heat for 1 minute, don't add oil.

When hot, add the rolled dough and cook for 3 minutes on one side, then flip and cook for an extra 1-2 minutes on the other side.

Repeat these steps until all naan breads are cooked.

Brush each cooked bread with vegan butter or coconut oil.
Notes
Yogurt free option: replace dairy free yogurt by 1 cup of high fat non-dairy milk like canned coconut milk or soy milk combined with 1 tbsp. vinegar. Stir, set aside 5 minutes until milk curd and use as a yogurt replacement
Share on Facebook
Pin Recipe
Nutrition
Serving:
1
naan bread
|
Calories:
209
kcal
|
Carbohydrates:
42
g
|
Protein:
7
g
|
Fat:
1
g
|
Saturated Fat:
1
g
|
Sodium:
427
mg
|
Potassium:
111
mg
|
Fiber:
2
g
|
Sugar:
1
g
|
Vitamin A:
155
IU
|
Vitamin C:
3
mg
|
Calcium:
180
mg
|
Iron:
3
mg
Leave a comment
2 comments