2-Ingredient High-Protein Lentil Wraps
These High-Protein Lentil Wraps are made with just 2 ingredients, yellow split lentils, and water, for a healthy, low-cost protein wrap.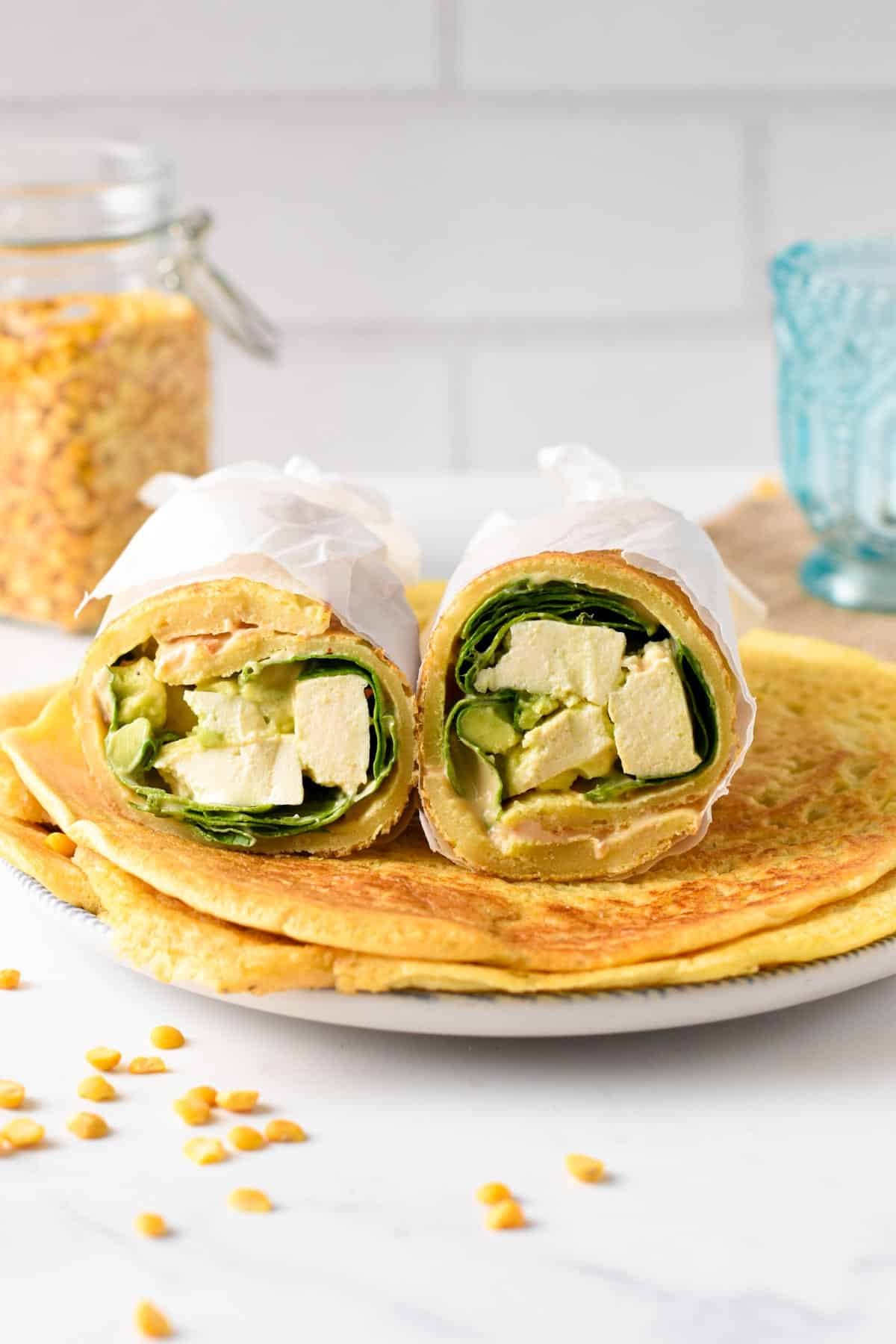 I love homemade tortillas and wraps, and you might already have seen how I turned red split lentils into flatbread.
Now time to use dal lentils, also called yellow split lentils, to make soft, fluffy lentil wraps.
How To Make Lentil Wraps
It's very easy to make lentil wraps as you only need 2 ingredients.
it takes a bit of practice to learn how to cook them, but you will be an expert at this in no time with my simple tips and tricks below.
Ingredients
You need, for this recipe:
Yellow Split Lentils – This is not the same as red lentils. They are different in texture when soaked and require a different amount of water. Use my red lentil flatbread recipe if you have red lentils at home.
Cold Tap Water
Optional Ingredients
For flavors, you can add some salt, garlic powder, curry powder, or Italian seasonings.
Washing The Lentils
First, place the yellow split lentils in a sieve and rinse them under cold water to remove dust and impurities.
Then, place the drain lentils in the jug of a high-speed blender with water.
Close the lid and soak for at least 8 hours or overnight – up to 12 hours.
In fact, yellow lentils have a tougher outer shell than red lentils, and therefore you need to soak them longer to turn them into a smooth batter.
Blending
Place the jug on the blender base and blend on the high-speed setting of your blender (speed 10 of your Vitamix) for 20-25 seconds.
The batter should be runny but slightly thick and foamy with no bits or pieces of lentils.
Transfer to a mixing bowl, and set it aside for 10 minutes.
Cooking Lentil Wraps
Place a non-stick pan over medium heat and lightly oil the surface with olive oil spray.
Scoop out about 1/3 cup of lentil wrap better in the center of the pan and using the back of a spoon spread by applying a gently circular motion.
Sometimes, the batter break when you spread it. This often happens if the pan is too hot.
That's not a problem because you can fill the hole with a dollop of extra batter. Don't touch the wrap and cook for 2 to 3 minutes on medium heat.
The lentil wrap is ready to flip when the sides are dry, and you can easily slide a long spatula under it.
Flip and cook for an extra 1 or 2 minutes or until set.
Texture And Taste Of Lentil Wraps
Yellow lentil wraps are softer and fluffier than red lentils wraps.
As a result, they are more fragile and break easily.
But they taste amazing, a little bit like a fluffy omelette so if you miss eggs in your vegan lifestyle, it's a good recipe for you.
To avoid the wraps breaking, roll with non-watery filling – avoid tomatoes, for example.
Fill the lentil wraps with some of the below:
Avocado
Spinach
Any sauce you love – hummus, mustard, vegan mayonnaise
Cooked tofu or vegan chicken alternatives
Wrap using a piece of parchment paper helps hold the wrap together.
Red Split Lentils vs. Yellow Split Lentils
Red lentils are smaller and more tender than yellow split lentils.
As a result, yellow lentils must be soaked for longer to make wraps.
They also need less water to form a tortilla batter.
Nutritionally speaking, red lentils have more potassium but yellow lentils. have two times more iron and slightly more protein.
So to sum up, yellow lentils have:
Less potassium
More iron
More proteins
Storage Instructions
These wraps can be stored for up to 3 days on a plate covered with kitchen wrap or food hugger.
You can also freeze the wraps for up to 3 months and thaw them the day before at room temperature.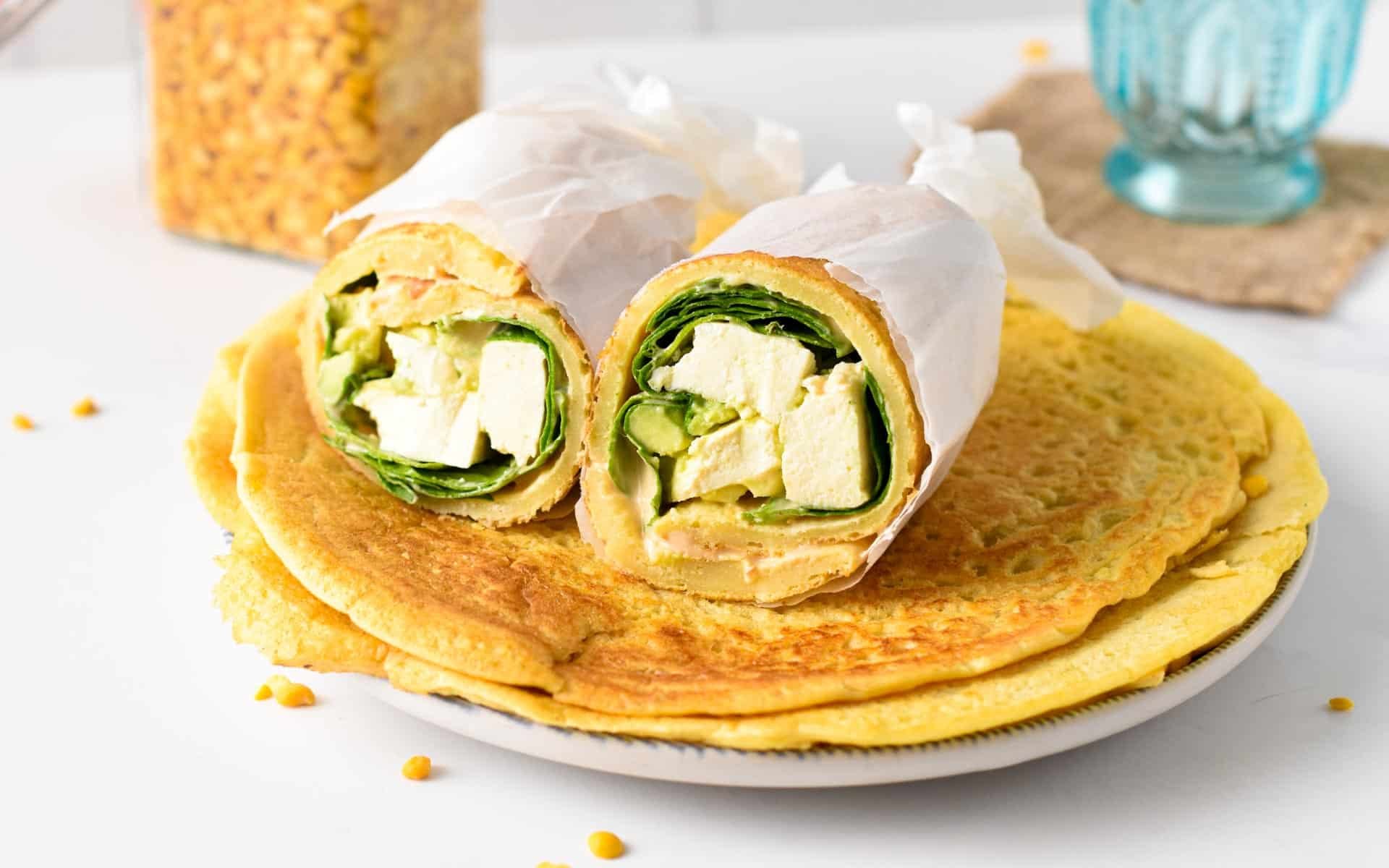 Frequently Asked Questions
Below are the answers to your most popular questions about these wraps.
Can I Use Red Lentils Or Whole Lentils?
No, you can't use this recipe with whole lentils – they won't soften as well, and therefore they won't form a smooth wrap batter.
Follow my red lentils flatbread recipe to make red lentil wraps.
Why Do My Wraps Break In The Pan?
There are a few reasons why the batter break.
If it breaks while spreading onto the hot pan, it means the pan is too hot, or you are trying to spread it too thin.
If it breaks after it has cooked for 2-3 minutes, it means your batter is too rich in water.
It can be that you didn't soak the lentils long enough or didn't blend long enough, and therefore, the batter is not consistent.
You can always fix an overly liquid batter by adding some flour 3-4 tablespoons of all-purpose flour.
Why Is My Batter Sticking To The Pan?
This is the most common issue with lentil wrap recipes.
You must use a non-stick pan and oil the pan or the batter stick easily, and it becomes difficult to flip.
More Homemade Tortillas Recipes
Below are some healthy tortillas recipes for you to try.
Have you tried these lentil wraps? Share a comment or review below to connect with me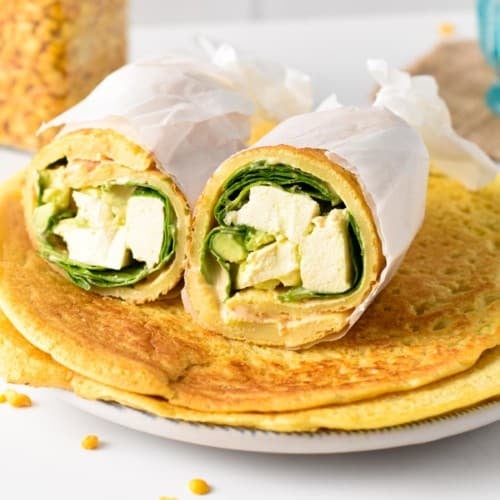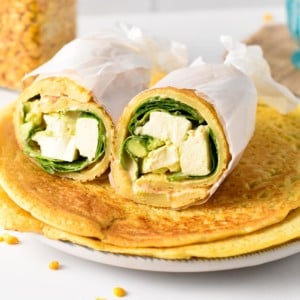 Lentil Wraps
These High-Protein Lentil Wraps are made with just 2-ingredient, yellow split lentils and water for a healthy, low-cost protein wrap rich in anti-inflammatory ingredients.
Pin
Print
Review
Servings: 12 wraps
Calories: 70.8 kcal
Ingredients
1 ¼ cup Split Yellow Lentils - uncooked, NOT whole, NOT red lentils
1 ¾ cups Water - at room temperature
Instructions
Place the yellow split lentils into a sieve and rinse under cold water to remove any dirt or impurities. Drain the lentils and place them in the jug of your high-speed blender.

Add all the remaining ingredients into a high-speed blender jug, close lid and soak for 8 hours or overnight, at room temperature. This soften the lentils. If you didn't soak the lentils long enough it might not work so don't skip this part

After soaking time, some water will be absorbed by the yellow lentils and the remaining water should be white and that's normal.

Place the blender jug on the blender base, blend on high speed – speed 10 of my Vitamix for about 20-25 seconds or until the batter is smooth and resembles a pancake batter. You shouldn't see any bites or pieces of lentils.

Transfer the batter into a mixing bowl and set aside for 10 minutes before cooking

Warm a non-stick pan under medium heat and spray olive oil all over the pan. You must use oil on the pan, or the batter would stick to the pan and would break.

Pour 1/3 cup of batter in the center of the pan and using the back of a spoon (or the back of the measuring cup), work in a circular motion to gently spread the batter from the center to the outside until it forms a wrap. If the pan is too hot, the batter may break, simply patch holes adding dollop of batter. Don't touch the wrap and cook until set.

Cook on medium heat for 2-3 minutes on one side, then flip with a spatula and cook on the other side for 1-2 minutes more. Cool on a plate or a rack while you cook the remaining batter. Make sure you re-oil the pan between each flatbread.

If you have any problem with the batter, scroll up in this post to read my troubleshooting tips.
Storage
Store in the fridge in a sealed box for up to 2 days and rewarm in a warm non-stick pan.

Freeze individually wrap and thaw at room temperature 3 hours before serving.
Share on Facebook
Pin Recipe
Nutrition
Serving: 1tortilla | Calories: 70.8kcal | Carbohydrates: 12.1g | Protein: 5.2g | Fat: 0.2g | Saturated Fat: 0.03g | Polyunsaturated Fat: 0.1g | Monounsaturated Fat: 0.04g | Sodium: 99.9mg | Potassium: 191.8mg | Fiber: 6.1g | Sugar: 0.4g | Vitamin A: 7.8IU | Vitamin C: 0.9mg | Calcium: 12.3mg | Iron: 1.5mg | Magnesium: 24.8mg | Phosphorus: 90.5mg | Zinc: 1mg