Red Lentil Tortillas High-protein Vegan Tortillas
These red lentil tortillas are easy high-protein flatbreads made with 5 wholesome ingredients. They are healthy alternatives to flour tortillas, 100% gluten-free, vegan and perfect to use as a side to an Indian curry.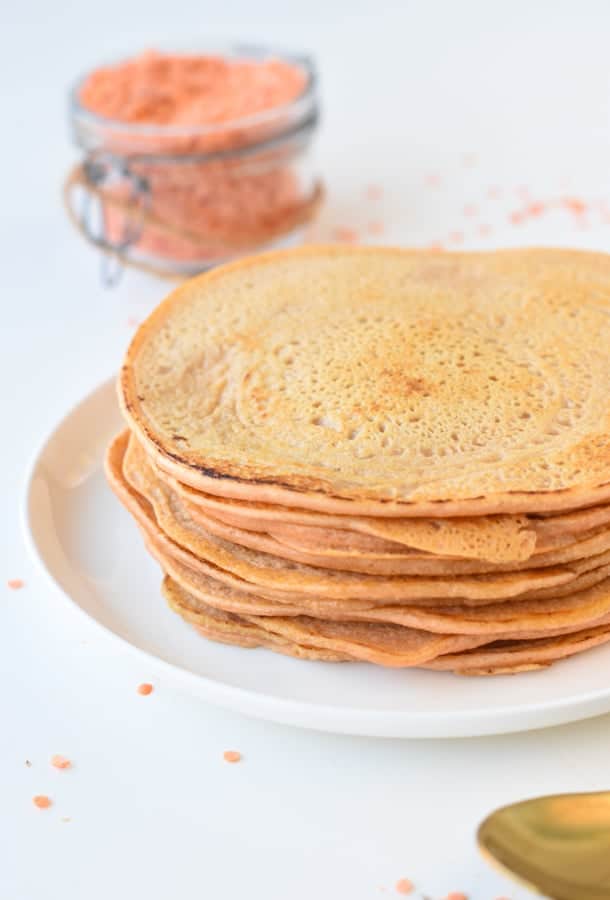 How to make red lentil flatbread?
It is easy to make flatbread from red lentils but first, let me tell you the top 3 tips for making sure the recipe works every time!
Ingredients
You need only 5 wholesome ingredients to make this recipe:
Split red lentils – see my tips below to choose the best red lentils – split and whole lentils work very differently in recipes.
Water – at room temperature or cold.
Salt
Apple cider vinegar – it keeps the orange color of the lentils after cooking.
Baking soda – this is not used as a raising agent in this recipe. It, in fact, removes any pesticides or herbicides from the red lentils. It also helps to soften the lentils making them easier to blend.
Garlic powder – red lentil flatbreads are pretty bland in flavor so this enhances the flavor of the tortillas. Other additions are turmeric powder, curry powder, or onion powder.
Choice of red lentils – red split versus whole red lentils
There are two types of red lentils available at the grocery store:
Split red lentils have the seed coat removed, and they naturally split in half. It means they don't require as much soaking time to make lentils flatbread, and they cook faster in curry or sauce like in my red lentil pasta recipe.
Whole red lentils are brownish-red and still have their skin. Consequently, they are tougher, and you must soak the lentils overnight if you use this variety for this recipe.
Clean red split lentils
First, bring the red split lentils into a sieve and rinse well under clean cold water to remove any dust or impurities. Bean plants grow on soil, so it's always better to wash lentils to remove dust, inspect them and identify any small stones that could hide in them. Drain the lentils and place them in the jug of your high-speed blender.
Soak 4 hours or overnight
Next, place all the remaining ingredients into the high-speed blender's jug and soak for 4 hours. This gives some time for the red lentils to soften.
Blend on high-speed
Then, close the lid of the blender's jug and process at very high speed – about 7 on a Kitchen aid blender. You must blend the mixture for up to 1 minute, stopping if needed to scrape the sides of the bowl and repeat until it forms a smooth batter, thick as pancake batter.
Rest 10 minutes
Finally, rest the batter for 10 minutes before cooking to give the plant-based protein some time to react with the liquid. This step makes the batter easier to cook and prevents the flatbread from breading.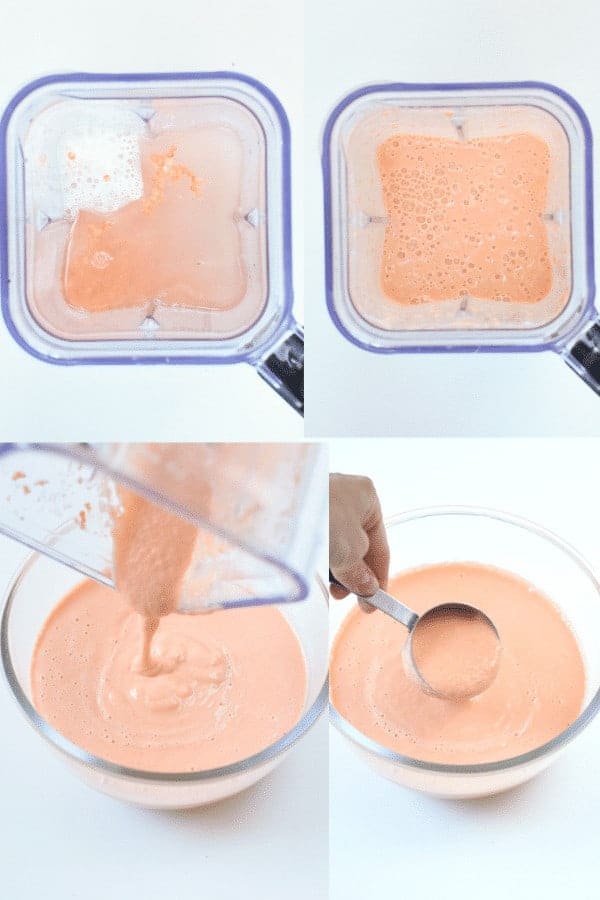 Cook in a non-stick oiled pan
Cook the flatbread in an oiled non-stick pan under medium heat for 2 minutes on one side. Then, flip and cook for 1 more minute on the other side. Note that this is very important to re-oil the pan between each flatbread, or the batter would stick easily to the pan.
Spreading the batter in a circular motion
You can't spread red lentil tortilla batter by tilting the pan! This breaks the tortillas. Instead, you should use the back of a measuring cup or the back of a spoon and spread the batter from the center to the outside in a circular motion, as seen in the pictures below.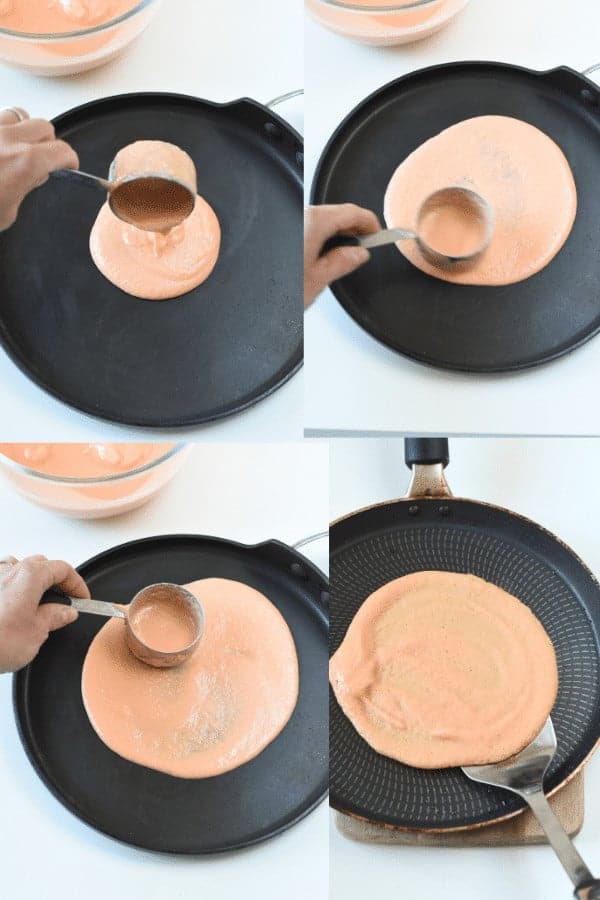 Cool and repeat
Cool the flatbread on a cooling rack or a plate while cooking the remaining batter.
For a step-by-step guide on this recipe, watch my story: making the High-Protein Red Lentil Tortillas.
Troubleshooting red lentil flatbread
Why is my batter gritty?
This can happen for three reasons if you didn't:
Blend the mixture at high speed for long enough.
Use a high-speed blender – your blender power is too low to break the lentils into a smooth batter.
Add enough water, and the blender blade struggled to blend the lentils into the water. Add more water, up to 3 tablespoons.

Why is my red lentil flatbread breaking in the pan?
That's the most common problem with red lentils tortillas: they can break into the pan when spreading the batter.
The main reasons are that:
You didn't grease the pan enough with olive oil.
Used a frying pan and not a non-stick pan.
Didn't spread the batter gently using the back of a spoon with a circular motion. Tilting the pan breaks these tortillas. It's not the right method to spread them.
Poured more than a 1/4 cup of batter! This lentil flatbread recipe works better if you spread a small amount of batter, and more than 1/4 cup of batter would make the batter much more fragile.
To fix this problem, you can also add 1-2 tablespoons of all-purpose flour into your batter to make it easier to work with.
Can I make this recipe in a food processor?
No, you must use a high-speed blender, or the lentils will never turn into a smooth batter.
How to make the recipe using whole red lentils?
If you want to use whole red lentils, make the recipe ahead by combining all ingredients in a bowl and soak overnight. The next day, blend the ingredients and add up to 1/4 cup extra water to achieve the same consistency.
More vegan, gluten-free tortilla recipes
I love to create vegan, gluten-free tortilla recipes to wrap food or as a side to dishes. Below are my most favorite vegan tortilla recipes, including keto, paleo options:
Made these split red lentil flatbreads? What about trying my lentil taco meat recipe to fill them and make a complete vegan protein meal. Share a comment with m below. I love to hear your feedback on my recipes.
Your friend, Carine