These Flaxseed Tortillas are easy 2-ingredient gluten-free wraps made from ground flaxseeds and boiled water. They are nutritious, rich in fiber, packed with omega-3 fatty acids, and very soft and flexible to work as a swap to regular flatbread.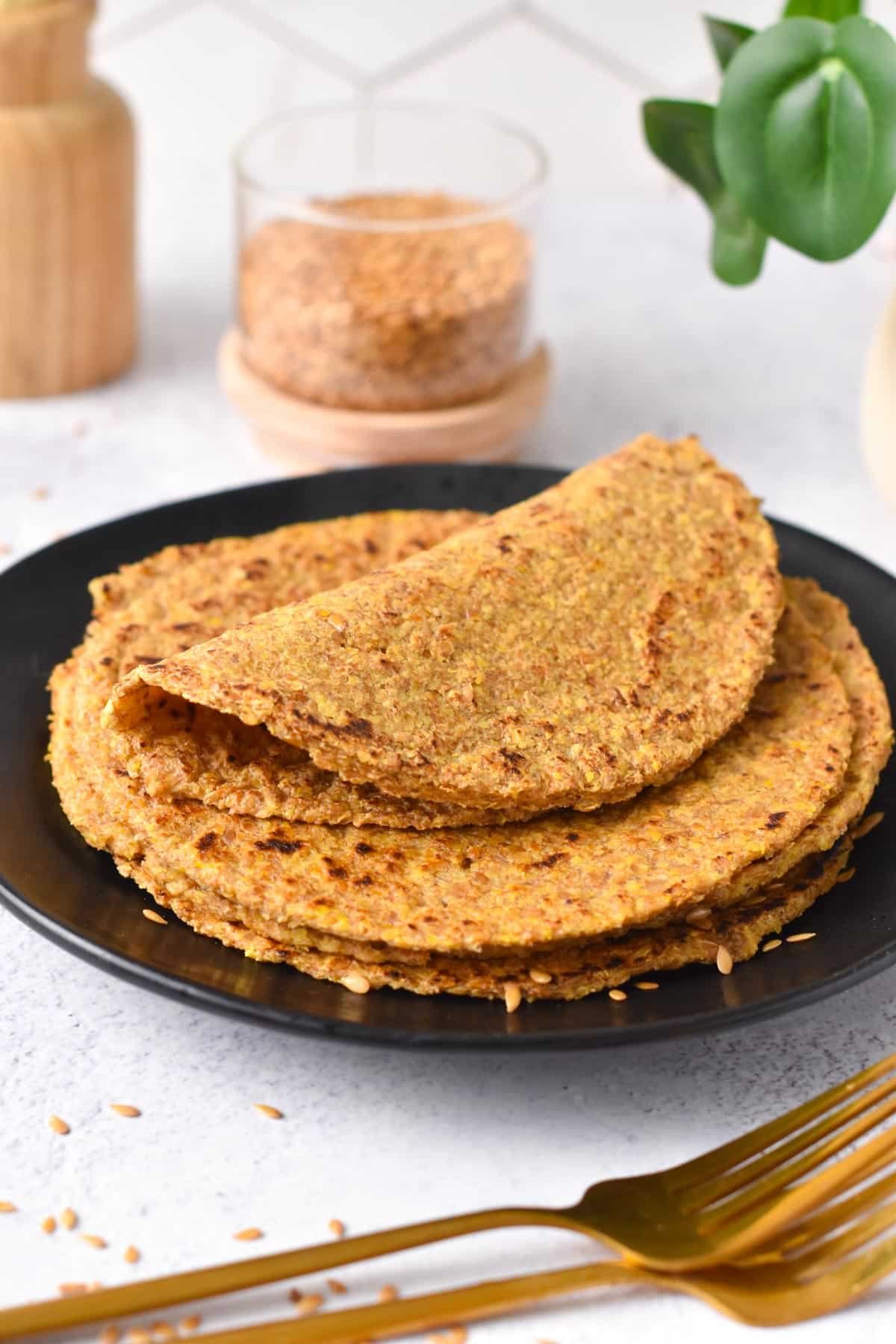 I love baking healthier version of my favorite food. And when I don't make my 2-ingredient flatbread with flour, I like to use flaxseeds to make vegan low-carb tortillas for lunch.
You will love these wraps if you are after a vegan tortillas that is also:
Paleo
Keto
Low-Carb
Dairy-Free
How To Make Flaxseed Tortillas
The recipe is very easy to make, although it requires a bit of practice, patience, and technique because the seeds are so high in fiber, and the texture of the dough is very sticky and challenging to roll.
Keep reading to get all my tips and tricks to make perfect flaxseed wraps.
Ingredients
All you need to make these 2-ingredient flaxseeds tortillas are: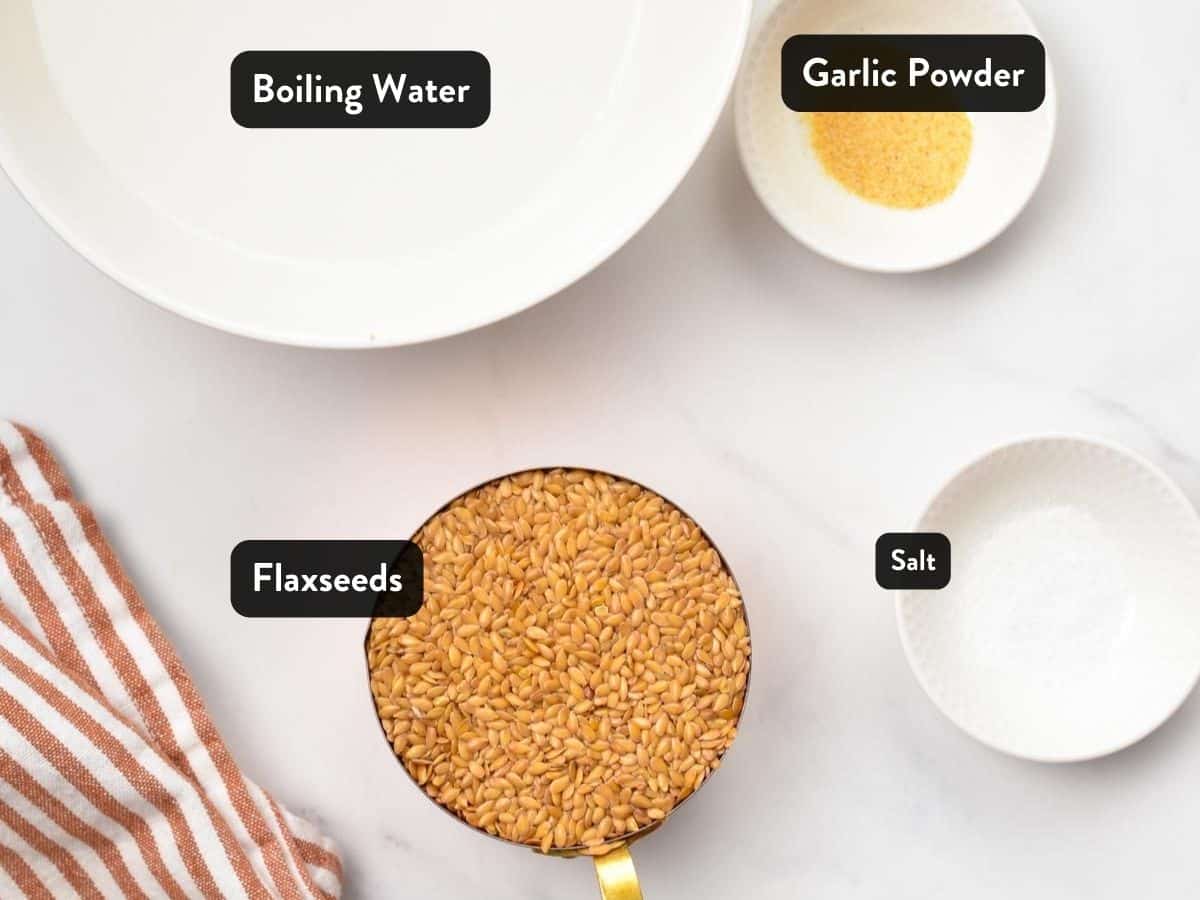 Golden Flaxseeds – You can also use brown flaxseeds but they tend to have a fishy taste and strong bitter flavor. So if you can find golden flaxseed, it's the best option for this recipe.
Boiled Water – Boil water in a kettle or saucepan and use it immediately. Don't let it cool down, or the dough will stay sticky.
Optional – You can add salt, garlic powder, spices, or dried herbs to the boiled water to flavor the flaxseed wraps.
Grind Flaxseeds
First, place the flaxseeds in a high-speed blender. Blend on high speed – use the maximum speed of your Vitamix and blend until all the flaxseeds are grounded into a fine flaxseed meal.
Adjust Ground
If you don't have a blender, you can grind the seeds in small batches with a coffee grinder.
However, a food processor wont be able to finely ground the flax seeds into a thin powder, it's not strong enough and it will leave bits and pieces of seeds.
Boil Water
Boil water in a non-stick medium size saucepan – the dough is going to stick to the pan, so it must have a strong non-stick coating.
I also recommend adding salt, and garlic powder to the boiling water now if you want to add flavors to the tortillas.
Cook Flaxseeds
Pour the ground flaxseed into the pan, bring the saucepan over medium heat, and stir constantly with a wooden spoon.
The ground flaxseeds absorb the liquid gradually, forming a sticky paste, then turning into a ball that comes together nicely. It takes a good 2-3 minutes of cooking to form the dough.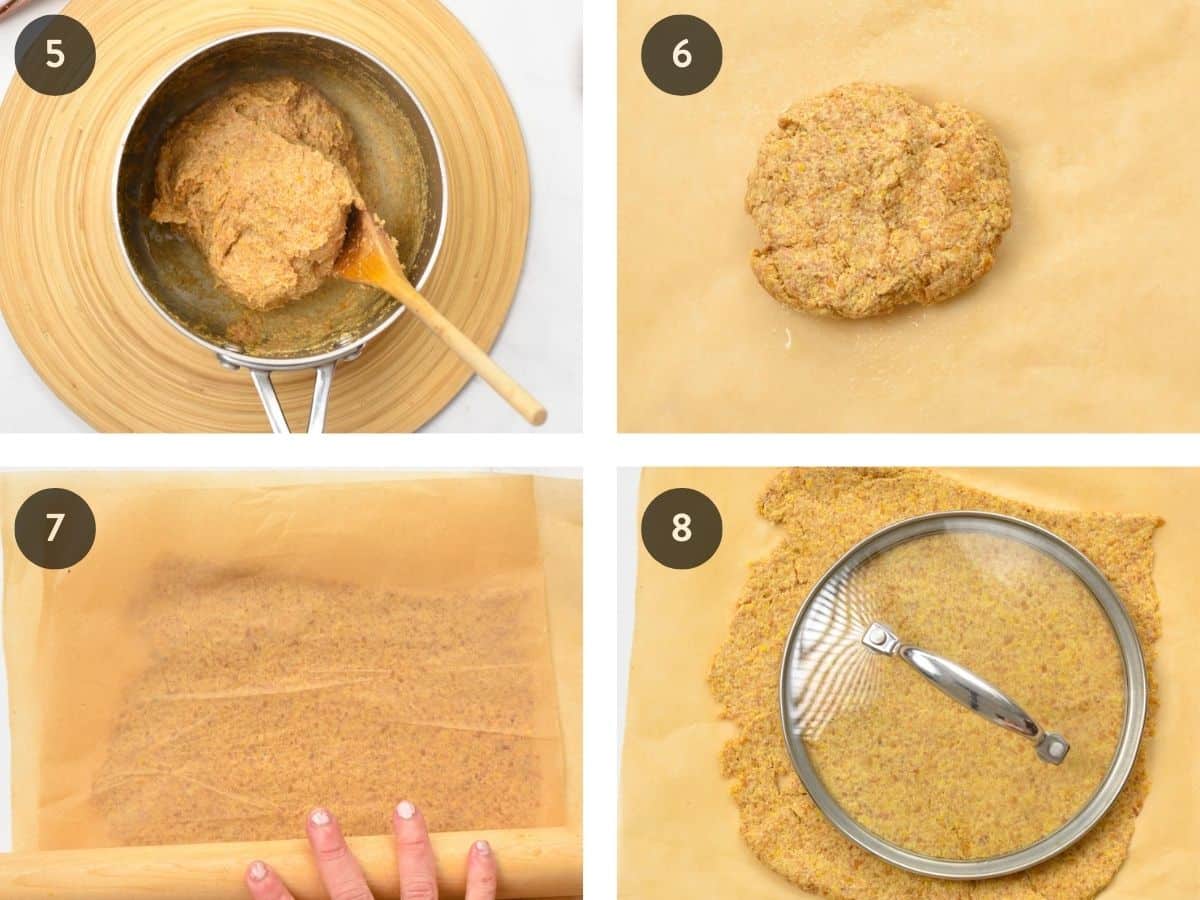 Transfer The Dough
Transfer the dough ball into a microwave safe glass bowl. If too sticky, you can also microwave at 900W for 1 to 2 minutes to evaporate the extra water from the dough.
Cooling
Cool down in the bowl, in the refrigerator for 10 to 12 minutes or until you can easily touch and knead the dough.
Rolling Wraps
Since the dough is sticky, you must roll the dough between two pieces of parchment paper. Cut two pieces of the same length and place about half the flaxseed dough in the center of the parchment paper.
Then, press another piece of parchment paper on top. Finally, roll the dough with a rolling pin into thin tortillas.
Cutting Into Shape
Peel off the top sheets of parchment paper. Place a saucepan lid on top of the rolled dough.
Use a knife to cut out around the lid and reuse the pieces of dough around to reform a dough ball and roll into another tortilla.
Cooking The Tortillas
Warm a non-stick pan over medium-high high, flip the rolled tortillas on top of the warm pan and peel off the parchment paper to release the tortillas on the pan.
Cook for 2 to 3 minutes on both sides until brown, dark dots form on the tortillas and the wraps are cooked.
Serving
You can use these flaxseed wraps as a swap to any corn tortillas, flour tortillas to make: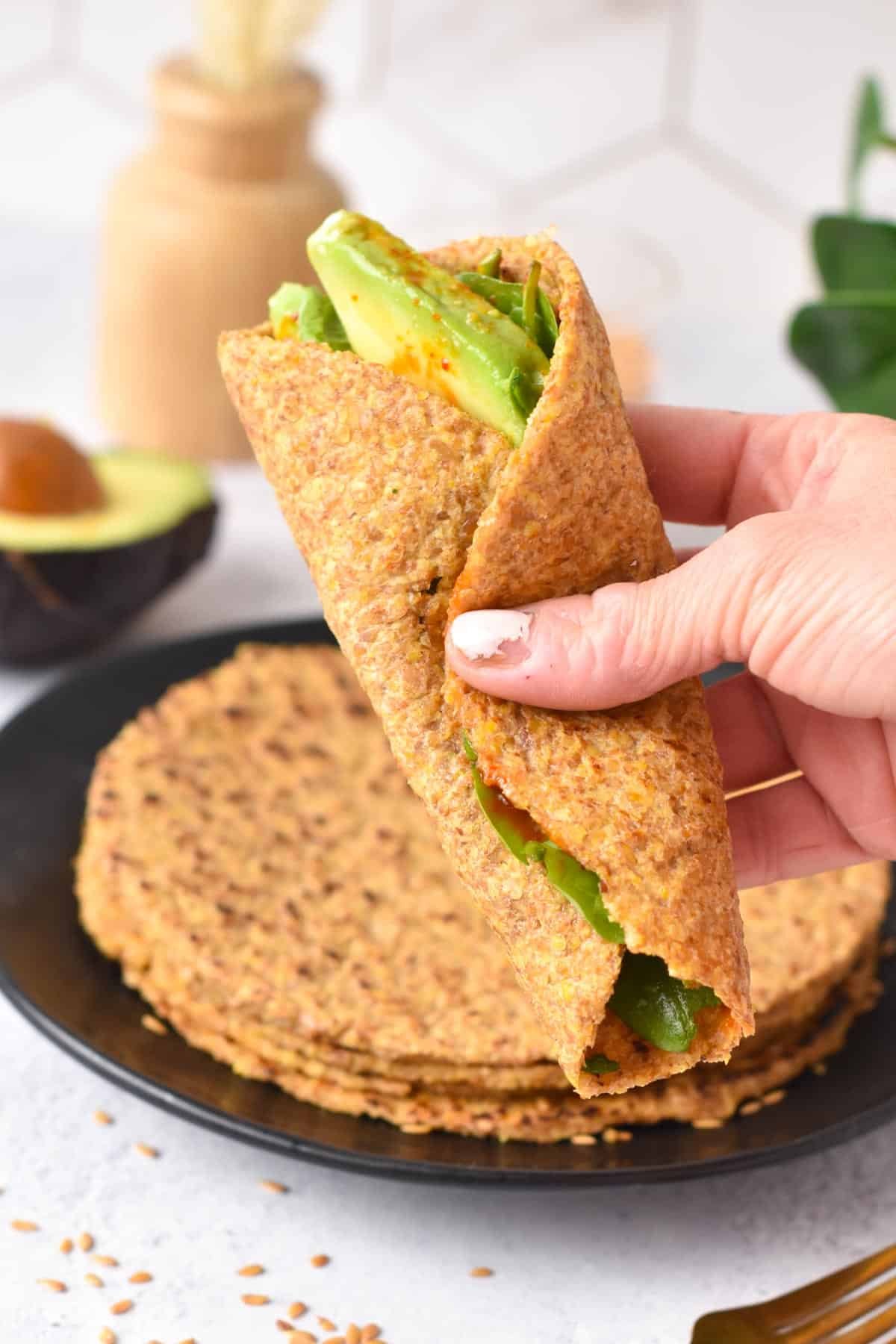 Storage Instructions
The tortillas store very well on a plate, wrapped with a piece of foil and placed in the fridge for up to 4 to 5 days.
You can also double the recipe and freeze the tortillas for up to one month. Thaw the day before using.
Frequently Asked Questions
Below are my answers to your common questions about this flaxseed wrap recipe.
Can I Use Other Seeds Than Flaxseeds?
No, this recipe works only with flaxseeds. It won't work with chia seeds, sunflower seeds, or pumpkin seeds.
Flaxseeds have an exceptional amount of fiber that binds with the water to form soft, pliable wraps from just two ingredients.
Why Is The Dough Too Sticky?
It can be that you didn't blend the seeds into an ultra-fine flax meal, or your water wasn't hot enough. The reaction of both is what matters.
To fix a too-sticky dough, you can sprinkle extra flax meal, stir and cook on low-medium heat until the dough comes together into a soft ball.
Can I Use Brown Flaxseeds?
Yes, brown whole flaxseed works for this recipe, but it has a bitter fishy flavor you may not enjoy.
Are Flaxseeds Low Carb?
Yes, flaxseeds are grain-free, low-carb, and keto-friendly and perfect for making wraps, tortillas, or bread with less than 1 gram of net carbs per serving.
More Flatbread Recipes
If you like this recipe, you'll love these other flatbread and wraps: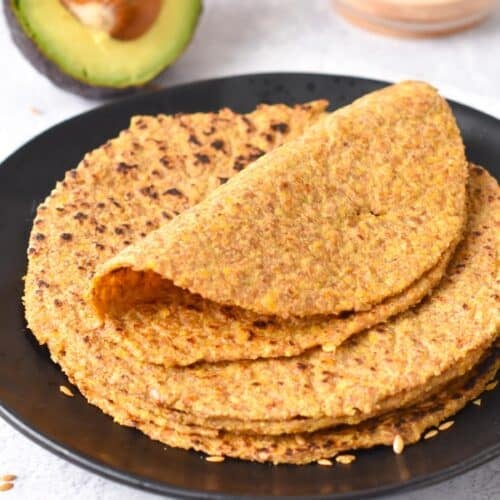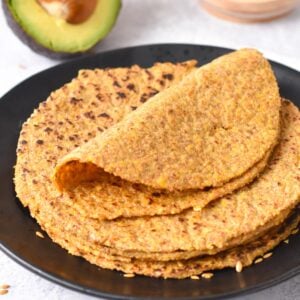 Flaxseed Tortillas
These Flaxseed tortillas are easy 2-ingredient gluten-free wraps made from ground flaxseeds and boiled water.
Pin
Print
Review
Servings: 6 tortillas
Calories: 150.3 kcal
Instructions
In a high-speed blender, add the golden flaxseeds and blend them on high speed until it forms an ultra-fine flax meal.

In a non-stick saucepan, bring the water to a boil, reduce to low boil, stir in the spices if used.

Pour the ground flaxseeds into the boiling water and stir with a wooden spoon or silicone spatula until the flaxseeds absorb the water and turn into a lightly sticky dough ball (note 1). It takes about 2-4 minutes to cook the dough on low heat, stirring until it dries out and forms a soft, easy-to-knead dough.

Transfer to a glass bowl, cool down for 10 minutes in the fridge before rolling.

Cover the kitchen benchtop with a large piece of parchment paper, place half the dough in the center, and press another large piece of parchment paper on top of the dough.

Start rolling with a rolling pin, the dough might split into pieces, and that's normal. Peel off the top piece of parchment paper, patch back the pieces that split like playdough, and roll again between the two pieces of parchment paper.

Roll until it's as thin as regular tortillas, peel off the top piece of parchment paper, and run a knife around the pan lid to draw/cut out nice round tortillas.

Warm a non-stick pan over medium-high heat. Flip the tortillas over in the warm pan and peel off the paper to release on the pan.

Cook for 2-3 minutes on both sides or until dry and cooked.

Reuse the leftover dough to reform a dough ball and roll more tortillas.

Fill with your favorite tortilla fillings such as avocado, lettuce, tomatoes, and cooked Mexican beans.
Storage
Store in the fridge up to 4-5 days in a plate covered wit a piece of foil.
Notes
Note 1: If the dough is ultra-sticky, try sprinkling extra ground flaxseeds to absorb the excess water. You can also place the dough in a microwave-safe glass bowl and microwave it for 1 minute to evaporate the water.
Share on Facebook
Pin Recipe
Nutrition
Serving: 1tortilla | Calories: 150.3kcal | Carbohydrates: 8.3g | Protein: 5.2g | Fat: 11.8g | Saturated Fat: 1g | Polyunsaturated Fat: 8g | Monounsaturated Fat: 2.1g | Sodium: 107.4mg | Potassium: 230.6mg | Fiber: 7.7g | Sugar: 0.4g | Vitamin C: 0.2mg | Calcium: 72.8mg | Iron: 1.6mg | Magnesium: 110.3mg | Phosphorus: 180.8mg | Zinc: 1.2mg