An easy, fluffy 2-ingredient Flatbread recipe perfect as a side dish to curry or to wrap food for lunch.
Bonus, these flatbreads are also dairy-free, egg-free, and vegan approved.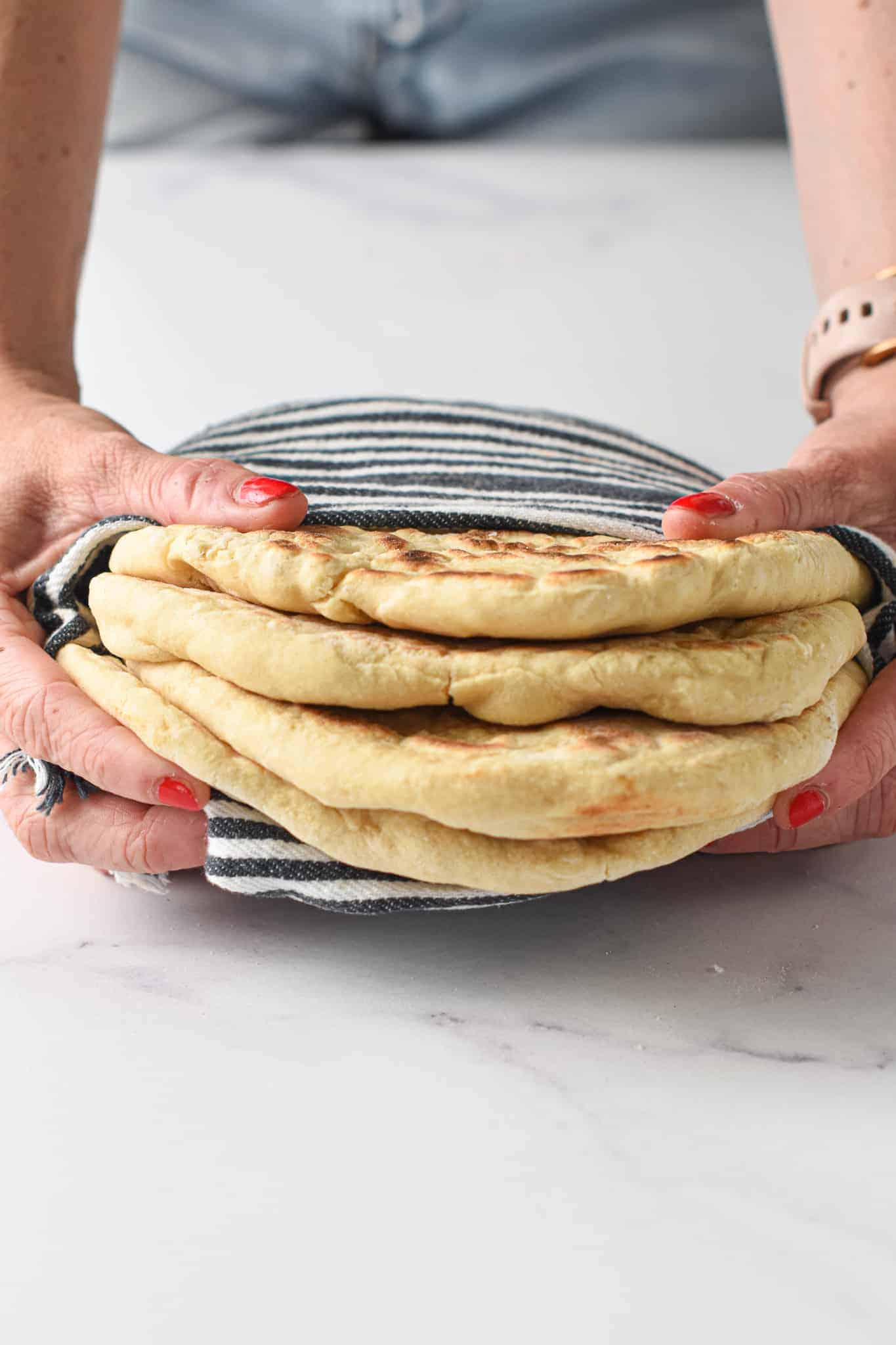 Most authentic homemade flatbread recipes are pretty simple but often include ingredients like yeast, sour cream, yogurt, or oil.
This is probably the easiest flatbread recipe, made with only 2 ingredients and no oil, no dairy but packed with calcium and proteins!
How To Make 2-Ingredient Flatbread
You know how much I love easy vegan recipes! Kids can contribute to making them, and they are so convenient for busy families looking for homemade vegan dinners.
Ingredients
To make these flatbreads with 2 ingredients, you need:
Self-Rising Flour – I guess a gluten-free flour blend would work if you add 1 teaspoon of baking powder per cup.
Plant-Based Milk of Choice – I like high-protein dairy-free milk that makes the flatbreads fluffier. I am using calcium-fortified soy milk to keep the recipe high in nutrients for the family. You can use oat milk or protein almond milk with similar results.
Making The Flatbread Dough
In a large mixing bowl, add flour, a pinch of salt, or spices if you want to, but totally optional.
Then, pour the milk and stir with a silicone spatula or wooden spoon or the hook attachment of a stand mixer until the dough is sticky and well combined.
Add more flour from 1/4 cup to 1/2 cup until the dough is easy to shape into a ball and less sticky.
Don't saturate the dough with flour. It must stay soft, a bit sticky, but still easy to shape into balls and roll.
Resting The Dough
This is optional, but the dough softens and makes fluffier flatbread after resting.
Place the ball of dough in a lightly oiled bowl, cover with a towel, and set the dough aside for 20 minutes or 30 minutes max, at room temperature.
Rolling The Dough
Divide the dough into 4 balls to make large thick flatbread or 6 balls for smaller thinner flatbread.
Roll each dough ball on a floured surface with a rolling pin, keeping each flatbread slightly thick to make it fluffy.
Cooking Flatbreads
The trick to cooking delicious flatbread is to use a hot non-stick pan or cast-iron skillet with barely any oil.
Obviously, if your pan tends to stick to food, you can rub some oil on the surface.
However, don't pour lots of oil into the pan, or it will fry the bread.
Instead, use a piece of kitchen paper towel that you dip into oil and then rub the pan surface to lightly coat.
This prevents sticking issues during cooking.
Warm the pan over medium-high heat for a few minutes.
Cover with a lid
Then, place the rolled flatbread into the hot pan. Cover with a lid – that makes all the difference – it makes the bread rise and fluff even more.
When bubbles start to form on the flatbread, uncover and slide a spatula under the bread.
Flip on the other side and keep cooking for a few minutes, uncovered, until golden brown.
Place the cooked bread on a cooling rack while cooking the remaining dough.
Storage
Store the flatbread wrapped in a towel at room temperature for 24 hours or up to 3 days in the fridge. The towel is the best to keep the flatbread soft and moist.
Rewarm the flatbread in a hot non-stick pan or in a toaster oven for about a minute.
You can also freeze the flatbread wrapped in a piece of plastic wrap and thaw at room temperature the day before.
Also, you can make ahead the flatbread dough, store it in the fridge or freeze it for later.
Thaw in the fridge before using.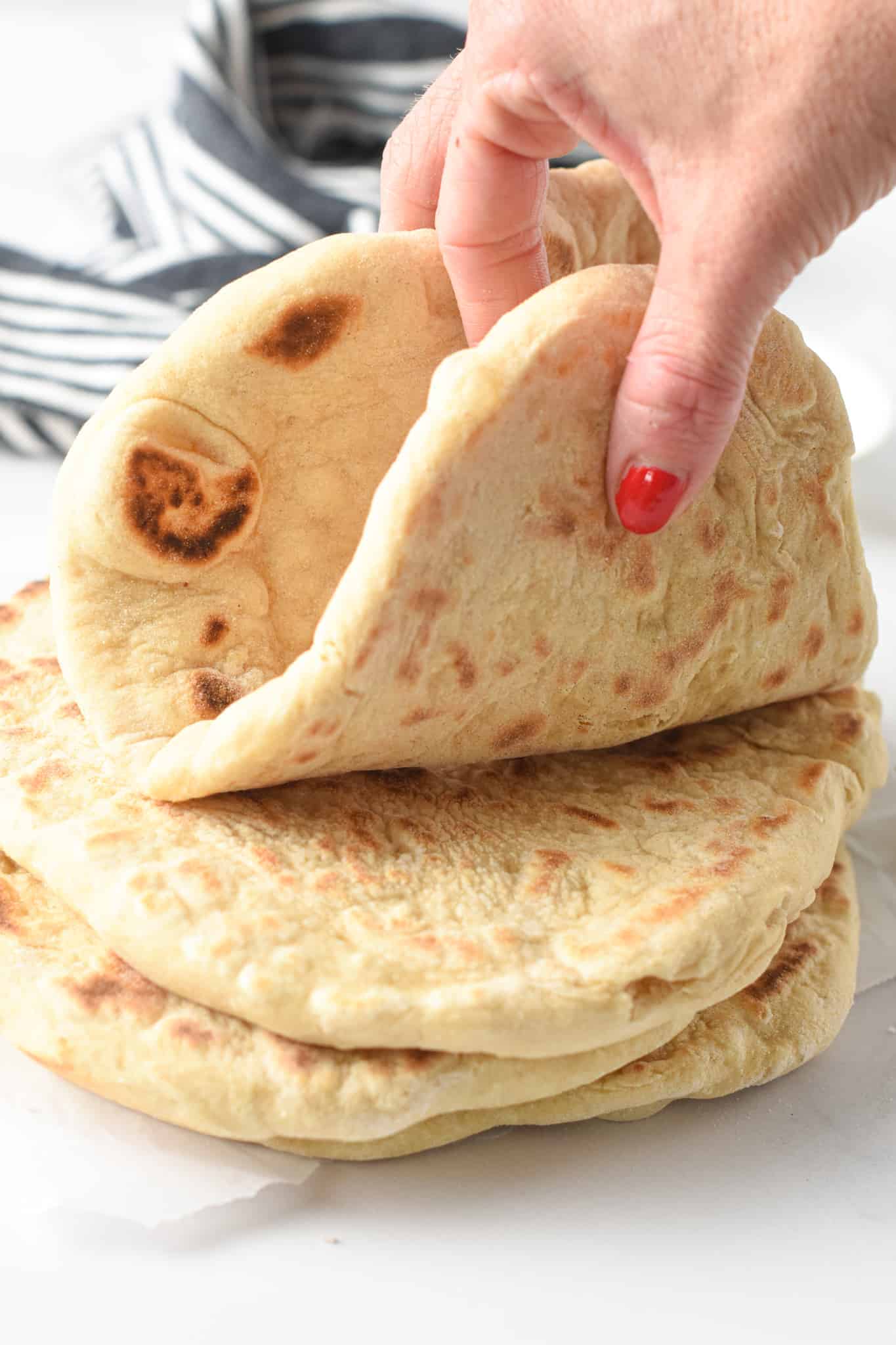 Serving
You can serve these flatbreads as a side to a curry, or soup, or to make a quick lunch wrap filled with falafel or vegetables.
Here are my favorite pairings:
Frequently Asked Questions
Below I listed the answers to your most frequent questions about this recipe.
Can I Use Yogurt Instead Of Milk?
Yes, the recipe should work well with plain coconut yogurt, including dairy-free Greek-style yogurt varieties made from oat milk or almond milk.
How To Make Self-rising Flour At Home?
If you don't have self-rising flour at home, you can make yours by combining 2 cups of all-purpose flour with 3 teaspoons of baking powder.
In fact, self-rising flour is made with regular wheat flour and baking powder in a ratio of 1 cup of flour per 1 1/2 teaspoon of baking powder.
Can I Add Flavors To The Flatbread?
Absolutely, you can stir 1 teaspoon of pieces of 1/2 teaspoon of salt or garlic salt in the flour before adding the milk to flavor the flatbread.
The best spices are turmeric, paprika, cumin, or Italian dried herbs
Other Easy Bread Recipes
If you've enjoyed this recipe, you'll love these:
Have you made these 2-Ingredients Flatbreads? Share a comment or review below to connect with me,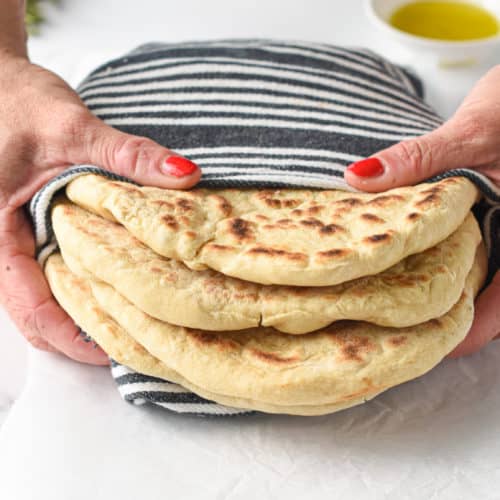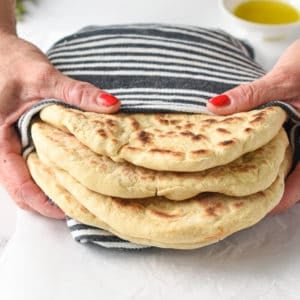 2-Ingredient Flatbread
This easy flatbread recipe is made with 2 ingredients, no yogurt, no oil needed.
Pin
Print
Review
Servings: 6 5-inch flatbreads
Calories: 168.1 kcal
Instructions
In a mixing bowl, using a wooden spoon, stir flour and soy milk until a sticky dough forms.

Gradually add the extra flour – I usually add up to 1/3 cup, adding one tablespoon at a time and stirring between each addition. When it becomes difficult to stir with a spoon, oil your hands and knead the dough. The dough is ready when it is still soft, elastic a bit sticky but easy to form into a ball.

Grease a mixing bowl, place the dough ball in the center, cover it with a towel and let it rest for 20 minutes at room temperature. This step is optional, but it makes the flatbread fluffier.

Place the dough on a floured surface and divide it into 4 dough balls for larger flatbreads or 6 balls for smaller 5-inch flatbreads.

Flatten each dough ball with the palm of your hands, then use a rolling pin to roll the dough as thin as you like. The thinner, the less flexible and soft the flatbread will be.

Warm a cast-iron skillet, or non-stick pan over medium-high heat. Use a paper towel to rub olive oil all over the surface and prevent flatbreads from sticking to it.

Place the rolled flatbread in the hot pan, cover with a lid and cook for 1-2 minutes or until the surface shows bubbles and the bottom of the bread turns golden brown.

Flip on the other side and keep cooking for an extra 1-2 minutes or until cooked through.

Cool on a wire rack while cooking the remaining flatbreads.
Storage
Store the flatbreads wrapped in a kitchen towel to keep them moist. They can last 24 hours at room temperature, 3 days in the fridge, or 3 months in an airtight container in the freezer.
Notes
Note 1: To make your own self-rising flour, combine 2 cups of all-purpose flour with 3 teaspoons of baking powder. Note 2 (Soy milk swaps): any high-protein milk makes fluffy 2-ingredient flatbreads. Oat milk or protein-fortified almond milk are great swaps. Otherwise, use coconut yogurt. Low-protein milk like regular unsweetened almond milk makes the flatbread crispier.
Share on Facebook
Pin Recipe
Nutrition
Serving: 1flatbread (7″) | Calories: 168.1kcal | Carbohydrates: 31.6g | Protein: 6.1g | Fat: 1.5g | Saturated Fat: 0.2g | Polyunsaturated Fat: 0.8g | Monounsaturated Fat: 0.2g | Sodium: 214.3mg | Potassium: 97.2mg | Fiber: 1.2g | Sugar: 1.1g | Vitamin A: 155.4IU | Vitamin B12: 0.4µg | Vitamin C: 2.8mg | Vitamin D: 0.5µg | Calcium: 61.4mg | Iron: 0.6mg | Magnesium: 10.4mg | Phosphorus: 40.4mg | Zinc: 0.4mg