Zucchini Potato Soup (Dairy-free, Vegan)
A velvety zucchini potato soup packed with nutrients, and vitamins, and delicious as a light, comforting Fall dinner.
Bonus, this is a vegan zucchini soup recipe made without dairy or butter.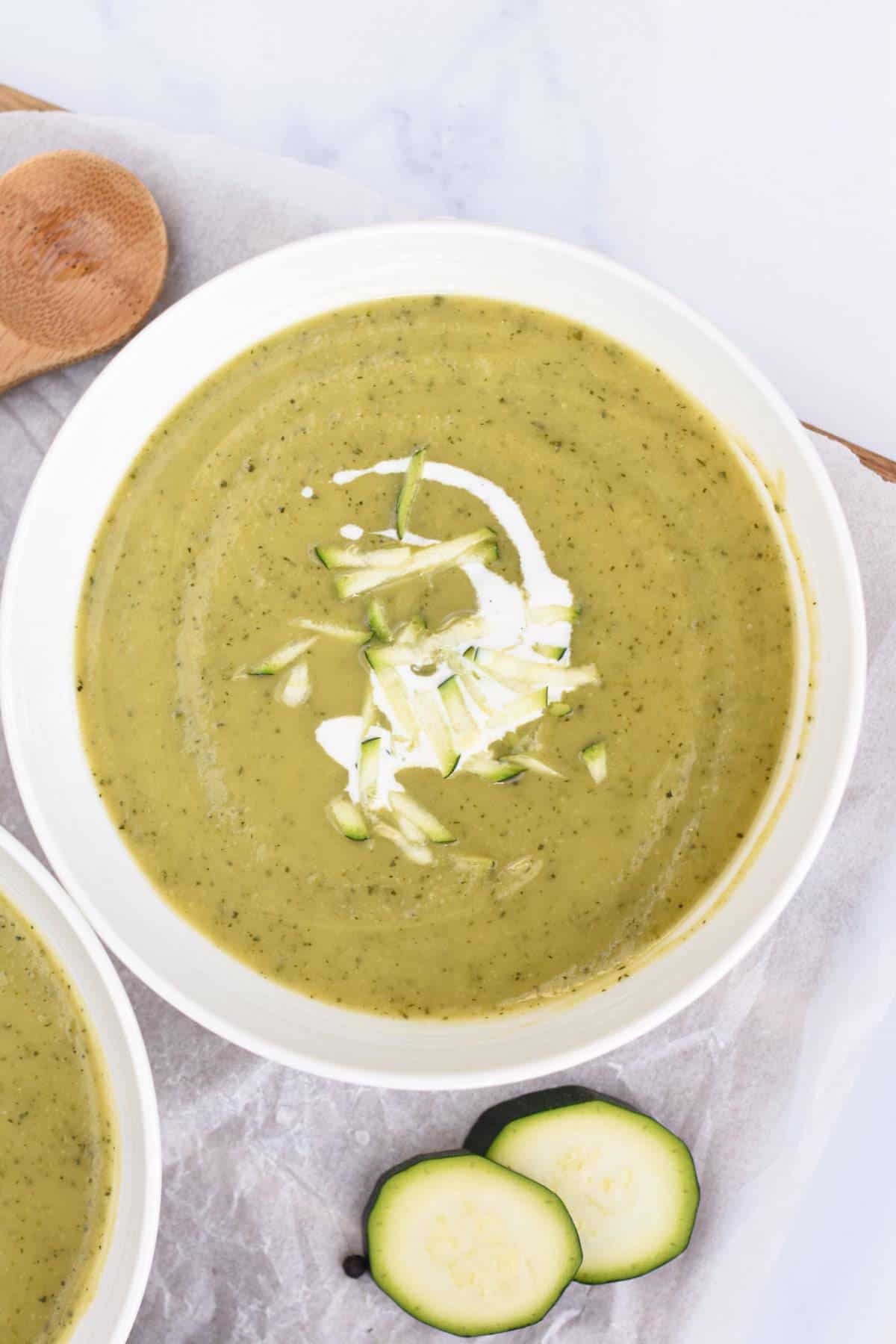 How To Make Zucchini Potato Soup
Zucchini soup is great to use summer garden zucchinis but let me introduce you to a much better version: a zucchini potato soup!
Potatoes marry perfectly with zucchinis, creating just the right balance of creaminess and velvety texture.
Plus, potatoes are packed with plant-based iron, which makes this soup extremely nourishing on a plant-based diet.
Ingredients
Extra virgin olive oil or any oil you love, like canola oil or avocado oil.
Yellow onion – finely chopped yellow or brown onion. Both taste great in this soup.
Garlic cloves – peeled and crushed.
Zucchini – keep the zucchini skin on to add nutrients and vitamins into the soup. Trim the ends and slice into a 1/4-inch half-moon shape.
Potato – you can use white or red potatoes. Red potatoes are higher in starch and make the soup more velvety and thick. Choose the potato variety you love based on your favorite soup texture. There's also a low-carb potato variety available called lotatoes that is great to make a low-carb zucchini potato soup. The soup is less velvety with this option but still delicious.
Vegetable broth
Salt and black pepper
Coconut cream or soy cream to serve.
Prepare and weigh vegetables
The first thing to do is to prepare the vegetables and to weigh your potatoes and zucchinis.
This is very important because if you add too many potatoes, the soup can be very thick, and on the contrary, the soup is too thin if too few potatoes are added.
Which kind of potatoes for zucchini potato soup?
Most recipes recommend a waxy, low-starch potato to make soup, also called boiling potatoes. This is a great option for most soup recipes.
But when it comes to zucchini potato soup, I recommend using the opposite!
Yes, a starchy potato variety is the best for a potato zucchini soup because zucchini contains 95% water and starchy potatoes add the best creamy texture to balance the water from zucchinis.
These potatoes have thicker skin and are higher in starch and lower in moisture.
These potatoes release a milky, starchy white liquid in the soup that thickens this zucchini soup just as needed to make a delicious cream of zucchini without dairy.
But then it really depends on everyone's taste buds, so for a zucchini soup, that is:
Thin and light – use waxy boiling potatoes.
Creamy and velvety – use high-starch potatoes.
If you still want to use waxy potatoes, lower in starch, the soup will be higher in moisture, thinner, and even mushy depending on the potato variety.
So I recommend a starchy potato variety to make a velvety zucchini potato soup.
The best kind of potatoes for creamy, velvety zucchini potato soups are:
Russet
Idaho
Yukon gold potatoes
For a lighter thin soup, use varieties like:
New Potatoes
French fingerling
Red Bliss
Baby potatoes
Chop vegetables
So first, choose the potatoes you want to use for the soup.
Clean under tap water and peel the potatoes. Then, cut the potatoes into cubes of about 1 inch each (2.5 cm). The smaller, the faster the soup cooks!
Then, peel, chop the onions finely, and crush the garlic. Set aside in a bowl.
Finally, trim the ends of the zucchini, keep their skin on, and thinly slice into half-moon shapes of about 1/4 inch thickness (0.6cm).
Weigh the zucchinis to measure 1 kg/2lb. This is very important to achieve the best soup texture.
Cooking The Soup
First, heat the olive oil over medium-high heat in a Dutch oven or large saucepan. Then, add chopped onion and garlic.
Cook for about 5 minutes or until fragrant and lighter in color, almost translucent.
Then, stir in the chopped zucchinis and potatoes and cook, often stirring for about 5-7 minutes until the vegetables are slightly roasted.
Finally, cover the vegetable with vegetable broth and bring to a boil.
Then, reduce to medium-low heat and cover the saucepan with a lid. Simmer for 15 minutes to 20 minutes or until the vegetables are fork-tender.
Then, remove the saucepan from the heat and blend the soup with an immersion blender until smooth.
You can also blend the soup in a food processor or blender if it can handle hot liquid.
Adjust with salt and pepper and serve hot with some coconut cream with an extra smooth and creamy texture.
Serving ideas
Serve this zucchini potato soup in shallow soup bowls with some of the dairy-free toppings below:
Raw shredded zucchini for texture
Cream – coconut cream or soy cream
Vegan Parmesan
Pumpkin seeds
Croutons – toast bread slices and fry in garlic-infused olive oil.
Storage
This zucchini soup can be stored for up to 4 days in the fridge in an airtight container.
You can also freeze the soup in glass containers and thaw it in the fridge the day before serving.
Rewarm the soup in a saucepan over medium heat or in the microwave.
More Zucchini Recipes
Below I listed more vegan zucchini recipes for you to try!
Have you made this zucchini potato soup recipe? Share a comment or review below to tell me how much your family loves this soup!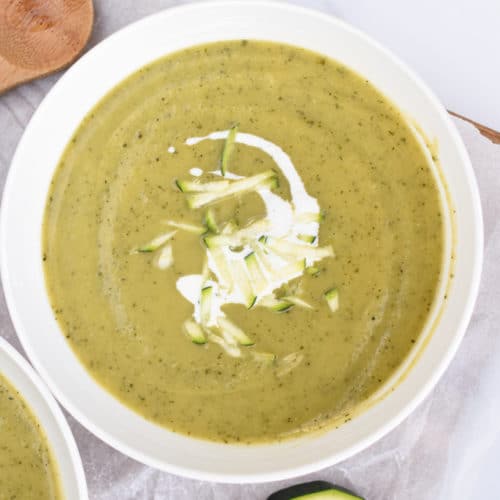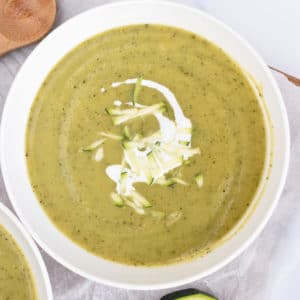 Zucchini Potato Soup
An easy creamy, zucchini potato soup made with no dairy and only simple, wholesome ingredients for a comforting dinner.
Pin
Print
Review
Servings: 8 servings (1 cup)
Calories: 114.9 kcal
Ingredients
Optional – to serve per bowl
1 tablespoon Cream - we used soy cream or coconut cream
Instructions
In a large Dutch Oven cast iron pan or large saucepan, heat olive oil, and cook chopped onion and crushed garlic until fragrant – about 3-4 minutes. Stir often to prevent the onion from cooking too fast.

Meanwhile, peel potatoes and trim zucchini ends – keep the zucchini skin on for additional nutrients.

Dice potatoes into cubes of about 1 inch (2.5cm) and thinly slice zucchinis into a half-moon shape of about 1/4 inches (0.6 cm) thickness.

Place the chopped vegetable into the saucepan, stir and cook for 6-7 minutes until the zucchinis and potatoes are slightly roasted and fragrant.

Pour vegetable stock, cover saucepan with a lid, and bring to boil. Then, reduce to medium/low heat and cook for 15 to 20 minutes or until the vegetables are fork-tender.

Remove saucepan from heat and use an immersion blender to blend the soup. You can also blend in a high-speed blender if your jug can handle hot liquids like the Vitamix brand.

Serve with a drizzle of coconut cream or soy cream for extra creamy smooth texture, or some raw shredded zucchini for extra texture if desired. You can also sprinkle 1 teaspoon vegan parmesan on top of the bowl for a cheesy flavor
Storage
Store the soup in an airtight container in the fridge for up to 4 days or freeze for later. Thaw in the fridge the day before serving. Rewarm in a saucepan over medium heat.
Share on Facebook
Pin Recipe
Nutrition
Serving: 1Serving (1 cup) | Calories: 114.9kcal | Carbohydrates: 17g | Protein: 2.8g | Fat: 4.6g | Saturated Fat: 1g | Polyunsaturated Fat: 0.5g | Monounsaturated Fat: 2.8g | Cholesterol: 2.6mg | Sodium: 702.2mg | Potassium: 566.8mg | Fiber: 2.7g | Sugar: 5.1g | Vitamin A: 510.1IU | Vitamin B12: 0.1µg | Vitamin C: 33.3mg | Vitamin D: 0.1µg | Calcium: 32mg | Iron: 0.9mg | Magnesium: 35.7mg | Phosphorus: 83.2mg | Zinc: 0.6mg