An easy vegan zucchini fritter recipe with a crispy texture, cheesy flavor, and delicious as a side dish or light dinner. Bonus, this recipe has a gluten-free option!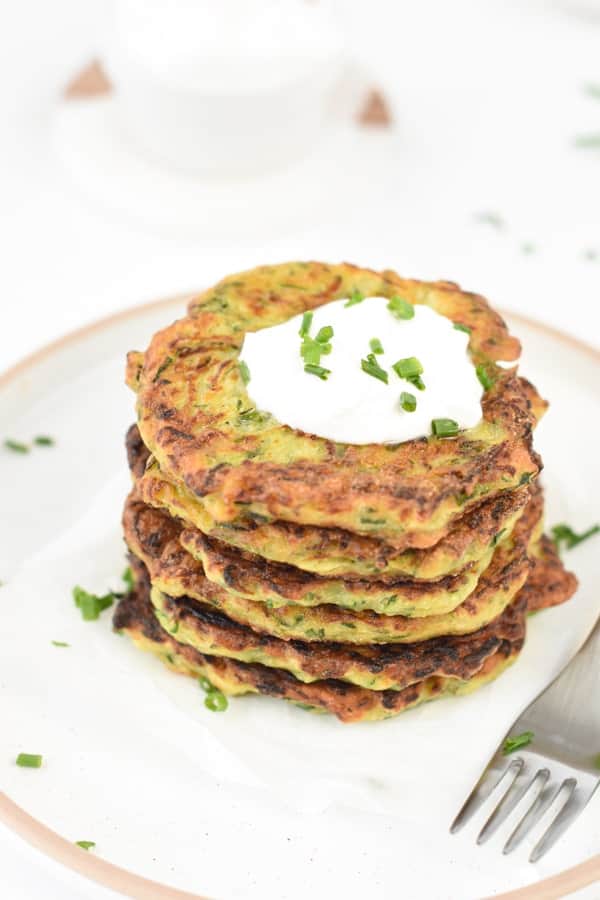 Are Classic Zucchini Fritters Vegan?
No, a classic zucchini fritter recipe is made with eggs, milk, and cheese.
Therefore, it's not vegan-friendly.
If you want to make vegan zucchini fritters, you need to have a dedicated recipe, like the one below!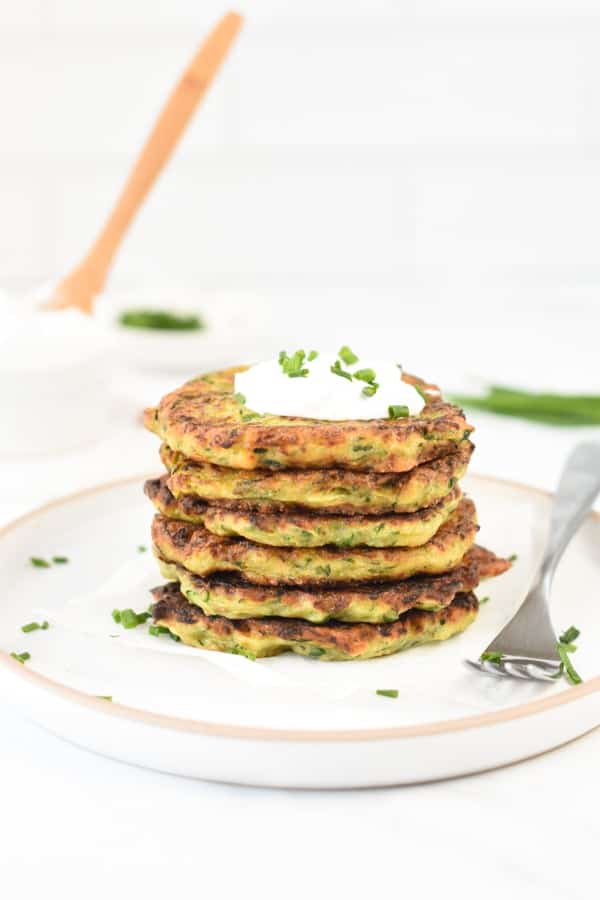 How To Make Vegan Zucchini Fritters
Luckily it's very easy to whip a batch of zucchini fritters for a quick, light summer dinner.
Vegan Zucchini Fritters Ingredients
First, select the ingredients below to start this easy vegan recipe:
Shredded Zucchinis – choose fresh, firm zucchinis with skin on it to add fiber to your meal.
Flour – you can use all-purpose flour, spelt flour, or white whole wheat flour.
Salt and Pepper
Unsweetened Almond Milk or any dairy-free milk you love, like oat milk or soy milk.
Italian Seasonings – or dried basil or dried oregano.
Garlic Powder
Fresh Chives
Baking Powder
Nutritional Yeast – this adds a lovely cheesy flavor to these vegan zucchini fritters to mimic the taste of an authentic fritter recipe. Note that if you skip this ingredient, the batter won't be as thick, and you will have to add 2 tablespoons of flour to achieve the same texture.
Grating The Zucchini
First, wash the fresh zucchini, trim the ends and discard them. Then, use a hand grater or food processor to grate the zucchinis.
It's preferable to use the medium holes of the grater. The ones with a cutting edge on the bottom look like large raindrops.
This size is the best to keep texture in fritters.
Grate the zucchini, measure 3 cups of packed grated zucchinis, and place them in a large mixing bowl.
Sprinkle salt onto the grated zucchini, and toss to bring the salt in contact with all the grated vegetables.
Set aside 10 minutes. The salt makes the zucchinis 'sweat' out their juice.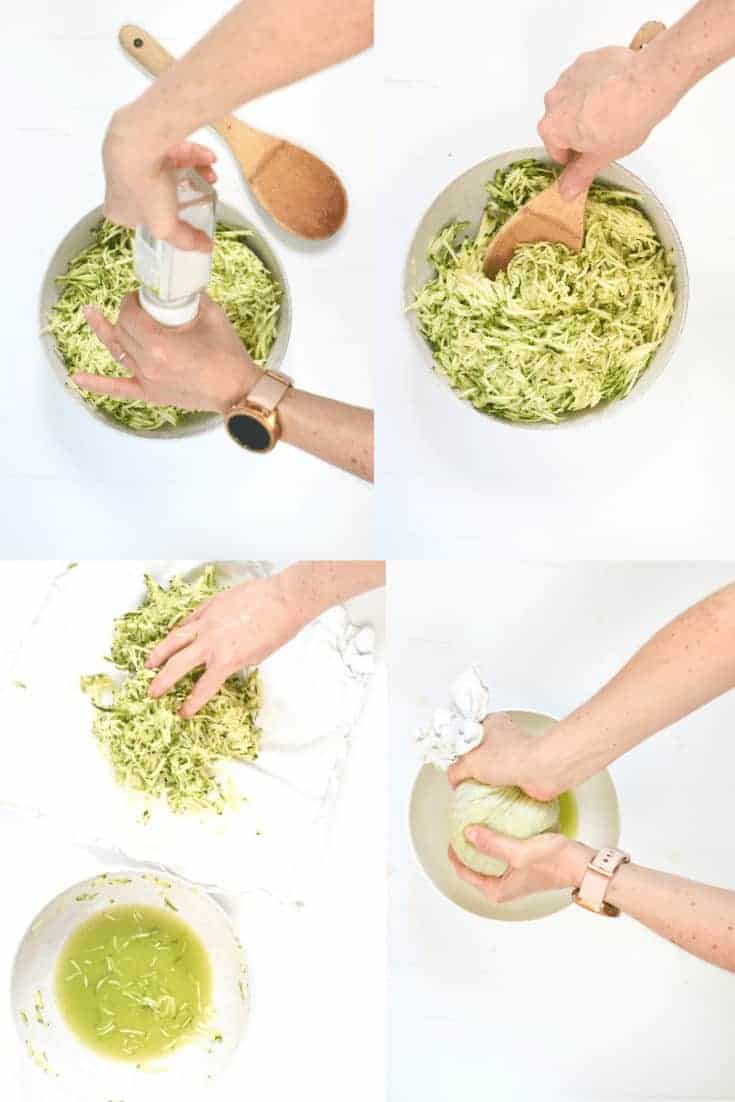 Drain Excess Liquid
After that time, prepare a clean kitchen towel next to your large mixing bowl.
Squeeze out the grated zucchini to remove excess liquid and place it in the center of the kitchen towel.
Fold the towel and turn it, as seen in the pictures below, to squeeze the zucchinis as tight as possible.
A lot of zucchini water will run out, so work above the kitchen sink or a bowl.
When no more water comes out as you squeeze the towel, open the towel and measure the drained zucchini.
You should obtain 1 cup of drain-grated zucchinis. If you have more, set it aside for another recipe.
Combining Ingredients
In a large mixing bowl, combine the flour, plant-based milk, salt, pepper, chives, nutritional yeast, baking powder, Italian seasonings, and garlic powder.
The batter is not too thick, similar to a pancake batter, and that's what you want.
Fold in the squeezed zucchinis until evenly incorporated.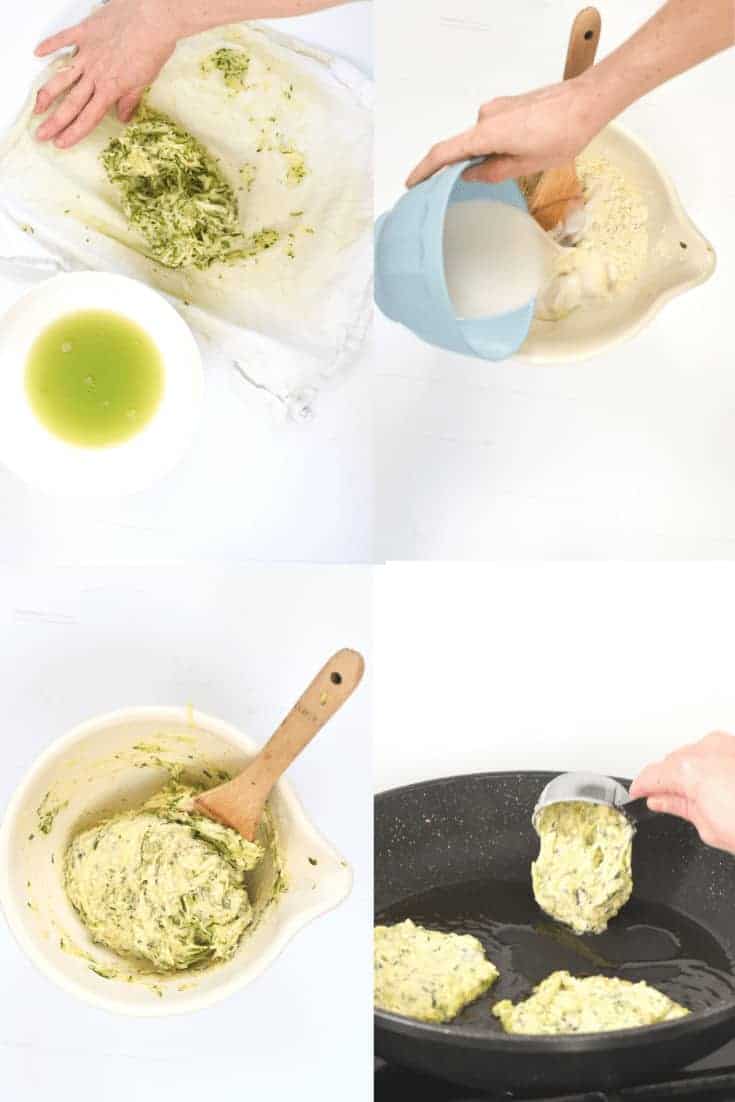 Frying The Batter
Over medium heat, warm 0.2 inches of olive oil or coconut oil into a frying pan.
Then, add 1/4 cup of vegan zucchini fritter batter to the pan, slightly flatten the batter with the back of a fork and fry for 3-4 minutes.
When the sides of the fritters are golden brown and crispy, slide a spatula under the fritter and flip over. Fry for an extra 2 minutes on that side.
Set aside the fried fritters on a plate covered with an absorbent paper towel to soak out the extra oil.
Cover the plate with a piece of foil to keep the cooked fritters warm while frying the other fritters.
Don't fry more than 3 fritters at once, or the oil temperature cools down too fast, and the fritters wouldn't fry properly.
Serving Vegan Zucchini Fritters
You can serve these vegan fritters plain, as a side dish to a curry, or to baked tofu. You can also serve these fritters as a light dinner with some vegan toppings like:
Coconut yogurt
Fresh herbs like green onions or chives
Hummus
Tomato sauce
Sriracha vegan sauce
Storing Vegan Fritters
You can store these vegan zucchini fritters for up to 4 days in an airtight container in the fridge.
You can also freeze your fritters. To do so, place a piece of parchment paper between each fritter to prevent them from sticking to each other.
Rewarming Fritters
You can rewarm fritters in three different ways.
In the oven, preheat the oven to 350°F (180°C). Place the cooked fritters onto a rack and warm until hot and crispy.
In a sandwich press, warm the press and press the fritters until crispy.
In a warm frying pan or pancake griddle. No oil is needed to rewarm fried fritters.
Frequently Asked Questions
How Can I Fix A Runny Batter?
If you didn't squeeze the zucchinis enough or added too much zucchini, the batter can be runny.
To fix it, add more flour, 2 tablespoons at a time until the batter is thick.
Can I Bake Zucchini Fritters In The Oven?
You can bake this recipe, but the texture won't be as crispy. To bake your fritters, preheat the oven to 400°F (200°C).
Line a baking sheet with parchment paper, spray oil all over the batter and place dollops of 1/4 cup batter per fritters on the baking sheet.
Leave 1 thumb of space between each fritter. They slightly expand when baking.
Bake for 15 minutes, then spray oil on top of the fritters, flip over, and bake for an extra 20 minutes until golden brown and bake through.
Can I Bake Zucchini Fritters In And Air Fryer?
Yes, you can! Place them in the basket of your air fryer in a single layer and cook them for about 15 minutes at 400°F (200°C).
How Can I Make Crispy Zucchini Fritters?
The key to making crispy zucchini fritters is to first drain all the water from the zucchinis.
In fact, zucchinis are made of 95% water, and this amount of water thins out the batter if not extracted.
It results in soft, mushy fritters, and that's why you must drain the zucchini before starting the recipe to enjoy crispy fritters.
Can I Use Gluten-Free Flour?
You can use this recipe to make vegan, gluten-free zucchini fritters. The best gluten-free flour options are:
Chickpea flour
Buckwheat flour
All-purpose gluten-free flour, choose a gluten-free blend that contains gums for the best results.
Note that the first two gluten-free flours suggested creating a thicker batter. You may have to adjust the texture by adding a splash of almond milk.
Can I Use Frozen Zucchinis In Fritters?
I don't recommend using frozen zucchinis. Frozen zucchinis are softer, loaded with water, and make fritters very soft and runny.
It's preferable to use fresh zucchinis to make crispy zucchini fritters.
More Vegan Zucchini Recipes
If you have many homegrown zucchinis in your garden, these vegan zucchini recipes will make good use of them:
Have you made these vegan zucchini fritters? Share a comment or review below. I love to hear your feedback on my recipes.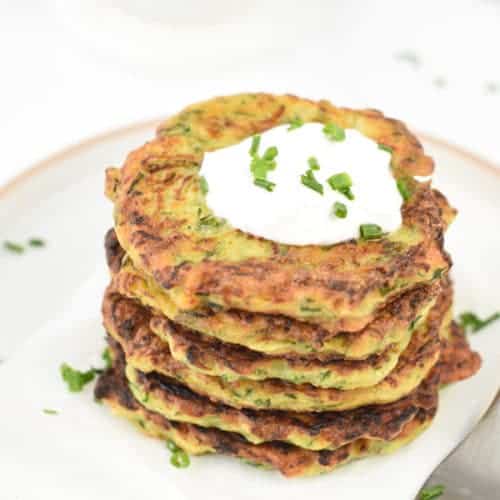 Vegan Zucchini Fritters
An easy crispy, vegan zucchini fritter recipe for a quick vegan dinner.
Pin
Print
Review
Servings: 6 zucchini fritters (1/4 cup each)
Calories: 140 kcal
Ingredients
To fry
3 tablespoons Avocado Oil - or olive oil or coconut oil
Instructions
Wash, trim the zucchini, keep their skin on. Use a hand grater with the medium slicing holes (this adds more texture to your fritters!) to finely grate the zucchini.

Place the grated zucchinis in a large bowl and sprinkle 1 teaspoon salt all over. Toss with your hands to bring the salt in contact with all the grated zucchinis. Set aside for 10 minutes. This step will 'sweat' out the zucchini water and prevents soft fritters.

Prepare a clean kitchen towel next to the mixing bowl. Squeeze the grated zucchini with your hands to extract the zucchini juice (discard it). Then, place the squeezed zucchini in the center of the clean kitchen towel. Wrap the grated zucchini in the towel and squeeze as hard as you can to release all the liquid. Look at my picture above in this post for the technique.

Discard the zucchini juice. Press the drained, shredded zucchini into a measuring cup. You should now have 1 cup of shredded, drained zucchini. If more, set aside for another recipe.

In a large mixing bowl, stir the flour, baking powder, nutritional yeast, salt, pepper, garlic powder, Italian seasoning, and fresh chives.

Stir in almond milk until it forms a batter similar to pancake batter.

Fold in the squeezed, shredded zucchinis until evenly combined.

Over medium-high heat, warm 0.5 cm (0.2 inches) of olive oil or coconut oil in a large frying pan. Place 1/4 cup of batter into the pan. Press the batter with a fork to slightly flatten it and expand the fritter.

Cook for 3-4 minutes until golden brown and crispy on the sides. Slide a spatula under the fritter and flip over. Cook for an extra 2 minutes until crispy.

Cool down on a plate covered with an absorbent paper towel to absorb the extra oil. Cover the plate with a piece of foil to keep the cooked fritters warm while cooking the remaining batter.

Serve hot with a dollop of coconut yogurt and fresh chives on the top.
Share on Facebook
Pin Recipe
Nutrition
Serving: 1fritter | Calories: 140kcal | Carbohydrates: 14g | Protein: 4g | Fat: 8g | Saturated Fat: 1g | Cholesterol: 1mg | Sodium: 414mg | Potassium: 244mg | Fiber: 2g | Sugar: 2g | Vitamin A: 177IU | Vitamin B12: 1µg | Vitamin C: 12mg | Vitamin D: 1µg | Calcium: 41mg | Iron: 1mg | Magnesium: 16mg | Phosphorus: 46mg | Zinc: 1mg