Gluten-Free Vegan Zucchini Brownies
You will be amazed by these moist, fudgy vegan zucchini brownies!
You will never know zucchinis are hidden in these healthy vegan brownies, but you will be impressed by the moist-fudgy texture it creates!
This chocolate zucchini brownie recipe is gluten-free, refined sugar-free with a paleo option! You won't ever need to look for a vegan brownie mix anymore!
What Are Zucchini Brownies?
A Zucchini Brownie recipe is a super moist, fudgy brownie that uses grated zucchini as a trick to add moisture and fudginess to your brownie.
It's somehow a healthy twist to regular vegan brownies as this adds a boost to your 5-a-day veggie target while enjoying a treat!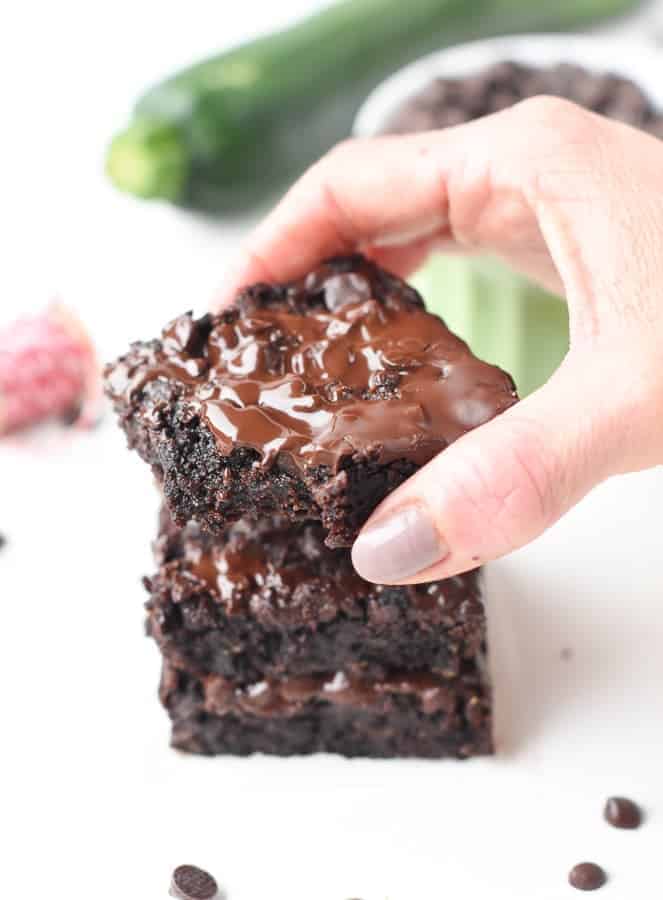 How To Make Vegan Zucchini Brownies
It's an easy vegan zucchini brownie recipe made in 1 bowl.
However, there's one important trick to make the best zucchini brownie recipe.
The water content in zucchini is so high that if you don't drain your grated zucchini of their liquid, the brownies won't hold.
All the ingredients in this vegan zucchini brownie recipe are gluten-free.
Ingredients
Let's see what you need to make these fudgy brownies.
Grated zucchini – Grate and drain the zucchini. Baking with grated zucchini requires discarding all the zucchini water, or your brownies will be too wet. Read the paragraph below about how to drain water from grated zucchinis perfectly.
Maple syrup – Use maple syrup or any unrefined liquid sweetener like coconut nectar, agave syrup, or brown rice syrup.
Coconut sugar or unrefined cane sugar.
Almond flour – use ultra-fine almond flour for best results. Almond meal is coarse, and it won't absorb the moisture as well in the recipe. Also, if you like, you can use gluten-free oat flour can be used as a replacement for almond flour, but the brownies will be slightly drier.
Peanut butter – use a fresh, runny jar of peanut butter with no added sugar and oil on top. Using an old jar of peanut butter where the nut butter has dried out will result in a dry, less fudgy brownie. You can also use fresh runny almond butter or tahini for a paleo-vegan brownie recipe.
Cocoa Powder – I prefer using unsweetened cocoa powder.
Coconut oil – you can use refined or unrefined coconut oil.
Flax egg – a flax egg is a natural vegan egg made of water and a flaxseed meal. It allows the brownie batter to hold well without using eggs from animal sources. It's quite easy to make a flax egg. Bring one tablespoon of flaxseed meal, brown or golden, into a bowl and whisk with 3 tablespoons of hot water. Set aside for 15 minutes until it forms a gooey egg-like texture. Use as an egg in your zucchini brownie recipe.
Vanilla
Salt
Baking soda – or use double the baking powder if preferred.
Squeeze out all the zucchini water
It sounds easy, but it can be challenging to squeeze out all the zucchini water by hand. First, I recommend you choose a clean towel.
Any tea towel will do. Then, place the grated zucchini into the center of the towel and gather the corners of the towel.
Twist the towel to squeeze the grated zucchini into a ball and keep twisting as hard as you can until no more zucchini water comes out.
Finally, measure the grated zucchini required by the recipe.
Note that for 1 cup of grated zucchini, you should get around 1/4 cup of water that you can discard or use later for a smoothie or flavor a curry.
Use a fresh jar of natural peanut butter
Whether you choose to use peanut butter, almond butter, or sunflower seed butter in this recipe, the key to success is to use a fresh jar.
In fact, old peanut butter gets dry and hard.
As a result, it creates dry and crumbly brownies. That is why I recommend using a freshly opened jar with that little layer of oil on top.
Stir the jar to combine the oil with the peanut butter and then measure. Also, make sure you are using peanut butter with no added sugar and no added oil.
These two potential additives in peanut butter also impact the taste and texture of your zucchini brownies.
Baking dish size and baking time
I won't stress this enough: the brownie's baking time depends greatly on the baking dish size. The 30 minutes recommended in this recipe is for a 9-inch x 6-inch brownie pan.
Of course, if you are using a larger pan, your brownie will be thinner and bake faster. Same, if the pan is smaller, your brownie will be thicker and require more baking to set.
Cooling down
Like with all brownie recipes, it is crucial to cool down brownies in two steps. First in the pan and then on a cooling rack.
This 2-step cooling process allows the brownie texture to form gently, getting firm and crispy outside and moist inside.
My trick is to pop the lukewarm brownie in the fridge for 10 minutes to give it an extra fudgy texture. If you love super fudgy brownies, then try this! You will be impressed by the result!
Why You'll Love Healthy Zucchini Brownies
You are probably wondering how zucchini brownies can be healthy.
Compared to a regular brownie recipe, this vegan zucchini brownie recipe is definitely a healthy twist to your favorite dessert.
It's a great way to enjoy a chocolate brownie without guilt.
Below are a few reasons why this zucchini brownie recipe is a healthier alternative to your regular brownie recipe or to your brownie mix.
Refined sugar-free – this recipe uses the best sugars; coconut sugar has a lower GI than white sugar, and maple syrup contains many nutrients like potassium that you won't have in a regular brownie recipe.
Gluten-free
Boosts your vegetable intake
Plant-based fat – the recipe works with almond butter and healthy oils like sunflower seed oil if you want to decrease the saturated fat of this vegan zucchini brownie recipe.
Frequently Asked Questions
Can you freeze the vegan zucchini brownies?
Yes, you can absolutely freeze these chocolate zucchini brownies as long as you freeze them individually.
First, make sure the brownies are at room temperature, at least out of the oven for 3 hours or overnight. Then cut the brownie into bars. A good serving is 16 bars for this recipe.
Finally, freeze each portion in an airtight box, leaving 1 thumb of space between each.
Don't overlap or stick the brownie bars together, or they will be difficult to defrost individually.
You can defrost them on a plate on the counter at room temperature 3 hours before serving. You can also rewarm the frozen brownie for 2-3 minutes in the oven at 215°F (100°C).
Can you taste the zucchini in the brownies?
No, you don't feel the zucchini at all in this recipe. You won't feel the zucchini flavor or the zucchini texture.
So now, you might be wondering why you should add zucchinis to a brownie mix?
Zucchinis are adding moisture and create an ultra-fudgy texture in brownie recipes.
The purpose of adding zucchinis into a brownie mix is not only to sneak vegetables into your desserts but, first and foremost, to create the fudgiest, moist chocolate brownie on earth!
Why is my zucchini brownie batter too runny or wet?
This happens if you didn't squeeze out all the water from the grated zucchini.
To fix that, add 1 or 2 extra tablespoons of almond four or oat flour to the batter.
Remember that the batter must be thick and sticky, not runny or liquid.
Why Are My Brownies Fragile After Baking?
This can happen because there are:
Too much water left from the zucchini in the batter
A too-short baking time
Not enough cooling down
To fix that, place the brownies for 10 minutes in the freezer!
Yes, in the fridge. The quick burst of cold on the lukewarm brownie will set the brownie batter and fix your problem.
Remove from the freezer after 12, slice, and store in the fridge or at room temperature.
More Vegan Brownie Recipes
You may also like my other healthy vegan brownie recipes
More Vegan Zucchini Baking Recipes
Made this healthy zucchini brownie recipe? Share a picture with me on Instagram.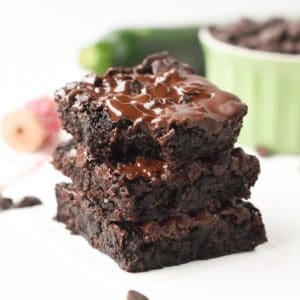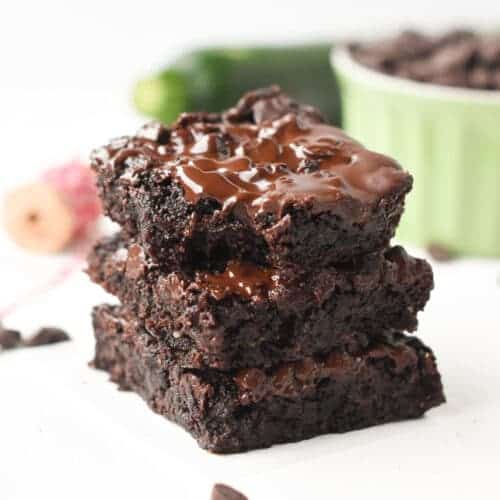 Vegan Zucchini Brownies
Instructions
Preheat the oven to 350°F (180°C). Line a 9-inch x 5-inch baking tray with parchment paper. You can also use a 9-inch x 9-inch square brownie pan, but the recipe will cook faster, and the brownie will be thinner. Set aside.
Step 1: Prepare the flax egg
In a small mixing bowl, stir 1 tablespoon of flax meal with 3 tablespoons of hot water. Set aside

15 minutes

until gooey and an egg-like texture appears. Use in step 3 when the recipe calls for flaxseed egg.
Step 2: Prepare the grated zucchini
Finely grate 2 large zucchinis, skin on, with their ends trimmed, with the thinner grater option on your hand grater, or using the thinner grating blade of your food processor.

Bring all the grated zucchinis into the center of a clean towel. Gather the extremities of the towel and twist to encase the zucchini into the towel and form a ball.

Twist as hard as you can until ALL the zucchini water is removed. This is extremely important or too much water will make the brownie too moist and fragile.

Measure 1 cup of packed, drained, grated zucchinis and transfer into a large mixing bowl.
Step 3: Make the brownie batter
In the same mixing bowl, add runny peanut butter, flax egg (the one made in step 1), vanilla, maple syrup, and coconut sugar.

Stir the ingredients together until consistent. It is liquid and shiny.

Stir in the unsweetened cocoa powder, baking soda, salt, and melted coconut oil, making sure all the cocoa is incorporated, and no lumps are left.

Now, stir in almond flour. The batter is getting thick and more difficult to stir. It is what you want.

Transfer the brownie batter into the prepared baking pan.

Bake for

30 minutes

or until the top and sides are set, crackle, and a skewer inserted in the center of the brownie comes out clean or with few crumbs. Note that if you are using a wider pan, your brownie will bake faster. On the other side, a smaller pan will take longer to bake.

Remove the pan from the oven and cool down in the pan for

12 minutes

.

Use a knife to loosen the sides of the brownies in the pan then use the parchment paper pieces to lift the brownie from the pan to a cooling rack.

Cool for

30 minutes

, then, to make it easier to slice and to make it even fudgier, pop it

10 minutes

in the fridge! I know it sounds left field, but this will set the brownie to perfection, slice without breaking, and the fudgy texture will be enhanced.

Store in the fridge in an airtight box or zip-lock bags or freeze individually. Defrost 3 hours before on a plate, on the counter at room temperature. It can be rewarmed in 2 minutes to serve lukewarm.
Notes
Nut-free option:
Swap almond flour for the same amount of oat flour or sunflower seed flour or sesame flour.
Replace peanut butter with sunflower seed butter, the same amount, use fresh seed or nut butter, runny and drippy!
Other flour options: you can use the same amount of fine oat flour in this recipe, but the brownies will be less moist and slightly denser. I didn't try all-purpose flour, it should work but may create a very dense and less fudgy result.
Flaxseed meal replacement: you can use ground chia seed if desired to create a chia egg.
Share on Facebook
Pin Recipe
Nutrition
Serving:
1
square
|
Calories:
123
kcal
|
Carbohydrates:
12
g
|
Protein:
3
g
|
Fat:
8
g
|
Saturated Fat:
3
g
|
Sodium:
155
mg
|
Potassium:
128
mg
|
Fiber:
2
g
|
Sugar:
7
g
|
Vitamin A:
16
IU
|
Vitamin C:
1
mg
|
Calcium:
22
mg
|
Iron:
1
mg