Zucchini Oatmeal Cookies with Chocolate Chips
These healthy Zucchini Oatmeal Cookies are soft, nourishing oatmeal cookies filled with shredded zucchini and oats. Bonus, these zucchini cookies are refined sugar-free, egg-free, and dairy-free!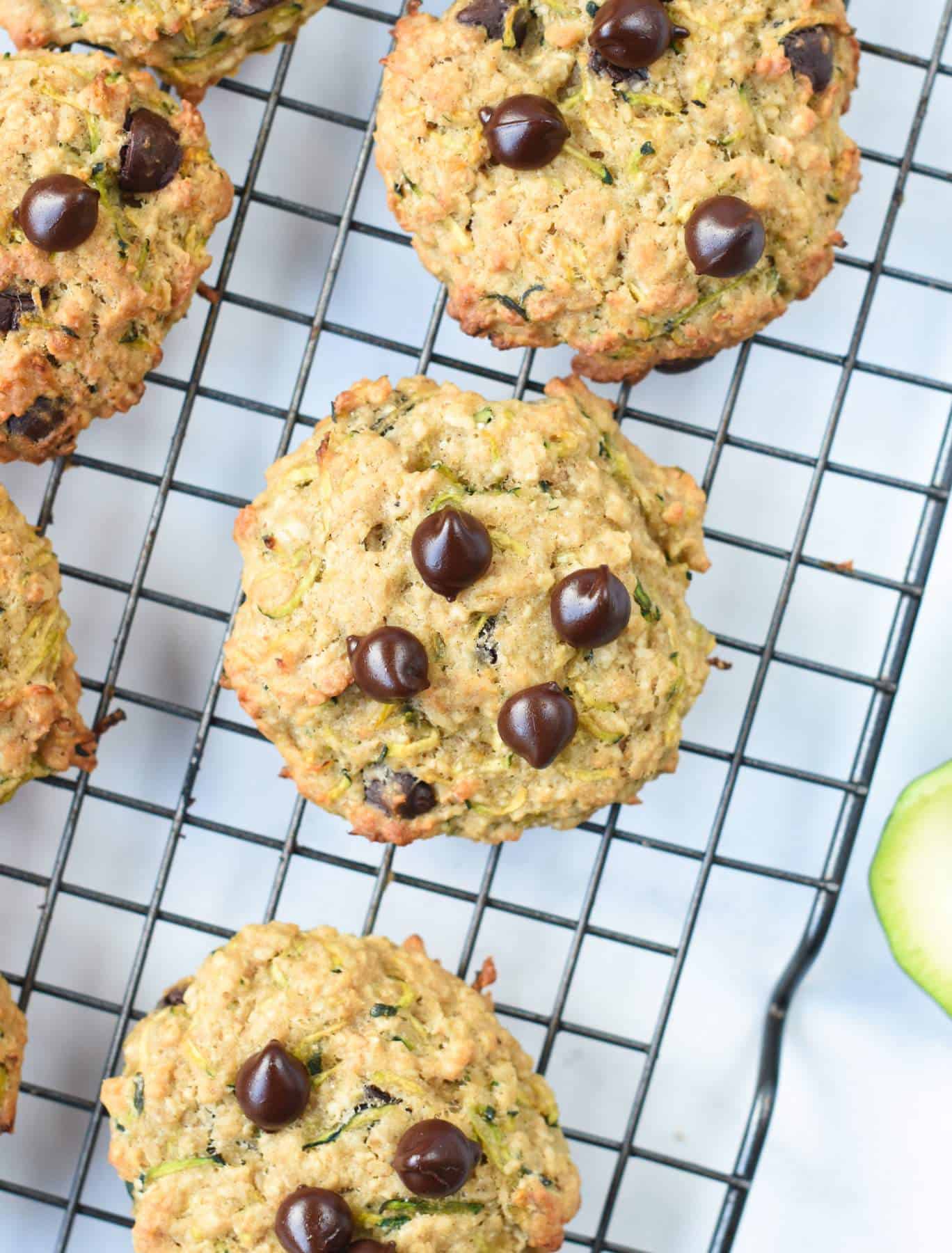 Zucchini Oatmeal Cookies are healthy breakfast cookies perfect to use your fresh summer zucchinis. They are soft, moist, and taste like zucchini bread but way faster to make, ready in less than 30 minutes to enjoy a healthy sweet treat.
It's very simple to make Zucchini Oatmeal Cookies using only a few natural ingredients.
Ingredients
Shredded zucchinis – I used about 1 medium zucchini. Keep the skin on to adds nutrients and fiber to the cookie recipe. Grate as fine as you can and drain in a clean kitchen towel to remove all the zucchini excess water.
Melted coconut oil or melted vegan butter, or light olive oil.
Maple syrup or agave syrup, or brown rice syrup for a low GI sweetener.
Brown sugar or coconut sugar – you can skip this to decrease the sugar amount per cookie, but I found the cookie crispier and tastier with the combination of both sweeteners.
Mashed banana or unsweetened applesauce.
Vanilla extract
White whole wheat flour or all-purpose flour, or homemade oat flour. For gluten-free zucchini cookies, use a gluten-free flour blend that contains gums, like Bob Red Mills 1:1 gluten-free all-purpose flour.
Quick-cooking oats, not instant oats! You can also use rolled oats, but the cookie texture is dryer with this option. For the gluten-free option, use gluten-free certified oats.
Baking powder
Salt
Baking soda
Ground cinnamon
Dark chocolate chips or chopped pecans, or a combination of both.
Prepare the zucchini
The main ingredient of zucchini cookies is shredded zucchini! So it is essential to prepare the zucchinis very well to ensure a delicious, moist, and fluffy cookie.
First, trim the edges of the zucchinis and keep the skin on. All the nutrients and vitamins are in the zucchini skin, so don't peel off the zucchini to make your cookies nutrient-dense.
Then, use a hand grater or a food processor with the smaller grating tool/side. Grate the zucchini as finely as possible.
Then, place the grated zucchini in a clean kitchen towel or cheesecloth. Gather the corners of the towel, twist, and squeeze as hard as possible to remove the excess zucchini juice. Discard the juice, or keep for another recipe like a soup.
Keep the shredded, drained zucchinis in a bowl aside.
Meanwhile, prepare baking sheets. Cover two cookie sheets with parchment paper and lightly oil with olive oil or coconut oil. Set aside.
Cookie batter
First, in a large bowl, whisk together apple sauce, melted coconut oil, maple syrup, coconut sugar, and vanilla.
Then, stir in the shredded, drained zucchinis. Set aside.
Remaining ingredients
In another mixing bowl, combine the flour, cinnamon, oats, baking powder, baking soda, salt.
Finally, stir the flour mixture into the wet ingredients until a wet batter forms. It should look like a zucchini bread batter.
At this point, you can stir in 1/2 cup of dark chocolate chips or 1/4 cup of chopped pecans and 1/4 cup of dark chocolate chips. I love zucchini chocolate chip pecan cookies, so I always mix both, but it's up to you!
Shape 18 zucchini oatmeal chocolate chip cookies of about 2 tablespoons of batter each. Place each cookie on the prepared cookie sheet, leaving half thumb space between each cookie.
Wet your finger, and press the top of each cookie gently to flatten slightly.
Bake
Bake the cookies in the center rack of the preheated oven 350 F (180C).
Bake until the cookies have a light golden brown color and the sides are crispy.
Cool down for 5 minutes on the cookie sheet transfer to a wire rack to cool completely.
Wait for about 15 minutes to 1 hour before eating. If you eat them lukewarm, the cookies will be soft and moist with melted chocolate in the center.
But if you wait for a bit longer, which I recommend if you can, the zucchini oatmeal cookies firm up with time. The top is getting crispier after a few hours, and since the chocolate chips harden, you enjoy a nice chocolate crunch!
Store
Store the cookies in the fridge in a sealed cookie jar for up to 5 days.
Of course, you can also freeze the zucchini oatmeal cookies for up to 3 months in airtight bags or containers. Thaw the cookies on a rack at room temperature the day before serving.
Frozen zucchinis
You can use frozen shredded zucchinis in this zucchini cookie recipe. Make sure you thaw the shredded zucchini first and then drain them from all their juice, or the cookies will be too soft.
Taste and texture
These zucchini oatmeal cookies are crispy on the edges and moist and soft in the center. They are not overly sweet, just what you expect from a healthy breakfast cookie.
Plus, you won't feel the zucchini flavor at all, and therefore these zucchini cookies with chocolate chips are perfect for sneaking in extra greens to your day whiteout even noticing it!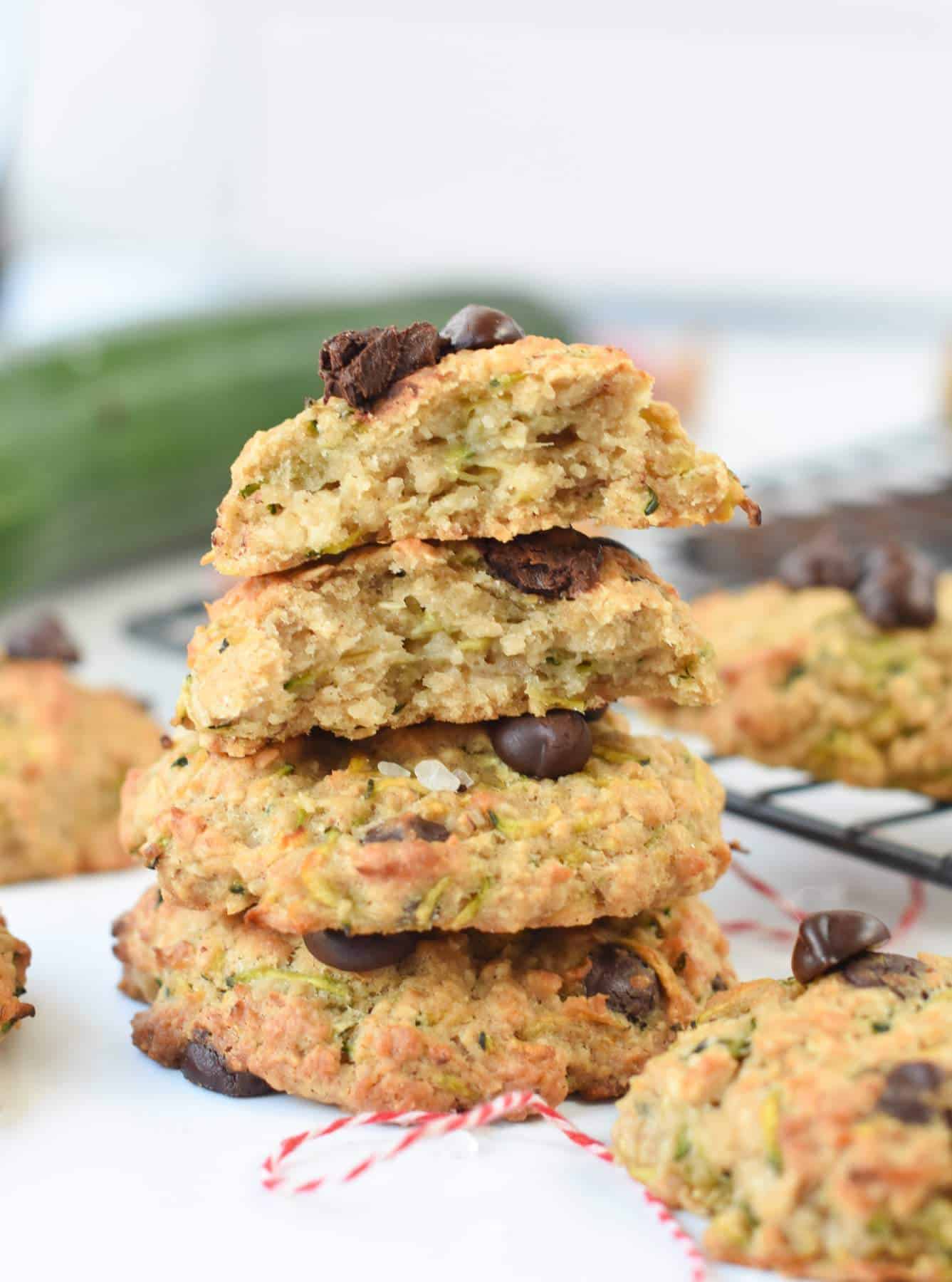 More Vegan Zucchini Recipes
If you've enjoyed this recipe, you'll love the following:
Have you made these Zucchini Cookies? Share a review or comment below to connect with me,
Your friend, Carine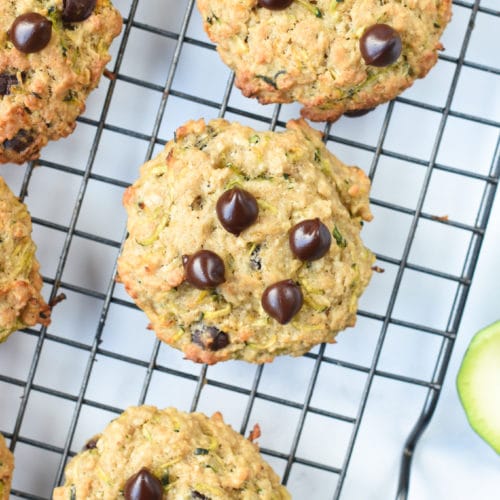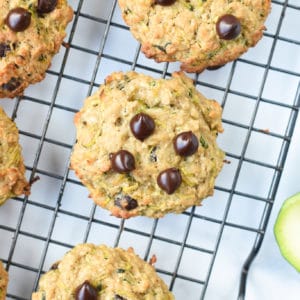 Zucchini Oatmeal Cookies
An easy Zucchini Oatmeal Cookies with a soft, moist texture filled with nourishing ingredients, including shredded zucchinis, oats, and maple syrup. Bonus, these are also vegan, refined sugar-free, and dairy-free zucchini cookies!
Pin
Print
Review
Save
Saved Recipes
Instructions
Preheat oven to 350°F (180°C). Line two cookie sheets with parchment paper. Slightly oil the paper with olive oil cooking spray or coconut oil. Set aside.

Trim zucchini ends, keep their skin on and grate as finely as you can using the thinner grating attachment of your food processor or hand box grater.

Place the shredded zucchinis in a towel, gather the corner of the towel and squeeze as hard as you can to release all the zucchini juice. Discard juice, keep the drained shredded zucchini aside in a bowl.

In a large mixing bowl, whisk apple sauce, maple syrup, coconut sugar, melted coconut oil, and vanilla extract. Stir in shredded zucchinis. Set aside.

In another bowl, combine flour, quick-cooking oats, baking powder, baking soda, salt, and cinnamon.

Stir the dry ingredients into the liquid ingredients until a sticky, moist batter forms - it should resemble a zucchini bread batter.

Scoop about 2 tablespoons of batter to form one cookie and place it on the prepared cookie sheet. Slightly flatten the top of the cookie with wet fingers and repeat until you form about 18 cookies. Leave half a thumb of space between each cookie even if they won't expand much in the oven. It makes it easier to remove them from the cookie sheet later.

Bake for 20-25 minutes or until golden brown and crispy on the edges.

Cool the cookies down for 5 minutes on the cookie sheets and then transfer for 1 hour on a cooling rack.
Storage
Store in the fridge in a sealed cookie jar for up to 5 days or freeze in ziplock bags and thaw at room temperature the day before.
Share on Facebook
Pin Recipe
Nutrition
Serving:
1
cookie
|
Calories:
93.4
kcal
|
Carbohydrates:
14.9
g
|
Protein:
1.6
g
|
Fat:
3.5
g
|
Saturated Fat:
2.7
g
|
Polyunsaturated Fat:
0.2
g
|
Monounsaturated Fat:
0.3
g
|
Sodium:
77.2
mg
|
Potassium:
60.7
mg
|
Fiber:
1.3
g
|
Sugar:
5.9
g
|
Vitamin A:
16.2
IU
|
Vitamin C:
1.3
mg
|
Calcium:
35.6
mg
|
Iron:
0.5
mg
|
Magnesium:
14.9
mg
|
Phosphorus:
30.7
mg
|
Zinc:
0.2
mg