Healthy Banana Zucchini Bread – No eggs, No dairy
A Healthy Banana Zucchini Bread with a delicious moist cinnamon banana crumble filled with crunchy pecans. This is a delicious, healthy banana bread to sneak some greens into your morning.
Plus, this banana bread is also vegan, egg-free, and dairy-free.
What's Zucchini Banana Bread?
A zucchini banana bread is a vegan banana bread filled with shredded zucchinis that add moisture to the bread.
It also adds a touch of greens to your day, making zucchini banana bread a healthy choice as a summer breakfast bread.
How To Make Healthy Banana Zucchini Bread
This recipe is a healthy banana zucchini bread made without eggs, dairy, or refined sugar and uses nourishing whole wheat flour.
It's a very easy bread to make using a few simple, wholesome ingredients.
Let's see what you need to make this delicious banana bread with zucchinis:
Ingredients
The ingredients you need to make this healthy zucchini banana bread are:
White whole wheat flour – or all-purpose flour.
Ripe bananas – the riper, the sweeter the bread will taste, but yellow bananas also work very well.
Shredded zucchinis – for this particular recipe, you won't need to squeeze out the water from the zucchinis. This is because the bread is made of high-fiber white wholewheat flour that balances the extra moisture from the zucchinis. It's also convenient as it makes this zucchini bread recipe way faster.
Extra virgin light olive oil – or vegetable oil you love, including melted coconut oil.
Unrefined cane sugar or coconut sugar – you can use any crystal sweetener you have in your pantry but not a liquid sweetener like maple syrup. In fact, liquid sweetener makes this bread gummy and heavy, so it's better to avoid it.
Baking soda
Baking powder
Vanilla extract
Cinnamon
Salt
Pecans or walnuts – the addition of nuts is optional, but it adds a delicious crunch and some healthy fats, plant-based proteins, and fiber. Another option is to swap the nuts for chocolate chips. If you do so, choose sugar-free dark chocolate chips to avoid adding too much sugar to this healthy banana zucchini bread recipe.
Preparing Bananas
First, peel and mash the bananas on a chopping board, and measure the exact amount required by the recipe.
This is very important because bananas add not only moisture but also some texture.
If you don't add enough of them, the bread can end up dry or fragile and less sweet.
Next, trim the end of the zucchinis and shred them on the smaller grater blade of your food processor or hand grater.
Measure 1 cup of shredded zucchinis, but don't squeeze the moisture from them.
My other vegan zucchini bread recipe calls for squeezing out the zucchini water, but for this banana zucchini bread, the zucchini moisture gives the bread its texture, so keep it.
Combining Ingredients
Next, combine the mashed bananas with olive oil, sugar, vanilla extract, shredded zucchinis, and chopped pecans. Set aside.
In another bowl, whisk together the flour, baking powder, baking soda, and salt.
Combine the flour mixture into the wet ingredients until just combined. Don't over-mix the batter to avoid gummy bread.
If your batter is too dry, you can add a splash of almond milk at room temperature up to 2 tablespoons.
Baking
First, preheat the oven to 350°F (180°C). Next, line a 9-inch x 5-inch pan with parchment paper and lightly oil the paper with coconut oil or olive oil.
Then, transfer the banana bread batter into the pan and sprinkle extra pecans nuts on top of the bread if desired.
Bake your healthy banana zucchini bread in the center rack of the oven for 60-70 minutes. It's quite a big loaf, and it takes a while to bake.
That's why I recommend tenting the top of the loaf pan with a piece of foil to prevent the top of the bread from burning.
Check the baking process regularly by inserting a toothpick in the center of the zucchini banana bread to check if it's cooked through.
If the pick inserted in the center comes out clean, then the bread is ready. If it comes out very wet, keep baking for longer.
Cool the baked banana zucchini bread on a wire rack for at least 3 hours or overnight. The longer it cools down, the better the texture will be.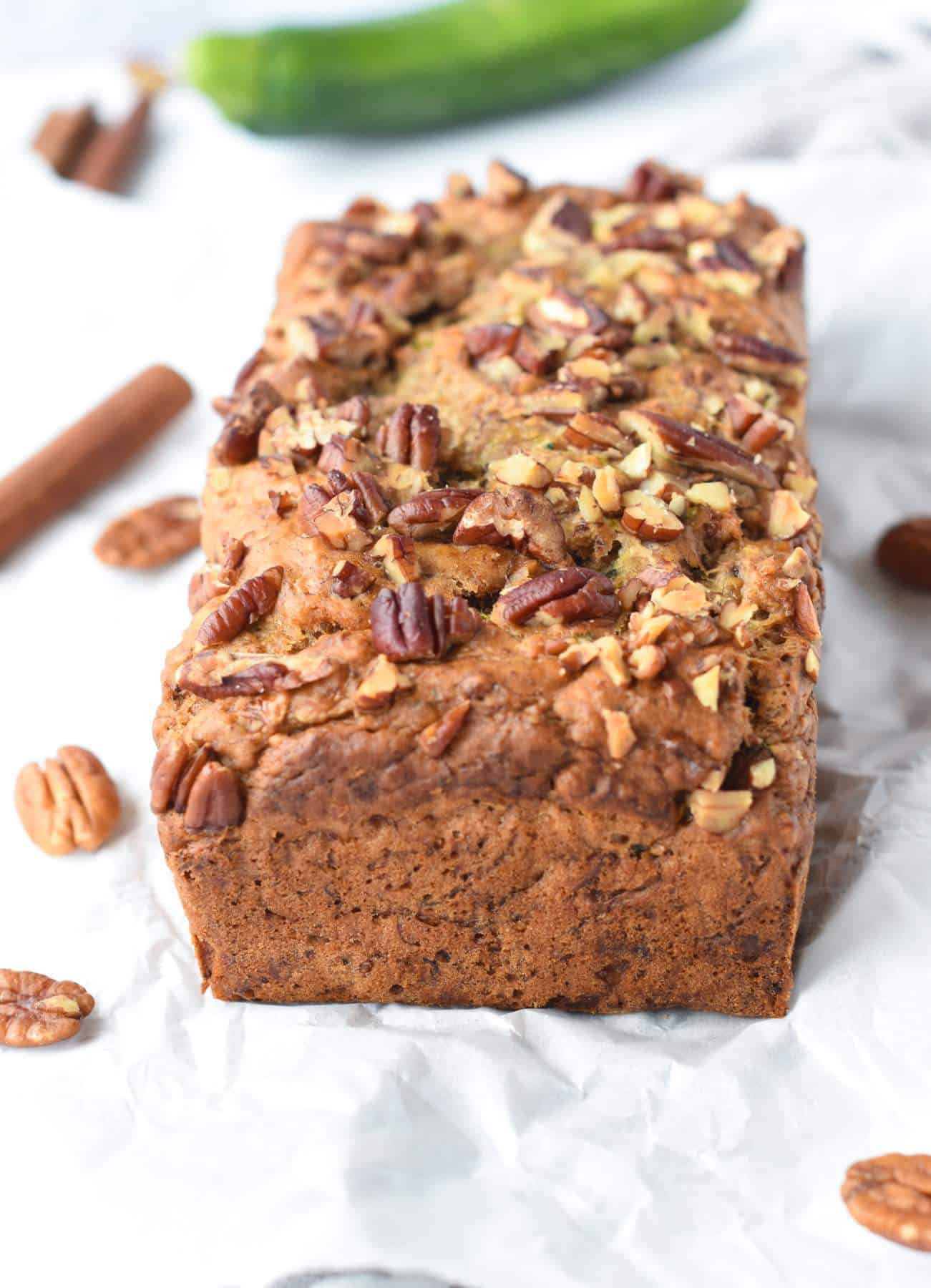 Allergy Swaps
If you don't want to use white wholewheat flour, there are other options. Use the same amount of:
All-purpose flour or cake flour
White spelt flour
All-purpose gluten-free flour
However, note that this recipe won't work with almond flour, coconut flour, or oat flour.
Since this is an egg-free banana zucchini bread, these three flours won't be able to hold the bread crumbs together.
Add-Ons
You can add many delicious ingredients to this banana zucchini bread batter.
We really enjoy 1/2 cup of chopped pecans, but if you don't have any, try some of the options below:
Dark chocolate chips
Shredded coconut
Chopped walnuts
Dried fruits – chopped apricots, dates, or dried raisins
Why Is Banana Zucchini Bread Healthy?
This banana zucchini bread is a very healthy banana bread to start the day or snack on.
The main reasons it's healthier than regular banana zucchini bread are:
Less saturated fat – this recipe doesn't use eggs or butter and only olive oil as the fat. Olive oil is a healthy low-saturated fat oil to bake bread and is high in healthy fat, including omega-3 and omega-6.
Less sugar – this recipe contains only a low amount of added sugar and unrefined sugar to add more nutrients to your banana bread.
High in fiber – white whole wheat flour is higher in fiber and makes more nourishing, fulfilling baked goods than white flour.

Storage Instructions
This banana zucchini bread stores very well in the fridge, in an airtight container. It can also be frozen.
The best is to freeze slices so you can thaw one serving at a time when you feel like eating a slice of banana bread.
Serving
You can serve this banana bread with zucchini on its own. It's sweet and delicious plain.
But, for a nutritious breakfast, add a dollop of one of the spreads below.
Peanut butter
Almond butter
Cashew butter
Chia seed jam

More Zucchini Recipes
I love baking with zucchini because it adds the most delicious moist texture to bread and brownies.
It's also a great way to use all the overgrown summer zucchinis or to sneak a piece of greens into your plate while enjoying a treat.
Below I listed my favorite zucchini recipes for you to try.
Don't forget to check all my Ripe Banana Recipes ideas for more ways to use those ripe bananas!
Have you made this zucchini banana bread recipe? Share a comment or review below to tell me how much you love this recipe!
Healthy Banana Zucchini Bread
A healthy Zucchini Banana Bread recipe made without eggs, dairy, nor refined sugar and vegan-approved.
Pin
Print
Review
Servings: 12 Slices
Calories: 202 kcal
Instructions
Preheat oven to 350°F (180°C)

Line a 9×5-inch loaf pan with parchment paper. Grease the paper with olive oil. Set aside.

Peel and mash bananas and measure the exact amount required by the recipe. Set aside.

1 1/2 cup Mashed Bananas

Trim the ends of the zucchinis, shred with the fine grater blade of a food processor or hand grater, Pack into a cup to measure the amount you need, don't squeeze out the water from the zucchinis. Set aside.

1 cup Shredded Zucchini

In a mixing bowl, whisk flour, baking powder, baking soda, salt, and cinnamon together.

1 3/4 cup White Wholewheat Flour, 1 1/2 teaspoon Baking Powder, 1/4 teaspoon Baking Soda, 1 teaspoon Cinnamon

In a large mixing bowl, combine mashed bananas, sugar, olive oil, vanilla, shredded zucchinis, and chopped pecans.

1/2 cup Unrefined Cane Sugar, 1/3 cup Light Olive Oil, 1 teaspoon Vanilla Extract, 1/2 cup Pecan

Pour the dry ingredients into the wet ingredients and stir until just combined. Don't over mix to avoid gummy or dense bread. If too dry, this happens if you accidentally remove the juice from the zucchinis, you can add up to 2 tablespoons of almond milk at room temperature to bring the batter together.

Transfer the batter into the loaf pan and sprinkle extra chopped pecans on top if desired.

Bake 350°F (180°C) for 60-80 minutes – I recommend tenting the pan with a piece of foil after 45 minutes to prevent the top from browning too fast. The bread is ready when a pick inserted in the middle of the bread comes out dry or with a little crumb on it.

Cool down for 3 hours or overnight before slicing. The bread will deflate slightly and get all its texture when it reaches room temperature.

Store in the fridge for up to 4 days or freeze up to 3 months in freezer bags.
Share on Facebook
Pin Recipe
Nutrition
Serving: 1Slice | Calories: 202kcal | Carbohydrates: 30g | Protein: 3g | Fat: 9g | Saturated Fat: 1g | Polyunsaturated Fat: 2g | Monounsaturated Fat: 6g | Sodium: 148mg | Potassium: 141mg | Fiber: 2g | Sugar: 12g | Vitamin A: 21IU | Vitamin C: 2mg | Calcium: 38mg | Iron: 1mg | Magnesium: 17mg | Phosphorus: 48mg | Zinc: 1mg