This Vegan Zucchini Bread has a moist, sweet cinnamon crumb filled with crunchy pecan.
It's a great recipe to use all your summer zucchinis and enjoy a nourishing sweet piece of bread.
Bonus, this is also an egg-free zucchini bread recipe perfect for anyone with egg allergies.
What's Vegan Zucchini Bread?
Vegan zucchini bread is an egg-free, dairy-free version of the classic zucchini bread recipe.
This vegan zucchini bread is one of our family's favorite recipes.
It's not only the best way to use leftover zucchinis from your summer garden but also a cozy, sweet bread full of cinnamon, brown sugar, and vanilla flavors.
It's also a guilt-free sweet bread as it sneaks an extra serving of greens into your day.
But beyond that, zucchinis add the most delicious moist texture to this bread and makes it want to come for more.
Is Classic Zucchini Bread Vegan?
A classic zucchini bread recipe contains many animal-based ingredients, including eggs, butter, and milk. As a result, classic zucchini bread is not vegan-friendly.
But luckily, it's easy to make a vegan version of zucchini bread at home with only a few ingredients.
How To Make Vegan Zucchini Bread
To make a moist, decadent zucchini bread vegan, you only need a few ingredients, including many spices, to give the bread all its particular flavors.
Ingredients
All-purpose flour – white flour or white whole wheat flour, or all-purpose gluten-free flour. This zucchini bread recipe doesn't work with almond flour or coconut flour. Try my vegan, gluten-free zucchini bread recipe for a gluten-free version of this recipe.
Olive oil or vegetable oil of choice like canola oil. I personally like light olive oil for its healthy fats.
Unsweetened apple sauce – this is your egg replacer. You can also use mashed bananas, but the bread is denser with that option, so I recommend apple sauce.
Unsweetened almond milk or any dairy-free milk you love, including oat milk.
Shredded zucchinis – you need about 2-3 medium size zucchinis for this recipe. Feel free to peel or keep the skin of your zucchinis. The peel adds fiber which is a great nutritious addition, but some people don't digest zucchini peel very well, so it's better to peel it off first.
Unrefined cane sugar or white sugar
Brown sugar – or coconut sugar
Baking powder
Baking soda
Salt
Cinnamon
Ginger
Nutmeg
Pecans or walnuts or vegan chocolate chips. You can also add a combination of this adds-on 1/3 cup of two of these is a great idea, like pecan and chocolate chips.
Sea salt
Preparing the zucchinis
The secret to making the best vegan zucchini bread recipe is to:
Finely grate the zucchinis.
Drain the zucchinis in a kitchen towel.
Measure grated zucchinis precisely.
These are the three important things to make the best zucchini bread vegan recipe.
First, cut the extremities of zucchinis, peel half of their skins, or don't peel at all!
As long as you clean and dry the zucchinis skins, they can be used entirely in the recipe.
Next, grate zucchini in a food processor or with a hand grater using the smaller grater blade.
Then, place the grated zucchinis onto a clean kitchen towel and squeeze hard to encase the grated zucchinis in the towel, and release all the zucchinis water.
Discard the zucchini water or keep it for another recipe in the fridge.
Finally, measure the amount of drained zucchini in a measuring cup. To do so, pack the drained zucchinis in the cup and measure exactly 1 cup. Set aside in a large bowl.
Combining Ingredients
Meanwhile, in a separate bowl, whisk apple sauce, almond milk, olive oil, and sugar. Then, stir in grated zucchinis, chopped pecans, spices, baking soda, and baking powder.
Finally, stir in the flour until it's just combined – don't overmix the batter or the zucchini bread comes out gummy or heavy.
Baking
First, line a 9-inch x 5-inch loaf pan with parchment paper.
Slightly oil the paper with coconut oil or olive oil.
Then, pour the batter evenly into the pan and bake your zucchini bread in preheated oven at 350°F (180°C).
Place the zucchini bread in the center rack of your oven and bake for 50 minutes or until a pick inserted in the center comes out clean.
Cooling
Cool the bread for 10 minutes in the pan, lift out the vegan zucchini bread from the pan and transfer it to a cooling rack.
Cool the bread down at room temperature for 3 hours or overnight before slicing to enjoy its best texture and flavor.
Storage
This Vegan Zucchini Bread can be stored for up to 3 days in the pantry in a cake box.
However, if it's hot where you live, it's better to store your vegan zucchini bread in an airtight box in the fridge.
To keep the bread moist and fresh, slice just before serving.
Of course, you can also freeze vegan zucchini bread entirely or sliced it in a freezable container.
Make sure you thaw the bread slices at room temperature overnight.
Serving ideas
Zucchini bread is delicious on its own and doesn't need any toppings. However, you can serve this as a vegan breakfast bread topped with:
Vegan butter
Almond butter
Flavors
You can really play with the flavors and add many add-ons to this zucchini bread. For example, if you don't like nuts, you can add 1/2 cup of:
Vegan chocolate chips
Shredded coconut
Grated carrots to make a vegan zucchini carrot bread
Sunflower seeds
Also, feel free to swap spices. A touch of cardamom or turmeric is also a great addition to the bread.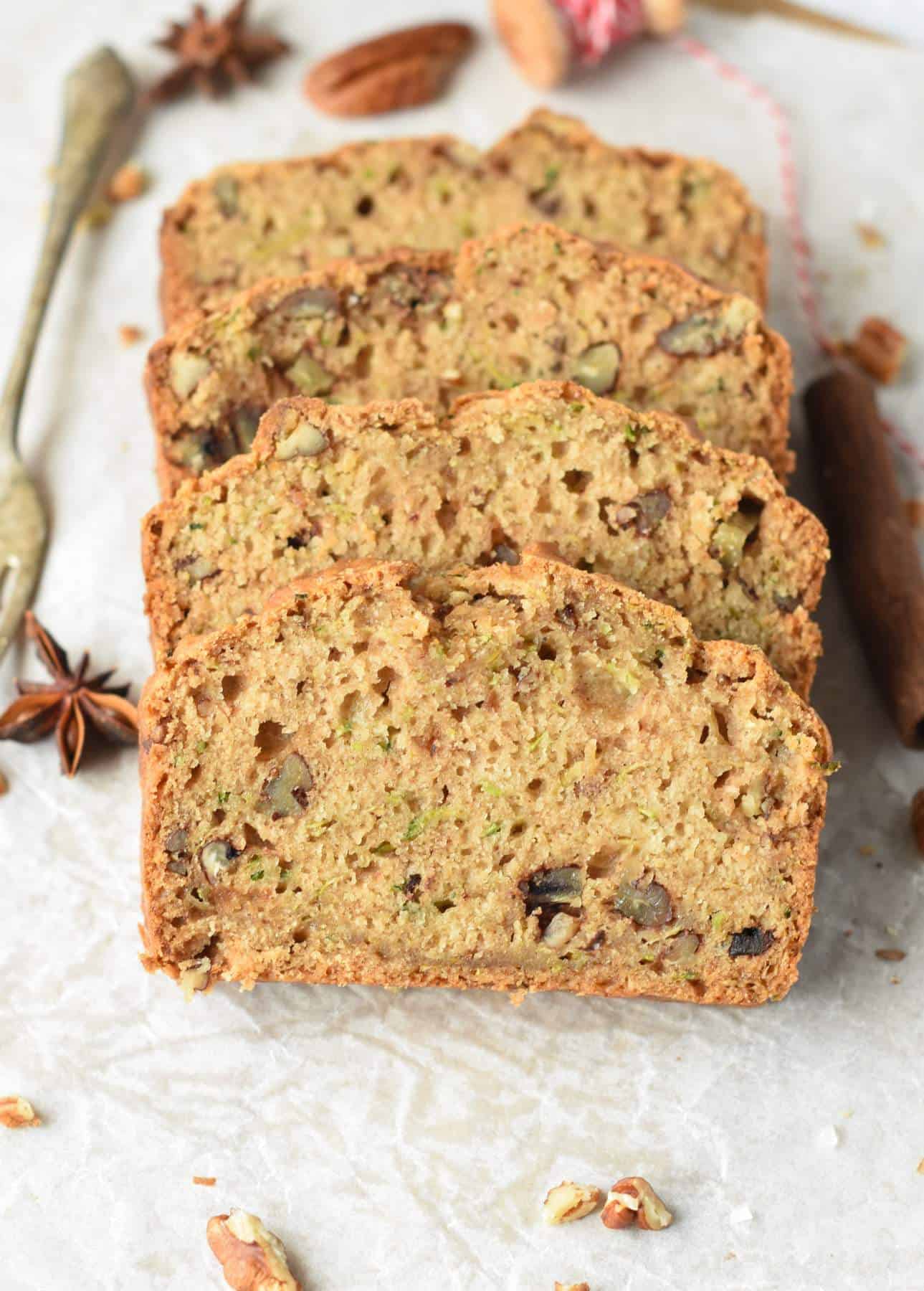 Swaps And Substitutions
Sugar-Free Option
You can make this recipe with sugar-free sweeteners like erythritol and brown erythritol.
These are two keto-friendly sweeteners that don't add carbs or sugar to the zucchini bread.
It's a great option for people with diabetes or anyone looking for low-sugar vegan zucchini bread.
Gluten-Free Option
This recipe works with all-purpose gluten-free flour as soon as your gluten-free flour mix contains added gums.
A great brand to replace all-purpose flour in this recipe is Bob's Red Mills 1:1 Gluten-free flour mix.
Frequently Asked Questions
Is Vegan Zucchini Bread Healthy?
Zucchini bread is a sweet bread, so it does contain sugar that you shouldn't overeat in your day.
However, this vegan zucchini bread contains a quarter less sugar than a classic zucchini bread recipe, so it's a healthier version.
Also, it's made with healthy oil, and the added zucchinis add fiber and greens to your day.
The best time to enjoy zucchini bread is in the morning as it adds the carbohydrate and fiber you need to start the day with energy.
More Vegan Zucchini Recipes
I love to create vegan zucchini recipes for dessert or lunch. Below I listed my top vegan recipes using zucchinis for you to try.
Have you made this vegan zucchini bread recipe? Share a comment or review below to connect with me!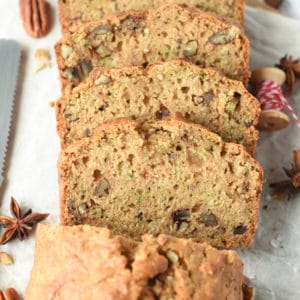 Vegan Zucchini Bread
An easy Vegan Zucchini Bread recipe with a moist, sweet cinnamon crumb filled with crunchy pecan. A great recipe to use all your summer zucchinis and enjoy a nourishing sweet piece of bread.
Pin
Print
Review
Servings: 12 slices
Calories: 159 kcal
Instructions
Preheat oven to 350°F (180°C). Line a 9×5-inch loaf pan with parchment paper. Slightly oil paper. Set aside.

First, cut and discard the extremities of zucchinis. Peel half of the skin or all of it, as you prefer. Grate the zucchinis on the smaller blade of your food processor or hand grater.

Place the shredded zucchinis in a clean kitchen towel and wrap, squeeze until all the zucchinis water has been extracted. Discard zucchini water.

Pack the shredded, drained zucchinis in a measuring cup to measure 1 cup. Set aside.

In a large mixing bowl, whisk olive oil, almond milk, apple sauce, cane sugar, and brown sugar.

Stir in shredded, drained shredded zucchinis, chopped nuts, and spices: cinnamon, ginger, nutmeg, and salt.

In another bowl, combine flour, baking powder, baking soda and chopped pecans.

Gently stir in the dry ingredients into the wet, until just combined, don't over mix to avoid a gummy heavy bread.

Pour the batter into the loaf pan and bake in the center rack of the oven for 50-55 minutes or until a toothpick inserted in the center of the bread comes out with a few to no crumbs on it.

Cool the bread for 10 minutes in the pan, then transfer it to a cooling rack.

Slice the bread after a few hours. 3 hours is ideal for easy slicing.
Share on Facebook
Pin Recipe
Nutrition
Serving: 1slice | Calories: 159kcal | Carbohydrates: 30g | Protein: 2g | Fat: 5g | Saturated Fat: 1g | Polyunsaturated Fat: 1g | Monounsaturated Fat: 3g | Sodium: 167mg | Potassium: 67mg | Fiber: 2g | Sugar: 18g | Vitamin A: 24IU | Vitamin C: 2mg | Calcium: 34mg | Iron: 1mg | Magnesium: 3mg | Phosphorus: 9mg | Zinc: 1mg