An easy Vegan Zucchini Muffin recipe with the most delicious, moist cinnamon crumb filled with crunchy pecans and chocolate chips.
Bonus, this egg-free zucchini muffin recipe is also refined sugar-free with gluten-free options and perfect to celebrate the zucchini season with healthy, tasty muffins!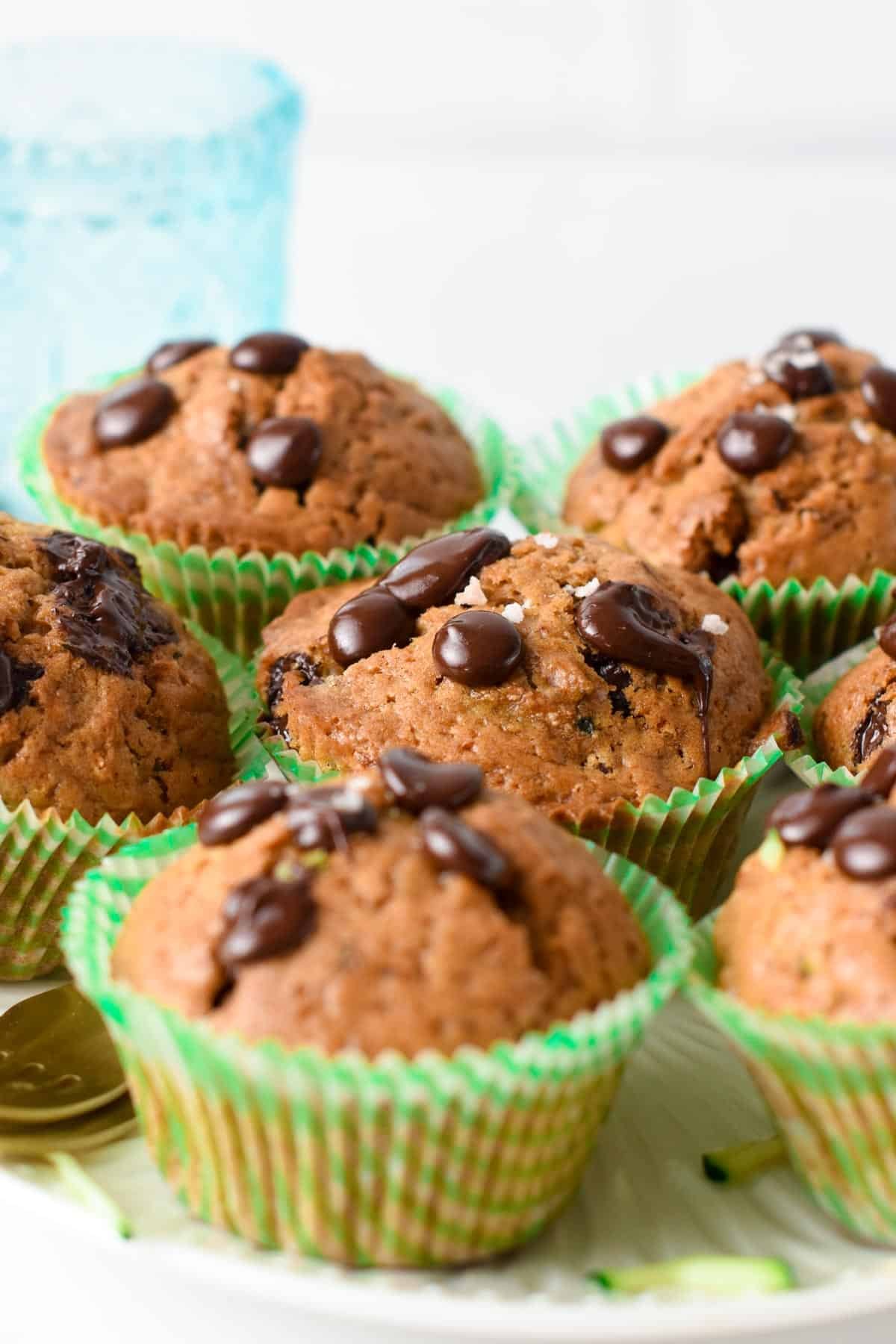 Are Zucchini Muffins Vegan?
No, an authentic zucchini muffin recipe contains eggs, butter, and sometimes added milk or milk from the added chocolate chips.
Therefore, it's not vegan-friendly, but it's pretty easy to twist the authentic recipe to make your homemade vegan zucchini muffins at home.
How To Make Vegan Zucchini Muffins
This is the easiest vegan zucchini muffin recipe you will ever make!
Ingredients
No need for flax eggs or ground flaxseeds here, only basic pantry plant-based ingredients that we all have at home for a quick muffin fix!
Shredded zucchinis – excess moisture removed.
Almond Milk at room temperature or any dairy-free milk you love, like soy milk or coconut milk.
Lemon juice or apple cider vinegar.
All-purpose flour – or spelt flour or white whole wheat flour for extra fiber.
Unrefined cane sugar or sugar
Coconut sugar or light brown sugar.
Baking soda
Baking powder
Salt
Cinnamon
Nutmeg
Light olive oil or canola oil, or melted coconut oil.
Vanilla extract
Pecan
Vegan Dark Chocolate chips
Preparing The Vegan 'Buttermilk'
Making your own vegan buttermilk is easy, and it adds the best texture to muffins. To make it, whisk almond milk and lemon juice in a mixing bowl.
Set aside for 5 to 10 minutes or until the dairy-free milk slightly curdles.
Shredding Zucchinis
Next, trim the zucchini ends and keep the zucchini skin on. Zucchinis nutrients are stored in their skin, so it's better to keep the zucchini peel to add vitamins, fibers, and minerals to your vegan muffins.
Then, grate the zucchini using the smaller attachment of your box grater or food processor.
Place the grated zucchini into a clean kitchen towel or cheesecloth. Gather the corner, twist, and squeeze as hard as you can to extract the excess juice from the vegetable.
Discard the zucchini juice and keep the shredded, drained zucchini aside in a bowl.
In another bowl, stir flour, cinnamon, nutmeg, salt, baking powder, and baking soda. Set aside.
Preparing The Batter
In a large bowl, add the prepared buttermilk, coconut sugar, and unrefined cane sugar, and whisk to combine.
Stir the dry ingredients into the liquid ingredients in two addition to prevent lumps.
Finally, stir in chopped pecan and vegan dark chocolate chips.
Transfer the vegan zucchini muffin batter into a 12-hole muffin tin filled with paper cases. Fill each case up to 3/4 of their level.
Baking
Preheat the oven to 350°F (180°C). Line a 12-hole muffin pan with paper cases.
Slightly oil the case with oil spray – this makes it easier to peel off the paper from the muffins after they are baked and cooled.
Bake the vegan muffins with zucchinis in the center rack of the oven until a pick inserted in the center comes out clean – about 30 minutes.
Cool completely on a wire rack before serving.
Taste And Texture
These muffins have a similar flavor to my popular vegan zucchini bread recipe, but their texture is fluffier and less dense.
It's a soft, moist, and light vegan muffin recipe perfect for a flavorsome summer breakfast or sweet afternoon snack.
Allergy Swaps
You can use this recipe using some alternatives to fit any food allergies you may have.
Gluten-free – replace flour with all-purpose gluten-free flour containing added gums. The recipe won't work with almond flour or coconut flour.
Nut-free -replace the chopped pecans with more chocolate chips or seeds. Hemp seeds, pumpkin seeds, or coconut flakes taste good in these vegan zucchini muffins.
Sugar-free replace the sugar with erythritol or xylitol.
More Vegan Zucchini Baked Goods
I love to bake with shredded zucchini in summer to use all my garden zucchini.
It's also the best way to add greens to your plate and moisture to baked goods. Below I listed my favorite vegan zucchini recipes for you to try.
Have you made these vegan zucchini chocolate chip muffins? Share a review or comment below to let me know how it goes!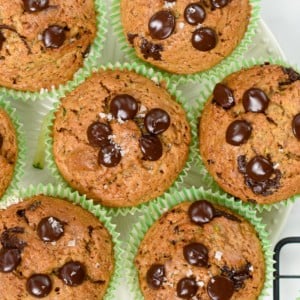 Vegan Zucchini Muffins
An easy, moist vegan Zucchini Muffin Recipe with chocolate chips.
Pin
Print
Review
Instructions
Preheat oven to 350°F (180°C). Line a 12-hole muffin tray with a paper liner. Set aside.

Trim zucchini, keep the skin on, and shred on the smaller grating attachment of your hand grater. Place the shredded zucchini in a clean kitchen towel, wrap and squeeze out their juice. Measure 1 cup of shredded + drained zucchinis. Set aside in a bowl

In a small mixing bowl, whisk lemon juice and almond milk. Set aside.

In another large mixing bowl, combine flour, sugar, brown sugar, salt, baking soda, baking powder, cinnamon, and nutmeg.

Make a well in the center of the flour and add olive oil, vanilla extract, and almond milk mixture.

Combine, scraping down the sides to bring all the ingredients together, forming a smooth batter.

Stir in grated zucchinis and chopped nuts until well distributed into the batter.

Divide the batter evenly into the 12 muffin holes.

Bake on the center rack of your oven for 20-25 minutes or until they are golden brown and a pick inserted in the center comes out clean.

Cool down on a rack completely before adding any frosting.
Share on Facebook
Pin Recipe
Nutrition
Serving:
1
Muffin
|
Calories:
237.1
kcal
|
Carbohydrates:
30.6
g
|
Protein:
2.3
g
|
Fat:
12.7
g
|
Saturated Fat:
1.6
g
|
Polyunsaturated Fat:
2.1
g
|
Monounsaturated Fat:
8.5
g
|
Sodium:
184.4
mg
|
Potassium:
79.7
mg
|
Fiber:
1.1
g
|
Sugar:
17.8
g
|
Vitamin A:
23.8
IU
|
Vitamin C:
2.1
mg
|
Calcium:
45.3
mg
|
Iron:
1
mg
|
Magnesium:
11.9
mg
|
Phosphorus:
37.7
mg
|
Zinc:
0.4
mg