3-ingredient Vegan Coconut Cream Frosting
This vegan coconut cream frosting with whipped coconut cream is the easiest dairy-free vegan frosting recipe ever! If you love a light, creamy frosting with delicious coconut flavor, then this is for you!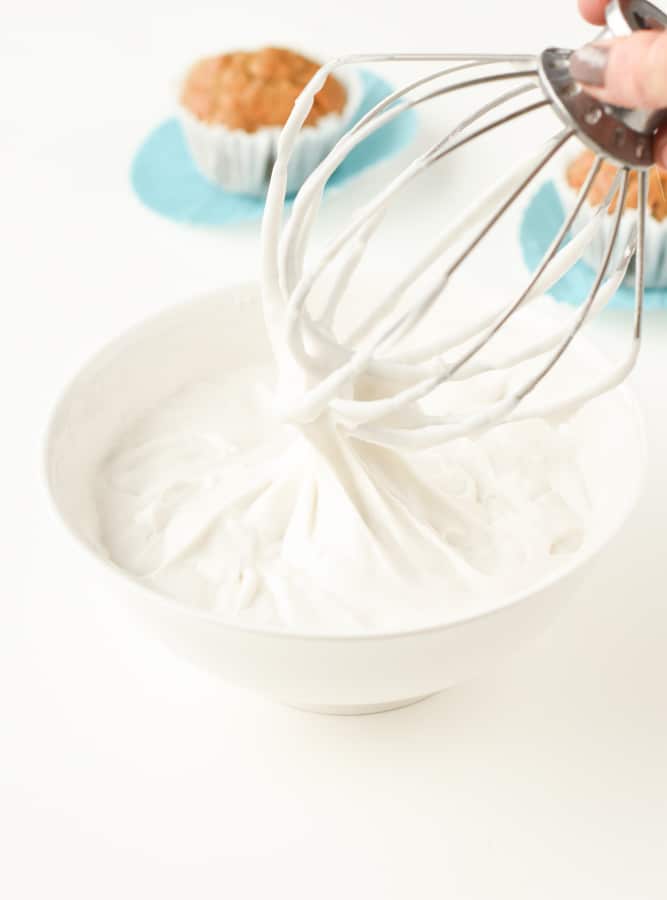 What's coconut cream frosting?
Coconut cream frosting, also known as whipped coconut cream, is a dairy-free frosting made from solid cream forming on top of a refrigerated can of coconut cream. Coconut cream is different from cream of coconut!
Coconut cream contains only coconut extract and water, and sometimes guar gum as a stabilizer, but it has no added sugar.
How to make coconut cream frosting?
Since this recipe uses only 2 ingredients, the choice of ingredients matters even more.
Choose the best coconut cream brand
What makes a great coconut whipped cream is fat from coconut. There is no surprise, a fluffy frosting is made of fat, and therefore, the amount of fat in your can of coconut is what matters to make a delicious coconut cream frosting.
However, when you look closer at the different canned coconut cream brands, you realize that their fat content varies a lot.
This happens because some brands add more or less coconut extract in the can from 59% to 70% coconut extract. As a result, the more coconut extract it contains, the more fat you get.
So to choose the best coconut cream for frosting, you need to look at the ingredient list and look for:
Minimum 60% coconut extract.
Minimum fat 20g per 1/2 cup, which is 5g per 2 tablespoons.
No added sugar.
What about guar gum?
Some brand contains guar gum which actually helps frosting firm up, so I highly recommend this option.
Best brand of coconut cream for frosting
I tested many brands, and the best brand to make frosting are:
Savoy Coconut Cream – Available worldwide.
Coco Goods Organic Coconut Cream – Available worldwide.
Let's do Organic Heavy Coconut Cream – Available worldwide.
Chantal Organic – New Zealand.
Ceres Organic – New Zealand.
Chill the can and bowl
Whipped coconut cream is similar to whipped cream. It means that to succeed, you must work with cold ingredients. Therefore you must refrigerate your bowl and whip tool the day before making this recipe.
Now that you have selected the best can of coconut cream, place it in the fridge overnight. This step will separate the two ingredients in the can. The cream will stay on top while the water will migrate to the bottom.
Don't shake the can
The next day, or when you are ready to make the frosting, open the can but remain still! You don't want to mix the coconut cream with the water.
Use a spoon to scoop out the thick coconut cream residue from the top of the can, making sure you don't scoop the water.
Place the coconut cream in the refrigerated bowl along with powdered sugar and vanilla extract if desired.
Don't use maple syrup in this recipe. It makes the frosting heavy and dense.
Other options to sweeten the frosting are to use powdered erythritol, allulose, or stevia drops for a sugar-free option.
Whip the cream
Whip the cold coconut cream on high speed with a hand mixer or in your stand mixer with the whipped attachment.
You know it's ready when it forms lovely waves of firm light cream on top of the bowl.
Note that this recipe won't work in a food processor! You must use a whip attachment from a stand mixer or beater from an electric mixer.
How to fix your coconut cream frosting?
The most common issues with whipped coconut cream are:
Cream not firming up: This can happen for so many reasons, usually because your coconut cream doesn't contain enough fat or you added water into the mix. To fix it, add 1-2 tablespoons of cornstarch in the bowl or 1/2 teaspoon of guar gum. These options are gluten-free, and they can save your frosting if too runny.
Not sweet enough – you can increase the sweetness by adding more powdered sugar or even stevia drops for a keto vegan frosting.
How to use coconut cream frosting?
A coconut cream frosting is light like regular whipped cream. It doesn't keep its volume as well as a cream cheese frosting or butter frosting.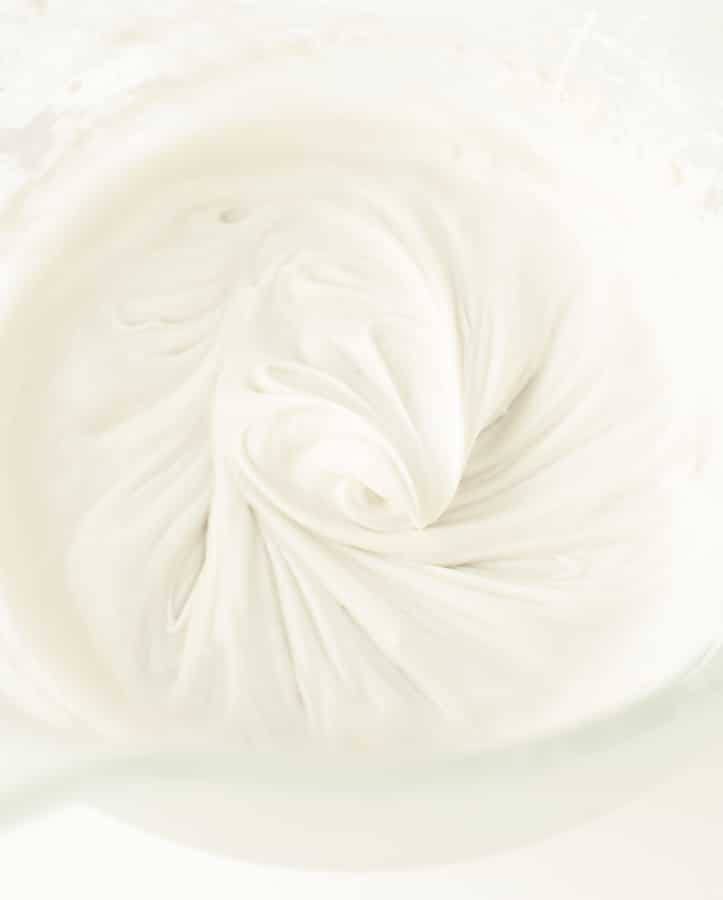 It's not a thick frosting that you can pipe on cupcakes like my vegan vanilla frosting.
How to use coconut whipped cream?
This light and fluffy whipped cream is perfect to top up:
Desserts– add on top of my vegan chocolate pie or vegan peanut butter pie.
Hot drink – add a dollop to your vegan hot chocolate.
Muffins and mug cakes– spread on top of these carrot cake cupcakes.
Cheesecake – add on the side of raw cheesecake recipes.
Ice cream – it goes well with any scoop of dairy-free ice cream.
Can I use coconut milk?
Some canned coconut milk matched the criteria described above, more than 60% coconut extract and 30% total fat. If your coconut milk brand satisfies these criteria, then yes, it can work with this recipe!
How to store coconut frosting?
This frosting firm up in the fridge and keep well for 2 days in a sealed container or on top of muffins and desserts.
Some vegan dessert recipes to use your frosting
Below I listed the best vegan dessert recipes you can make and top up with this delicious light and fluffy frosting.
Other Frosting Options
Made this coconut cream frosting yet? Share a review or comment below to tell me how you used yours! I love to hear from you!
Your friend, Carine