This vegan vanilla frosting is an easy vegan frosting for cakes or cupcakes.
A creamy vegan buttercream frosting with only 4 ingredients, 100% dairy-free.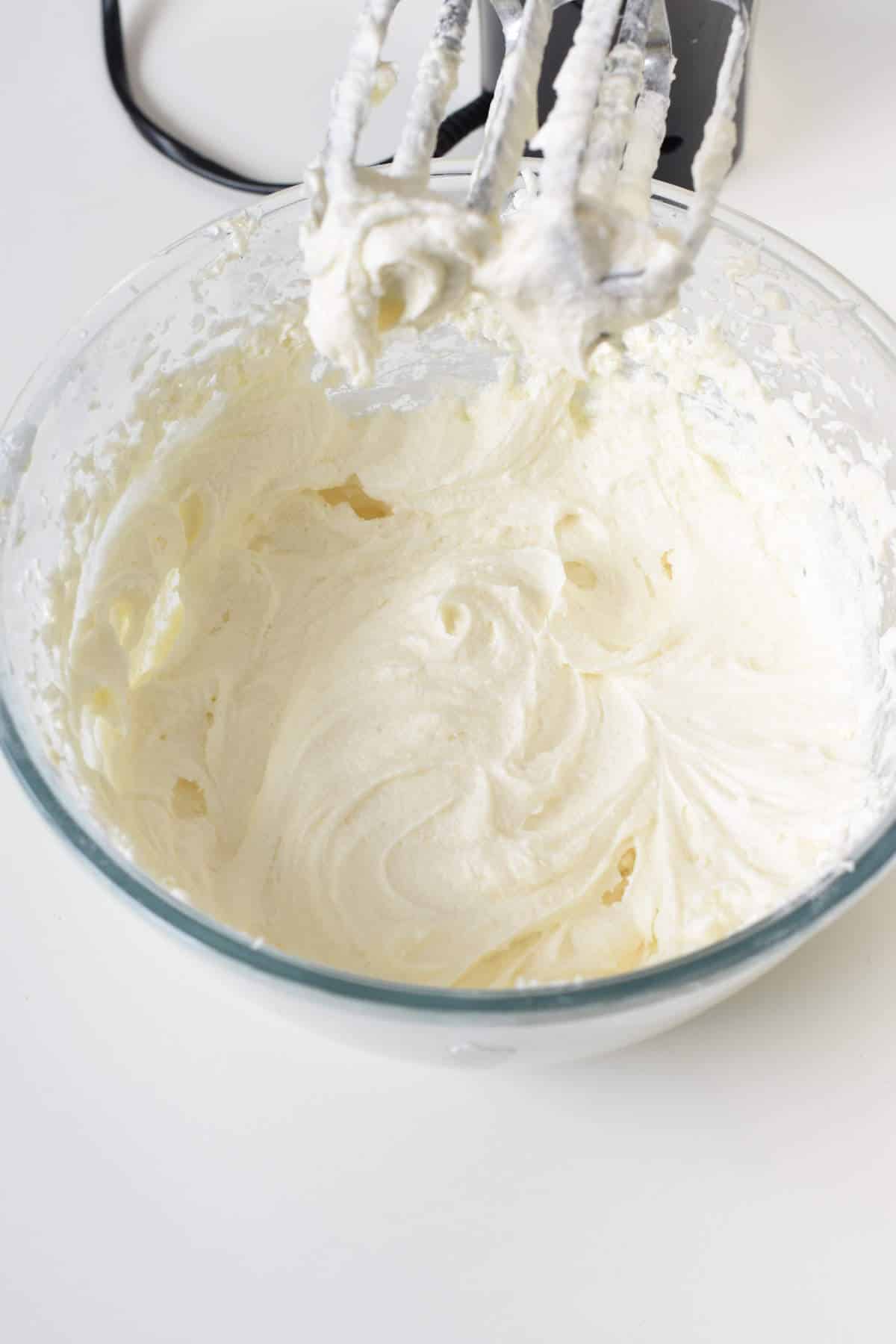 What's Vegan Frosting?
This vegan frosting is smooth, creamy frosting to spread on top of cakes, cupcakes, muffins, and cookies to give them a delicious vanilla-flavored accent.
It's made with only 4 plant-based ingredients and ready in 10 minutes.
How To Make Vegan Vanilla Frosting
It takes only 10 minutes to make a vegan vanilla buttercream frosting.
Frosting ingredients
First, gather all your ingredients. All you need are 4 ingredients: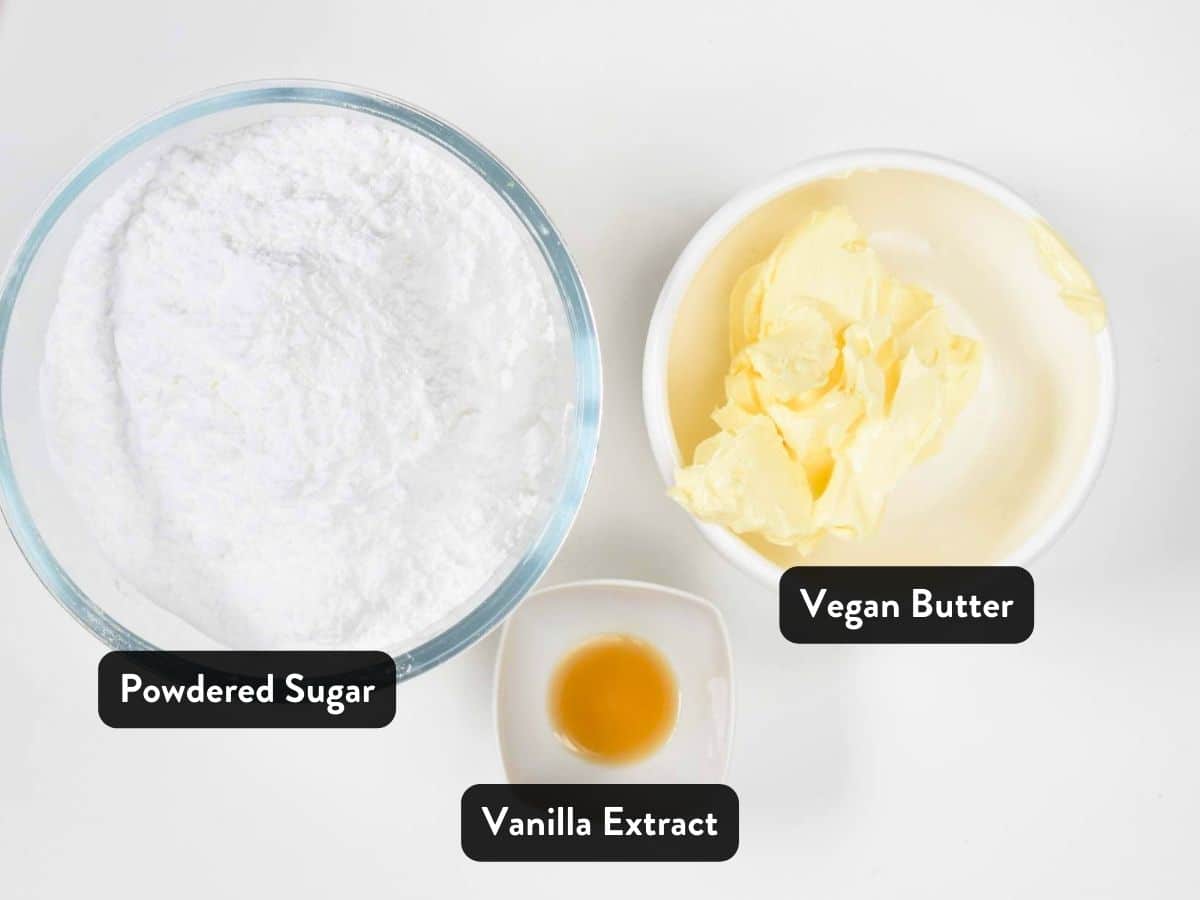 Soft vegan butter – most vegan butter brands, I recommend Earth Balance Vegan Butter Spread. This spread is already soft and spreadable out of the fridge. It means you don't have to bring the vegan butter to room temperature before starting this easy vegan vanilla frosting recipe. You can't use coconut oil for this recipe.
Powdered sugar – also called icing sugar in some countries. You can't make buttercream with crystal sugar. It must be powder sugar.
Vanilla extract – or fresh vanilla seeds if preferred, but much more expensive.
Unsweetened soy milk – or other non-dairy milk like almond milk or oat milk.

Beating The Vegan Butter
All you need is your soft vegan butter spread to become smooth and whiter in color. It shouldn't take more than 30 seconds.
In fact, over-beating vegan butter can warm up the butter. Consequently, the vegan buttercream can become grainy or curdle.
Beating The Frosting
Then, add the rest of the ingredients with the soft creamed vegan butter, with only half of the non-dairy milk first, and beat with an electric hand mixer.
That's the simplest way of making the frosting.
How To Use Vegan Vanilla Frosting
This is a vegan vanilla cake frosting that can be used to frost:
One layer 8 to 9-inch vegan vanilla cake
One batch of 12 vanilla cupcakes
This recipe uses only 1/2 cup of vegan butter to frost a two-layer cake or 24 cupcakes. Simply double up each ingredient in the recipe.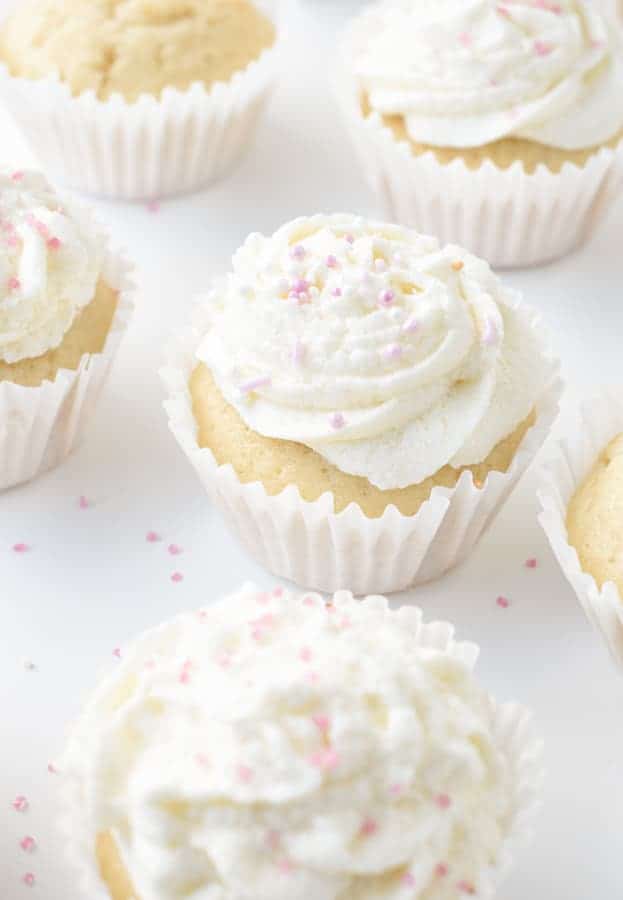 Frequently Asked Questions
Why has my buttercream failed?
There are a few reasons why your vegan vanilla cupcake frosting can fail.
Let me explain the reasons below, or jump to the next section for my troubleshooting tips.
1. Over-beating the ingredients – you beat the frosting too fast for too long.
2. Warm environment or ingredients – you must use vegan butter straight from the fridge.
3. Too much soy milk – adding too much soy milk or any dairy milk curdle frosting.
4. Old batch of powdered sugar – poorly stored powdered sugar forms lumps and crystals that you can feel in your buttercream.
5. Too sweet – you added too much powdered sugar to balance a runny frosting.
How Can I fix A Too-Thin Frosting?
This happens if you add too much liquid.
Balance by adding an extra 1-2 teaspoons of cornstarch (to avoid raising the sweetness of the frosting) or powdered sugar if you don't mind your frosting being too sweet.
How Can I Fix An Overly Thick Frosting?
Your frosting misses some liquid. Add more liquid, add drops like 1/4 teaspoon at a time to avoid the frosting turning runny too quickly.
My frosting is too grainy, how can I fix it?
Your powdered sugar contains lumps, or it's an old batch stored in an open-air environment. If your icing sugar is not fine enough or presents a lump, sift the powdered sugar in the bowl to remove lumps/sugar blocks.
My frosting is too sweet, what can I do?
Stir in a pinch of salt to balance the sweetness, about 1/4 teaspoon salt.
My frosting is not fluffy, why does this happen?
This happens when your kitchen is too warm, or the butter is too warm.
Place the bowl in the fridge for 10 minutes and restart the beating steps. By bringing down the temperature, the fluffiness should come back.
Can I color this vegan vanilla cupcake frosting?
Yes, you can color your vegan frosting using natural food coloring paste or gel. Don't use liquid food coloring in the frosting recipe. It can curdle the frosting.
More Dairy-Free Frosting Recipes
If you like vegan frosting, you'll love these other frosting recipes: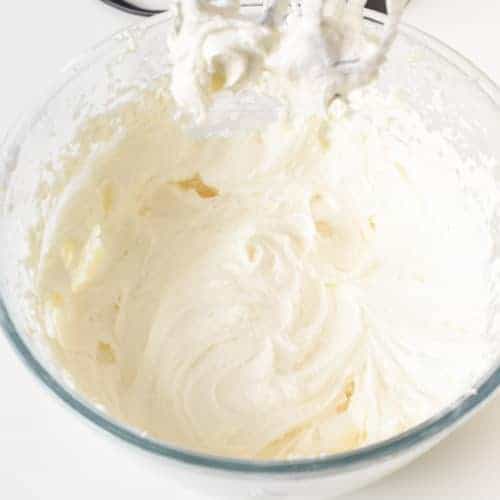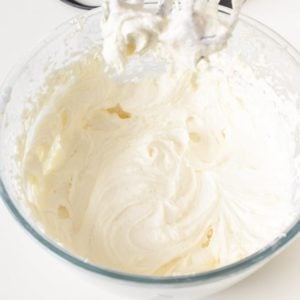 Vegan Vanilla Frosting
An easy Vegan frosting with vanilla flavor, perfect for vegan cakes or vegan cupcakes.
Pin
Print
Review
Servings: 6 cupcakes
Calories: 111.9 kcal
Instructions
In a medium bowl, cream soft vegan butter with an electric hand mixer until smooth, fluffy and whiter in color – about 30 seconds.

Add the powdered sugar, vanilla, and 1 tablespoon of soy milk.

Beat on low speed with an electric hand mixer. This prevents the powdered sugar from bursting out of the bowl. Then, increase speed to medium-high speed moving around the bowl to bring all ingredients together.

Beating until it forms a smooth, spreadable frosting, don't overbeat, or it could curdle or get grainy. Read my post above for all my troubleshooting tips.

If frosting is too thick to your liking, beat in more milk, adding a few drops at a time. If frosting becomes too thin, beat in a small amount of extra powdered sugar.
Frosting
This recipe frost 6 cupcakes or an 8 inch one-layer cake.

Double the recipe for 12 cupcakes frosting or two-layer cake frosting.
Coloring
You can add color to your frosting, adding food coloring paste or gel, not liquid!
Storage
Store for up to one week in the fridge in a sealed container.
Notes
The nutrition panel is for 1 serving, the recipe makes enough frosting for 12 small cupcakes.
Share on Facebook
Pin Recipe
Nutrition
Serving: 1cupcake frosting | Calories: 111.9kcal | Carbohydrates: 31.4g | Protein: 0.1g | Fat: 12.2g | Saturated Fat: 3.1g | Polyunsaturated Fat: 3.4g | Monounsaturated Fat: 4.9g | Trans Fat: 0.1g | Sodium: 122.9mg | Potassium: 9.3mg | Fiber: 0.1g | Sugar: 0.1g | Vitamin A: 729.1IU | Vitamin B12: 0.1µg | Vitamin C: 0.2mg | Vitamin D: 0.1µg | Calcium: 3.5mg | Iron: 0.1mg | Magnesium: 0.1mg | Phosphorus: 0.8mg | Zinc: 0.1mg