Vegan Strawberry Cupcakes
This easy Vegan Strawberry Cupcake recipe with a moist strawberry crumb filled with juicy strawberries pieces and topped with vegan strawberry buttercream.
A lovely pink cupcake recipe for any occasion, birthday, or Christmas season.
It's the strawberry season here, so strawberry cupcakes it is!
With two kids at home, I have a passion for vegan cupcakes, and I already shared quite a few with you: vegan vanilla cupcakes, vegan chocolate cupcakes, and now these pink cupcakes!
What Are Strawberry Cupcakes?
Strawberry cupcakes differ from other cupcakes batter as they incorporate strawberry puree.
I shared my strawberry puree recipe on my kid blog, it is basically blended raw strawberries, and it adds a lovely strawberry flavor and moist crumb to cupcakes.
Are Strawberry Cupcakes Vegan?
No authentic Strawberry Cupcakes contain eggs and butter, so they are not vegan friendly.
How To Make Vegan Strawberry Cupcakes
It's pretty simple to make vegan strawberry cupcakes. All you need to start this recipe are:
Ingredients
Fresh Strawberries are the best, but actually fresh or frozen strawberries work well. If you use frozen strawberries, thaw them overnight or for at least 3 hours, discard the juice they release, and use the thawed berries only. For fresh strawberries, the riper they are, the sweeter the cupcakes will be!
Apple Cider Vinegar or lemon juice.
Soy Milk or any plant-based milk you love like almond milk or oat milk or coconut milk. The combination of apple cider vinegar and dairy-free milk creates natural vegan buttermilk that makes the cupcakes crumb moist.
White Sugar – I use unrefined cane sugar, you can use coconut sugar, but it alters the lovely pink color of the cupcake crumb. So for a lovely pink and white cupcake color, use any white granulated sweetener. Even erythritol works as a sugar-free alternative.
Baking Powder
Salt
Melted Vegan Butter or light vegetable oil like canola oil.
Chopped Strawberries
Vegan Strawberry Buttercream
For the buttercream, I started from my vegan vanilla frosting recipe, and I added the ingredients below to make a pink cupcake frosting with natural strawberry flavor:
Pink food coloring drops
Strawberry powder – you can also use drops of natural strawberry flavor.
Making The Strawberry Milk
First, you will make strawberry milk. Weigh the strawberries – I used about six large strawberries or about 4.5 oz.
Place the hulled strawberries and soy milk in a blender and blend on the medium-speed setting until it forms pink milk.
Set aside in a bowl and stir in the apple cider vinegar to curdle the mixture.
Meanwhile, in a large mixing bowl, combine the dry ingredients. Add flour, sugar, salt, and baking powder and stir to combine evenly.
Finally, make a wheel in the center of the dry ingredients and pour the melted vegan butter and strawberry milk above.
Stir to combine until all ingredients are evenly coming together and no lumps of flour can be seen.
Fold in chopped strawberries and stir a few times to incorporate
Preheat the oven to 350°F (180°C). Line a 12-hole muffin pan with paper liner cups and slightly oil with oil spray.
The oil prevents the cupcakes from sticking to the baking paper when they cool down.
Fill each muffin paper case up to 3/4 their level.
Baking
Bake the cupcakes in the center rack of the oven until they are golden on top, set in the middle, and a pick inserted in the center of one of the cupcakes comes out clean.
If the toothpick comes out wet, keep baking for an extra 5-minute burst until the cupcakes are set in the middle.
Cool the cupcakes down on a wire rack as soon as they are out of the oven.
Don't cool down in the muffin pan, or the cupcakes get too moist and sometimes gummy because the strawberries release moisture in the crumb.
Frosting
The next and fun part is the cupcake frosting. To do so, make sure the cupcakes are fully cooled down. Then, prepare the vegan strawberry buttercream.
In the bowl of a stand mixer, beat the vegan butter and sugar until it forms a creamy white fluffy mixture using the paddle attachment.
Stop the mixer and add in liquid pink food coloring and strawberry flavor – I used strawberry powder by liquid strawberry extract works as well.
Beat again until the vegan frosting is pink and flavorsome. Adjust the color and flavor by adding more food coloring or strawberry flavor to the frosting.
Piping
Fill a piping bag with the pink frosting and start frosting the cupcakes. This buttercream frosting serves 14 cupcakes.
I had about 1/2 cup of frosting left that I stored in the fridge for other desserts, or you can freeze it for later.
Decoration
Cupcakes are always much more attractive if decorated right! So to decorate these lovely dairy-free cupcakes the vegan way, I recommend adding:
Fresh Strawberries – you can add a whole strawberry or half strawberry. I like to wash the strawberries first, then pat them dry on absorbent paper to prevent liquid from being released into the frosting – this ruins the frosting, so better to avoid strawberry juice.
A pinch of Freeze-dried Strawberry Powder – I personally struggle to find this in store, so instead, I bought a strawberry-flavored superfood powder made of beetroot powder, pea protein, and plenty of other healthy nutrients.
Desiccated Coconut
Vegan Sprinkles. Not all sprinkles are vegan. Some use animal-based food coloring. So choose a conscious sprinkle brand to add to the top of these pink cupcakes.
Storage Instructions
These vegan cupcakes store very well in a cupcake airtight box in the fridge for about 3-4 days.
You can also freeze the strawberry cupcakes in a box and thaw them in the fridge the day before eating.
I recommend freezing cupcakes without the strawberry on top.
Allergy Swaps
Flours – you can swap wheat flour for an all-purpose gluten-free flour blend containing gums. Other flours that work well are white wholewheat flour or spelt flour. This recipe won't work with almond flour or coconut flour.
Refined sugar-free crystal sweeteners work well, but watch out! Coconut sugar turns the cupcakes brown. You won't enjoy the same pink color.
Food Coloring can be added to the cupcake batter for a much more vibrant color if you are making these as vegan Valentine's day cupcakes, for example.
More Vegan Desserts
I have a passion for dairy-free desserts, and I have so many other lovely vegan desserts recipes for you to try this season.
Have you made these vegan cupcakes with strawberries? Share a review or comment below to connect with me!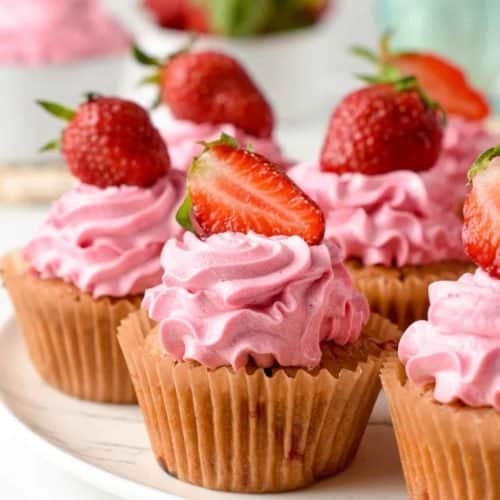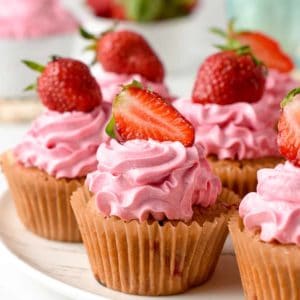 Vegan Strawberry Cupcakes
An easy Vegan Strawberry Cupcake recipe with a moist strawberry crumb filled with juicy strawberries pieces and topped with vegan strawberry buttercream. A lovely pink cupcake recipe for any occasion, birthday, or Christmas table.
Pin
Print
Review
Servings: 12 cupcakes
Calories: 187.5 kcal
Ingredients
Strawberry Milk
⅔ cup Soy Milk - or non-dairy milk of your choice, at room temperature
4.5 oz Strawberries - hulled, about 6 large strawberries
Strawberry Cupcake batter
Vegan Strawberry Buttercream
Instructions
Preheat oven to 350°F (180°C) and line a 12-hole muffin pan with paper liners. Slightly oil paper with oil spray. Set aside.

First, prepare the strawberry milk: hull and weigh the strawberries, then place the 6 strawberries in a food processor or blender with soy milk. Blend/pulse into a smooth strawberry milk form.

In a bowl, stir strawberry milk made above and apple cider vinegar. Set aside for 5 minutes to curdle the milk.

In another large mixing bowl, whisk flour, sugar, salt, baking powder until evenly combined.

Stir in the milk mixture, melted vegan butter, vanilla extract.

Stir with a spoon until just combined, then fold in chopped strawberries.

Divide the batter evenly into the 12 cupcake liners, filling up to 2/3 full, not more!

Bake at 350°F (180°C) on the center rack of your oven for 20-23 minutes or until a toothpick inserted in the center of the cupcakes comes out clean.

Cool immediately on a wire rack before frosting with vegan strawberry buttercream frosting.
Strawberry Buttercream frosting
Prepare 1 batch of vegan vanilla frosting and stir in food coloring, strawberry powder, and flavor at the end.
Storage
Store the cupcakes in the fridge in an airtight box for up to 4 days or freeze and thaw in the fridge the day before.
Notes
The nutrition panel includes the frosting.
Share on Facebook
Pin Recipe
Nutrition
Serving: 1cupcake | Calories: 187.5kcal | Carbohydrates: 32.8g | Protein: 2.4g | Fat: 5.3g | Saturated Fat: 1g | Polyunsaturated Fat: 1.7g | Monounsaturated Fat: 2.4g | Trans Fat: 0.9g | Sodium: 98.9mg | Potassium: 70.6mg | Fiber: 0.9g | Sugar: 18.1g | Vitamin A: 53.9IU | Vitamin B12: 0.1µg | Vitamin C: 12.4mg | Vitamin D: 0.2µg | Calcium: 54mg | Iron: 1.1mg | Magnesium: 6.8mg | Phosphorus: 35.7mg | Zinc: 0.2mg