This Strawberry Baked Oatmeal is an easy, healthy, one-pan breakfast to meal prep a week of tasty breakfasts.
You will love the combination of strawberry and chocolate in this creamy oatmeal bake.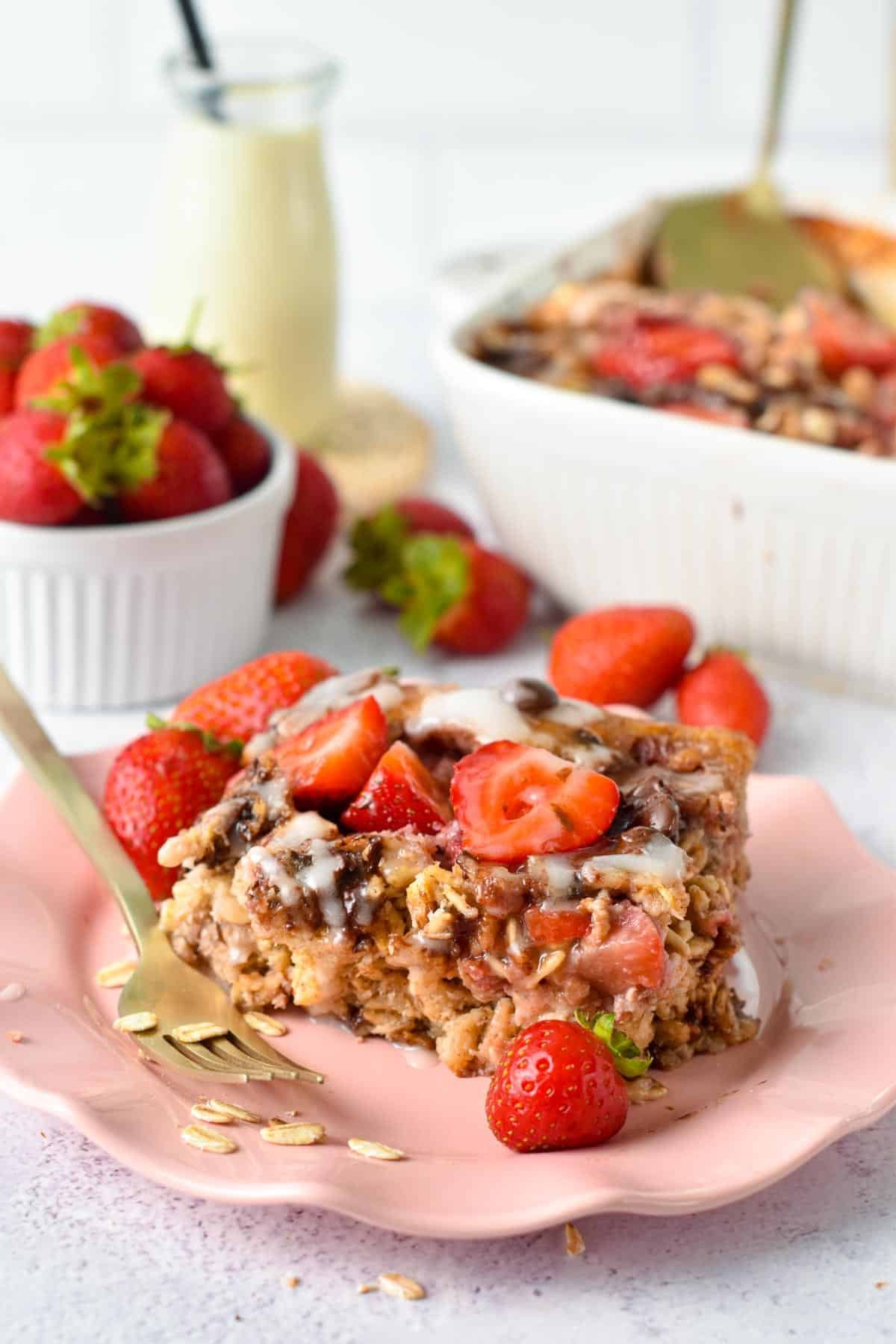 Baked oatmeal are the perfect recipe for a healthy family Sunday breakfast.
When you prepare baked oatmeal on the weekends, you don't have to rush in the morning during the week to make something for the kids.
What Is Strawberry Oatmeal Bake?
This strawberry-baked oatmeal flavor combines strawberries, almond butter, and chocolate chips, making it taste like a strawberry cheesecake.
It's super creamy, moist filled with strawberry juice and melted chocolate chips.
If you love strawberries, or simply have too many strawberries in your garden, try a batch of strawberry-baked oatmeal. You won't regret it.
It's a one-pan oatmeal that contains all your favorite oatmeal ingredients from oats, milk, and strawberries for a lovely berry flavor.
It's a healthy family breakfast that can be stored for four days in the fridge and is perfect for meal prep for many healthy mornings.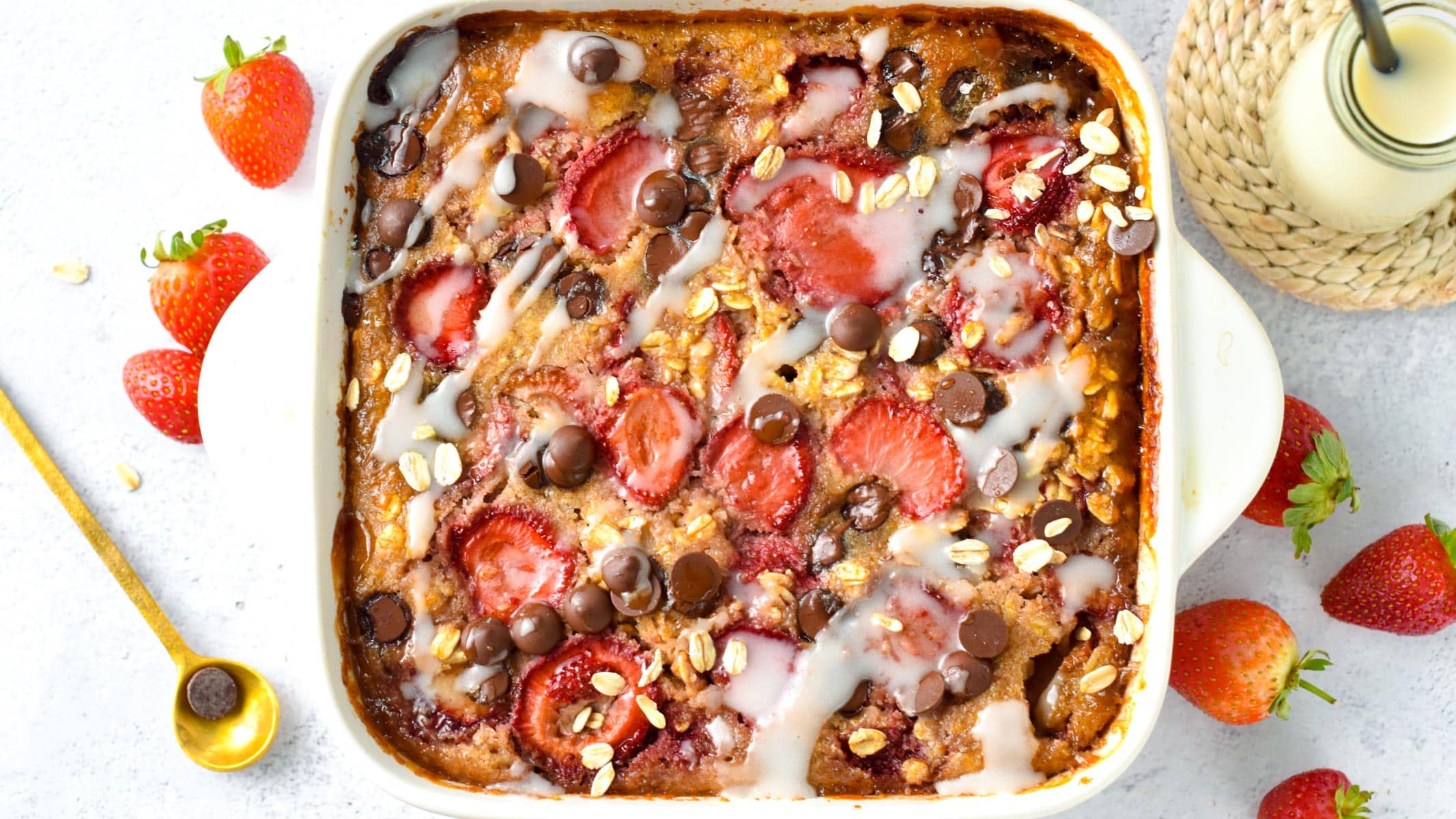 How To Make Strawberry Baked Oatmeal
It's easy to make this oatmeal bake recipe. The only tricky part is the strawberries.
Strawberries are ultra-juicy compared to the blackberries I used in my blackberry oatmeal bake.
As a result, if you add too many strawberries to the recipe or you don't slice them finely, they release too much juice, and the oatmeal never firms up.
It's not a fail, and of course, you can still eat a soft oatmeal bake.
However, if you like yours with texture, the firm makes sure you follow my recommendation for the number of strawberries and the way to cut them.
Ingredients
All you need to make this healthy breakfast are a few ingredients:
Old-Fashioned Rolled Oats or quick oats. Both work fine for this recipe.
Cinnamon
Baking Powder
Salt
Maple Syrup or any sweetener you love, including brown sugar, coconut nectar, or date syrup.
Almond Milk or any non-dairy milk you love.
Almond butter or peanut butter l. I like almond butter, it makes the recipe softer and creamier and boosts protein content.
Flax Egg
Chia seeds
Chocolate Chips – Use white or dark chocolate chips or a combination of both.
Strawberries, fresh or frozen, cut into slices. Make sure you use the amount listed in the recipe written below. Always cut them into thin slices to avoid too much strawberry juice on some spots of the baked oats.
Vanilla Extract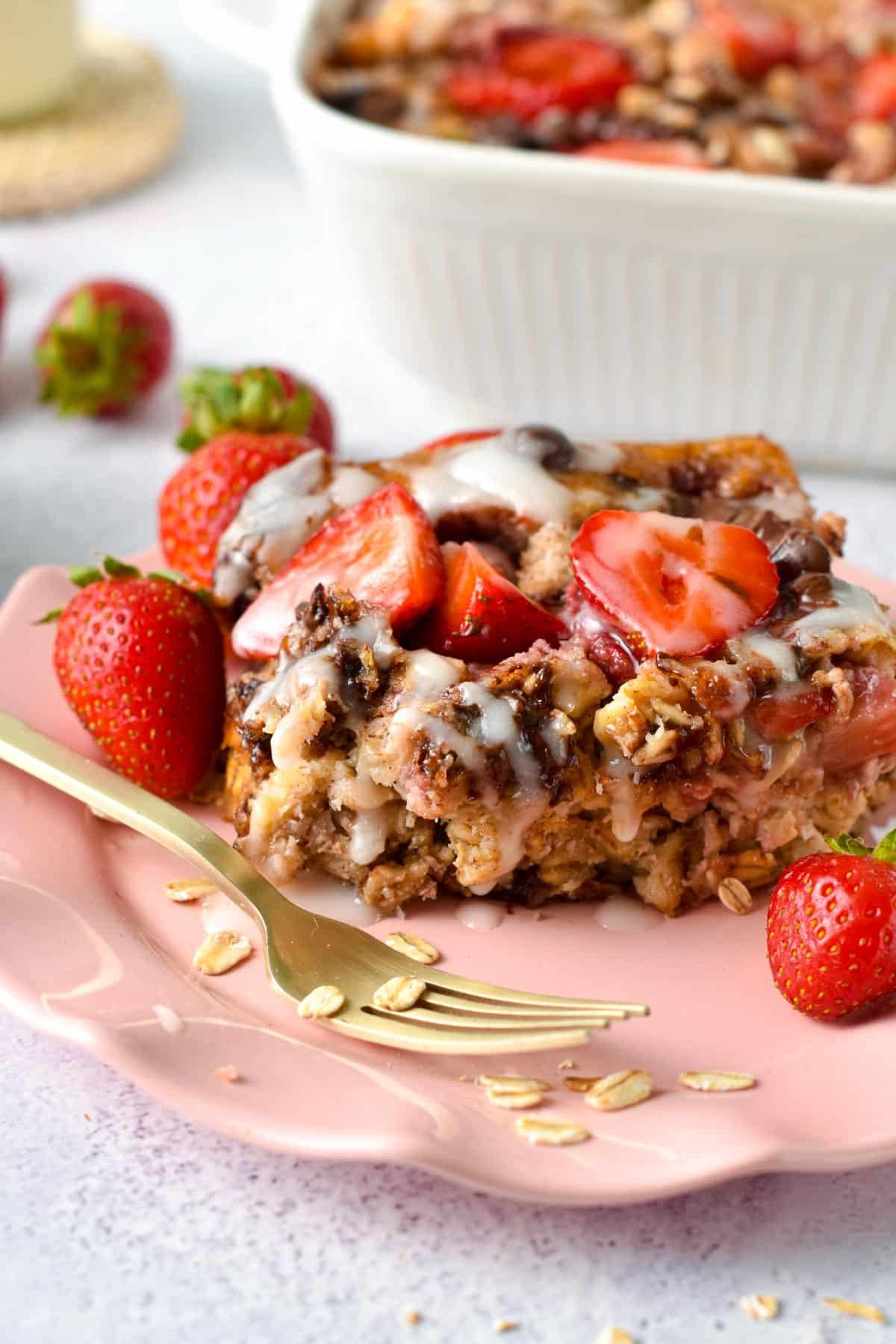 Preparation
There are two ways to make this recipe, depending on the type of strawberries you are using – fresh or frozen.
Method 1: Frozen Strawberries
Most of the time, I use frozen strawberries for this recipe.
This is because they are already sliced, and cheaper, and even if strawberries are not in season, I can enjoy strawberry oatmeal.
Since frozen strawberries release way more juice than other frozen berries, I recommend removing them from the freezer 20 minutes before you start.
This gives time for the berries to thaw lightly and release some of their juice.
Method 2: Fresh Strawberries
If strawberries are in season, pit the stem, and cut the strawberries into slices.
Set them aside in a bowl.
Baked Oatmeal Mixture
Preheat the oven to 350°F (180°C). Lightly grease an 8-inch x 8-inch baking dish with cooking oil spray or coconut oil. Set aside.
In a large bowl, whisk oats, salt, cinnamon, chia seeds, and baking powder.
Make a well in the center and add wet ingredients: almond butter, maple syrup, almond milk, vanilla extract, and flax egg.
Fold in the sliced strawberries without the juice released in the bowl and chocolate chips. Stir evenly until it's combined.
Pour the baked oatmeal mixture into the prepared baking dish.
Bake on the center rack of the oven for 30 to 40 minutes or until set and firm in the center of the dish.
Cool at room temperature in its baking dish for 15 minutes before serving. The texture firm up as it cools down.
Serving
The most classic way to eat baked oatmeal is lukewarm with a touch of milk in the bowl.
Also, adding some toppings to this strawberry-baked oatmeal recipe tastes amazing.
Try some of the healthy oatmeal toppings below to add texture and flavor to your breakfast:
Peanut Butter
Cashew Butter
Extra-Fresh Strawberries
Drizzle plain plant-based Greek Yogurt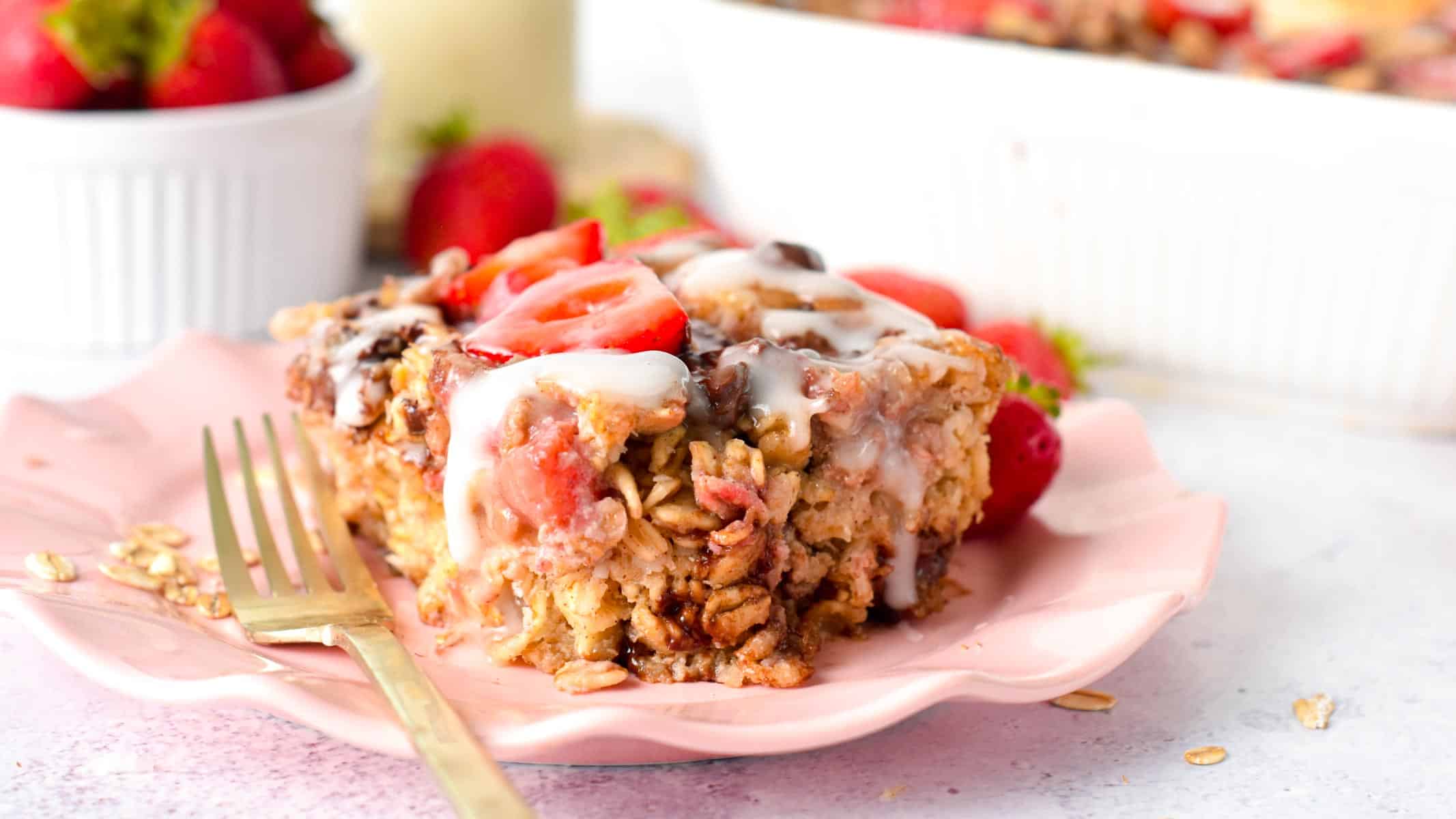 Storage Instructions
You can store baked oatmeal leftovers in the baking dish and add a piece of plastic wrap or foil on top of it to keep the oatmeal fresh and moist. It stays fresh for 4 to 5 days in the fridge.
The next day, serve one portion in a shallow bowl and eat cold or rewarm in a microwave-safe bowl for 1 minute.
Serve with plant-based milk, soy yogurt, or on its own.
You can also freeze leftovers in a single-serve airtight container and thaw them in the fridge the day before serving.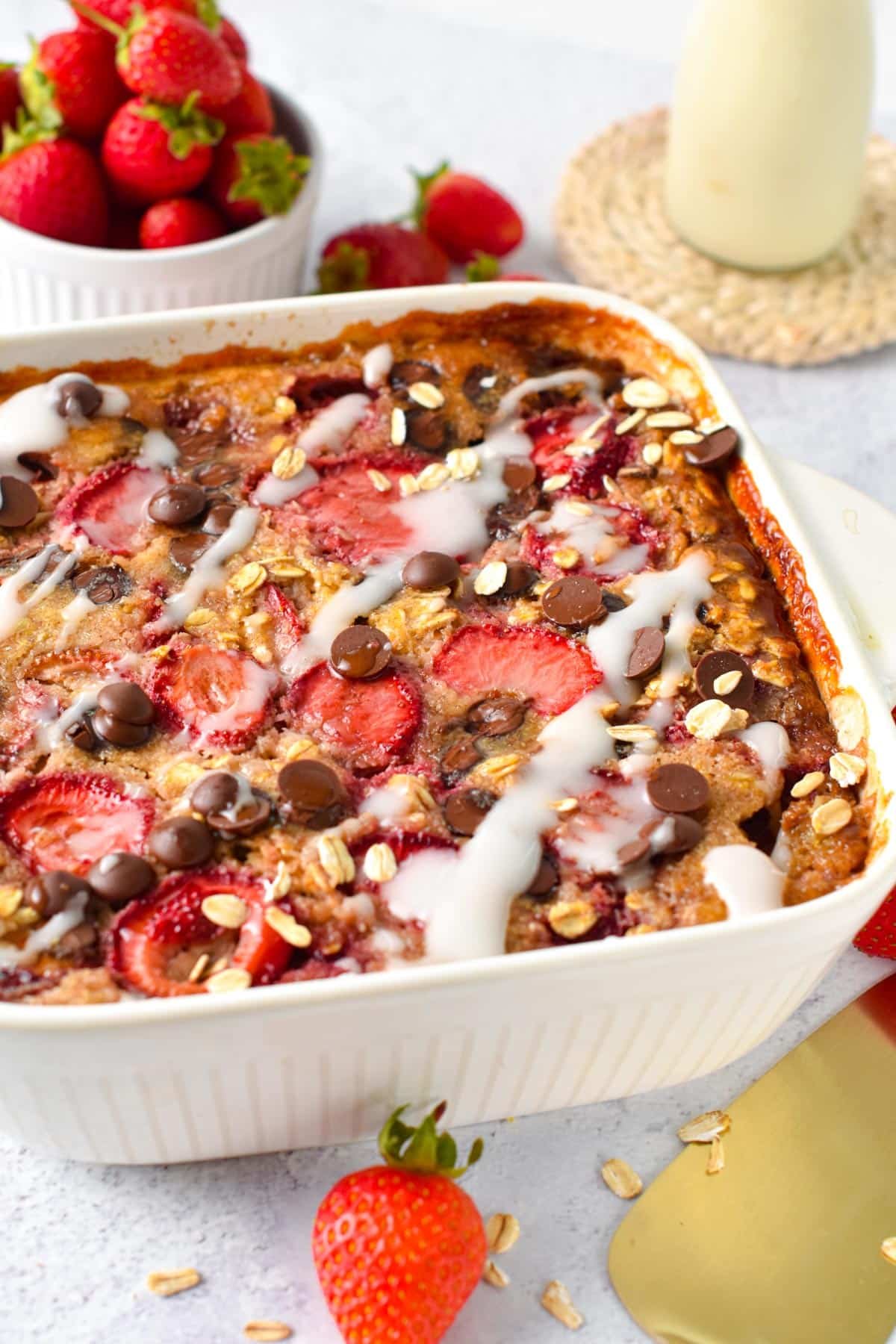 Allergy Swaps
If you have food allergies, try some of the substitution options below.
Gluten-Free – Some oat brands are gluten-free certified. Pick one of those to make this recipe.
Chocolate Chip-Free – You can replace the chocolate chips with more shredded coconut, or chopped nuts like almonds, or walnuts, or banana slices.
Nut-Free – Feel free to use any milk you love, like coconut milk, soy milk, or rice milk. Swap almond butter for sunflower seed butter
Frequently Asked Questions
Find below my answers to the most common questions about this recipe.
How Can I Add More Proteins To Baked Oatmeal?
Try stirring 2 or 3 tablespoons of vanilla protein powder or peanut butter to boost the proteins in the recipe.
Use high-protein milk like soy milk or protein-fortified almond milk.
Can I Use Other Berries?
Yes, you can swap the strawberries for any frozen berries.
Some berries release less liquid so you can increase the amount in the recipe for more flavors.
Can I Freeze Leftovers?
Baked oatmeal freezes well and lasts a month in a sealed container in the freezer.
Make sure you thaw in the fridge the day before and rewarm in a microwave-safe bowl or in a non-stick saucepan with milk at the bottom to avoid the mixture sticking.
Have you tried this easy healthy breakfast recipe? Share a comment or review below to connect with me.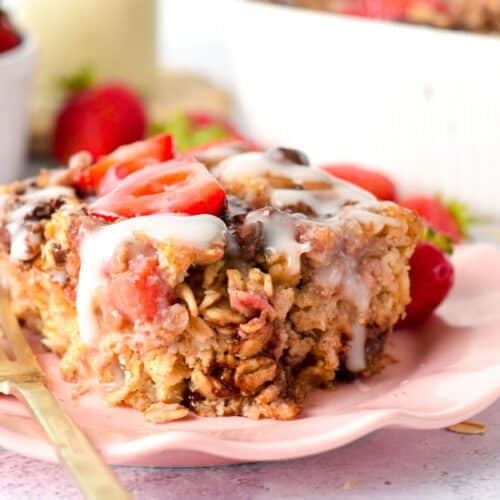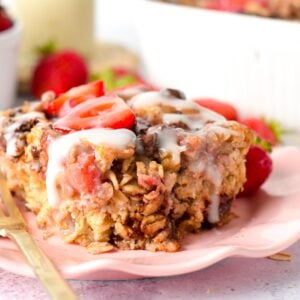 Strawberry Baked Oatmeal
This Strawberry Baked Oatmeal is a creamy strawberry creamy oatmeal perfect for feeding the whole family in the morning with a healthy breakfast.
Pin
Print
Review
Servings: 6 servings
Calories: 338.1 kcal
Instructions
Preheat the oven to 350°F (180°C). Spray oil on an 8-inch x 8-inch square baking dish and set it aside.

Prepare the flax egg – stir 1 tablespoon of flax meal and 3 tablespoon of lukewarm. Set aside 10 minutes until a gooey texture forms

In a large bowl, combine the Oats, Baking Powder, Salt, chia seeds, and Cinnamon.

Whisk in flax egg, almond milk, almond butter, vanilla extract, and maple syrup.

Fold in sliced strawberry, coconut, and chocolate chips and stir to combine evenly.

Pour the strawberry oat mixture into the prepared baking dish.

If you like, sprinkle extra strawberry slices on top of the dish.

Bake on the center rack for 40-45 minutes or until the center is set, not jiggly, and the sides are golden brown.

Cool in the baking dish for at least 15 minutes before serving.
Storage
Cool down completely and store in the fridge, in its baking dish covered with a piece of foil for up to 4 days.
Serving
Serve cold or lukewarm with a drizzle of peanut butter or cashew butter.
Notes
Note 1: stir 1 tablespoon of flax meal and 3 tablespoon of lukewarm. Set aside 10 minutes until a gooey texture forms
Share on Facebook
Pin Recipe
Nutrition
Serving: 1serve | Calories: 338.1kcal | Carbohydrates: 46.1g | Protein: 7.2g | Fat: 14.8g | Saturated Fat: 5.5g | Polyunsaturated Fat: 3.2g | Monounsaturated Fat: 3.9g | Trans Fat: 0.003g | Sodium: 352.9mg | Potassium: 335.3mg | Fiber: 6.8g | Sugar: 19.1g | Vitamin A: 5.5IU | Vitamin C: 16.8mg | Calcium: 210.7mg | Iron: 2.2mg | Magnesium: 90.1mg | Phosphorus: 225.4mg | Zinc: 1.8mg