This Blackberry Oatmeal Bake is an easy, healthy one-pan oatmeal breakfast filled with juicy blackberries.
It's perfect for feeding a healthy breakfast to the whole family on a busy morning and starting the day full of energy.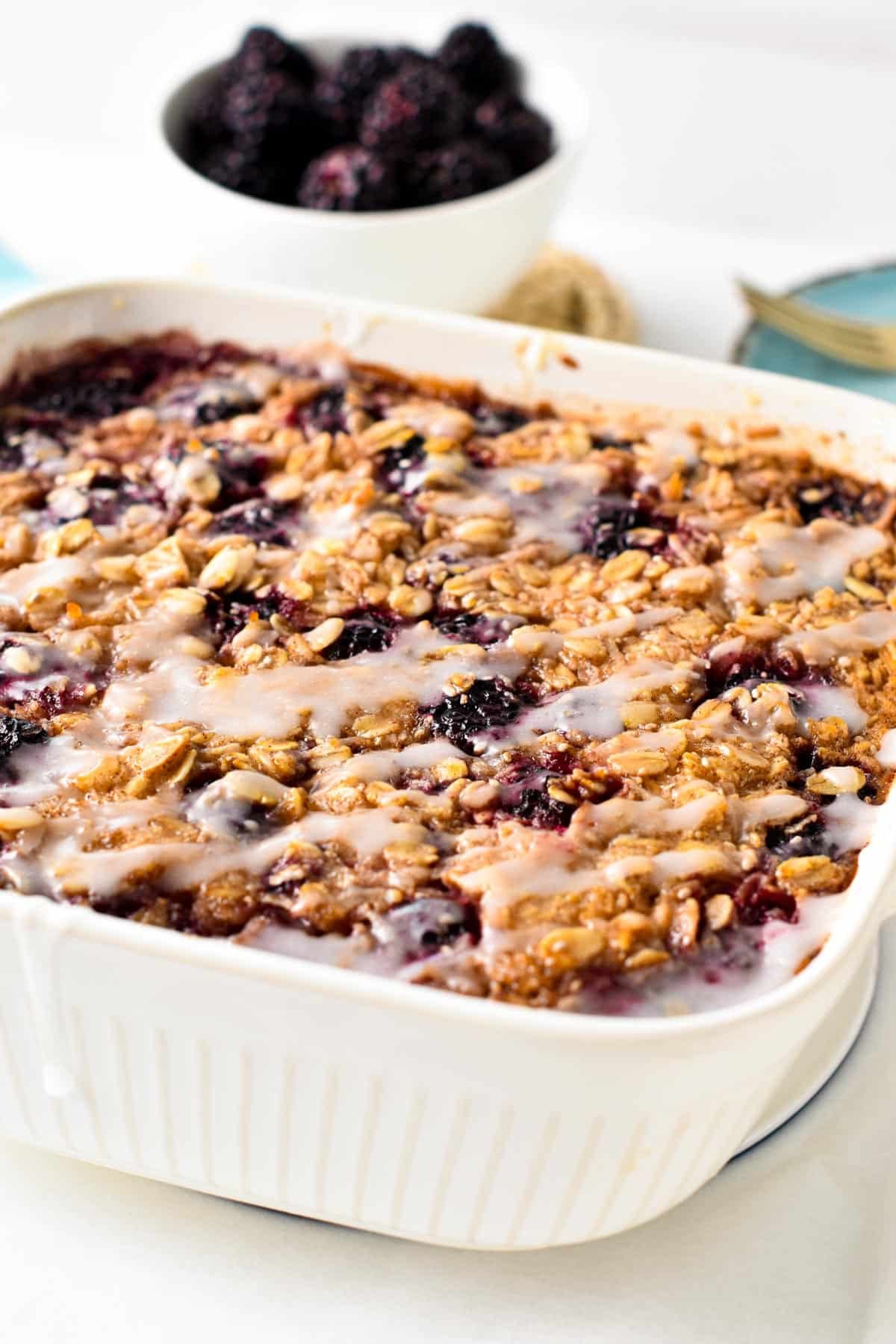 If you're into breakfast meal prep, this recipe is for you. Baked oatmeal is the best way to meal prep many healthy breakfasts.
The reason is simple. It takes under 10 minutes to whip it up on the weekend, and it meal preps a week of breakfast.
Plus, my kids love all the flavors we can explore with this simple breakfast recipe.
Today, we share a new breakfast favorite, a blackberry oatmeal bake. It's perfect to use all the blackberries I froze at the end of the season, and it's not too sweet, either.
How To Make Blackberry Oatmeal Bake
It's so easy and tasty to make this oatmeal blackberry breakfast that you will love it. It's packed with fiber and proteins, and so filling in the morning!
Ingredients
Here are the ingredients you need to make this easy healthy one-pan breakfast recipe:
Old-Fashioned Rolled Oats
Unsweetened Shredded Coconut or any chopped nuts you love, like almonds, walnuts, or pecans.
Cinnamon
Sea Salt
Maple Syrup – You can use any liquid sweetener such as coconut nectar, brown rice syrup, or sugar-free syrup.
Almond Milk – You can also use coconut milk or any plant-based milk you love.
Plant-Based Greek Yogurt – any dairy-free Greek-style yogurt works we love soy yogurt or oat yogurt.
Flax Egg
Chia Seeds
Vanilla Extract
Melted Butter or melted coconut oil
Frozen Blackberries or fresh
Preparation
Preheat the oven to 350°F (180°C). Slightly spray a square pan with cooking spray.
This is optional, but I found it easier to release and clean the ceramic dish if slightly oiled before baking. Set it aside once done.
Like all baked oatmeal recipes, this blackberry baked oatmeal is pretty straightforward to make in just one bowl.
Making The Oatmeal
First, place all the dry ingredients into a large mixing bowl: oat, baking powder, cinnamon, sea salt, and chia seeds. and coconut.
Whisk to combine evenly.
Next, stir in the wet ingredients and whisk again to stir the flax egg and other ingredients together.
Pour the oat mixture into an 8-inch x 8-inch square baking dish. You can use a ceramic or baking pan, but for a baking pan, cover the bottom with parchment paper.
It prevents scratching the pan when serving from the pan to the bowl the next day.
Bake the blackberry baked oatmeal in the center rack of the oven for 35 to 45 minutes. The baking time depends on how you like your oatmeal. The longer you bake it, the drier it gets.
For a creamy, soft texture, bake the oatmeal for about 35 minutes or until the top is just set but still soft in the middle and not jiggly.
For a firm texture, bake it until harder on top.
Let the oatmeal cool down in the pan at room temperature for 10 minutes before serving.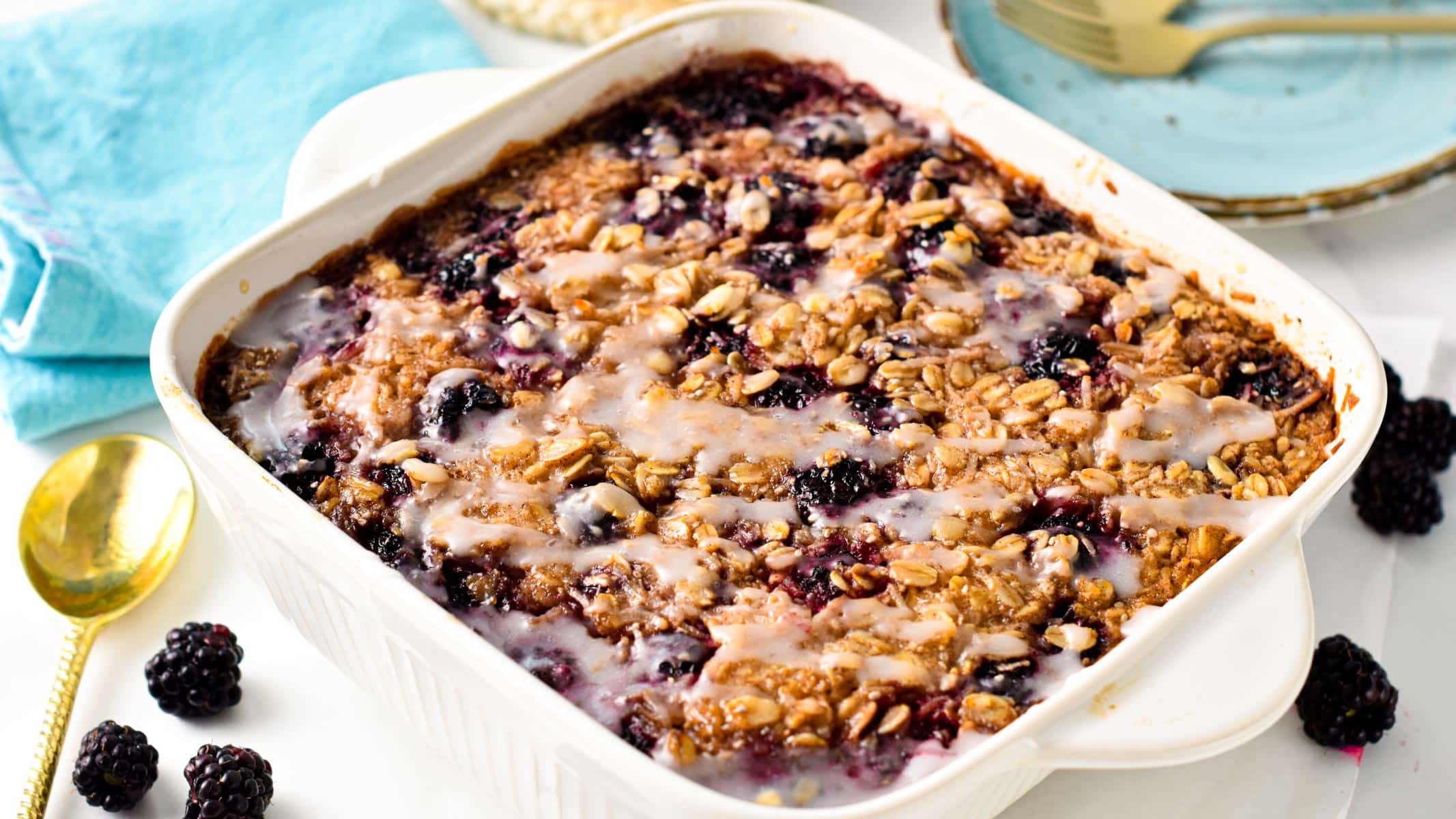 Storage Instructions
When the blackberry baked oats have fully cooled down, cover the top of the dish with foil.
Store the dish in the fridge for 4 to 5 days. You can also freeze portions of this baked oatmeal in individual airtight containers.
Place them in the freezer and thaw them in the fridge the day before serving. It lasts up to one month in the freezer.
In the morning, serve cold or lukewarm. To rewarm baked oatmeal, place the portion in a microwave-safe bowl and microwave for one minute or more until warm in the center.
Serving
This blackberry baked oatmeal is not too sweet, as blackberries are very low-sugar and slightly acidic.
To add a sweet flavor that counters the acidity of the berries, you can serve the portions of baked oatmeal with:
A drizzle of maple syrup or any syrup you like agave syrup, coconut nectar, or monk fruit syrup.
A dollop of plant-based Greek yogurt.
A teaspoon of nut butter like almond butter or peanut butter.
A splash of plant-based milk
Allergy Swaps
If you have allergies to some of the ingredients listed below, try some of these substitution options:
Chia-Seed Swap – Replace the chia seeds with ground flaxseeds.
Gluten-Free – Pick a gluten-free certified oats brand.
Coconut-Free – Swap coconut for any seeds or nuts, or just add more oats.
Liquid Sweetener – You can use brown sugar or coconut sugar.
Frequently Asked Questions
Below are my answers to your most frequent questions about this baked oatmeal recipe.
Can I Use Other Kinds Of Berries?
Yes, you can swap blackberries for the same amount of raspberries, blueberries, strawberries (sliced), or mixed berries.
How Can I Increase The Protein Content Of The Recipe?
You can use high-protein milk, like soy milk instead of nut milk.
You can also stir in 2 or 3 tablespoons of protein powder into the dish.
This dries out the texture slightly, so bake the recipe less or stir an extra three tablespoons of milk to keep the oatmeal creamy.
Can I Bake This Recipe In The Air Fryer?
You can air fry the baked oatmeal in a preheated air fryer at 350°F (180°C). It bakes a bit faster than with the oven-baked method, in around 30 minutes.
More Baked Oatmeal Recipes
If you like this recipe, you'll love these other baked oatmeal recipes.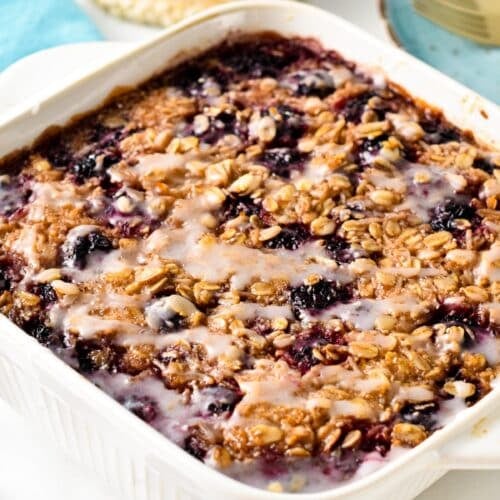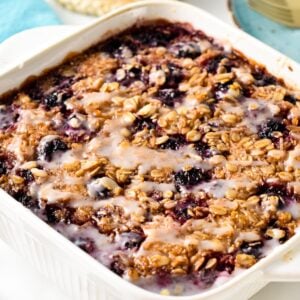 Blackberry Oatmeal Bake
This Blackberry Oatmeal Bake is an easy, healthy one-pan oatmeal breakfast filled with juicy blackberries.
Pin
Print
Review
Servings: 6 servings
Calories: 286.9 kcal
Instructions
Preheat the oven to 350°F (180°C). Spray oil in an 8-inch x 8-inch square baking dish. Set aside.

Prepare the flax eggs – in a small bowl whish two tablespoons of flax meal with 6 tablespoons of lukewarm water. Set aside 10 minutes until thick and gooey.

In a large bowl, stir the dry ingredients: oats, chia seeds, coconut, salt, and cinnamon.

Whisk in wet ingredients, flax eggs, milk, yogurt, coconut oil, vanilla, and maple syrup.

Fold in the frozen blackberries and stir to combine evenly.

Pour the oat mixture into the prepared baking dish.

Bake on the center rack of the oven until the baked oatmeal is set, not jiggly in the center, and golden brown on top.

After 35 minutes, it is a soft, moist baked oatmeal.

Bake for 45 to 60 minutes for a drier, firmer texture.
Storage
Cool down completely and store in the fridge, in its baking dish covered with a piece of foil for up to 4 days.
Serving
Serve cold or lukewarm with a dollop of Greek yogurt or extra almond milk.
Share on Facebook
Pin Recipe
Nutrition
Serving: 1serve | Calories: 286.9kcal | Carbohydrates: 39.5g | Protein: 6.9g | Fat: 12.2g | Saturated Fat: 6.9g | Polyunsaturated Fat: 2.7g | Monounsaturated Fat: 1.7g | Trans Fat: 0.003g | Cholesterol: 0.4mg | Sodium: 299.3mg | Potassium: 306.1mg | Fiber: 8.5g | Sugar: 14.4g | Vitamin A: 105.1IU | Vitamin B12: 0.1µg | Vitamin C: 10.3mg | Calcium: 170mg | Iron: 2.1mg | Magnesium: 78.5mg | Phosphorus: 186.3mg | Zinc: 1.8mg