This Vegan Baked Oatmeal is an easy breakfast perfect to feed a crowd on the weekend or to meal prep a week of healthy breakfast.
Plus, this baked oatmeal is ready in less than 30 minutes and easy to tweak to create a variety of flavors.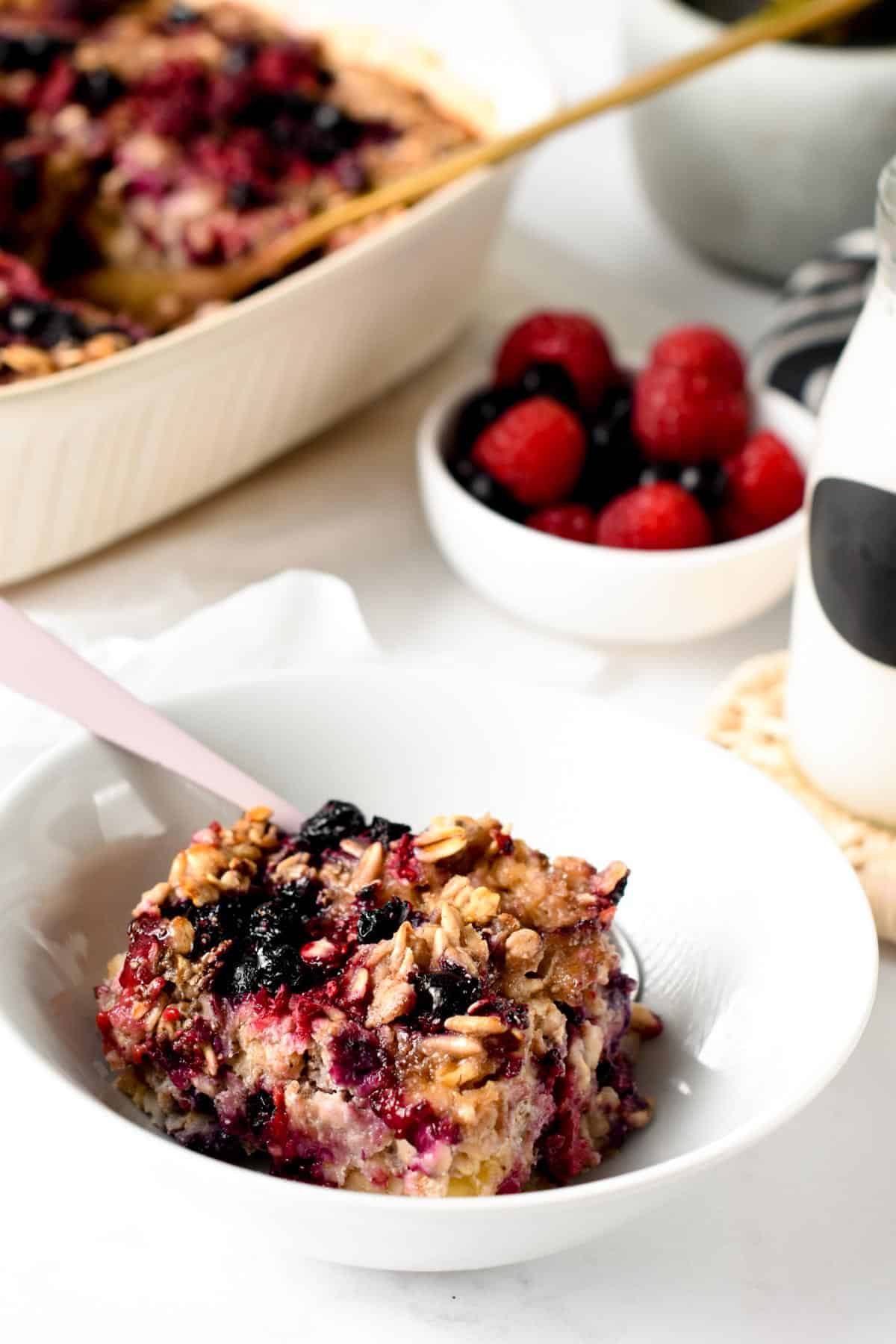 Is Baked Oatmeal Vegan?
No, authentic baked oatmeal recipes are made with eggs and milk.
So it's not vegan but it's still easy to adapt to make a plant-based baked oatmeal version.
How To Make Vegan Baked Oatmeal
It's super easy to make a one-pan baked oatmeal that is vegan and nutritious.
Ingredients
All you need are:
Old-Fashioned Rolled Oats – you can use quick oats too but the texture is better with large pieces of oats.
Chia Seeds or flaxseed if preferred. Feel free to use white chia seeds or black chia seeds both have the same properties.
Yogurt of Choice or Nut Butter – I like coconut yogurt or soy yogurt for a boost of protein.
Banana – if you don't like bananas, you can use the same amount of unsweetened apple sauce, pumpkin puree, or sweet potato puree.
Cinnamon
Mixed Berries – fresh or frozen.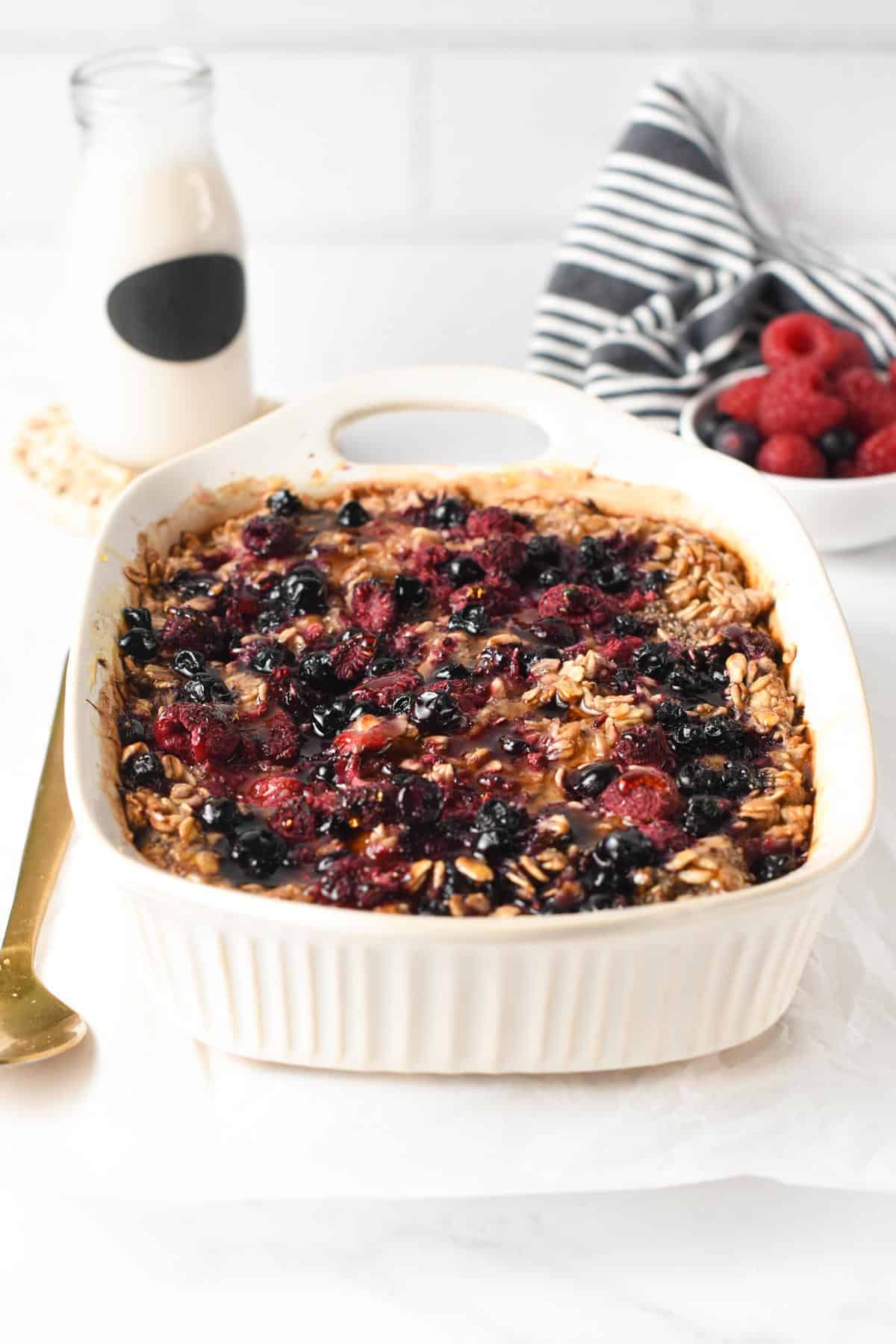 Adding Protein To Baked Oatmeal
There are many ways to add proteins to your baked oatmeal by adding:
1/4 cup of peanut butter or almond butter
2-3 tablespoons of your favorite plant-based protein powder – it will dry out the recipe a bit so you'll need to balance that by adding 1/4 cup of extra almond milk.
1/4 cup of hemp seeds.
1/4 cup of protein yogurt – if so reduce almond milk by 1/4 cup.
Flavors
You can create a range of baked oatmeal flavors by changing some ingredients in the recipe.
Use different fruits – apple cubes, strawberries, peaches, blueberries.
Use nut butter – almond butter or chocolate nut butter for a chocolate flavor.
Add cocoa powder.
Stir in some spices like pumpkin spices.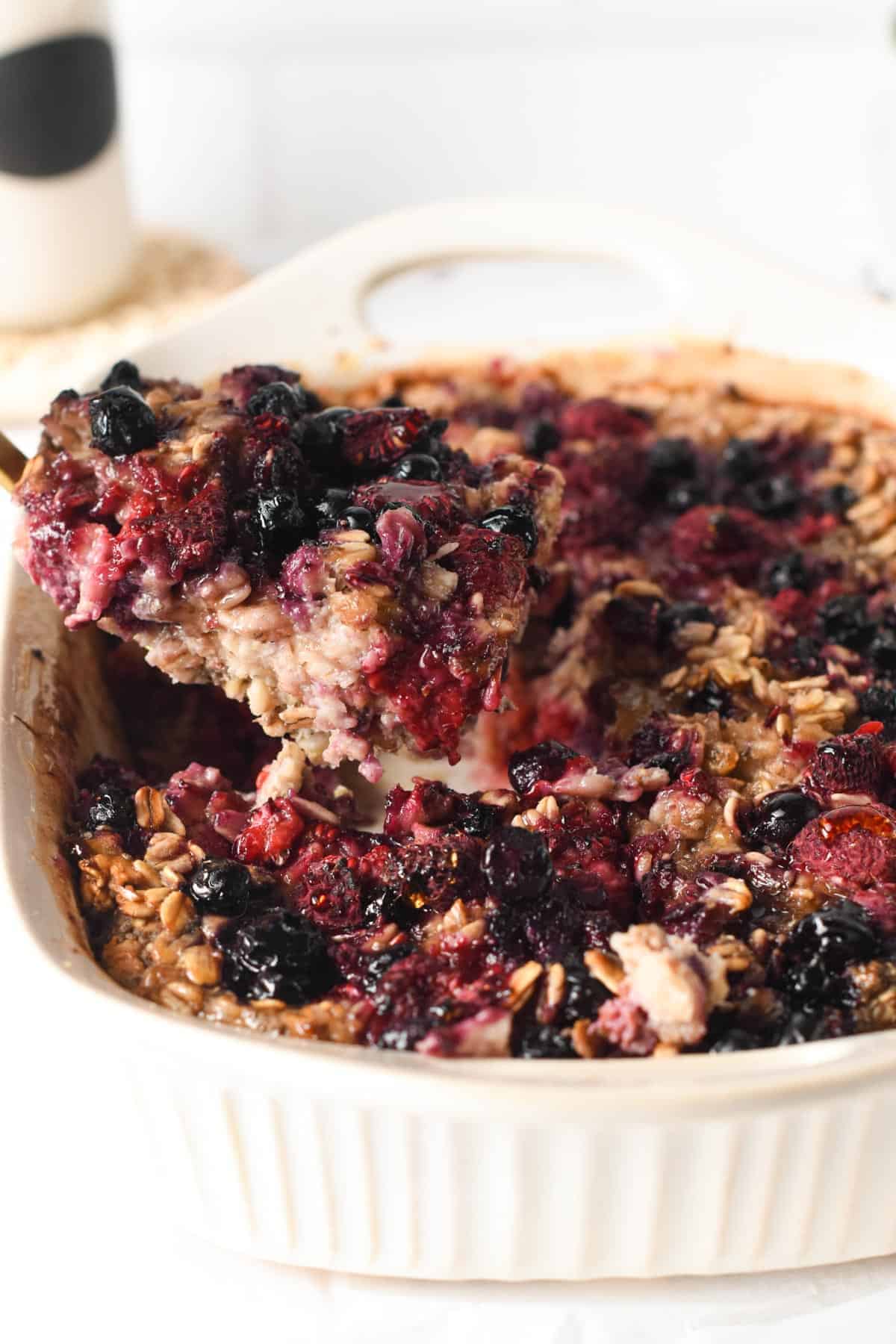 More Healthy Oatmeal Breakfast Recipes
If you like vegan recipes with oats, I have plenty of options for you!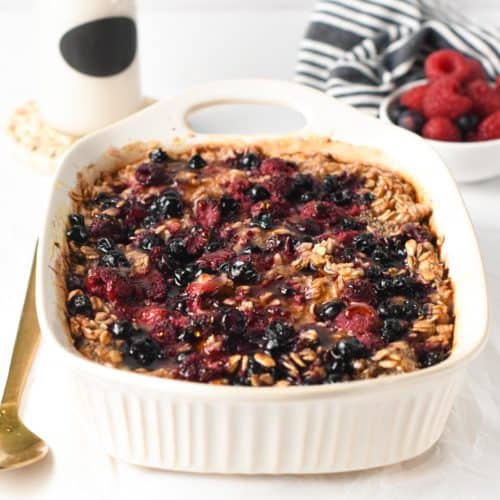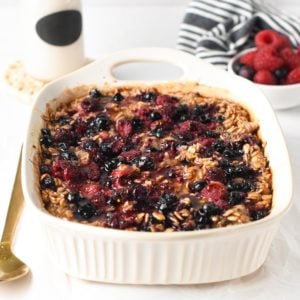 Vegan Baked Oatmeal
This Vegan Baked Oatmeal is an easy breakfast perfect to feed a crowd on the weekend or to meal prep a week of healthy breakfast.
Pin
Print
Review
Servings: 6 servings
Calories: 170.1 kcal
Instructions
Preheat the oven to 350°F (180°C). Slightly oil a 9-inch x 11-inch baking pan.

Peel the bananas, place them in the baking pan and mash them roughly until they are smooth and a puree-like texture forms.

Add chia seeds, yogurt, cinnamon, rolled oats, almond milk, and half the amount of frozen berries.

Stir gently to evenly combine all the ingredients into the baking pan.

Sprinkle the remaining frozen berries on top of the pan.

Bake for 25-30 minutes or until set but still moist in the center. You can bake it longer if you prefer a dryer oatmeal texture, it's up to you.

Cool down in the pan for 20 minutes then serve lukewarm with a drizzle of maple syrup, a dust of cinnamon, or almond milk/yogurt for extra moisture.
Storage
Store the remaining baked oats in the fridge for up to 3-4 days, in its baking pan, wrapped with plastic wrap to prevent the oatmeal from drying. You can also freeze this banana blueberry baked oatmeal in an airtight container and thaw it in the fridge the day before.

Rewarm one serve in the microwave, in a microwave-safe breakfast bowl, until lukewarm.
Share on Facebook
Pin Recipe
Nutrition
Serving: 1serving | Calories: 170.1kcal | Carbohydrates: 28.6g | Protein: 5.3g | Fat: 4.4g | Saturated Fat: 0.5g | Polyunsaturated Fat: 2.1g | Monounsaturated Fat: 1g | Trans Fat: 0.1g | Sodium: 86.5mg | Potassium: 143.8mg | Fiber: 5.9g | Sugar: 5.7g | Vitamin A: 26.6IU | Vitamin C: 3.9mg | Vitamin D: 0.2µg | Calcium: 145.1mg | Iron: 1.6mg | Magnesium: 53.4mg | Phosphorus: 151mg | Zinc: 1.2mg