These Baked Oatmeal Cups are the perfect breakfast on the go for kids going back to school.
It can help you meal prep days of healthy breakfasts or snacks that are 100% plant-based.
Kids going back to school means more healthy snacks and healthy breakfast meal prep!
These baked oatmeal cups are always one of my go-to recipes for the kids on busy mornings.
Plus, they are very simple and cheap to make, made with very basic pantry ingredients, and a great way to use your ripe bananas.
Why You'll Love This Recipe
Kids love how convenient they are because they can grab their favorite flavors and pack them in their lunch boxes.
They are delicious morning tea at school, packed with fiber and plant-based proteins from simple wholesome ingredients.
So let me share with you my school-friendly Baked Oatmeal Cups. They are naturally:
Nut-free – perfect if your school has nut-free policies.
Packed with fiber
Vegan
Egg-free
Dairy-free
Gluten-free option
What Are Baked Oatmeal Cups?
Baked oatmeal cups are similar to a baked oatmeal recipe.
But instead of being baked in a large baking dish, the recipe is baked in cups to make single-serve breakfast easy for kids to grab and eat on the go in the morning.
Baked oatmeal cups are healthy because they are made with wholegrain oats and chia seeds and naturally sweetened with bananas.
How To Make Baked Oatmeal Cups
It's super easy to make these vegan baked oatmeal cups. Let's see how you can make 12 oatmeal cups for breakfast in 15 minutes and in 4 amazing flavors.
Ingredients
All you need are a bunch of wholesome ingredients.
Ripe Bananas – I recommend using bananas with dark spots on their skin. These are the best because they add natural sweetness to the cups without adding sugar later in the recipe.
Old-Fashioned Rolled Oats – You can also use quick oats. Both work in the recipe. You can't use steel-cut oats.
Chia Seeds or flaxseed meal.
Non-Dairy Milk – Fortified soy milk is the best option to boost the calcium and protein content of the oatmeal cups, but almond milk, coconut milk, or oat milk all work as well.
Vanilla Extract – To add even more taste.
Ground Cinnamon – or nutmeg
Baking Powder – make sure yours is gluten-free if you are gluten intolerant.
Maple Syrup or any liquid sweeteners you love, including agave syrup, coconut nectar, or date syrup.
Preparation
That's probably the easiest healthy breakfast meal prep ever.
All you need is a large bowl. Place the peeled, ripe banana pieces in the bowl and mash with a potato masher or two forks.
Now, measure that you have 2 cups of mashed bananas. I like precision when it comes to banana recipes because too many bananas make the cups soft and fragile.
Then, add the remaining ingredients. You can start by adding the liquid ingredients and then stir in the dry ingredients.
But after making this recipe many times, I can tell that order doesn't matter much.
Letting The Batter Rest
This is a vegan baked oatmeal cup recipe which means the recipe doesn't contain eggs.
As a result, the chia seeds act as a binder, and they need time to soak up the liquid and get activated.
So let the batter rest for 10 minutes at room temperature while you prepare the add-ons.
Dividing The Batter
I like to divide the batter evenly into 4 bowls, so it creates about 3 oatmeal cups of each flavor (12 in total).
It's so much more exciting in the morning when you can pick a different flavor each day, especially for the kids.
Four Amazing Flavors
Below are my 4 favorite baked oatmeal cup flavors.
Carrot Cake – This consists of adding grated carrots and shredded carrots. You can replace the carrots with chopped walnuts or pecans, but since most schools have nut-free policies, I prefer to stick to nut-free options.
Zucchini Chocolate – I like to add zucchini to my kids' breakfast. It has no flavor but adds vitamins and fiber to their food. Since zucchinis are high in water, make sure you pack and drain the grated zucchinis before adding them to the batter, or your cups will be super soft. Stir in the grated zucchini with dark chocolate for an amazing combination of flavors.
Berries and Seeds – Stir thawed berries (not frozen berries) with sunflower seeds. Frozen berries release water, and they make the cups super loose in texture. Thaw the berries, discard their juice, or keep it for a smoothie later, and add the thawed berries to the batter.
Strawberry White Chocolate – Strawberries are high in water, like zucchini, and they can make the cups super fragile. The trick to using fresh or thawed strawberries is to cut them into tiny pieces. Stir strawberry pieces and vegan white chocolate chips in a quarter of the batter.
Baking The Cups
Baked oatmeal cups are not like banana oatmeal muffins. They stay a bit soft and won't firm up as muffins.
As a result, they must be baked in muffin cups or individual silicone cups.
Preheat the oven to 350°F (180°C). Line a 12-hole muffin tin with paper cups or individual silicone liners.
For paper cups, lightly oil the paper with oil spray.
Fill each hole with the batter prepared before and use the back of a spoon to pack the oatmeal mixture firmly onto the cups.
This is very important, or the oatmeal cups stay loose, and they are difficult to eat on the go.
Bake in the center rack of the oven for 30 to 35 minutes or until golden brown on top.
Cooling Down
Cool down the oatmeal cups in the baking tray for 10 minutes, then remove them and cool down on a wire rack for 30 minutes.
The cups firm up as they cool down, and even better, in the fridge.
Toppings
You can add some toppings to the cups to boost their flavors, like:
Peanut Butter or other nut butter such as Almond Butter or Cashew Butter
Maple Syrup
Yogurt
Pinch of Cinnamon
Storage Instructions
The best way to store these oatmeal cups is in the fridge, in a sealed box. They last for about 4 days in the fridge or up to 3 months in the freezer.
Thaw the cups in the fridge the day before serving.
Allergy Swaps
Gluten-Free – Pick gluten-free certified oats and baking powder.
Sugar-Free -Skip the sweetener or replace it with a sugar-free sweetener like erythritol, allulose, or Monk fruit maple-flavored syrup.
Banana-Free – Use 1 cup of apple sauce or sweet potato puree.
Chia Seed-Free – Use the same amount of flaxseed meal.
Frequently Asked Questions
Below are the answers to some of your most common questions about this oatmeal cup recipe.
What Can I Use Instead Of Bananas?
You can replace the mashed bananas with 1 cup of unsweetened apple sauce, homemade pumpkin puree, or sweet potato puree.
Is It Normal That My Cups Stay Soft?
Yes, they will never be ultra-firm because they don't contain eggs, and their texture sits between muffins and oatmeal.
They are not supposed to be as firm as muffins or as liquid as oatmeal.
For a grab-n-go oatmeal muffin recipe, try instead my banana blueberry oatmeal muffins or strawberry banana oatmeal muffin recipe.
Can I Use Quick Oats?
Yes, you can use the same amount of quick oats instead of rolled oats.
Note that steel-cut oats are not an option. I have tested them, and I can't recommend them for this recipe.
More Oatmeal Breakfast Recipes
If you like breakfast recipes with oats, you'll love these:
Did you try this baked oatmeal cup recipe? Share a comment or review below to connect with me!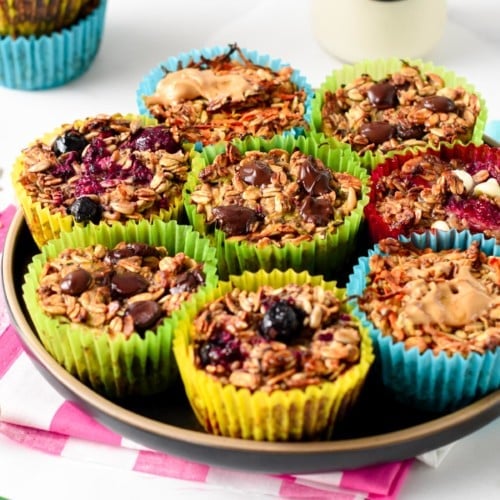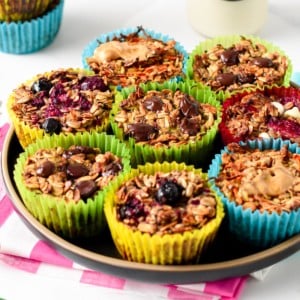 Baked Oatmeal Cups
These Baked Oatmeal Cups are the perfect breakfast on the go for kids going back to school. It can be used to meal prep days of healthy breakfasts or snacks that are 100% plant-based.
Pin
Print
Review
Ingredients
Flavor 2: Zucchini Chocolate
Flavor 3: Strawberry White Chocolate
Flavor 4: Berries and Seeds
¼

cup

Mixed Berries

-

thawed, excess juice removed

2

tablespoons

Sunflower Seeds
Instructions
Preheat the oven to 350°F (180°C). Line a 12-hole muffin pan with paper cups. Slightly oil the cups with olive oil.

In a mixing bowl, add ripe bananas and measure 1 cup – about 2 large ripe bananas.

Add the remaining ingredients: chia seeds, maple syrup, cinnamon, baking powder, oats, and vanilla extract.

Stir to bring all ingredients together – it will look wet, and that's normal. Set it aside for 10 minutes at room temperature. Meanwhile, prepare the add-ons for each cup.

Divide the batter evenly into 4 bowls – about 1/2 cup of batter in each bowl.

In each bowl, add the ingredients for each flavor and stir to combine.

Fill each muffin paper cup with the oatmeal batter and press well with a spoon to pack the oatmeal batter in the cup. This is important to prevent the cups from being too soft after baking.

Bake in the center rack of the oven for 30-35 minutes or until golden brown.

Cool down for 15 minutes in the pan then transfer for 30 minutes on a cooling rack. Don't skip cooling as the cups firm up with time.

Store in the fridge to firm up perfectly and pop in a kid's lunchbox before school or serve as breakfast.
Storage
Store up to 4 days in the fried or freeze up to 3 months in an airtight container. Thaw in the fridge the day before.
Notes
Note 1: Thaw your fruit and remove the juice released by the frozen fruits. If using fresh fruits, cut finely to prevent the cups from being watery due to big pieces of fruits releasing too much juice.
Share on Facebook
Pin Recipe
Nutrition
Serving:
1
serving (carrot cake version)
|
Calories:
94.1
kcal
|
Carbohydrates:
16
g
|
Protein:
2.4
g
|
Fat:
2.5
g
|
Saturated Fat:
0.9
g
|
Polyunsaturated Fat:
0.9
g
|
Monounsaturated Fat:
0.4
g
|
Trans Fat:
0.003
g
|
Sodium:
59.6
mg
|
Potassium:
125.9
mg
|
Fiber:
2.8
g
|
Sugar:
3.9
g
|
Vitamin A:
455.1
IU
|
Vitamin C:
1.3
mg
|
Calcium:
65.1
mg
|
Iron:
0.9
mg
|
Magnesium:
31.1
mg
|
Phosphorus:
86.2
mg
|
Zinc:
0.7
mg