These Banana Oatmeal Pancakes are the most healthy pancakes to start the day, packed with protein, fiber, and vitamins.
Plus, they are egg-free and dairy-free, and a gluten-free option is provided so everyone can enjoy them.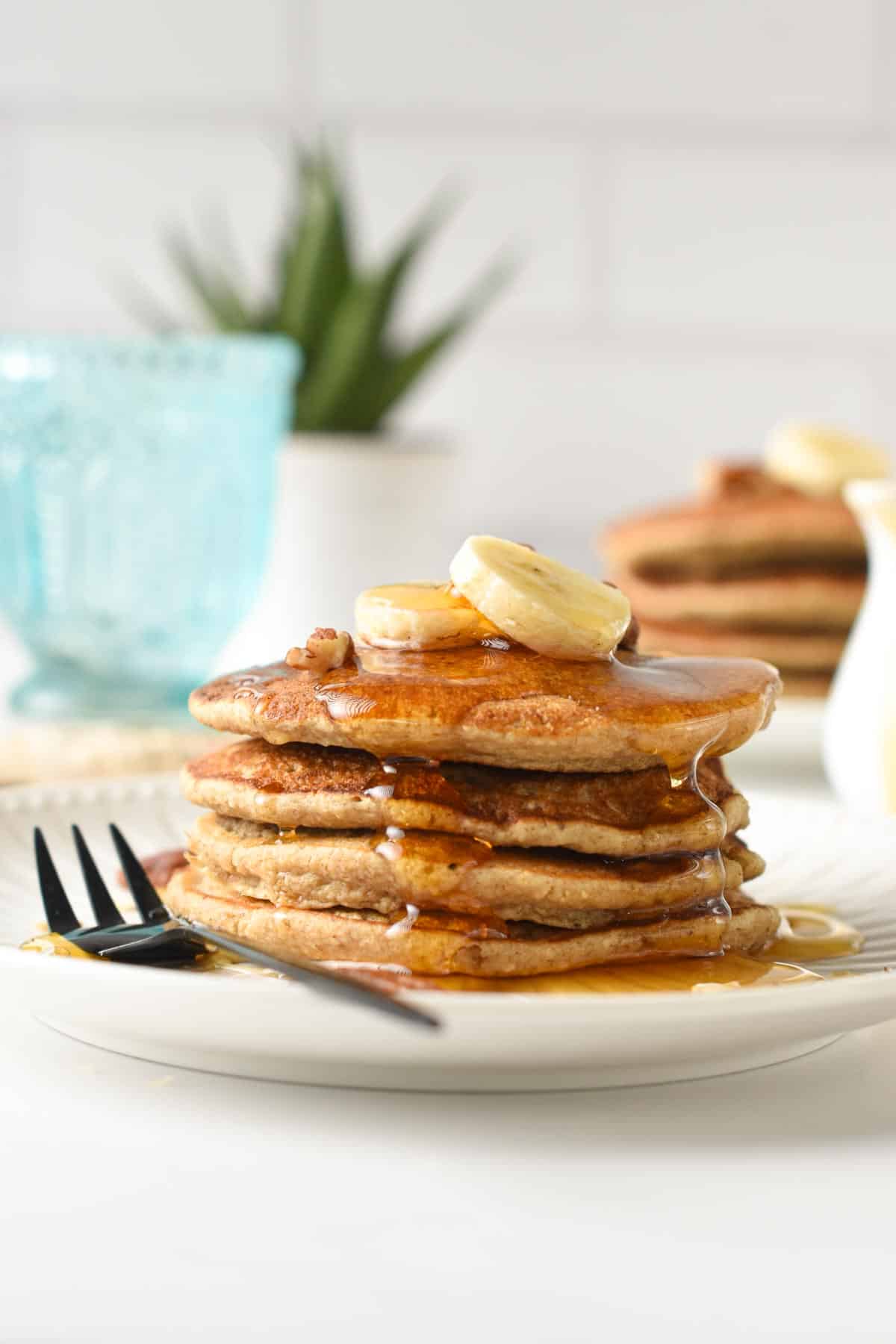 What Are Banana Oatmeal Pancakes?
Oatmeal banana pancakes are healthy blender banana pancakes where old-fashioned rolled oats are blended with banana, milk, and most of the time, eggs.
They are not naturally plant-based.
Here I am sharing a healthy banana oatmeal pancake recipe without eggs and plant-based approved.
How To Make Banana Oatmeal Pancakes
It's super simple to make pancakes with your blander in the morning and one of the best ways to use ripe bananas.
Ingredients
All you need to make a batch of these healthy banana pancakes are:
Old-Fashioned Rolled Oats – you can also use homemade oat flour. If so, you don't need a blender as you can mash bananas with a fork and stir everything together in a mixing bowl.
Unsweetened Almond Milk or oat milk or any milk you love.
Melted Coconut Oil or light olive oil, or canola oil.
Vanilla Extract for taste.
Maple Syrup or any sweetener you like including agave syrup, coconut nectar, date syrup, or even a granulated sweetener, will work well here, like coconut sugar or sugar.
Ripe Bananas or yellow bananas both options provide fantastic results, but the riper the bananas, the sweeter the pancakes will be.
Baking Powder
Cinnamon
Make The Oatmeal Banana Pancake Batter
Place all the ingredients into a high-speed blender jug, starting with the oats at the bottom, then top up with almond milk, baking powder, cinnamon, melted coconut oil, vanilla, and maple syrup.
The order is not very important. I just found it easier to blend the ingredients if the oats and almond milk are next to the blade and bananas on top of it.
Blend on high speed. It matches speed 7 of my Vitamix. Use the tamper attachment if needed to push the batter close to the blade and bring all ingredients together.
Blend for 30 seconds on high speed until it forms a smooth batter.
Stop the blender and transfer the batter to the mixing bowl or keep it in the jug.
I like transferring the batter to a mixing bowl, or it gets difficult to get the batter at the bottom of the jug at the end.
This healthy banana oatmeal pancake batter thickens with time as the oat fiber sucks up the liquid.
Therefore, it gets hard to scrape the batter next to the blade without touching it, which can also damage it.
Cooking The Pancakes
Heat a pancake griddle over medium heat. Use a piece of absorbent paper with olive oil or coconut oil to grease the skillet.
Grease the skillet, but don't let too much oil on it to avoid frying the banana oatmeal pancakes.
Scoop 1/4 cup of batter on the griddle per pancake and cook for 2 to 3 minutes on one side.
When the edges of the blender banana pancakes get dry, slide a flat spatula under them and flip them on their other side.
Keep cooking on the other side for 1 to 2 minutes.
Cool down the cooked pancakes on a wire rack while you cook the remaining batter.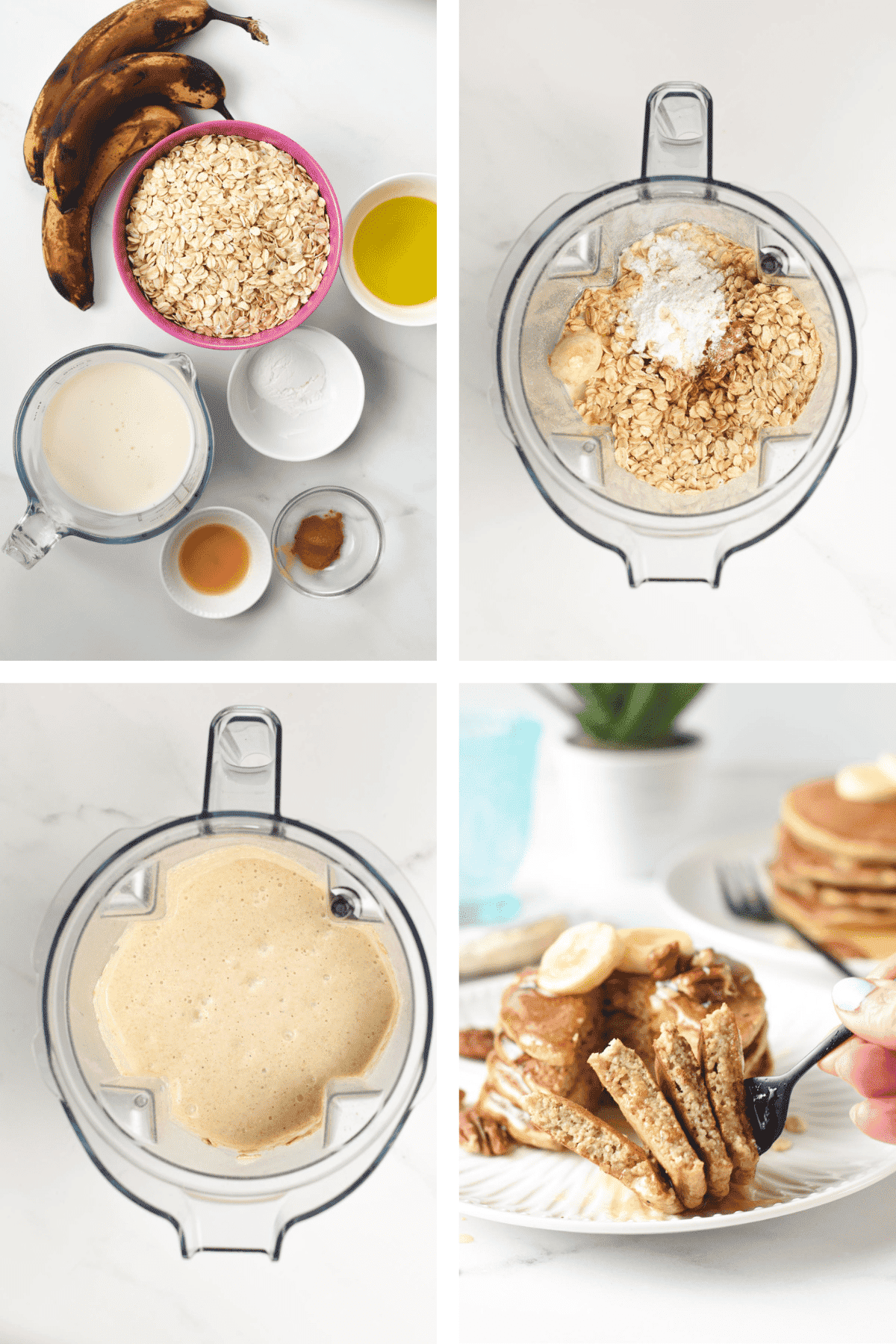 Serving Banana Oatmeal Pancakes
These pancakes are not as fluffy as regular pancakes. Because of the banana and oats, they are a little bit heavier and very fulfilling.
Some toppings are always welcome and delicious, and my favorite vegan toppings for vegan banana pancakes are:
Maple Syrup
Banana Slices
Berries like raspberries, blueberries, strawberries, fresh or frozen
A dollop of yogurt you love – we enjoy coconut yogurt on pancakes
Sliced almonds
Crushed peanuts
Peanut butter
Add-Ons
Feel free to have fun with the pancake batter and stir in 1/2 cup of your favorite below:
Storage Instructions
You can store these pancakes in the fridge in an airtight box for up to 3 days.
The banana oatmeal pancakes freeze very well in bags or sealed containers. Thaw them in the fridge the day before.
Rewarming Banana Pancakes
You can rewarm the pancakes in a hot crepe pan or hot griddle.
You can also pop the pancakes in the air fryer at 250°F (120°C) for a few minutes or in a sandwich press or bread toaster.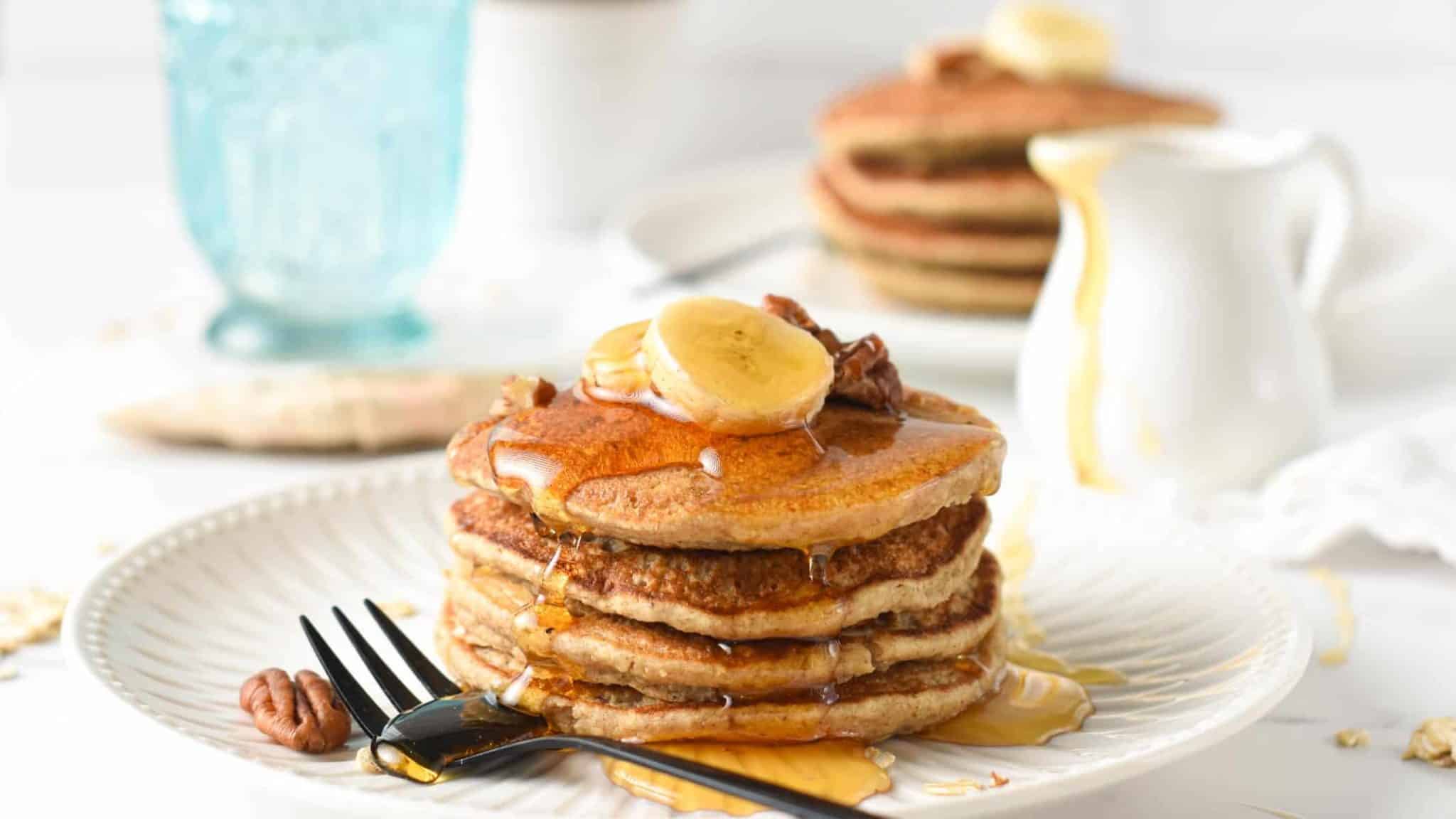 Allergy Swaps
If you have some food allergies, try to use some of the swaps ideas below to adapt the pancake recipe to your dietary requirements:
Gluten-Free – plenty of oats brands are now certified gluten-free oats, pick one of these. Also, make sure that the baking powder is gluten-free, or use half the amount of baking soda – here it will be 1/2 tablespoon.
No Sugar Added – you can entirely skip the sweetener or replace it with stevia drops or natural sugar-free sweeteners like erythritol or allulose.
Coconut-Free – you can replace the coconut oil with any oil you prefer. I recommend a low-flavor oil to avoid a strong flavor in your pancakes. The best oils are vegetable oil like canola oil or light olive oil.
Oil-Free – I didn't try the recipe oil-free while I am pretty sure it will work using apple sauce or pumpkin puree.
Frequently Asked Questions
Below are some answers to your most common questions about these banana oat pancakes.
Can I Use Quick Oats?
Yes, you can use quick oats, but the texture will be slightly thicker if you use the same amount, maybe decrease by 2 tablespoons to achieve a similar texture.
Do I Have To Use Ripe Bananas?
Not at all, a yellow banana works well as soon they are ready to eat they make delicious banana pancakes.
You may want to add more sweetener on top or in the pancake batter to compensate.
Can I Use A Food Processor?
You can, but I would first blend the dry ingredients into a thin powder before blending the remaining ingredients.
This is because food processors have less strength to pulse all ingredients together and create a smooth pancake batter.
So working in steps will ensure a better texture.
Do They Have A Strong Banana Flavor?
Well yes, they are banana pancakes so you will enjoy a strong banana flavor especially more if you use ripe bananas.
More Pancake Recipes
Below I listed more healthy pancake recipes for you to try:
Did you try these banana oatmeal pancakes? Share a comment or review below.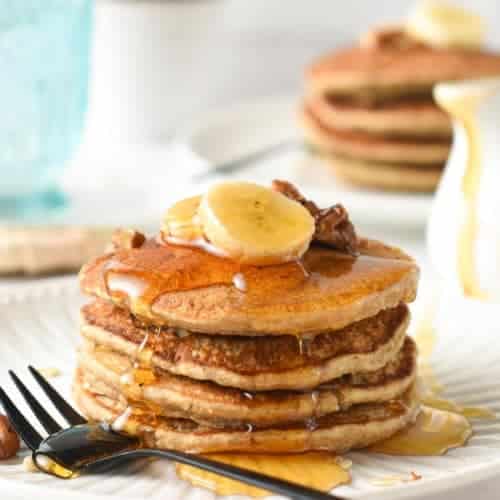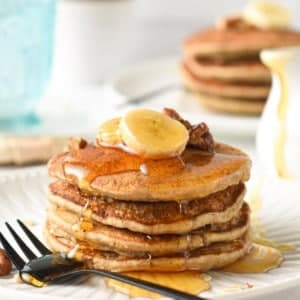 Banana Oatmeal Pancakes
These easy Banana Oatmeal Pancakes are the most healthy banana pancakes to start the day, packed with proteins, fiber and no eggs needed.
Pin
Print
Review
Save
Saved Recipes
Instructions
In a blender add old-fashioned oats, cinnamon, baking powder, bananas, almond milk, melted coconut oil, vanilla, and process on high speed until smooth – about 30 seconds.

Pour the liquid ingredients in a mixing bowl – it makes it easier to scoop into the pan or keep in the blender jug if preferred.

Heat a pancake griddle pan over medium-high heat. When hot, reduce to low heat and scoop 1/4 cup of batter per pancake.

Cook for 2 minutes on one side, until sides dry out then flip and cook for 1-2 minutes on the other side.

Repeat until no more batter is left, you should form about 14 banana oatmeal pancakes.

Serve plain or with banana slices and maple syrup.
Storage
Store leftover pancakes in an airtight container in the fridge for up to 3 days or freeze for later and thaw in the fridge the day before.
Share on Facebook
Pin Recipe
Nutrition
Serving:
1
pancake
|
Calories:
117
kcal
|
Carbohydrates:
15.6
g
|
Protein:
2.7
g
|
Fat:
5.3
g
|
Saturated Fat:
3.4
g
|
Polyunsaturated Fat:
0.7
g
|
Monounsaturated Fat:
0.6
g
|
Sodium:
103.3
mg
|
Potassium:
145.7
mg
|
Fiber:
2
g
|
Sugar:
3.6
g
|
Vitamin A:
98.8
IU
|
Vitamin B12:
0.2
µg
|
Vitamin C:
3
mg
|
Vitamin D:
0.3
µg
|
Calcium:
92.5
mg
|
Iron:
0.9
mg
|
Magnesium:
24.9
mg
|
Phosphorus:
81.7
mg
|
Zinc:
0.6
mg