These eggless pancakes are easy fluffy pancakes, perfect for an egg-free breakfast.
Eggless pancakes are also dairy-free and vegan-friendly, so you can share them with the whole family.
You don't need eggs to bake cake, pancakes, and more! These eggless pancakes are so fluffy and tasty that nobody can guess they are egg-free.
Kids love these pancakes more than recipes using eggs, so don't bother with eggs and go for these easy vegan-friendly pancakes in the morning!
How To Make Eggless Pancakes
It's so easy to make fluffy pancakes without eggs, and you don't need an egg replacer.
Ingredients
All you need to make a batch of egg-free pancakes are a few simple, wholesome ingredients.
Plant-Based Milk – The higher in protein, the fluffier the pancakes will be. I like soy milk or protein-loaded almond milk.
Apple Cider Vinegar or lemon juice. The action of acidic vinegar on plant-based milk creates creamy buttermilk that makes fluffy pancakes.
All-Purpose Flour – You can also use white spelt flour or white whole-wheat flour for a healthy swap.
Baking Powder – You will need more baking powder in egg-free pancakes than in a classic pancake recipe. This is because eggs usually add a fluff that we would be missing without baking powder.
Oil – Olive oil, avocado oil, or plant-based melted butter works well.
Salt
Cinnamon
Vanilla Extract
Preparing Buttermilk
First, prepare the dairy-free buttermilk by stirring non-dairy milk and apple cider vinegar. Set aside for 10 minutes until it looks curdled.
Next, add the oil and vanilla to the batter, stir, and set it aside.
In a large bowl, whisk flour and baking powder to combine evenly.
Finally, pour the wet ingredients all over the dry ingredients and whisk to combine and form a smooth, lump-free pancake batter.
Cooking The Pancakes
Grease a pancake griddle or non-stick pan over medium heat. Grease the pan with coconut oil or avocado oil.
Scoop out ¼ cup of pancake batter and pour it onto the warm griddle.
Keep a thumb of space between each eggless pancake, and wait a few seconds before adding a second dollop of pancake batter to the pan.
Waiting before two batter additions ensures that the first pancake batter has spread to its maximum.
So then, when you add a second dollop of batter, it has fewer chances to merge with the first pancake.
Cook the pancakes for 2 to 3 minutes on one side or until they form small bubbles on the top and get dry on the edges.
Then, slide a spatula under the pancakes and flip them to their other side.
Cook for an extra minute until fluffy and golden brown.
Cool the pancake on a wire rack, and add a piece of foil to keep them warm while cooking the remaining pancake batter.
Always grease the pan well before adding cooking another batch of pancakes.
Variations
This eggless pancake recipe is endless. You can add so many delicious ingredients to the batter to create a range of pancake flavors.
For example, try stirring 1/3 cup of:
Fresh Berries like blueberries or raspberries
Dark Chocolate Chips
Chopped Nuts like walnuts or pecans
Also, you can simply flavor the batter by adding a teaspoon of almond extract, cinnamon, or pumpkin pie spices.
Storage Instructions
You can make this egg-free pancake batter ahead and store it in the fridge in a sealed container for up to 24 hours.
The next day, take the batter out of the ridge for 15 minutes to room temperature before cooking.
Give it a good stir before using. It may have thickened slightly. Add a splash of almond milk to thin it out.
The cooked egg-free pancakes store well at room temperature in a sealed box for up to 2 days or up to 4 days in the fridge.
You can also freeze these pancakes in zip-lock bags or airtight containers.
Spread the pancakes in a single layer, so they don't stick to each other while freezing. Or, place a piece of parchment paper between each pancake before freezing them in a stack.
Serving
These pancakes are delicious with any of the most classic pancake toppings like:
A drizzle of maple syrup
Dairy-free butter
Fresh berries or slice of bananas
Chopped nuts
Dairy-free yogurt or whipped cream
Shredded coconut
Allergy Swaps
If you are allergic to some of this recipe's ingredients, you can consider some of the substitutions below.
Gluten-Free – I didn't try it yet, but most of the time, an all-purpose gluten-free flour blend with a 1:1 Ratio works well.
Nut-Free – Pick a nut-free milk like soy milk, oat milk, or coconut milk.
Sugar-Free Skip the sugar or use sugar-free natural sweeteners like erythritol or allulose.
Oil-Free – I didn't try the recipe without oil, but almond butter or applesauce should work. However, the texture of the pancakes won't be as fluffy.
Frequently Asked Questions
Below are my answers to your most frequent questions about this pancake recipe.
Can I Skip The Sugar?
Yes, the pancake batter works sugar-free as well.
Can I Use Less Than 1 Tablespoon Of Baking Powder?
It might sound like a lot, but you need that much baking powder to make fluffy eggless pancakes.
More Egg-Free Pancake Recipes
I bake without eggs all the time for breakfast and below I listed all my egg-free dairy-free pancake recipes for you to try next time.
Have you tried this eggless pancake recipe? Share a comment or review below!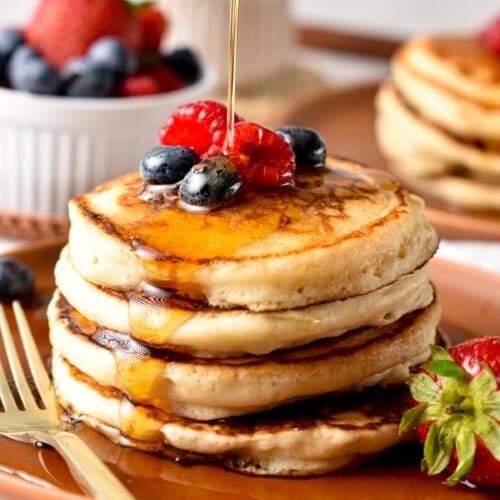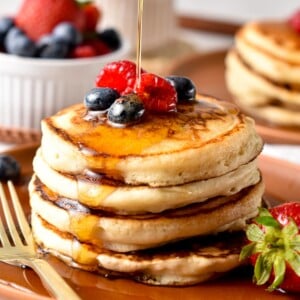 Eggless Pancakes
These eggless pancakes are easy fluffy pancakes, perfect for an egg-free breakfast. Plus, these pancakes are also dairy-free and vegan-friendly, so you can share them with all the family.
Pin
Print
Review
Instructions
Prepare the non-dairy 'buttermilk'
In a small mixing bowl, whisk the plant-based milk with apple cider vinegar. Set aside

10 minutes

until the milk looks thicker and curdles. High-protein milk like soy milk turns thicker than low-protein milk like almond milk.
Prepare the eggless pancake batter
In a large mixing bowl, add all the dry ingredients: flour, sugar, baking powder, salt, and cinnamon. Whisk to combine.

Make a well in the center of the dry ingredients and stir in the liquid ingredients: buttermilk made in step 1, avocado oil, and vanilla.

Let the batter rest for

5 minutes

while you heat the griddle.

Heat a large pancake griddle or frying pan over medium heat. Add one teaspoon of oil and swirl the pan to coat.

Scoop out 1/4 cup of pancake batter per pancake. Cook for 2-3 minutes on one side until bubbles form on the surface and the edges dry out and look set.

Flip the pancake and cook on the other side for another 1 minute or until golden brown. Transfer to a cooling rack or plate and repeat these steps until you run out of batter.
Serving
Serve with maple syrup and berries.
Storage
Store leftovers in a sealed container in the fridge for up to 4 days or freeze them in a single layer, not stacked, or they stick together. Thaw at room temperature the day before.
Share on Facebook
Pin Recipe
Nutrition
Serving:
1
pancake
|
Calories:
105.3
kcal
|
Carbohydrates:
18.6
g
|
Protein:
2.2
g
|
Fat:
2.3
g
|
Saturated Fat:
0.2
g
|
Polyunsaturated Fat:
0.5
g
|
Monounsaturated Fat:
1.4
g
|
Sodium:
345.5
mg
|
Potassium:
23.7
mg
|
Fiber:
0.7
g
|
Sugar:
3.2
g
|
Vitamin A:
0.2
IU
|
Vitamin C:
0.003
mg
|
Calcium:
129.5
mg
|
Iron:
1.1
mg
|
Magnesium:
4.9
mg
|
Phosphorus:
54.2
mg
|
Zinc:
0.1
mg